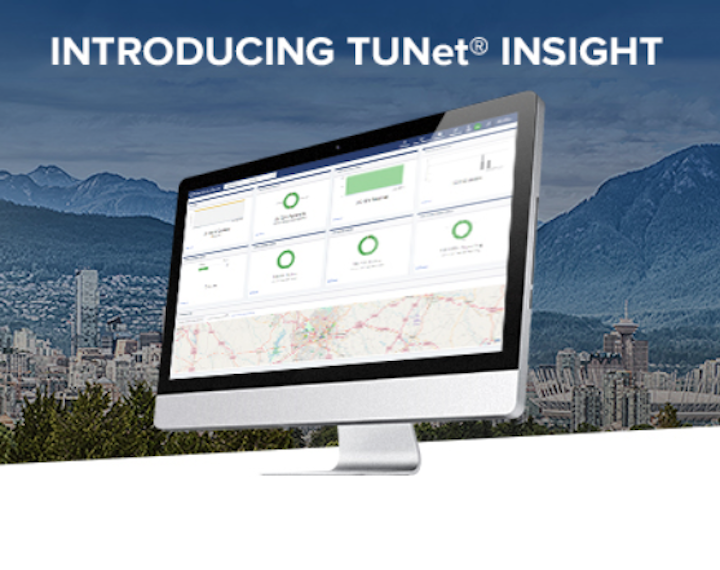 Energy management: Tantalus Systems, a smart grid technology company that helps utilities make smart decisions, announced the launch of its latest digital user and analytics platform, TUNet® Insight. The software platform offers utilities better management of distribution networks by collecting granular data from distributed assets and providing actionable insights to the right utility personnel at the right time.
TUNet Insight builds on the Tantalus Utility Network (TUNet) hardware infrastructure that includes both intelligent endpoints and smart communications. The user platform streamlines utility grid management and gives personnel near-real-time visibility into and control of smart metering, load management, grid optimization and smart streetlights.
"TUNet Insight is the product of over two years of planning and was designed in collaboration with an advisory committee made up of our existing utility customers; it represents a significant leap forward in how utilities can leverage data to make smarter business decisions," said Peter Londa, Tantalus' President, CEO and board member. "Today's utilities are pressed to keep pace with technological innovation, which is no easy feat. We develop our technology to deliver the best data and analytics across a utility network, while striving to ensure that Tantalus' technology meets and exceeds the needs of utilities both today and in the years ahead."
Modern utilities are under pressure to both meet the demands of today's tech-savvy consumers and improve the productivity of existing grid resources. To increase efficiency and reduce operational costs, TUNet Insight offers user-friendly and customizable dashboards that include sophisticated mapping of a utility's multi-application network, graphs and suggested real-world actions. The platform converts granular data into actionable insights that gives operators full control of their infrastructure and applications. By using analytics to present data and alerts at a glance, TUNet Insight allows operators to take immediate action with minimal effort, which means the utility can improve response time, streamline traditionally laborious processes and improve employee and customer satisfaction alike.
With TUNet Insight, utilities can easily manage cost-saving applications such as advanced metering infrastructure (AMI), load management, distribution automation, grid optimization and streetlight control. By modernizing operations, utilities are also able to attract valuable, fresh talent to their organizations. The secure platform is flexible enough to run new applications and analytics as they become available.
About Tantalus
Tantalus is a smart grid technology company that helps utilities make smart decisions. Through its smart grid applications and reliable communications platform, Tantalus provides actionable data to lower operating costs and increase grid resiliency. Tantalus' tailored solutions offer utilities a robust network of advanced metering infrastructure and intelligent endpoints that help guarantee coverage and provide unmatched asset visibility and control.
For more information about Tantalus or other products, click here to go to Utility Products' website.