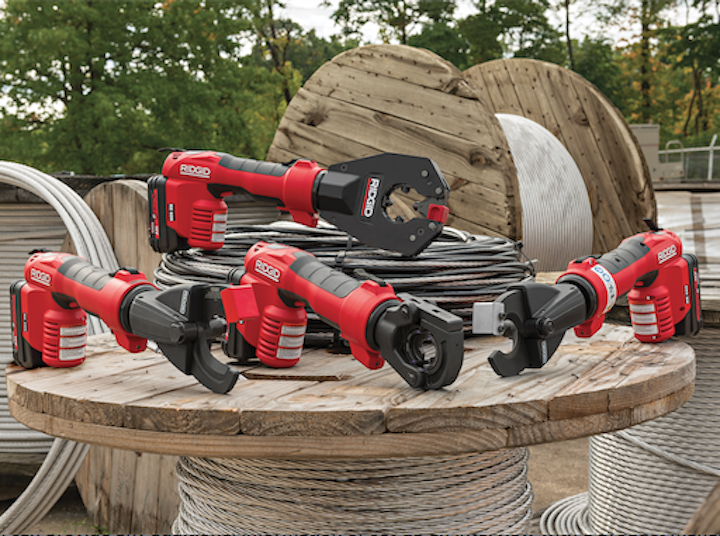 Electrical tools: For the electrical contractor cutting cable or crimping lugs at the jobsite, the new RIDGID® line of dedicated use cable termination tools are built for ease of use. With four options available – two cutters and two crimpers – each tool in the RE 600 line is designed for easy, one-handed operation.
Powered by an 18V advanced lithium battery platform, the tools have a 6-ton hydraulic force output and an approximate 5-second cycle time for crimping and cutting. This means less downtime with more crimps and cuts per battery charge. Each tool features an inline design and 360-degree head rotation to increase accessibility in difficult-to-maneuver spaces. The tools also include a bright white LED light to provide direct illumination of the work area.
"At larger jobsites contractors may only perform one role, either cutting or crimping, making single-function tools ideal," said Gina Hartman, RIDGID Global Marketing Manager. "Our new RE 600 line builds on the success of our RE 6 Cable Termination Tool, while giving customers the single-function option they requested."
The RE 600 CU/AL and ACSR scissor cutter tools have replaceable blades and a guide that keeps the blades aligned and cuts square. The CU/AL tool cuts up to 750 kcmil (MCM) copper/aluminum building wire and 500 kcmil (MCM) copper fine stranded wire. The ACSR tool cuts up to 477 kcmil (MCM) ACSR.
The crimping tools – 4PI and RDH – are classified to UL 1976. The 4PI dieless crimp tool crimps copper connectors and wire from #8AWG to 750 kcmil (MCM) and aluminum connectors and wire from #8AWG to 500 kcmil (MCM). The RDH is a die crimp tool which crimps copper connectors and wire from #8AWG to 600 kcmil (MCM) and aluminum connectors and wire from #8AWG to 350 kcmil (MCM). It requires the use of 6-ton U dies from RIDGID or other manufacturers.
About RIDGID®
RIDGID is a global manufacturer of more than 300 dependable and innovative tools, trusted by the professional trades in over 140 countries. RIDGID products are designed to help professionals in the demanding commercial, industrial and energy markets install and maintain the world's infrastructure with greater certainty and efficiency. Headquartered in Elyria, Ohio, RIDGID is a business unit of Emerson, a global innovator in technology and engineering.
About Emerson
Emerson (NYSE: EMR), headquartered in St. Louis, Missouri (USA), is a global technology and engineering company providing innovative solutions for customers in industrial, commercial, and residential markets. Our Emerson Automation Solutions business helps process, hybrid, and discrete manufacturers maximize production, protect personnel and the environment while optimizing their energy and operating costs. Our Emerson Commercial and Residential Solutions business helps ensure human comfort and health, protect food quality and safety, advance energy efficiency, and create sustainable infrastructure.
For more information about RIDGID or other products, click here to go to Utility Products' website.