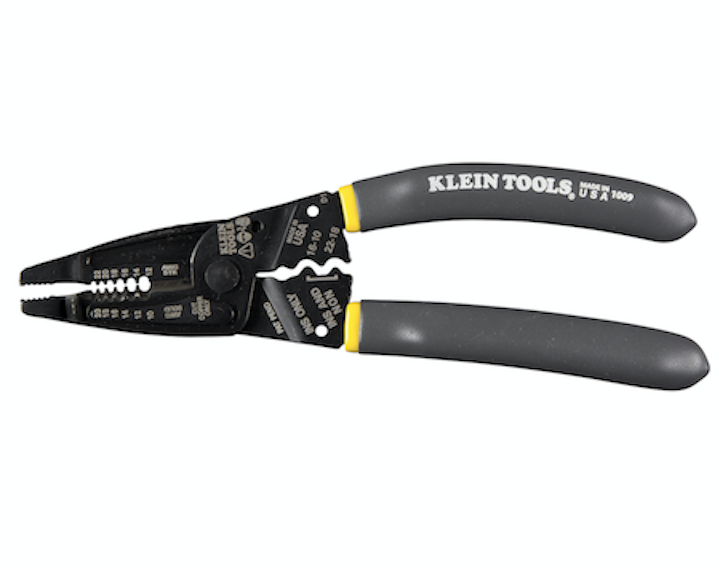 Utility supplies: Klein Tools introduces the Long-Nose Wire Stripper/Crimper to grab, pull and bend the smallest of wires. This innovative tool, ideal for both electrical and HVAC applications, makes cutting, crimping and stripping easier with optimal leverage and precision, shear-type blades.
Long-Nose Wire Stripper/Crimper (Cat. No. 1009)
• Strips 10-20 solid and 12-22 stranded wire
• Crimps insulated and non-insulated connectors
• Tip is designed to grab, pull and bend the smallest of wires
• Engineered for optimal leverage when stripping and crimping
• Reinforced, patent-pending head design reduces flex and keeps stripping holes true to size
• Precision, shear-type blades make cutting easier
• Klein-Kurve handles provide comfortable grip
• Not designed for cutting steel wire
"Klein strives to re-imagine solutions for the challenges professionals face every day," says David Klein, director of product management at Klein Tools. "That means we are continually looking for new ways our products can help get the job done. The Long-Nose Wire Stripper/Crimper is a durable, versatile tool designed to help tradespeople continue to work efficiently across a variety of jobsites."
For more information, visit www.kleintools.com/new-products or search for #NewKleins on social media.
About Klein Tools
Since 1857 Klein Tools, a family-owned and operated company, has been designing, developing and manufacturing premium-quality, professional-grade hand tools. The majority of Klein tools are manufactured in plants throughout the United States and are the No. 1 choice among professional electricians and other tradespeople.
For more information about
Klein Tools
or other products, click here to go to
Utility Products' website