Work lights provide powerful light output in compact and versatile package
Safety lighting: GEARWRENCH's two Professional Ultra‑Thin Flex‑Head Work Lights combine the latest technology with innovative design for powerful light output in a compact and versatile package.
Jan 4th, 2018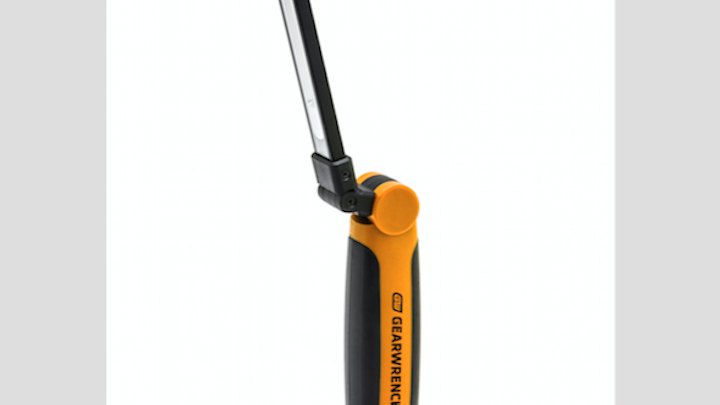 Work lights: GEARWRENCH®, a hand tool brand from Apex Tool Group, known for tools that deliver speed, strength, and access, offers two Professional Ultra‑Thin Flex‑Head Work Lights. Lighting is a new category for the brand, and these new lights offer further validation of its reputation for innovation in the automotive and industrial tool markets.
There are two models of the new Professional Ultra‑Thin Flex‑Head Work Lights available: a 12.5‑inch 500‑lumen model and an 8.4‑inch 150‑lumen model. Each model features a dual setting LED main light mounted on a pivoting flex‑head that swings open to direct light wherever it's needed, a 30‑lumen LED top light at the tip of the flex‑head for illuminating extremely hard‑to‑reach areas, and an integrated fold‑away hang hook and magnetic base for easy positioning.
"Getting enough light on the work area is a major issue for every technician and tradesman," said James Stewart, Senior Product Manager for GEARWRENCH. "Work lights are the most commonly used type of lighting for these professionals, and these new ultra‑thin flex‑head work lights offer the light intensity, run time, and access flexibility they're looking for."
The following Professional Ultra‑Thin Flex‑Head Work Lights are now available:
• Cat. No. 83135 – 500 Lumen Ultra‑Thin Flex‑Head Light
• Cat. No. 83134 – 150 Lumen Ultra‑Thin Flex‑Head Light
Both models offer dual settings for the main light (500/250 lumens and 150/75 lumens) with a run time of three hours at full power and six hours at low power. A memory function saves the power selection from the previous use. Both also have a charging indicator and a Constant Current feature that delivers the rated lumens until the battery runs out. A Low Battery Warning indicator flashes when the main light has five minutes of power remaining.
The heads on both GEARWRENCH Professional Ultra‑Thin Flex‑Head Work Lights fold flat against the body for storage and pocket-sized portability (6.5" and 4.4" folded for the 500 and 150‑lumen models, respectively). Both are drop‑resistant and the smaller model features an integrated belt clip.
About GEARWRENCH®
GEARWRENCH is a hand tool brand from Apex Tool Group, one of the largest hand tool manufacturers in the world. Since the launch of the original patented five-degree ratcheting wrench, the GEARWRENCH brand has continuously led the industry with breakthroughs in pass-thru ratchets, sockets, screw/nut drivers, pliers, and specialty tools.
About Apex Tool Group
Apex Tool Group, LLC, based in Sparks, MD, is one of the largest worldwide producers of industrial hand and power tools, tool storage, drill chucks, chain, and electronic soldering products. Apex serves a multitude of global markets, including automotive, aerospace, electronics, energy, hardware, industrial, and consumer retail.
For more information about GEARWRENCH, Apex Tool, or other products, click here to go to Utility Products' website.