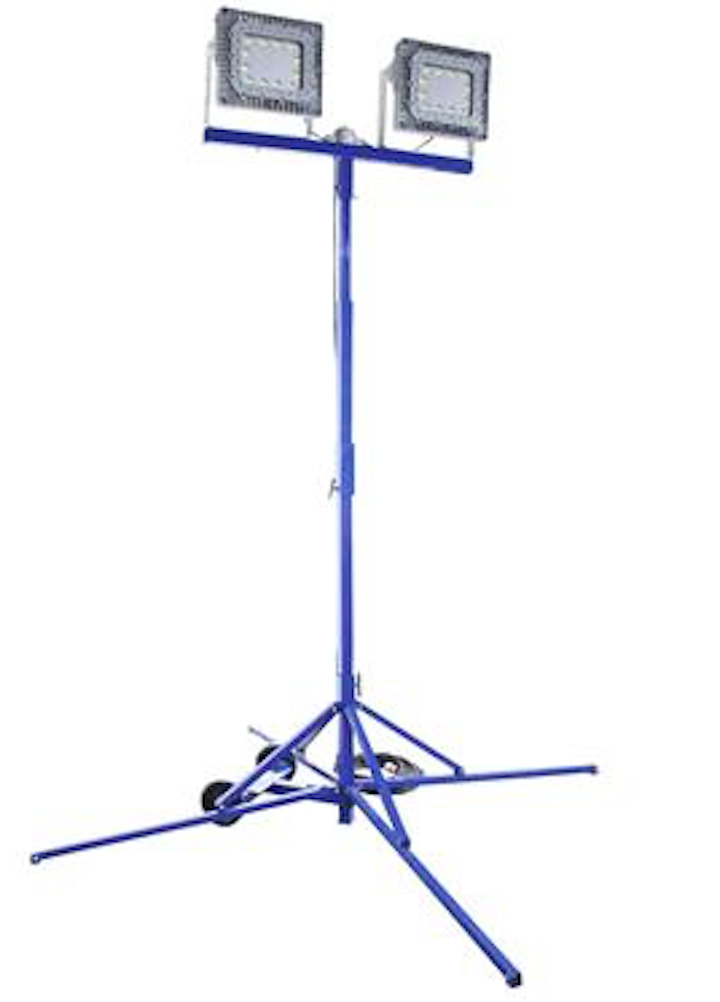 Work lights: Larson Electronics' HAL-QP-2X150LED-100 Quadpod Mounted Explosion Proof LED Light Tower produces 35,000 lumens of light capable of illuminating an area 14,500 square feet in size. This adjustable Cree LED light tower is designed for portability and durable operation and ideal for use in demanding conditions.
The HAL-QP-2X150LED-100 is a quadpod mounted explosion proof LED lighting system and provides 14,500 square feet of work area coverage with 35,000 lumens of light output. This portable LED light tower has a removable LED light head mounted on top of a four-leg durable non-sparking aluminum quadpod equipped with wheels for easy positioning of the unit from one area of the workspace to another. The LED light head on this unit produces a wide flood pattern of light that is ideal for illuminating large workspaces and jobsites.
This portable LED light is comprised of two adjustable explosion proof LED light heads mounted atop a four leg quadpod fabricated from non-sparking powder coated aluminum. This adjustable and collapsible quadpod can be extended to 12 feet, collapsed to seven feet, and includes solid wheels allow the operator to tilt the unit back and simply roll the entire assembly to a new location when fully deployed. The LED light fixture assembly can be removed by releasing the hand knob and sliding the light and mounting bracket off of the center support while the legs can be collapsed, aiding in deployment, storage and transport. The lamp can be easily adjusted vertically and locked into position.
*PLEASE NOTE: ANY FREE SHIPPING OFFERS DO NOT APPLY TO LIGHT MASTS, LIGHT TOWERS, OR QUADPODS*
For more information about Larson Electronics or other products, click here to go to Utility Products' website.