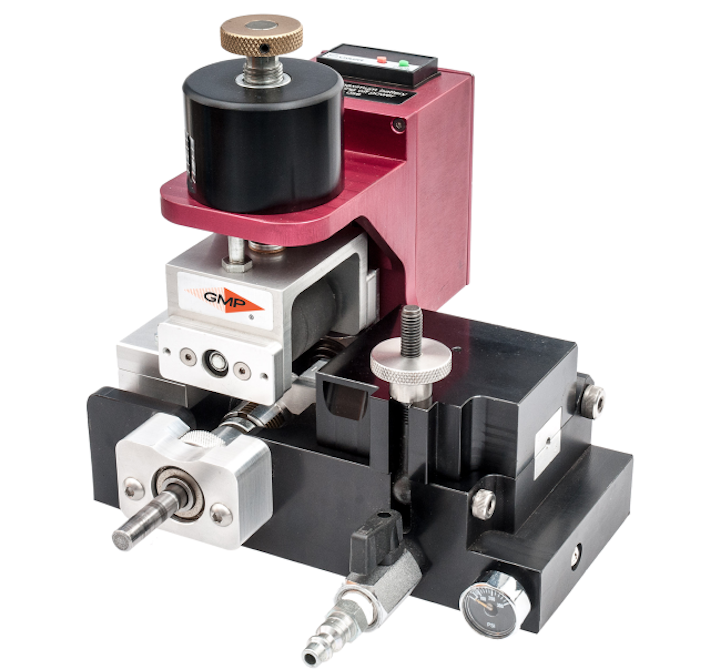 General Machine Products (KT) LLC, a subsidiary of Klein Tools, offers the Gentle Air Micro Fiber Cable Blower (P/N 89916) to its growing line of fiber optic cable blowing equipment. Engineered to install micro fiber cable into pre-installed .15-in. to .27-in. diameter microduct, the Gentle Air Micro Cable Blower (Gentle Air) will place .03-in. to .11-in. diameter cable at speeds up to 300 ft/min.

Powered by a conventional, cordless drill (not included), a drive roller with precision clutch introduces the micro fiber cable into the microduct's opening. The clutch feature enables the operator to select a custom torque range (zero to infinity). From there, compressed air propels the cable throughout the length of the microduct to its destination.

Especially useful for smaller jobs where traditional, larger blowing machines are unsuitable, the Gentle Air's versatility, compact size and portable maneuverability make it suited for both interior and exterior fiber cable placement applications.

Other Features Include:
• Electronic monitoring system provides digital read-outs of speed and distance;
• Lightweight, precision machined and durable construction;
• Integral air valve and pressure gauge;
• Can be operated by a single person; and
• Backed by GMP's 80-years of engineering integrity and defect-free products and services.
For more information about General Machine Products (KT) LLC or other products, click here to go to Utility Products' website.