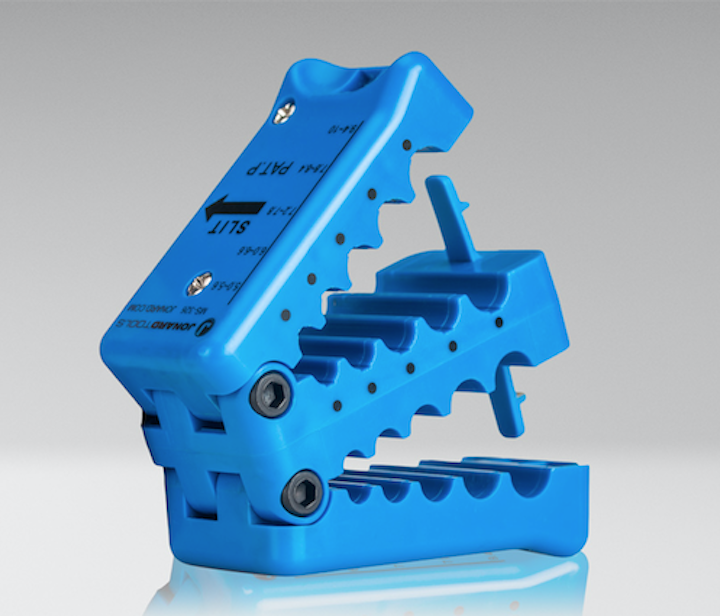 Utility tools: Jonard Tools' patented MS-326 micro duct fiber cable slit and ring tool is designed to provide easy access into fiber optic cables specifically designed for use in micro ducts. These cables have a thin wall jacket design that is difficult to open without causing damage to the buffer tubes inside, but the MS-326 addresses that concern. The MS-326 will also slit open thin wall buffer tubes.
Building on the popularity of Jonard Tools' MS-6 and MS-26 fiber optic mid span slitting tools we've incorporated a ring feature into the MS-326 making it even more versatile.
The MS-326 consists of 5 precision slitting grooves and 5 ring grooves ranging in size from 5mm to 10mm.
Groove Sizes: 5.0 - 5.6mm | 6.0 - 6.6mm | 7.2 - 7.8mm | 7.8 - 8.4mm | 9.4 - 10mm
Easy to use:
• Open the appropriate side of the tool
• Select the correct groove size
• Place the cable in the tool and close to lock in place
o To ring: rotate the tool 3-6 times in direction of the arrow
o To slit: use markings to align cable, pull in direction of arrow
• Open the tool and remove the cable. If slit, peel the jacket along the slit lines
Notes: This tool was designed for Corning fiber cables, "MiniXtend Fast Access Binderless" and "HD MiniXtend" as well as other similar styles.
For more information about Jonard Tools or other products, click here to go to Utility Products' website.