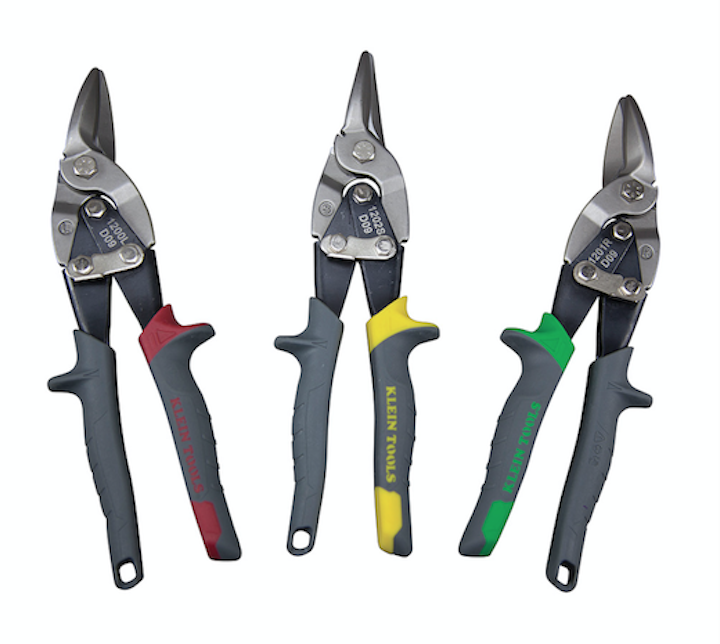 Utility tools: Klein Tools introduces the Aviation Snips with Wire Cutter, which save time and extend tools' lives with the convenience of cutting sheet metal as well as duct, suspension or ceiling extension wires without damaging the snip blades. Available in three unique styles -- left-, right- and straight-cutting -- Klein's new Aviation Snips integrate a wire cutter on the outside of the blade to optimize versatility.
Aviation Snips with Wire Cutter (Cat. Nos. 1200L, 1201R and 1202S)
• Serrated, forged steel blades provide superior strength and durability
• Unique integrated wire cutter on outside of blade for use on duct and ceiling suspension wire
• Cuts up to 18 gauge cold rolled steel and 22 gauge stainless steel
• Spring-loaded lock allows easy, one-handed self-opening action
• Color-coded, comfortable contoured grips make tool identification easier
• Convenient hang-hole for easy storage and convenience
• Meets or exceeds ASME B107.16M performance standards
• Three models available – Left- (Cat. No. 1200L), Right- (Cat. No. 1201R) and Straight-Cutting (Cat. No. 1202S)
"When Klein's team receives valuable feedback from our customers, we look for ways that we can improve our products to address their needs and develop new solutions," says Sabrina Kalsi, product manager at Klein Tools. "After realizing that HVAC professionals may sometimes damage snip blades when cutting wires, we thought about how we could extend the tool's life. By integrating a wire cutter on the outside of the blade, Klein's new Aviation Snips prevent damage from normal, everyday usage and allow professionals to cut sheet metal as well as duct and suspension wires with the convenience of just one tool."
For more information, visit www.kleintools.com/new-products or search for #NewKleins on social media.
About Klein Tools
Since 1857 Klein Tools, a family-owned and operated company, has been designing, developing and manufacturing premium-quality, professional-grade hand tools. The majority of Klein tools are manufactured in plants throughout the United States and are the No. 1 choice among professional electricians and other tradespeople.
For more information about Klein Tools or other products, click here to go to Utility Products' website.