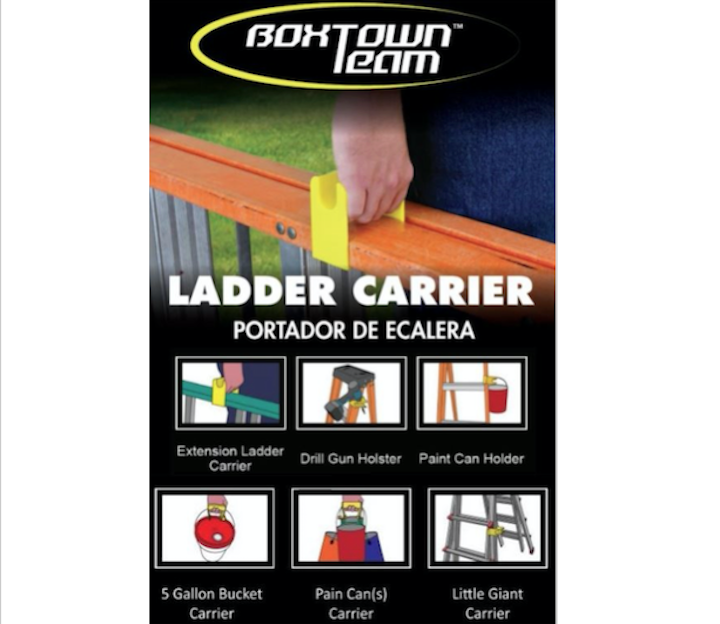 Electrician tools: Boxtown Team Carrier, the developer of the Boxtown Team Carrier line of ladder and paint accessories, has gained attention of big companies that are concerned about ladder safety: AT&T and ADT Security/Protection 1.
The Boxtown Team Carrier works for all trades: electrician, fire, sprinkler, security, data, HVAC, plumbers and painters. If you have to use a ladder, check it out!
The Carrier allows you to carry vertically, horizontally or whichever way you like—and keep your fingers pain-free from those heavy edges. It doesn't stop there—you can also use it as a drill gun holster for the side of your ladder, or pack multiple 1-gallon cans or a 5-gallon can with comfort. There are three different variations to fit your ladders, whether it be fiberglass A-frame, extension or aluminum, plus does work on little giants.
Companies are all about improving safety and productivity for their technicians, and with Boxtown Team's new XL carrier model, they get just that.
AT&T safety area manager Jeff Pittman, in Sacramento, California, said: "They work well on our combo ladders, our guys like them."
ADT Security/Protection 1 manager, Jeremy Caughman, in Tulsa, Oklahoma, said: "Ladder Carrier has been a great product for our technicians in the field for safety and convenience. They are used every day for commercial jobs and residential, adds a layer of professionalism. I bought one for all of my technicians!"
And you don't have to be in the trade field to appreciate them. Bob Hurley RV, Tressa McCullough, Tulsa service manage said: "These things are really handy! Adds safety for ladder carrying and protects us from getting smashed fingers. We bought them for all our ladders and pack plenty to look on top of our RVs."
Even though the product launched in late August 2017, it will be making its grand entrance at the National Hardware Trade show in Las Vegas, NV, May 7- 10, 2018.
You can find the Boxtown Team Carrier in over 50 retail store locations, Amazon, and our website.
For more information about Boxtown Team Carrier or other products, click here to go to Utility Products' website.