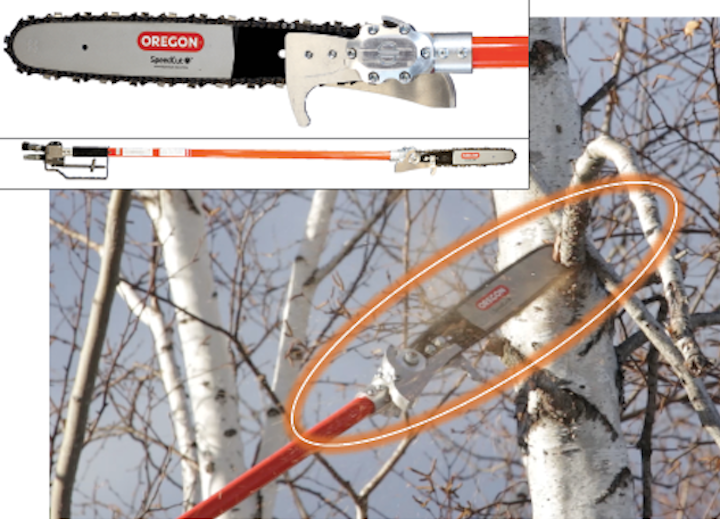 Whether high up in an aerial bucket creating pre-emptive operational safety zones between the wires and trees, or in an intense storm situation with driving wind and freezing rain, a rugged, reliable pole saw that can go the distance, is key.
On a recent cold, New England day, Matt Eastwood, a lineman from Utility Service and Assistance Inc., took the new BURNDY Hydraulic Long Reach Pole Saw for a test run.
"You can tell BURNDY put a lot of engineering into this latest pole saw," Eastwood said. "The build quality is definitely rugged."
A team of BURNDY engineers didn't take a pole saw redesign lightly. They did their homework, gathered information in the field, and listened to customer feedback calling for a faster, lighter weight, yet more rugged option with greater ergonomics and safety in the forefront.
"Our challenge in developing the latest BURNDY Pole Saw was to balance the performance requirements of torque, weight, ergonomics and speed, without compromising quality, reliability and most importantly, safety", said Cameron Torrey, BURNDY Senior Product Engineer and lead on this project.
The BURNDY Hydraulic Long Reach Pole Saw is built to last. It is 54 percent faster than previous versions, with "best in class" for cut speed and torque. The pole saws come in two sizes: 75-inch and 88-inch in overall length, with both sizes weighing under 9 pounds dry.
"Many pole saws are designed as 'throwaways,' considered 'disposable' after one large tree clearing job. Our design is meant to last. Longevity comes from high-efficiency bearings and seals to reduce wear and friction. Our pole chain saw is covered under the BURNDY industry-leading tool service warranty agreement just like any other BURNDY backed tool," Torrey said. "The market demands a value-priced saw that can be counted on for years—a quality product that will stand the test of time."
Eastwood was impressed with the improved trigger guard grip. Most pole saws are designed for use with thin or no gloves. With the BURNDY upgrade, "The best feature is the trigger guard. The bigger grip is much better for larger gloves than those of other brand designs. Most pole saws have a smaller grip that makes for a tight squeeze for large gloves, which means it is more difficult to quickly remove your finger from the trigger," Eastwood said. "The BURNDY Pole Saw's grip area allows for gloves up to Class 2 Max 17000V and is designed with a 2-stage trigger and guard, a safety feature that helps prevent accidental operation of the tool. An insulated grip adds comfort and keeps the handle area cool."
Eastwood also commented that the new BURNDY Hydraulic Long Reach Pole Chain Saw was lightweight but hefty and was not going to bend or get banged up when transporting from job to job. Each chain saw features a 13-inch lightweight OREGON aluminum alloy bar with an anti-kickback, narrow kerf, .325-inch pitch chain that meets the kickback performance requirements of ANSI B175.1-2012. The gear motor has a compact yet powerful design, allowing for lighter weight and reduced size at the cutting end of the tool. Further weight reduction was achieved by choosing higher grade, aerospace quality aluminum for the main components, which reduces strain on arms, wrists and shoulders.
The 1.25-inch diameter CHANCE fiberglass extension tube features reinforced pole ends for additional strength, without adding weight or compromising balance. The pole conforms to OSHA 1910 standards, ensuring the tool can be used within the proximity of potentially live lines. The specified dielectric properties of the pole help reduce the risk of electrical shock in many situations, when maintained and operated properly, in conjunction with safe working practices.
The BURNDY Pole Saw has high torque, an important factor when cutting from a dead stop or working with hard wood or knots. It can handle trimming and clearing of limbs and branches up to 13 inches in diameter.
The team of BURNDY engineers focused on all the details, even chip deflection, by using a high-speed camera to record and evaluate how subtle differences in their designs affected the speed and direction of the chips being produced during a cut. They were able to identify patterns that provided information to build the newest chip deflection guard. By controlling the flow of chips directly off the blade, the deflector works continuously to protect the operator from debris, and at any angle.
"Safety is our number one concern, at all times," Torrey said. "We pride ourselves in what we do, and we take the risks these folks face every day very, very seriously." Durability, safety and ergonomics—every design point on this new pole saw ties back to these three things and is why the new BURNDY Hydraulic Long Reach Pole Saw is the one to reach for.
For more information about BURNDY or other products, click here to go to Utility Products' website.