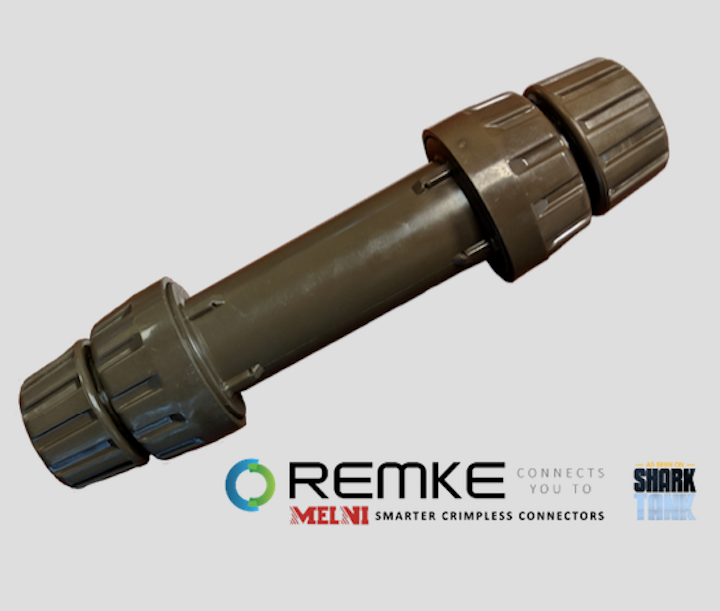 Utility tools: The Melni Crimpless Butt Splice Connector drastically decreases connector install time and creates a safer environment for electrical workers. Invented by Mark Melni, the connector was initially featured on ABC's Shark Tank and Remke is proud to be the Leading Distributor of Melni Connectors for the electrical industry.
Drastically reduce installation time.
While traditional direct burial and submersible connectors require hydraulic tools, specialized dyes, shrink wraps and heat tools, all you need to install the Melni Butt Splice Connector is prepped cable and a standard wrench. Installation can happen in less than a minute!
Simply insert stripped cable into the Melni Connector, twist the end caps to tighten the patented spiral insert, and tighten the waterproof caps. The time working with live wires is greatly reduced along with exposure to open flames and heat tools, making the installation area safer for workers without sacrificing a reliable connection.
"I tested both the traditional crimping method and the Melni Connector side by side in a direct burial application," said Chris Rogers, Journeyman/Lineman. "The length of install time was more than cut in half, ten to one I would use the Melni Connector over a crimp splice any day, it's incredibly simple."
The Melni Butt Splice Connector:
Is rated for AL/CU, excessive force and strain on muscles and joints doesn't have to be part of the job description anymore.
Is waterproof, the sealing caps that compress a neoprene busing around the cable protects the connection inside and out.
Simplifies your toolbox, it's no longer necessary to keep a list of things needed to make a proper connection like the hydraulic crimper, proper dies, tapes and shrink wraps.
"We are interested in any product that enhances our customers safety and lightens their load," said Mark Sweeney, President and COO of Remke Industries. "The Melni Connector is a breakthrough technology and we are proud to serve as the leading distributor of the product line for the electrical industry."
Melni's patented spiral insert technology collapses around the conductor as the end caps are tightened, no crimped needed, resulting in a safe, dependable connection. Drastically cut time and labor with the Melni Connector and reduce the lengthy process requiring multiple measurements, tool change outs and crimps. No open flames, less time exposed to live wires, and decreased use of hydraulic crimpers reduces risk and increases safety during install.
About Remke Industries
For 50 years, Remke has been manufacturing a wide range of American-made electrical connectors. For more information about the family of Corrosion Resistant Stainless Steel Connectors, please contact Remke Industries at 800-383-1524, email CustomerCare@Remke.com – or visit us online at http://www.Remke.com
For more information about Remke Industries or other products, click here to go to Utility Products' website.