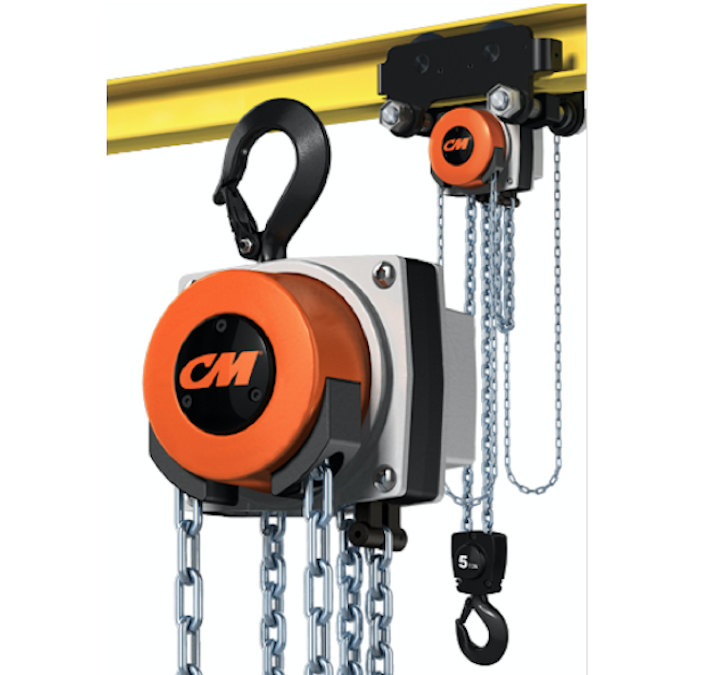 Utility tools: Columbus McKinnon Corp., a designer, manufacturer and marketer of motion control products, technologies and services for material handling, has expanded its offering of the CM Hurricane 360° hand chain hoist to include new 15- and 20-ton capacity units as well as a full line of army-type, integrated trolley models. Designed for versatility and safety, the CM Hurricane 360° features a patented 360-degree rotating hand chain cover that allows operators to lift and position loads from virtually any angle.

Because of its design, the CM Hurricane is cited to be the ideal hand chain hoist when working in tight spaces, above the load, in drifting applications and when the operator needs to maintain a safe distance when handling a load.

New army-type, integrated trolley CM Hurricane hoists feature a compact, low-headroom design that provides even more flexibility in applications with low ceilings or limited space. Available as plain or geared models, these trolley hoists have reduced side clearances and end approach to aid in maneuvering heavy loads in tight spaces. They can be easily adjusted to fit a wide range of beam widths and profiles and have trolley wheels designed for smooth rolling with pre-lubricated, encapsulated ball bearings.

Rugged, durable and easy to maintain, the CM Hurricane 360° is available in capacities ranging from 1/2 to 20 tons with standard lifts up to 30 ft. It is also backed by Columbus McKinnon's lifetime guarantee. All models are now available with optional chain containers as well.
For more information about Columbus McKinnon or other products, click here to go to Utility Products' website.