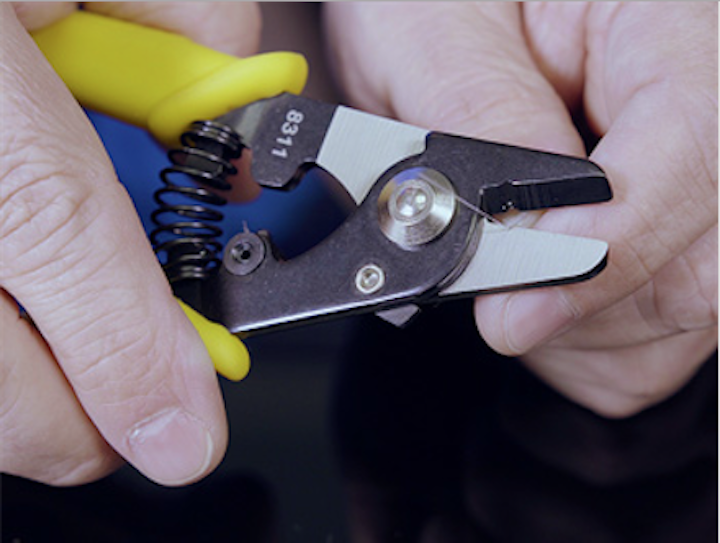 Utility tools: Jonard Tools' new JIC-200 Ergonomic Fiber Optic Stripper strips the 200 micron coating from the 125 micron glass fiber. Preset at the factory so no adjustments are necessary, this ergonomic design prevents nicks or scratches on the optical fiber. The stripping blades are ground and hardened for durability and long life, and the handle is made of TPR (Thermoplastic Rubber). This is a new design to complement our line including the JIC-375 Fiber Optic Stripper Three Hole.
Our second new product introduction is CSS-5127 Coax End Strip Tool. The CSS-5127 is a coaxial cable stripper specifically designed to strip the stub end of a 59/6 coax cable in a wall outlet exposing 12mm of braid and 7mm of the center conductor with built in strip stop for consistent strip length. Ideal for domestic and international use where 12mm (.47") and 7mm (.27") strip lengths are required including some European wall plate applications. This tool eliminates the need to run new cable, thereby saving time and money. The blade is capable of making over 5,000 cuts (Includes a replaceable blade CSS-110).
This tool is the second in the line of coax end strip tools. Our first release was the CSS-596 Coax End Strip Tool for RG59/6 cables.

Jonard's Mission Statement
Jonard Tools was founded in 1958 and established a reputation based on world class tools – designed with precision and crafted to deliver optimal performance. Jonard Tools' goal is to provide quality customer service by striving for excellence in our performance and actions. Building a solid foundation and creating meaningful connections with our staff and customers are vital elements in Jonard's Philosophy. Our company culture embodies loyalty and integrity. We are faithful to our customers and ethical in our actions. We produce the best products and want to inspire our customers to be part of that experience. Introducing two new products monthly, we are the innovative leader in our industry.

For more information about Jonard Tools or other products, click here to go to Utility Products' website.