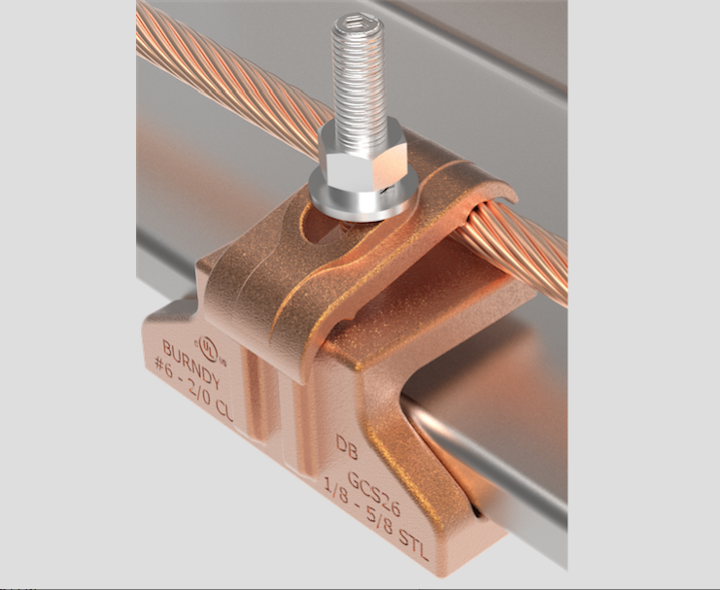 Utility tools: BURNDY®, a leading manufacturer and provider of compression connector solutions to the industrial, energy, construction, telecommunications, petrochemical, data center, and transportation industries, introduces The CONSTRICTOR™ Ground Connector to Steel. The GCS26 connector is used to ground cable to steel in applications where drilling is either not possible or unwanted.
The CONSTRICTOR™ Type GCS series of Ground Connectors is suitable for all applications. Accepting copper conductor from #6 to 2/0 AWG and a beam thickness from .125-.625" (1/8 to 5/8"), The CONSTRICTOR requires no special tooling for installation. Capable of Parallel or Perpendicular conductor orientation, cULus Listed for Grounding and Bonding, and Direct Burial rated for installation into earth and concrete, The CONSTRICTOR™ Ground Connector is applicable for use in extremely volatile environments.
About BURNDY®
Headquartered in Manchester, New Hampshire, BURNDY® has over 90 years of dedicated customer support in both service and product. Our customers need to look no further than BURNDY® for all their connector, tool, and accessory needs. BURNDY® is the only manufacturer to have the BURNDY® Engineered System of coordinating dies, connectors and tools. The three elements have been specifically designed to work together and engineered to meet stringent, accepted quality standards allowing the user complete confidence in the integrity of the connection.
For additional information, contact us at 47 East Industrial Park Drive, Manchester, New Hampshire 03109; call Customer Service at 1-800- 346-4175; or visit our website at www.BURNDY.com.
Since 2009, BURNDY® LLC has been a key brand under Hubbell Incorporated. More information can be found at www.Hubbell.com.
Customer Service 1-800-346-4175 | International 603-647-5299 | Canada 1-800-387-6487 | www.burndy.com
For more information about BURNDY or other products, click here to go to Utility Products' website.