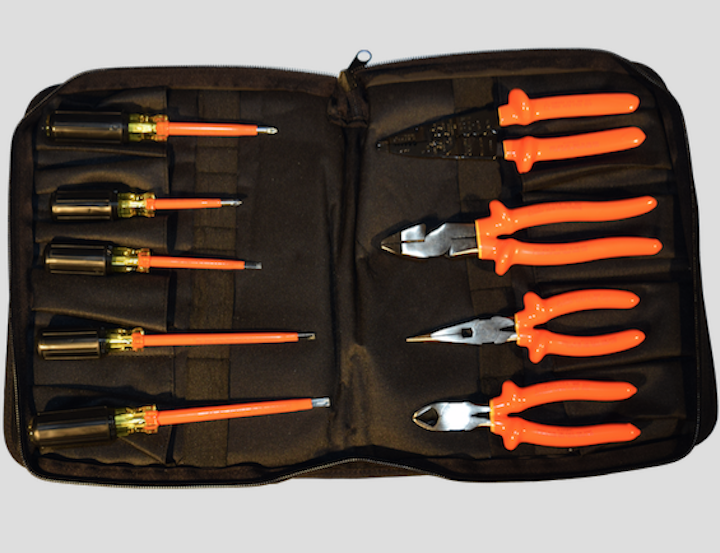 Electrician tools: Cementex, the safety tool specialists, announces the release of the TR-9ELK-ZC Basic Electrician's 9-piece Service Tool Kit, featuring Cementex double-insulated safety hand tools. With a high-quality zippered case option for "America's #1 kit" and nine critical tools, the tool kit is ideal for ensuring technician safety in a range of electrical service applications.
The new TR-9ELK-ZC Basic Service Tool Kit includes: a 9″ pair of linesmen's pliers, a 7 1/2″ pair of diagonal cutting pliers, a 7″ pair of needle nose pliers, a 9″ combination stripper and crimper, a 3/16″ x 4 1/2″ slotted screwdriver with a cushion grip, a 3/16″ x 6″ slotted screwdriver with a cushion grip, a 1/4″ x 6″ slotted screwdriver with a cushion grip, a #1 x 3″ Phillips screwdriver with a cushion grip, and a #2 x 4″ Phillips screwdriver with a cushion grip.
Each tool in the kit complies with the IEC 900 and ASTM F1505 standards, and helps companies to meet requirements of OSHA Safety Related Work Practices, NFPA 70E Standard and CSA-Z462. The included Cementex double-insulated tools are tested to 10,000 VAC and rated for 1,000 VAC when working on live parts and marked with the international safety symbol – "double triangle" 1000V.
All Cementex products are made in the U.S.A. to the highest standards of quality.
About Cementex
Cementex is the innovative, industry-leading supplier of safety hand tools. As the only double-insulated hand tool supplier that controls the entire manufacturing process from insulation through testing, Cementex has an unparalleled commitment to quality and user safety. With constant innovation in response to customer needs, Cementex is on the cutting-edge of both custom and turn-key engineered insulated tools. The design-driven company is continually innovating while remaining committed to producing only the highest quality safety-based products.
For more information about Cementex or other products, click here to go to Utility Products' website.