Bay Shore Knows the Drill
Apr 1st, 2019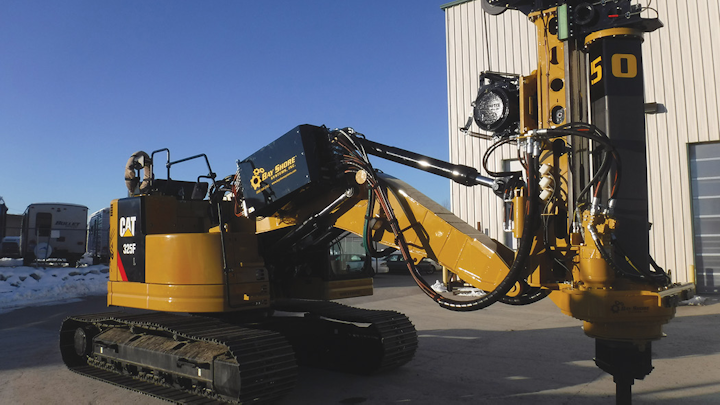 The TR50 has 50,000-ft-lb rotary torque and can be mounted on an excavator as small as 16 tons.
Company introduces two new drill rigs, opens East Coast facility
By Debby Keegan
Whether it's rock drilling, battered or raked holes drilling, foundation drilling, or power line and utility foundations, Bay Shore's drill rigs can drill faster, longer, and with less maintenance downtime to give you the reliability you need for increased productivity.
The company's two new drill rigs are the TR50 and LAD250. The TR50 has 50,000-ft-lb rotary torque and can be mounted on an excavator as small as a 16 tons, resulting in a transport load that is 60,000 lbs and only 8'6" wide. In a tall mast configuration, the TR50 is capable of depths up to 80 feet. What sets the TR50 apart from other drills is its ability to have a six-element square bar set. A sectional mast is also available.
The LAD250 was developed to provide a deeper drilling depth while maintaining a short attachment height. The LAD250 has rotary torque of 26,000 ft-lbs, drills up to 45 feet deep with square bars and is capable of being built with RLKs. An attachment height as short as 10 feet and side tilt capabilities of 10 degrees allow this rig to reach very limited access sites. Designed to be mounted to zero-swing excavators as small as 13 tons allows this completed rig to weigh less than 50,000 lbs for transport.
"Increasing our offerings will help us to better serve our customers," said Adam Minatre, president of Bay Shore Systems. "Throughout our company, we strive to give customers the best possible experience with our drill rigs."
Located in London, Ky., Bay Shore's new East Coast facility will further the company's history of delivering extraordinary service. The 6,800-square-foot facility will expand much needed capabilities for equipment and parts for the service department and will expedite the service needs of customers.
"Expanding manufacturing capabilities allows us to maintain a competitive edge in the drilling market," said Scott Anderson, chief operating officer. "This move positions us for continued growth and helps ensure we remain the trusted resource for quality drilling rigs and service."
The company has also announced that it will aggressively expand its footprint in Europe, the Middle East, Australia and New Zealand, and Africa.
"We've made a lot of progress," Minatre added. "The future is looking bright but we're just getting started." UP
The Author: Debby Keegan is the marketing manager for Bay Shore Systems. For 40 years, Bay Shore has focused on building top-quality custom excavator- and truck-mounted drilling attachments, both nationally and internationally. Bay Shore is known worldwide for its LoDril, TR Series, LAD and AERA drill rigs. To learn more, visit www.bayshoresystems.com.