Liquid Dielectric Tester
The HAEFELY HIPOTRONICS OC60-DI Liquid Dielectric tester accurately and reliably tests the dielectric strength of insulating liquids used in a wide variety of electrical equipment. The rugged, lightweight and portable design ensures years of safe and trouble-free operation and the built-in battery can last a full day in the field.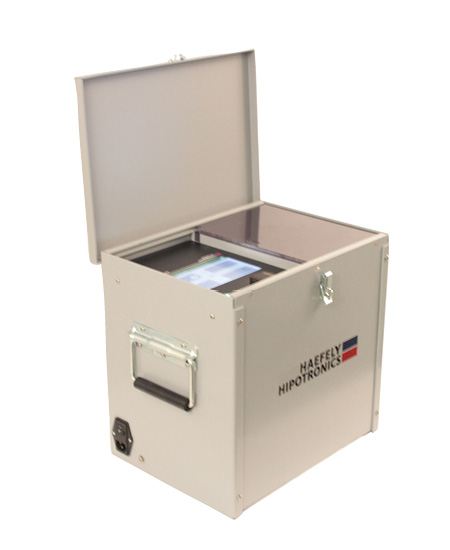 Test cells are available for ASTM and IEC standards. The OC60-DI offers the ability to use one of the pre-programmed rates of voltage rise or allows operators to create their own tests using manual mode. The breakdown voltage is automatically stored and saved onto internal memory or can be exported to a USB drive.
Haefely Hipotronics
www.haefely-hipotronics.com
LED Snow Plow Headlight
J.W. Speaker Corporation, a premier LED lighting manufacturer, is announcing the introduction of a new LED light. The Model 9800 HS LED Snow Plow Headlight is a DOT-compliant LED headlight with SmartHeat deicing technology that ensures optimal line-of-sight for the driver.
Designed for high-speed plowing, the light features a bright, white LED light with precise beam patterns and best-in-class performance.
JW Speaker
www.jwspeaker.com
Safety-Focused Lighting System
Princeton Tec, makers of industry-leading personal lighting products made in the USA for more than 40 years, introduces the EOS-360 hardhat light created to enhance job performance and worker safety simultaneously. Built around Princeton Tec's EOS headlamp, the EOS-360 improves upon the best-selling EOS, connecting it to a durable, rubberized hardhat band comprised of LEDs and reflective strips.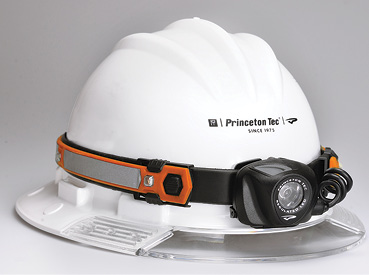 A slip-resistant design keeps the EOS-360's LED band in place on both standard and wide-brim hardhats. The LED band includes constant on and safety flash modes, set bright enough to draw attention but not so overwhelmingly bright that it negatively impacts professionals working in the immediate area. The EOS headlamp comes standard with spot high, low and strobe modes. The EOS headlamp and the LED band function independently of one another, allowing workers to choose and easily switch between whichever combination of task lighting and safety lighting they need in various situations. The EOS-360 gives off 165 lumens from the headlamp's spot beam, runs on 3 AAA batteries, is waterproof and weighs only 5.75 ounces.
Princeton Tec
www.princetontec.com
Professional Lockout Services
Effective lockout/tagout is a top safety concern, yet it consistently ranks in OSHA's top ten most frequently cited violations annually. Nothing is more important than keeping your workers safe. The Master Lock Company's team of lockout experts provide comprehensive, end-to-end professional lockout services including lockout program development, written lockout procedures, compliance training, and inspections and audits.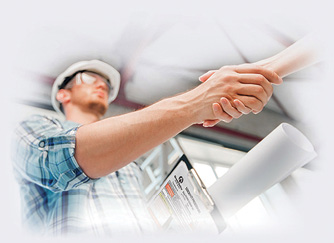 These services help companies create safer work environments with effective and sustainable lockout programs that comply with OHSA and beyond. Taking a holistic approach, Master Lock Professional Lockout Services can build a customized, best-in-class lockout management system or focus on the select elements to make significant improvements in your safety program.
Master Lock Company
www.masterlock.com
Multi-Function Tester
Megger now offers a multi-function tester that tests low-voltage electrical installations to fulfill the requirements of NFPA70 and the National Electrical Code. The MFT70 provides all tests required to complete the necessary electrical certification for industrial, commercial and domestic fixed wiring installations. Designed for use by electricians, equipment installers and engineers, lighting installers, testing and certification companies, as well as facilities maintenance companies and micro-generation installers, this new instrument can test for continuity, insulation resistance, ground and GFCI tripping.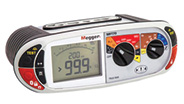 The battery powered MFT70 can be operated from a ladder-shelf or platform, around the neck, placed on the floor or in the hand. This compact, lightweight multi-function tester features a large backlit display and intuitive color-coded range selection for ease of use, dual function display with simple rotary dials showing all tests available and no hidden menus. Internal memory allows results to be stored on the go and transferred to a Bluetooth-enabled device. The MFT70 is a combined instrument offering a variety of testing options, including ground testing with 2-pole, 3-pole, attached rod technique and stakeless with optional clamps; GFCI testing that meets the requirements of GFCI Type A as defined in the ANSI/UL 943 CSA C22.2 No. 144.1 and ANCE NMX-J-520; ability to perform a ramp test on a 6 mA GFCI to ensure it trips under fault conditions; insulation testing at 100 V, 250 V, 500 V and 1000 V; and continuity resistance testing at 200 mA or 15 mA.
Megger
http://us.megger.com
USB Rechargeable Utility Hot Stick Light
Milwaukee Tool has introduced the USB Rechargeable Utility Hot Stick Light. This lighting solution attaches to any universal hot stick and is built with two separate LED lights that provide 350 lumens of TRUEVIEW™ high-output lighting for up to 8 hours. Powered by REDLITHIUM™ USB, the new light delivers up to 350 lumens of halo lighting and adjustable output levels light the fuse for up to 8 hours off one battery charge.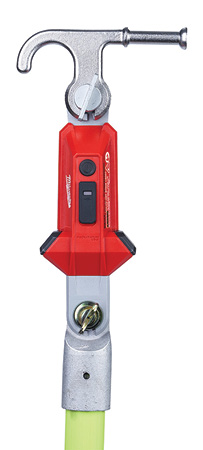 Its advanced TRUEVIEW™ high-output lighting and optical design delivers a consistent beam, optimized color temperature, and true representation of colors and detail leading to a more productive work area. Built to thrive in the toughest conditions, the USB Rechargeable Utility Hot Stick Light is built with a durable, high-impact polycarbonate lens that can survive up to a 40' drop. Its high-impact aluminum body is also IP67 rated for protection from water and dust. As with all Milwaukee® high-output LED lights, the new light also features a limited lifetime LED warranty, and a 5-year warranty.
Milwaukee Tool
www.milwaukeetool.com
Contact Enhancing Washer
The WILEY Telecom WEEB® (Washer, Electrical Equipment Bond) Washer is a powder-coat and paint-penetrating contact enhancing washer used between connectors and equipment frames, cabinets and other painted metallic surfaces to be bonded. The WEEB® Washer teeth eliminate the need to remove non-conductive coatings (e.g., paint and powder coat) when making a bonding connection.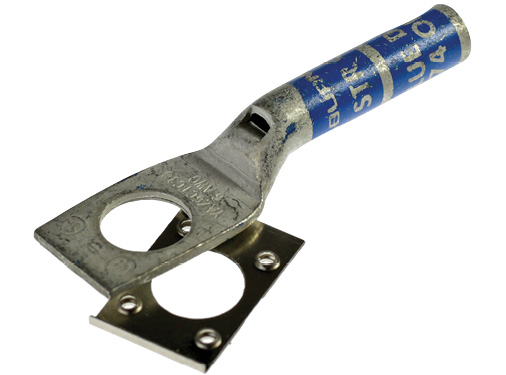 The WEEB® teeth pierce through most non-conductive coatings and embed into the underlying metal, creating a bonding connection between the lug and the coated metal component that it is installed on (e.g., equipment racks, cabinets, enclosures, cable tray). WEEB® Washers help eliminate unwanted rotation of the lug, keeping your connections secure and properly bonded. Not having to remove non-conductive coatings will save on installation time, create a cleaner work environment, and prevent improper coating removal techniques that can lead to poor connections.
Wiley
www.we-llc.com
Auto Power Inverter Charger
The Kussmaul Auto Power 1500 W Inverter Charger or AP1500 Inverter is a 55-amp charger with a 1,500-watt continuous (4,500-watt surge) inverter. The AP1500 is pure sine wave with an output current of 55 amps. It is built to meet NFPA 1917(KKK) specification and is UL 458 listed.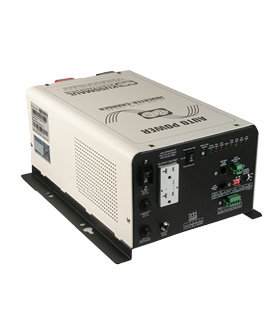 Features include a built-in automatic load transfer relay and high-output, 3-stage charger that is programmable for up to 8 battery types, such as gel, lead acid and AGM. The construction is heavy-duty steel. The circuitry is conformal coated and is designed for severe conditions. AP1500 works with Kussmaul digital display indicators in single Bar Graph or Digital Status Center. It is compatible with Kussmaul's new Super Auto Eject Deluxe Covers in Bar Graph or Digital Display.
Kussmaul Electronics
www.kussmaul.com
Ground Resistance Tester
AEMC Instruments' New Ground Resistance Tester Model 6418 with its oblong head is designed for measuring ground impedance on bus bars, as well as ground rods without the use of auxiliary rods or de-energizing the system.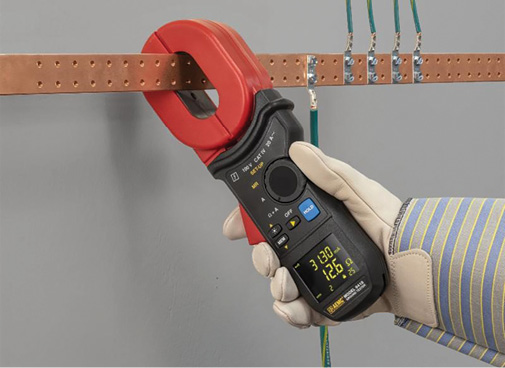 Features include: a large multi-function, bright yellow organic display (OLED) that is visible in all lighting; ability to differentiate between loop and ground resistance measurements; auto hold feature that retains measurement when the jaw is opened; and data storage (Ω and A with time-stamping). Stores up to 300 measurements in memory; stored measurements can be displayed; and clamp opening facilitates both cable and bus bar.
AEMC Instruments
www.aemc.com
AC/DC Digital Clamp Meter
Klein Tools has introduced a new AC/DC Digital Clamp Meter (CL380). The CL380 Digital Clamp Meter offers the capability to measure current up to 400 A AC/DC and also features a high-visibility reverse contrast LCD display for improved viewability in all lighting conditions.

Additional applications include non-contact voltage testing, DC micro-amp measurements, resistance, continuity, frequency, temperature, and more. Designed for general use in residential, commercial and light-industrial locations, the CL380's excellent functionality and value provides professionals with a best-in-class clamp meter option. The rugged design stands up to jobsite demands with 6.6-foot (2-meter) drop protection as well as CAT III 600 V, Class 2 and Double Insulation safety ratings.
Klein Tools
www.kleintools.com
Helicopter Blocks
Condux Tesmec 2-3 bundled conductor helicopter blocks are now available in 24- and 32-inch diameters, measured to the bottom of the groove. The one-piece cast aluminum frame is over 25% lighter, yet stronger and less likely to break compared to aluminum blocks with welded extruded frames.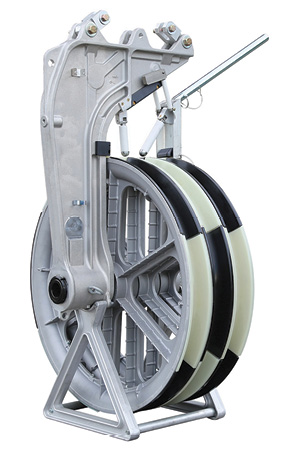 The unit's specially designed counter-weight fly-in gate allows for quicker and more secure rope installs, featuring a unique hinge for safer and more efficient cable removal during clipping operation. Specially designed polyurethane sectors for the 32-inch block are available for use with twisted pair, T2/VR2 conductor. With a workload rating of 12,000 lbs, the Condux Tesmec 2-3 bundled conductor blocks are load tested to 60,000 lbs, providing a 5:1 safety factor. Lightweight aluminum blocks are easier to handle and require less fuel when hanging by helicopter or shipping from jobsite to jobsite. Replaceable nylon sectors are also available.
Condux Tesmec
www.conduxtesmec.com
High-Accuracy Field Solution for GIS Applications
Trimble's new high-performance field computer for its Mapping and Geographic Information Systems (GIS) portfolio, the Trimble® TDC150 handheld, is designed for GIS data collection, inspection and management activities. The TDC150 provides users a rugged solution that has the flexibility of a handheld, a modern interface with open Android™ operating system, and scalable high-accuracy positioning for professional field workflows. The TDC150 provides advanced Global Navigation Satellite System (GNSS) capabilities in a durable, ergonomic and lightweight form factor.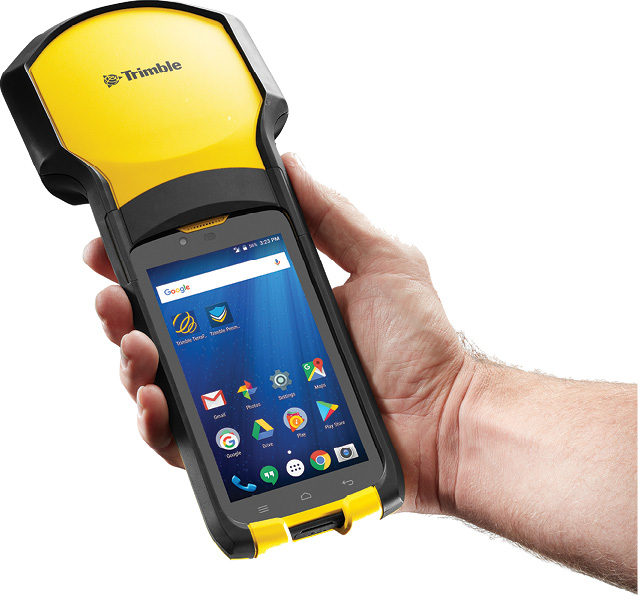 With a built-in GNSS antenna, the TDC150 is a scalable solution that allows customers to choose their desired accuracy. Easy to use and carry in the field, it features a bright 5.3-inch sunlight-readable touch screen and an all-day battery for continuous work on the jobsite. The handheld comes with Google Mobile Services certification to run Google core applications and access thousands of apps on the Google Play Store. Professional GIS field applications, including Trimble TerraFlex™ software — a cloud-based solution that enables users to easily collect, manage and edit their geospatial feature data — are supported, as well as Trimble Penmap® for Android software and Esri's Collector for ArcGIS® mobile app. A new innovative TerraFlex workflow uses the TDC150's onboard rear-facing camera to capture features. This visual aid shows users when the camera and receiver are aligned over features, enabling horizontal centimeter accuracy when holding the device.
Trimble Geospatial
geospatial.trimble.com
Flashing Sounders
for Fixed Gas Detection
Pfannenberg's rugged PATROL® Series Flashing Sounders are designed for fixed gas detection alarming. Designed to alert personnel of an evacuation when there is presence of hazardous gas, these combined signaling products increase safety when used with ammonia (NH3), carbon dioxide (CO2), freon (R22), methane (CH4), or chlorine (Cl2) gas monitoring systems in energy generation and other industrial applications.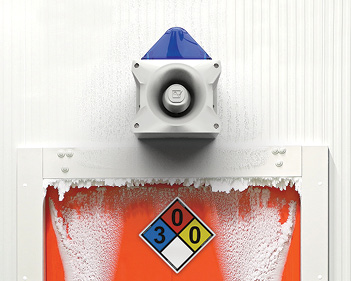 PATROL® Series Flashing Sounders offer 80 pre-programmed alarm tones with 4 stages for distinctive signaling of specific events. Such devices are particularly well suited for environments with high ambient noise levels or when the use of hearing protection may hamper a sounder's effectiveness, or in bright environments where visual signals alone do not suffice. A single device in heavy-duty industry (90+ dB) can cover over 350,000 ft3 (visual) and 800,000 ft3 (audio) with an effective viewing distance of nearly 1/4 of a mile. Built to endure harsh environments and any climate, the PA 1 PATROL Series Sounder's UV-resistant and flame-retardant polycarbonate/ABS impact-proof housing achieves an IK08 impact rating. The xenon strobe flash tube contains no filament to break, is inherently resistant to shock and vibration, and is secured by a steel clamp to further protect it from damage even in highly demanding settings. The lens cover is large, highly visible, and available in a variety of colors. Every PATROL® Series Sounder includes a standard 10-year warranty.
Pfannenberg
www.pfannenbergusa.com
Positive Air Shutdown System
Genie® booms and telehandlers are now available from the factory "rental-ready" for industries and applications requiring positive air shutdown, including uses on oil and gas, mining and indoor factory jobsites. To prevent diesel engine runaway in sensitive work environments, the new modern Genie positive air shutdown system meets the strictest jobsite requirements and global environmental standards. The new Genie positive air shutdown system for Tier 4F Deutz diesel engines is designed with an automatic engine shutoff feature that includes RPM monitoring.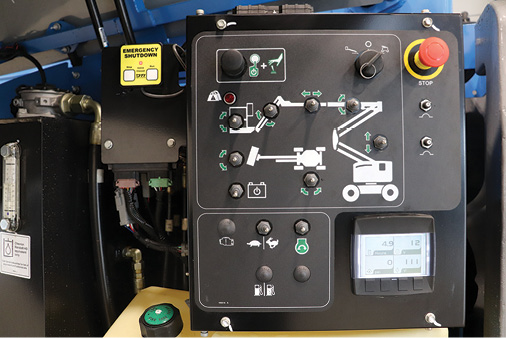 This new Genie system comes equipped with a plug-and-play CAN bus controller to monitor the engine's standard RPM sensors, a sealed butterfly valve and a long-life motor to reduce the risk of downtime compared to third-party kits, which tap into bell housings and alternator outputs. And, installed from the factory, it can save customers up to a full day of installation time and expensive labor costs compared with putting in third-party systems. This new system also features a push-button valve test with engine on or off to minimize the time needed for a pre-operation inspection and testing. Backed by Genie support and warranty, the Genie positive air shutdown system for Tier 4F Deutz diesel engines is now available as a factory-installed option and in the future as a Genie aftermarket parts kit.
Genie®
www.genielift.com
Li-Ion Forklift Battery
The new Deka® Ready Power® Li-ion forklift battery from East Penn Manufacturing Co. adds to the Deka "Mountain of Power" offering, which includes a wide variety of other maintenance-free designs as well as the industry's most proven and dependable flooded products. The Deka Ready Power features power-on-demand with a safe yet high-powered Li-ion technology that delivers long cycle life, high energy density, and rapid recharge.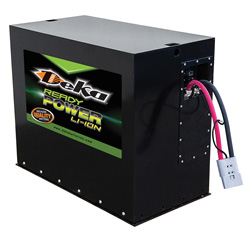 Designed to live up to the Deka name, it is built and backed by the industry's most trusted support. A ten-battery management system (BMS) design monitors each one of the battery's nine modules as well as the overall system to optimize control and performance. Maximum energy transfer is conducted through rugged 4/0 copper cabling and battery data is constantly monitored and communicated to each BMS via a Control Area Network. Like all Deka products, the Deka Ready Power is backed by a nationwide network of technicians and customer support, built-in ease of disassembly for more service options and extended life, and a safe and responsible end-of-life solution.
East Penn Manufacturing Co.
www.dekabatteries.com
Cable Vibration Dampener
A newly patented cable vibration damper being offered by NoDanceDamper helps control damage to coax and telecom cables from strong winds.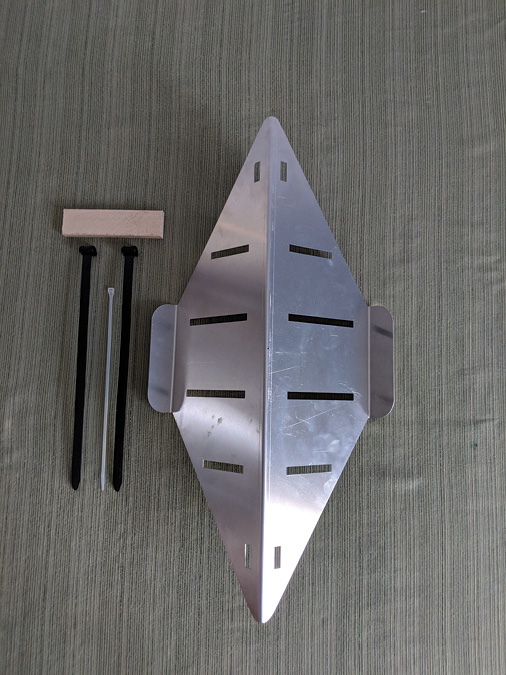 The following upgrades are included in the new system: added spoiler tabs that efficiently increase the damper's drag force; eliminated hose clamps for stealth compatibility with 400-lb H/S cable straps; use of light 1/4 hard aluminum, allowing faster reaction time to disrupt developing harmonics; a lower profile that eliminates potential contact between coax and telecom cables; added spacer, guaranteeing proper damper to cable clearance; added a single tie-wrap to stabilize damper while attaching and adjusting cable straps.
NoDanceDamper
Email: NoDanceDamper18@gmail.com
Security Console
Tuffy Security Products has expanded its security console insert product line with a new model for 2019 Dodge RAM pickup trucks, part 354. As part of the continuously growing product line, the new RAM Security Console Insert is concealed under the OEM sliding tray. Constructed of 16-gauge steel with a durable texture powder coat finish, the Model 354 slides directly into the existing OEM console.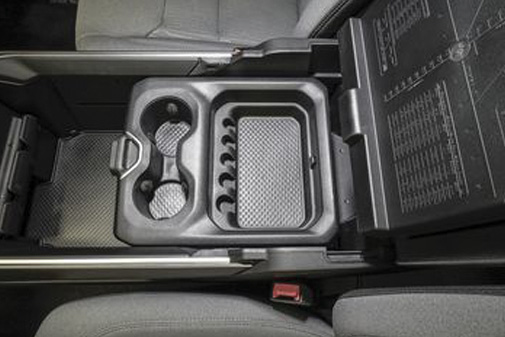 Model 354 console inserts come equipped with Tuffy's patented Pry-Guard locking system which consists of a 10-tumbler, double-bitted security lock and accompanying key. Pry-Guard locking system components are made of 1/8-inch-thick welded steel. The key can only be removed when the console is locked and must be removed in order to slide the OEM tray backward. A Pin-Lock hinge design adds to the security of the console insert. Incorporated into the design is an exclusive lid support feature which allows the lid to stay open while reaching into the console, which features more than 400 cubic inches of lockable storage space. Console inserts have built-in weather seals as well as a weather-resistant lid design. Each console insert requires minor drilling for a secure installation, and mounting hardware is included.
Tuffy Security Products
www.tuffyproducts.com
End of Stick Drive Mounts
Pengo's new patented EOS (End of Stick) auger drive mounts are fully adjustable to fit multiple excavator makes and models. Adjustable ear widths from 3.5" to 8" (8K model) and 4.5" to 17" (16K model).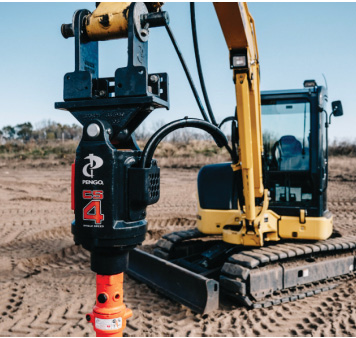 Locking hardware adjustment takes only minutes. Removable bushings make adapting to multiple OEM pins simple. The EOS mount is available in two models, 8K and 16K. The EOS-8K mount is designed for drive units developing 8,000 ft/lbs of torque, and the EOS-16K mount is designed for drive units developing 16,000 ft/lbs of torque.
Pengo Attachments
www.pengoattachments.com
Pocket Cable Tester
Platinum Tools®, the leader in solutions for the preparation, installation, hand termination and testing of wire and cable, has launched the MapMaster™ mini Pocket cable tester (p/n T109C). Now available, the MapMaster™ mini RJ45 cable tester maps multiple locations of RJ45 network cables and detects shorts, opens, miswires, reversals, and split-pairs.
A built-in tone generator with four different tone combinations can be used with a tone probe to detect where a cable is routed and the location of the end of the cable. The MapMaster™ mini determines wire condition, whether good or faulty, and displays it on its LCD display. A set of five mapping remotes is included for locating cables terminated in wall jacks or patch panels. The MapMaster™ mini also identifies the patch panel port where network cable is terminated and can find and fix the position of exposed or hidden cables.
Platinum Tools®
www.platinumtools.com
WiFi Borescope
Klein Tools' WiFi Borescope enables professionals to easily display, save and share jobsite images and videos through a mobile app compatible with Android® or iPhone® devices. Klein's new WiFi Borescope helps professionals save time spent reporting camera output by transforming compatible smartphones to smart tools for use across all jobsites.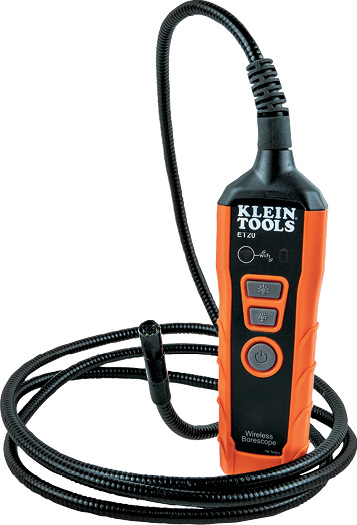 It features a small, rugged camera and a 6-foot waterproof gooseneck to capture vivid images and video even when maneuvering around tough obstacles. It transmits and displays images and video directly to compatible smartphones up to 30 feet (9 m) away, and a 9 mm camera has six on-board, adjustable LED lights and outputs high-quality 640 x 480 images. The rechargeable lithium-ion battery has a 5-hour runtime.
Klein Tools
www.kleintools.com
Insulated Torque Wrenches
Cementex's updated insulated torque wrenches are made of top grade materials, calibrated according to ASME B107 standards (traceable to NIST), and manufactured according to ISO standards. Cementex double-insulated torque wrenches are designed to provide protection in potentially hazardous electrical work environments.

Cementex insulated torque wrenches feature two separate layers of insulation for twice the protection. A yellow undercoat is covered by an orange overcoating to create a high-voltage barrier. The impact-resistant, flame-retardant insulation provides protection against flashover, shock, burns, and dropped tool shorts. Available options now include standard, low profile, clockwise only, and short drive models, as well as a fixed head style.
Cementex
www.cementexusa.com