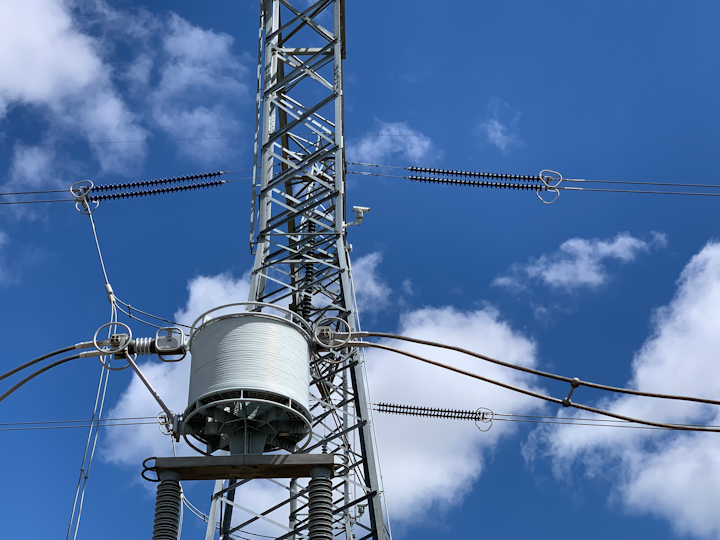 On the evening of June 13, 15,000 baseball fans sat in darkness at Tropicana Field in St. Petersburg, Fla., waiting for play to resume between the Tampa Bay Rays and the Los Angeles Angels. The cause for the delay? A bird's nest had dropped into a sensitive area of an electrical substation, causing a fire that disrupted power to not only the stadium, but also more than 12,000 of its neighbors.
Just a few months later, close to 19,000 residents of California's Coachella Valley lost power for nearly an hour on October 29 when a bird entered and damaged a substation. The outage affected businesses, residences, and the signal lights on several major highways.
Since the first power distribution systems were built, utilities have battled the problem of birds in substations, and the collection of problems they introduce by doing so.
Outages that result from bird incursions can run the gamut of size and expense for utilities — from hundreds to hundreds-of-thousands of dollars. Utilities also spend thousands of dollars a year to clean and repair the damage caused by the progressive accumulation of bird feces, and it is often necessary to take systems offline to do so. Costs to customers can be measured in lost sales, damage to perishables, lost time, and even property damage. And the costs to a utility's reputation can be immeasurable.
Substation managers have had few good options when it comes to preventing birds from roosting and nesting in substations. Now, Laser Bird Defense, a new high-tech solution from York, Pa.-based TransGard, has brought an important new tool to substations. The product has shown great success at multiple substations during a soft rollout this year and is now making the product available to utilities across North America.
The Problem with Birds
Birds have been a challenge for electrical substations since the first power distribution systems were built. The elevated components of substations create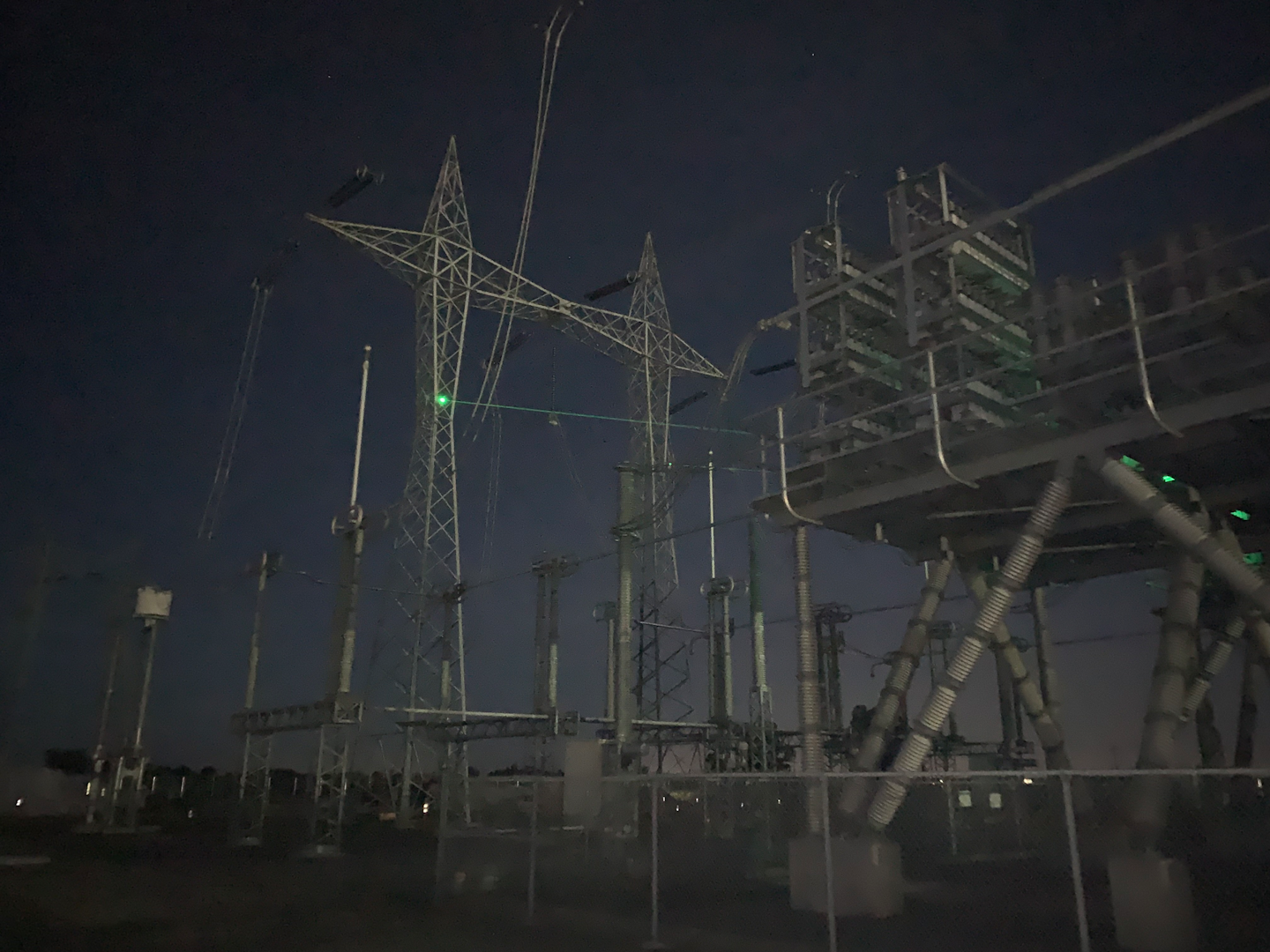 Laser Bird Defense generates a controlled beam of light which birds perceive as a physical threat, causing them to disperse to seek safety. All photos courtesy of TransGardan ideal network of perches and overhangs for birds to nest and find safety, shelter, and warmth.
Unfortunately, by choosing substations as their home, birds risk injury and death and cause equipment damage and significant expense in several ways:
• Bridging: Wingtip contact, or "bridging," involves the accidental contact by a bird's wings between electrical components, leading to a short circuit, electrocution of the bird, damage to the equipment, and service disruption.
• Predators: The presence of bird eggs and fledglings are an attraction for predators of all types. Raccoons, snakes, and cats that detect the presence of food in the form of bird young will make the effort to enter substations, which causes its own source of outage problems. The regular presence of young birds also attracts raptors, which adds to the risk of additional "bridging."
• Droppings: The accumulation of bird feces on substation equipment and structures presents a unique challenge. Bird feces are very acidic and can be corrosive to building materials and equipment. Birds often favor certain places to perch, and over time, the build-up of droppings can be considerable. Dried, accumulated bird droppings can convert to strings of conductive, corrosive feces after periods of rain or mist. These "streamers" can extend to connect sensitive insulators, resulting in flashovers, fires, and outages. Droppings also contain harmful bacteria which creates an extremely hazardous work environment.
The issue of birds in substations has become something to simply manage, rather than prevent. But laser technology has given substation managers a new tool in the fight against aerial intruders.
Keeping Birds Out and the Power On
Laser Bird Defense fromTransGard, a manufacturer of climbing animal protection for substations, has now solved this long-time problem. Laser Bird Defense generates a controlled beam of light which birds perceive as a physical threat, causing them to disperse to seek safety. In this way, Laser Bird Defense discourages birds from entering and roosting in substations altogether.
This new bird-deterrent system offers significant benefits:
• Rapid results: Laser Bird Defense can be installed easily in a few hours without disrupting power to a substation. Once programmed by TransGard, the system can provide immediate prevention of bird presence.
• Better for the birds: Because it does not incorporate noise, smoke, or chemicals, Laser Bird Defense offers long-range, silent bird-repelling technology that won't harm birds or other animals and won't disturb neighbors.
• Flexible: Laser Bird Defense is available in a handheld model or a programmable automated system with different patterns and time slots, making it possible for substation managers to establish a variety of repelling patterns at different times of day. The system also offers up to 2,400 unique waypoints, enabling managers to target problem areas.
• Comprehensive: The round-the-clock, substation-wide capabilities of this new technology have advantages over more static bird control methods. For example, equipment cover-ups might shield some isolated components, but they still allow birds to freely enter and roost in substations, which still leaves a substation vulnerable to damages from droppings and flashovers.
• Eliminates habituation: Birds have a tendency to become accustomed to deterrent methods like chemical fogging, loud noises, predator scents and noises, and distress calls, all of which can be disruptive and inconveniencing to neighbors. The dynamic action of Laser Bird Defense can create effective roosting and nesting disruption over months and years.
• Safe and effective: Laser Bird Defense offers unique safety features based on rigorous testing and research, including a Password Lock feature to prevent unauthorized adjustments, an Emergency Stop device to allow for immediate deactivation, and free laser safety training for substation managers and staff.
"We've established a reputation for deterring animal species that enter substations from the ground," said Bill Reichard, TransGard president. "During a soft roll-out over the last several months, Laser Bird Defense has already seen great results in bringing that expertise to substations against animal incursions coming from the air. We're glad to now be able to offer this product to all of North America."
This new laser-based substation protection meets a variety of critical needs: It keeps birds safely out of dangerous substation environments, and saves time, money, and frustration for utilities and the customers they serve.
The Author: David Richwine is a writer and media specialist with Beeler Communications.