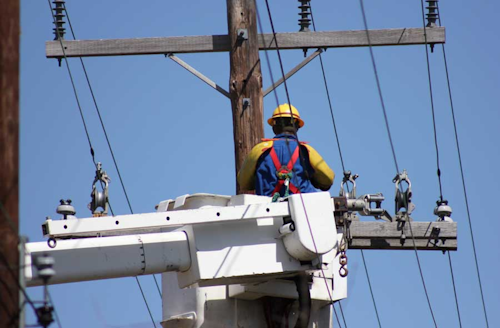 HARTFORD, Conn. (AP) — Representatives from Connecticut's two major electric utilities told state lawmakers Wednesday that falling trees and limbs continue to wreak havoc on power lines, despite years of tree-trimming and tree-removal efforts.
"If we solve the tree problem, we mitigate a lot of damage," said Joseph Thomas, vice president of electric systems operations at United Illuminating Co., which serves the New Haven and Bridgeport areas.
Thomas said 82 percent of UI's tree-related outages that occurred during the Oct. 29-30 wind and rain storm happened in areas where UI has not yet finished creating "utility protection zones" where trees have been trimmed away from power lines and heavier-duty infrastructure has been installed. It's part of a 12-year, $162 million trimming and clearing program.
Meanwhile, Peter Clarke, Eversource's senior vice president of emergency preparedness, told lawmakers that three years of drought conditions and heavy rains led to the large number of fallen trees, noting how the ground was saturated with water before the high winds arrived.
UI and Eversource Energy officials appeared Wednesday before the General Assembly's Energy and Technology Committee for a hearing on the utilities' response to last month's damaging windstorm, which left more than 100,000 residents across Connecticut in the dark for multiple days. The hearing was requested by Senate Majority Leader Bob Duff, of Norwalk, and Sen. Cathy Osten, of Sprague. Both Democrats questioned whether the utilities followed minimum performance standards for emergency preparation and storm response that were put in place several years ago following a wide-ranging review by the General Assembly.
"I firmly believe that periodic reviews of natural disaster responses, like this one, should occur on a regular basis in our state," Osten wrote, in a letter to lawmakers requesting the hearing. "It is vital to public safety that we evaluate whether or not our state's ability to respond in an emergency needs improvement."
Beyond complaints about multiple days of outages, lawmakers said they were concerned about communications problems that came to light during last month's storm. Some customers, for example, were unable to reach Eversource.
Penelope Conner, senior vice president and chief customer officer at Eversource, acknowledged the utility needs to review its process for reporting customer outages and how the system as a whole handles an onslaught of messages and calls from various platforms, such as text messages, when there is a major storm. She said one person, for example, texted Eversource 220 times over a 48-hour period, exacerbating the large volume of texts seeking information about outages.