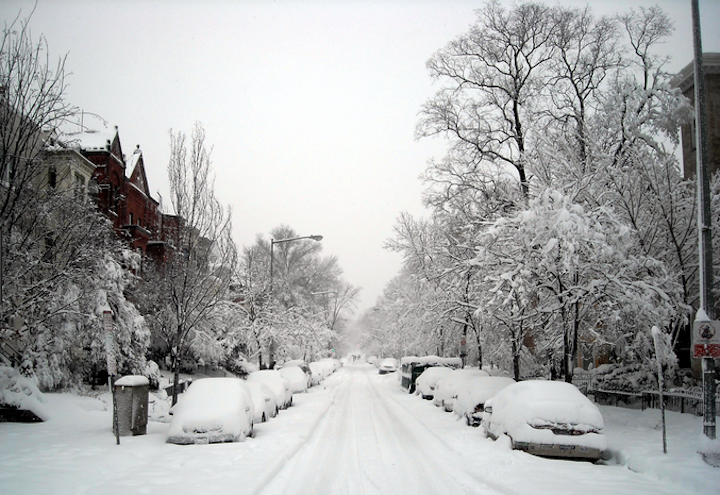 BOSTON (AP) — The National Weather Service had declared the latest winter storm to hit the Northeast a blizzard.
The service's Taunton, Massachusetts, office said on Twitter late Tuesday morning that automated observing sites in Hyannis, Falmouth, and Plymouth recorded three consecutive hours of blizzard conditions despite some missing observations due to a power outage.
The weather service defines a blizzard as three or more hours of sustained wind or frequent gusts to 35 mph or greater; and falling or blowing snow that reduces visibility frequently to less than one-quarter of a mile.
Alex Tuthill called the snow falling in Boston during the latest nor'easter "quite incredible."
In Boston on business, the 30-year-old London resident said he was sharing pictures and videos with friends back home who rarely seen more than a few inches of snow as he waited for a taxi outside a hotel.
He said he has "never seen anything like this in my life. ... I can imagine everyone here hates it but for me it's quite an experience."
Eastern Long Island is braced for the brunt of the latest storm in the New York City metropolitan area.
Newsday says road conditions deteriorated quickly before sunrise Tuesday as wet, heavy snow accumulated in the Town of Brookhaven.
A National Weather Service winter storm warning is in effect until 6 p.m. in Suffolk County and 4 p.m. in Nassau County.
Forecasters say Long Island's East End could get 8 to 12 inches of snow with poor visibility at times and wind gusts at 30 to 45 mph.
PSEG Long Island says about 1,200 customers lost power overnight, but electricity was restored for most by early Tuesday.
Spokeswoman Brooke Houston says the utility has brought in 112 linemen from Quebec to supplement hundreds of employees and local.