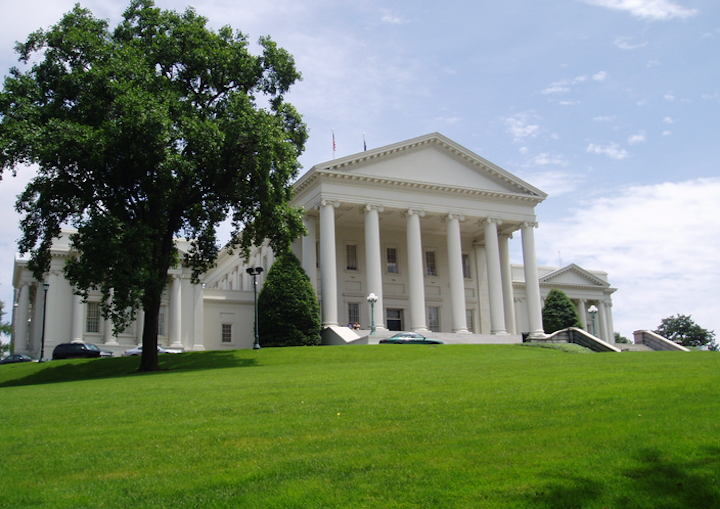 RICHMOND, Va. (AP) — Dominion Energy has long had unrivaled success at getting friendly legislation through the Virginia General Assembly, a political advantage that by some counts has been worth billions of dollars in profits.
The parent company of the state's largest electric utility has massive sway in crafting Virginia's energy laws, including legislation passed earlier this year that likely eliminated any chance of the company having to lower electric rates that regulators have routinely found to be too high.
But that political prowess is now being cheered by unlikely sources: Dominion's would-be competitors.
Independent retail energy companies that buy and sell electricity say Dominion's success at shaping the state's energy policy has led to higher-than-necessary prices, unhappy customers and new opportunities for other energy companies.
"The market has caught up to them," said Leonard Pulley, the owner of retail energy company EA Power Solutions.
Retail giant Walmart recently informed state regulators that it wants to buy electricity from someone besides Dominion and Appalachian Power, the state's second largest utility. And several other large companies, including Target, Microsoft and Home Depot, indicated during this year's legislative session that they'd like state laws changed to make shopping around easier. The companies want to shorten the five-year notice they would have to give utilities if they leave and then wish to come back.
Large energy users nationwide are showing a greater appetite to shop around for their electricity, said Phil O'Connor, an energy consultant and former Illinois utility regulator.
Low natural gas prices, a more mature independent retail energy market and rising prices among utilities to offset stagnant customer growth are making deregulated environments more attractive, he said. Most deregulated states have seen their average price per kilowatt hour drop in the past 10 years while most regulated markets have seen prices rise, according to O'Connor's analysis of U.S. Energy Information Administration data.
"There's a growing awareness of the divergence in price paths," he said.
Virginia's rates are generally competitive with similarly situated electric monopolies in the Southeast and are slightly lower than the national average. But the company's critics charge that Dominion, the state's largest corporate campaign contributor, has routinely pushed through legislation that's padded its profits at the expense of customers.
That includes a 2014 law that allowed Dominion to pass along to customers the costs of a nuclear plant that may never be built, a 2015 law that temporarily blocked regulators from lowering Dominion's rates and this year's legislation, which gives Dominion new flexibility in accounting for costs that virtually guarantee its rates can't go down.
Ron Cerniglia, director of Corporate Regulatory Affairs at Direct Energy, the country's largest retail energy provider, said the most recent legislation has prompted many of Dominion's big customers to explore other options.
"I see a big trend moving in the direction of competition despite the best efforts of Dominion," he said.
Dominion says it's supported legislation that's benefited customers and the vast majority aren't interested in shopping around.
"There may be a few examples of customers who are willing and able to accept the risks and potential volatility of choosing an alternative supplier, but most of our customers prefer the safety and stability we offer," Dominion spokesman David Botkins said.
States have had a mixed track record with deregulated energy markets, and the collapse of Enron Corp. in 2001 led officials in several states to rethink ending traditional state regulation of prices.
Virginia tried deregulating the electric market two decades ago, but the experiment failed to generate competition for a variety of reasons.
It's now one of a handful of states with electric monopolies where customers can shop around under certain circumstances. Under Virginia law, customers using at least 5 MW a year or any customer wanting to use 100 percent renewable energy can buy electricity from a company other than the electric monopoly.
States with similar setups are seeing friction between heavy energy users and the dominant electric utility.
Nevada's electric monopoly has been at odds with casinos and tech companies. A ballot initiative aimed at making it easier for customers to leave the utility passed with 72 percent of the vote in 2016 and will become part of the state constitution if it passes a second statewide vote later this year.
In Virginia, Dominion is trying a carrot-and-stick approach with customers that may be thinking of looking around.
The Dominion-backed legislation passed earlier this year offered large customers an olive branch: a 2 percent reduction on their base rates if they agree to stay on with the company.
But for customers that do try to leave, Dominion is pushing back hard. It's asking regulators not to approve Walmart's petition to aggregate its stores to meet the 5 MW threshold and recently filed an appeal with the state Supreme Court seeking to block a food-packaging company from aggregating its load.
Dominion has argued that customers shouldn't be able to aggregate because if too many of them left, it would mean higher prices for the remaining customers.
"It constitutes very bad precedent and policy," the company said.