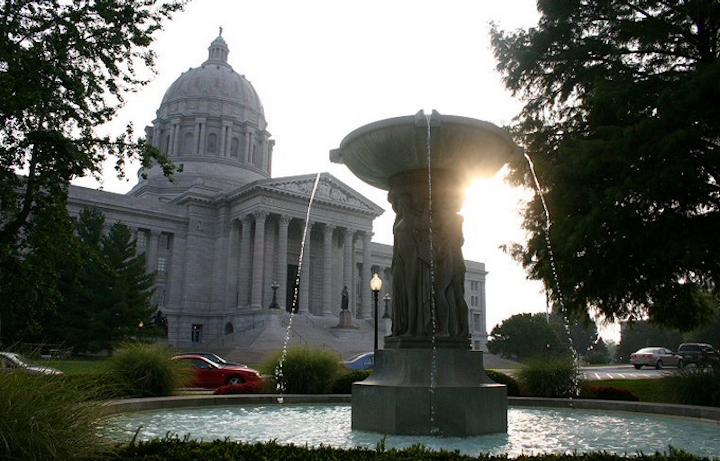 JEFFERSON CITY, Mo. (AP) — The Missouri Senate passed legislation Thursday that could allow the state's largest electric companies to recoup more of their costs for infrastructure improvements from their customers.
The legislation, which sparked an overnight filibuster last week and threats of another one this week, cleared the Senate by a 25-6 vote. But passage came only after several Senate opponents who fear it will lead to higher rates pledged to continue pushing for additional changes when the legislation moves to the House.
The bill affects nearly 2 million customers served by the investor-owned utilities of Ameren Corp., Kansas City Power & Light Co. and The Empire Electric District, which provide power to almost two-thirds of all customers statewide.
It doesn't apply to customers of rural electric cooperatives or municipal utilities, which aren't regulated by the Missouri Public Service Commission.
Electric companies are backing the bill partly because electricity usage has declined in Missouri over the past decade as customers adopted greater conservation measures. That falling demand has put pressure on utilities that are trying to hit profit targets for their shareholders while simultaneously upgrading their infrastructure.
The legislation would provide a rate reduction for some electric customers to account for a corporate tax cut recently enacted by President Donald Trump. Then it would provide two new ways for power companies to shore up their revenues in the future.
One regulatory option would allow periodic adjustments in the rates charged to customers to account for changes in demand caused by weather or conservation. A similar option already exists for investor-owned natural gas companies.
"The value of it to the utility is that they can plan better in terms of their cash flow," said sponsoring Sen. Ed Emery, a Republican from Lamar.
The other new regulatory option, available only to Ameren and KCP&L's various entities, would allow electric companies to more fully account for the cost of their infrastructure investments when seeking rate increases. The companies would have to submit a five-year infrastructure improvement plan with at least 25 percent of the costs going to grid modernization.
Electric companies then would have to hold rates flat for three years before they could seek rate hikes of as much as 9 percent for KCP&L and about 8.5 percent for Ameren. That would equate to an average annual rate hike of 3 percent for KCP&L and 2.85 percent for Ameren over those three years when rates were flat. The rate cap would be set lower, at 2 percent, for large business consumers.
Ameren Missouri Vice President Warren Wood called the bill a "well-balanced compromise" that includes "the most stringent rate caps in the country."
But the caps are "meaningless" and merely "would delay the dramatic impact on households' utility bills by a few years," countered Cara Spencer, executive spencer of Consumers Council of Missouri.
Supporters of the bill say the caps would keep customer rates more predictable and potentially lower than they otherwise would have been. From 2007 through 2016, rates charged by all investor-owned utilities in Missouri rose by an annual average of 5.2 percent, according to industry figures.
The legislation also would mandate a 40 percent annual average rate discount for businesses that add large amounts of new electricity usage and receive other state or local economic development incentives.
Another portion of the bill would restart a languishing program that requires electric companies to provide rebates to customers who install solar panels.