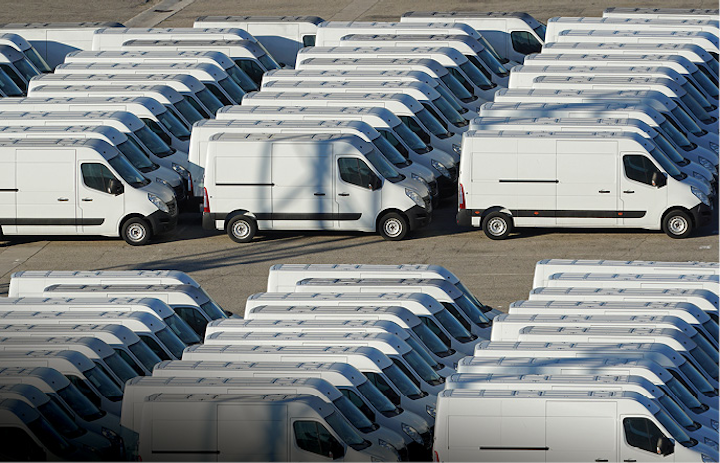 Are you ready?
By Paul Lauria
There is a dramatic shift underway in the world of transportation and fleet management, one that impacts public and investor-owned utility companies. This shift will require fleet professionals to devote considerable time and attention to addressing these challenges — unless they want to be caught unprepared.
Three key industry trends are contributing to this "perfect storm":
1. Rapid changes in automotive technology
2. Heightened senior management expectations created by advances in information technology
3. Loss of institutional knowledge as veteran fleet managers retire and are replaced, in many cases, by management generalists
Digging Deeper
The loss of institutional knowledge resulting from the retirement of Baby Boom-generation professionals coupled with a shortage of new talent entering the transportation and fleet management professions is creating a fog of uncertainty for fleet owners looking to meet current and future fleet management challenges, including apprenticeship programs, consolidation of fleet management organizations, and outsourcing. The path forward is murky at best.
The development of alternative fuel vehicles, electric vehicles, connected vehicles, and autonomous vehicles, plus changes to driver and vehicle emissions regulations, is enough to make anyone run for cover. It's no wonder that fleet professionals are overwhelmed with the whirlwind of technological changes and choices available — and the costs associated with them.
Lastly, the deluge of "big data" has countless fleet professionals struggling to keep their heads above water. While fleet operation and management practices are supposed to be data driven, the wave of telematics solutions and other decision-support tools that have been launched in recent years threatens to capsize fleet owners who, for decades, have relied primarily on the first-hand experience and subjective judgment of their long-time fleet managers, supervisors and mechanics.
Rating ——————————————————————————————————

Best
in Class
05

High-Performing

04

Competent

03

Basic

02

Reactive

01

———————————— Description ————————————

The organization has an innovative, well-above-average ability to define, measure, monitor, manage and perform the fleet management activity that clearly sets it apart from the typical fleet management organization. The organization is looking ahead to future challenges and creating a formal plan to address them. Workflow improvements are made regularly to encourage the highest level of performance.

The organization has comprehensive, well-defined, data-driven policies and procedures for performing the activity and promoting continuous improvement in its execution. Adequate thought has been given to preparing for the Perfect Storm, resulting in well-documented, formal plans.

The organization has good knowledge of basic fleet management principles and techniques associated with the performance of the activity. This knowledge is generally applied, but there is room for improvement to avoid inconsistencies. Further education is recommended to ensure managers are knowledgeable of technological advancements.

There is a limited understanding of the proper methods of, and generally inconsistent performance of, the activity. Because the organization struggles to perform day-to-day operations reliably, management is prevented from devoting time to preparing for the future and changes to the automotive industry. Therefore, no formal plans for improvement are in place.

The organization has a poor understanding of, and ad hoc approach to performing, the fleet management activity. As a result, the organization fails to perform with any degree of consistency, if at all. Drastic action is required to improve conditions, starting with educating managers and putting informed policies and procedures in place.
These converging storm fronts signal danger for a fleet's forecast but only for those caught unawares.
With the proper preparation — and an understanding that fleet management has forever changed — there are clearer skies ahead.
Never-Ending Fleet Management Challenges
— Come Rain or Come Shine
An inherently complex business, fleet management involves different disciplines, stakeholders and inputs. Despite its many moving parts, two distinct but undeniably interdependent components exist:
Asset Management: This involves the care of the vehicles themselves, including their purchase, fueling, maintenance, repair and replacement.
Enterprise Management: This comprises activities whose performance is governed by the needs and priorities of the larger company or government agency of which a fleet is a part and that directly or indirectly impact fleet management capabilities and practices.
No matter the state of the economy, year-over-year fleet replacement costs are subject to peaks and valleys due to the nature of asset replacement cycles and purchase prices. These fluctuations don't cease just because the economy is strong and the stock market is booming.
To further complicate matters, many industries, including utilities, view their fleets as a cost, not a profit, center — despite the fact that they could not function without them.
As a result, securing sufficient financial support to manage a fleet well and replace assets in a timely manner — to say nothing of preparing for the impending storm — can be a daunting task.
Survival Depends on a Prep Plan
As storm clouds continue to gather, fleet owners need to be honest with themselves about the strengths and weaknesses of their fleet management practices. Ratings (see Fig. 1, above) can be used to assess, and then improve, readiness.
While not every fleet's annual replacement cost exceeds six figures, even small organizations must recognize that a fleet is not only a significant expense but an ongoing investment. Devising a solid replacement plan goes a long way toward managing fleet operating costs and, more importantly, looking at fleet needs and costs critically and objectively in the face of rapidly changing transportation, employee mobility and fleet management industry conditions and practices.
Having an effective fleet replacement program in place will:
1. Raise awareness of the ongoing costs of fleet replacement — essentially, the cost of doing business.
2. Help prepare for unavoidable peaks and valleys in year-over-year costs.
3. Facilitate the exploration of new fleet management strategies, such as shortening replacement cycles (and reducing fleet repair requirements) to cope with mechanic retirements and integrating alternate fuel and electric vehicles into the fleet.
Putting Success in the Forecast
After assessing the maturity of their business practices, many fleet managers realize that they're not adequately prepared for the perfect storm. What can be done to improve their readiness?
Cut Through the Fog: Use retiring professionals' industry knowledge to institutionalize fleet management practices through the development of formal policies and procedures, so that these practices don't depend too much on the presence, knowledge or experience of particular individuals.
Calm the Whirlwind: Recognize that not all new technologies can, or should, be embraced immediately. Senior leadership's enthusiasm for fleet sustainability in its various manifestations (electrification, driver management programs and the like) must be tempered by fiscal realities. Being able to quantify and explain the costs and benefits of new technologies is critical.
Don't Be Washed Away by the Tsunami
Although we live in a world of data immersion, data is a means to an end (i.e., more informed decision making) and not an end itself. Moreover, converting data to actionable information requires more than just the latest and greatest data collection devices and analysis tools. It requires data analysis, interpretation and presentation skills. UP
The Author: Paul Lauria is a co-founder of Mercury Associates, one of North America's largest dedicated fleet management consulting companies, and is the firm's president. His areas of expertise include alternative financing approaches, fleet management best practices, cost charge-back methodologies, and fleet rightsizing. Over his 30-year consulting career, Lauria has worked with a wide array of organizations in the public and private sectors touching on virtually every facet of fleet management and operation. He can be contacted via email at plauria@mercury-assoc.com.