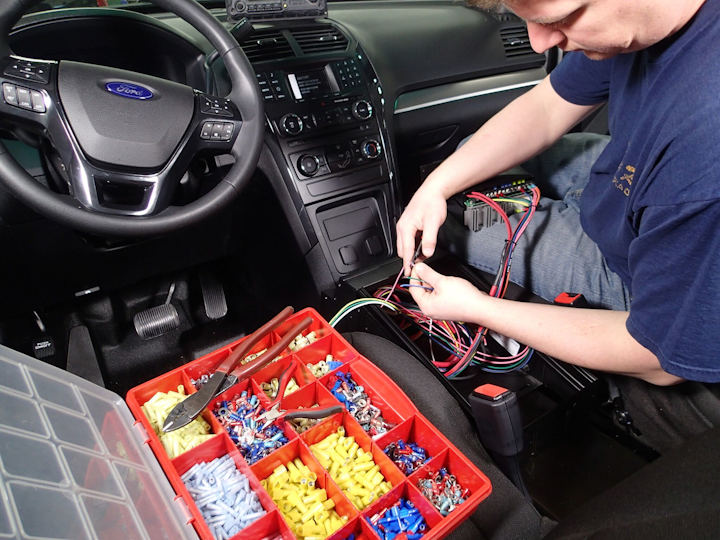 Today's motor vehicle is no longer for transportation only — it's also a highly advanced mobile office that integrates voice, data, video, warning, and operating systems. As new technologies evolve, vehicles are becoming more complex — and so do their upfits. Vehicle upfits for mobile offices must solve specific business problems and meet work function requirements, all while accounting for occupant safety and ergonomics concerns — not to mention time and budget constraints.
Vehicle upfits directly impact job applications. A well-planned and organized upfit can enhance driver comfort and productivity, improve safety, and increase efficiency, and cost-effectiveness. A poorly planned and executed upfit is just as capable of accomplishing the opposite.
Before you consider simply settling for the lowest bid, be sure that the installation partner you select has both the expertise to integrate these potentially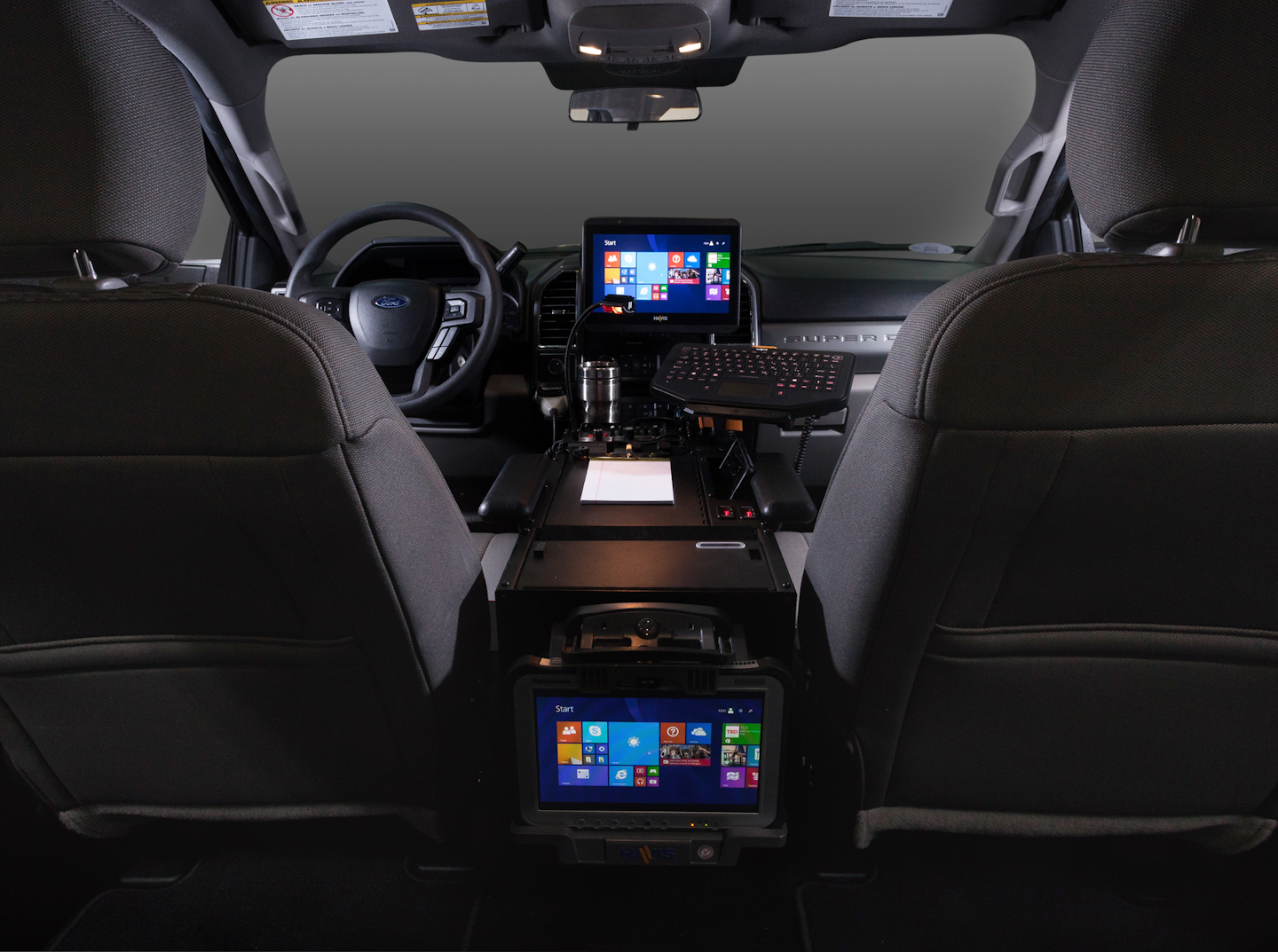 A well-planned and organized upfit can enhance driver comfort and productivity, improve safety, and increase efficiency, and cost-effectiveness. All photos courtesy of Haviscomplex systems and the experience to safely and comfortably install them. Experienced upfitters can work closely with fleets to determine mobile needs and requirements, help identify the right equipment to meet specifications, and then install and deliver that system as promised at a reasonable, competitive price.
The following guide is designed to offer considerations and educate you on choosing an upfitting process and installation partner that fits your fleets' needs. The more educated you are, the better equipped you are to clearly communicate your project requirements, goals, and specifications with your upfitter.
Planning for an Upfit
Fleets can benefit from well-installed, customized mobile solutions, but it takes thoughtful planning and organization to achieve a solution that will solve a specific business problem and work function requirements. One of the keys to a successful upfit solution is proper planning. When planning for an upfitting solution, it's important to account for budget realities. Since planning to upfit your fleet is a long process, develop a Plan A, Plan B, and even Plan C so you're prepared for any changes to your company's needs or situation during the project's lifetime.
To start, determine vehicle make, model and year, and the warranty terms. Next, consult OEM modifiers guides to learn about what equipment is compatible with the vehicle. Plan installations around vehicles and key equipment — including light bars, cameras, tablets, laptops, and consoles — and ask for advice on layout, whether from fleet peers, installation partners, vendors, or equipment manufacturers.
Once you have determined what equipment you have, you need to identify what equipment is missing from the mobile office — including software, hardware, docking, and mounting equipment. An aspect often overlooked in planning is accounting for lead-times on equipment orders. Create an inventory of parts and a schedule for vendor deliveries to ensure that equipment is coordinated to arrive in time.
Keep in mind how the final product will impact the end user's comfort, safety, and productivity on a daily basis. A mobile office designed without ergonomics considerations can result in decreased productivity and put workers at risk of injuries such as chronic neck and shoulder pain. The best way to accommodate for end users is to incorporate fleet managers' or drivers' input into the process.
Once you document the extent of your fleet's needs, you can identify the type of upfit for your fleet. There are various types of upfit options including turn-key, multiple vendors, agency fleet shop, and OEM packages. Remember, economy does not equal efficiency, therefore, masking upfit decisions based on occupant safety and overall value rather than solely on cost will help you develop a mobile office solution that fits your fleets' needs and budget.
Choosing an Upfit Partner
Experience is critical when it comes to selecting an installation partner. A partner with extensive knowledge from working on upfits of your fleet's caliber will provide insight into the process that will guide you in the decisions you will make along the way. When researching upfitting partners, start the vetting process by confirming they are insured, licensed, and bonded. When they're protected, you're protected.
A key step in selecting a partner is meeting face to face for an initial consultation to determine the upfitters' experience, reputation, capabilities, and pricing models. Discuss the scope and specifications of your project with the upfitter to determine whether it will be a good fit. Consider their experience and reputation, site locations, labor capabilities, guaranteed security, competitive pricing, and warranty options.
Inquire about former projects and check references. It's important for your bottom line to balance speed of installation with vehicle downtime by calculating the cost of taking a vehicle off the job and factoring it into the overall upfitting budget. Security is important as well, so if your vehicles are being upfit offsite, ask where vehicles are stored during projects.
An experienced and knowledgeable technician is essential to a successful and efficient installation job. Be sure to confirm that the employees who wire vehicles are certified and trained technicians. If the upfitter uses a subcontractor, be sure to vet the subcontractor and understand how the project work is divided.
Pricing options for any scale upfit can be complex — whether per day, per week, per unit, or retainer. Work closely with them for a detailed and itemized project quote based on project specifications and scope.
Project Management
Another key to a successful upfitting job is proper communication between an installer and a fleet. Once an installation company has been selected, work closely to develop and agree to a project building plan, budget, and designate a specific point of contact on both sides. Installation partners can provide detailed quotes and build sheets to help fleets understand the scope of the project and its complexities.
Installation projects without clear communication between customers and installers can face a variety of challenges, from miscommunication about project specifications to day-to-day operational mishaps. Requiring consistent progress updates will be important to the outcome of the overall project.
Conclusion
When an installation job is complete, review the vehicle to ensure that all the equipment has been installed properly prior to accepting delivery. Don't hesitate to point out issues, as professionals aim for complete customer satisfaction and are always looking for feedback to improve. Prior to accepting your vehicle be sure it is fully charged, and that the install didn't and won't drain the battery. One could consider adding an auto shut-off timer, such as ChargeGuard, to their product list as an inexpensive option to provide circuit protection for a vehicle's power.
Request copies of build sheets and wiring diagrams for your fleet maintenance team's reference. A good upfitter should be able to demonstrate exactly how vehicles were modified, and each vehicle should be consistent. Create an annual build book to detail installation and operation procedures. An inventory of parts, a modifier's guide, and a user's guide are all helpful features to include in a build book to assist in maintaining the upfitted vehicle(s) properly longer term.
When it comes to upfitting a vehicle, mutual deployment success hinges on the communication atmosphere, cooperation, and trust of everyone involved. An upfitting partner with the right experience, industry partnerships and capabilities can be an invaluable resource in designing and deploying a mobile office solution that increases your fleet's overall productivity. UP
The Author: Heather Miller is channel and events manager at Havis Inc.