Tracked Mulchers Prove Tough Enough for Texas Rights of Way but Gentle Enough for Sensitive Watersheds
When Ray Young, owner of Goliad, Texas-based Allscape Land Clearing, was approached to do right of way work for the Longhorn Pipeline Rehab project, he was hoping it would provide visibility-and open up opportunities-for additional right of way work.
Jun 16th, 2014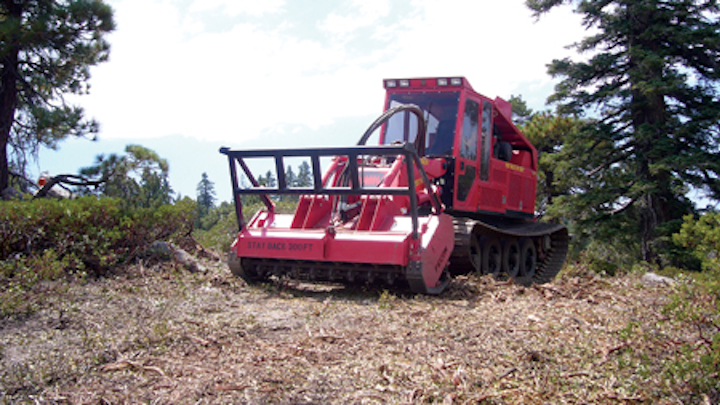 When Ray Young, owner of Goliad, Texas-based Allscape Land Clearing, was approached to do right of way work for the Longhorn Pipeline Rehab project, he was hoping it would provide visibility-and open up opportunities-for additional right of way work. He didn't know how much attention this clearing project would generate because a portion of the 420-mile swath crossed over the Edwards Aquifer-the main source of water for San Antonio and Austin. Young successfully proved that his equipment was tough enough to handle the oak thickets but gentle enough to leave little, if any, footprint on the sensitive terrain.
The Longhorn Pipeline Rehab consisted of refurbishing 420 miles of old existing pipeline used for converting natural gas to gasoline. The project began just west of Houston, continued north of Austin, and ended in El Paso. Given the proximity to the main water supply for major population centers, the contract was especially sensitive.
"During the course of this project we literally had people picketing along the entrances to the right of way and even had rocks thrown at our trucks coming in and out of the area," Young said. "They were concerned we were going to take bull dozers in there and destroy the natural habitat, which is very scenic in areas."
Allscape, which had primarily done seismic rights of way, was chosen because of its safety record and environmental sensitivity. The project manager explained that he needed to use machinery that left as little environmental footprint as possible, and he chose to use Allscape based on their unblemished safety record and references from the seismic industry, which was their previous niche.
With 10,000 linear miles of seismic clearing, Young and his Allscape team have built up a varied fleet of equipment, including Barkos, Prentice 2870's as well as Tiger Cat Mulchers-all with Fecon Bull Hog mulching heads. He also operates a purpose-built Fecon FTX250-a low ground pressure mulcher with the power to clear 20-inch thick oaks without leaving a trace that it was on site.
This equipment was put to use on the Longhorn Pipeline Rehab project because of the varying terrain between Houston and El Paso. Near Houston, the terrain is flat and wet. Young used the Fecon FTX 250, his go-to for wet work. Designed to work in wet environments, it imparts 3.9 pounds per square inch (based on SAE J1309 calculations)-which is less than that of a person walking alongside it. Its rubber tracks left little, if any, noticeable surface deformation, and its aggressive travel speeds kept the mulcher productive without getting stuck.
As the project progressed westward, the terrain dried up, but the Fecon Bull Hog mulcher heads had no difficulty with the oak thickets and rocky terrain east and west of Austin. In this landscape, he predominantly used a Barko 930 or one of his larger Tigercat machines with Fecon Bull Hog attachments. There were no modifications necessary to attach the Bull Hog head onto his different carriers. The carriers/mulcher head combinations mulched everything from saplings to oaks and cedars up to 20 inches in diameter in a single pass. Allscape crews left the mulched material as ground cover to protect the environmentally sensitive areas. In all, the project took four months with eight different machines.
For Young, the versatility of the equipment was useful, but they didn't break down during the long run of the job, which was vital. Investing 20-30 minutes of required maintenance daily ensured they remained reliable.
"Our equipment is maintained on a daily basis. We dispatch field service trucks, heavy haul trucks and maintenance personnel with our crews to provide support and to ensure the equipment is ready when we need it," Young said.
Prior to 1999, Allscape had used a different mulching head with swinging flails-which were not suited to the demanding environment. Young explained that one reason the Bull Hog head is so reliable is the fixed tooth configuration, which is a more aggressive, reliable design that allows faster processing speeds. Since the Longhorn Pipeline Rehabilitation project, Allscape has cut and cleared more than 125,000 linear miles of pipeline, power line and seismic rights of way using the fixed tooth design, exclusively.
His initial objective of visibility has been achieved-leading to right of way work for American Electric Power and others. He credits the versatility of his fleet-employing the right tool for the terrain and vegetation type, size and density. Productivity is also a key element. And the earlier residents who picketed Young and his crews, thinking Allscape would drag bulldozers around the topography, scarring the terrain and ruining the vistas? They needn't have worried-Young calculates that his mulchers are probably three times more productive than doing the same job with dozers.
Quickly, safely and effectively clearing utility rights of way-because of the proper equipment for the project at hand-has proven beneficial for Allscape as well as the Texas citizens who rely on the products carried through these rights of way.