Vehicles & Accessories
Aug 15th, 2014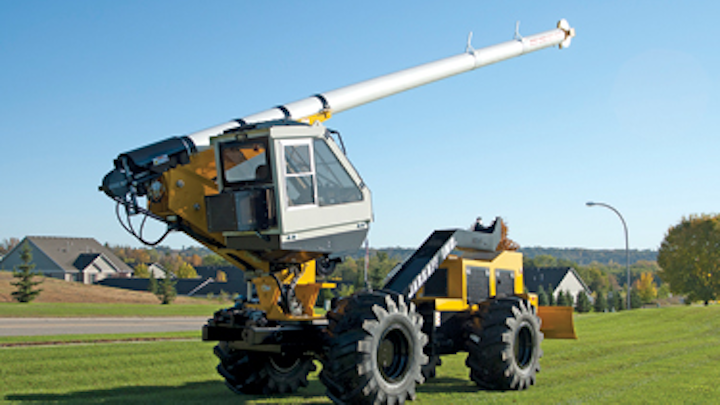 All-Terrain Tree Trimmers
For more than 30 years, Jarraff Industries has been providing the means for tree service companies to safely and efficiently clear and maintain utility rights of way. With features that maximize production and enhance operator safety, the Jarraff All-Terrain Tree Trimmer is effective for clearing and trimming trees and encroaching limbs.
In wheeled or track configurations, the Jarraff is self-contained and requires no set up time, allowing smaller crews to do more in less time. And, since workers never leave the ground, the Jarraff adds safety to every job.
The Jarraff All-Terrain Tree Trimmer provides right of way maintenance contractors a 360 degree range of motion, 40 degree lateral tilt and 75-ft. cutting height. Two four-way joysticks and fingertip controls offer optimal precision.
In addition, the Jarraff's cab is completely ROPS, FOPS and OPS certified. Full panel, tinted lexan windows prevent distortion and provide a clear view of operations. The cab also comes with a heating and air conditioning option. The Jarraff adds safety to every job because workers never leave the ground.
Jarraff Industries
CIRCLE 143 ON READER SERVICE CARD
---
Tadano Mantis GTC-1200 Teleboom Crawler Added to Rental Fleet
Scott Powerline and Utility Equipment, one of the oldest and largest Mantis crane dealers, will add the newly developed GTC-1200 130-ton (US) rated teleboom crawler crane to its Mantis rental fleet.
The concept behind the development of the GTC-1200 was to design and build a telescopic boom crawler crane that met the requirements of the growing Tadano Mantis core markets of power transmission, bridge and civil, and foundation construction while expanding the broader appeal of the crane toward lift crane based markets.
The GTC-1200 is powered by a Cummins Tier 4f, QSL9 diesel engine rated 350 hp (261 kW) at 2100 rpm. The load sensing, power controlled hydraulic system optimizes the hydraulic output to the diesel engine power output for highly efficient operation and control; the swing system is controlled by a separate closed loop hydrostatic transmission for good swing performance. The travel system features two-speed track drives with maximum speeds of 1.6 mph and a maximum unladen gradability of 52 percent.
Scott Powerline
CIRCLE 144 ON READER SERVICE CARD
---
WorkCover LS Fiberglass Tonneau Cover Line Expanded
A.R.E.'s Commercial Division is expanding its WorkCover LS fiberglass tonneau cover line to include 2009 to 2014 Ford F-150 short bed trucks. The WorkCover LS was originally designed for small trucks, but demand has increased for a fiberglass cover for full-size trucks, such as the Ford F-150, it's reported. A.R.E.'s latest tonneau cover for the commercial market turns the bed of the truck into a well-organized, weatherproof tool container ideal for service workers.
A.R.E.'s WorkCover LS features two doors on each side. In addiiton, the entire cover opens effortlessly from the rear of the truck using a hinge system at the front of the cover. Painted to match the vehicle, the WorkCover LS features approximately three extra inches of storage room above the bed rail and offers the driver good rear visibility from the cab of the truck. Designed to keep products secure and out of sight, A.R.E. offers options such as remote keyless entry and LED strip lighting technology to illuminate the bed.
A.R.E.
CIRCLE 145 ON READER SERVICE CARD
---
Geo-Boy Brush Cutter for Land Clearing, Vegetation Management
The Geo-Boy Brush Cutter from Jarraff Industries is designed for land clearing and vegetation management. Available in both wheeled and track configurations, the Geo-Boy has the ability to lift the cutter head some 11 ft. high and can quickly and effectively clear brush and trees up to 12 in. in diameter.
With two tier III engine options, 220 hp and 260 hp, the Geo-Boy is cited to be more powerful, maneuverable and fuel efficient than other brush cutters in its class. Both Geo-Boy models are ROPS and FOPS certified. The Geo-Boy also offers a number of additional safety features including full Lexan, No Mar windows and a rear view.
Jarraff Industries
CIRCLE 146 ON READER SERVICE CARD
---
Mini-Jarraff Rear Lot, Residential Tree Trimmer
Jarraff Industries' new Mini-Jarraff Rear Lot Trimmer is designed for residential and municipal tree trimming. A minimal footprint and compact profile allow the Mini-Jarraff to operate in areas where only climbing crews could go before. The patent pending, self-leveling carrier allows it to travel on all types of terrain and eliminates the need for traditional outriggers.
The Mini-Jarraff can retract to 36-in. traveling width-small enough for standard gates and backyard fencing-bringing a new level of safety and productivity to rear lot and residential trimming operations. The remote controlled Mini-Jarraff offers a range of operation including a 360-degree rotation, rotating saw head for precision cutting, and a 54-ft. vertical reach.
Jarraff Industries
CIRCLE 147 ON READER SERVICE CARD
---
Lightweight Portable Crane Upgraded
SpitzLift has made upgrades to its aluminum lightweight portable crane, which is lightweight and payload efficient. Ford recently released its 2015 F-150, which features an aluminum cab and bed. This move toward lightweight fleets marks the first instance of aluminum being used in such a high-volume automotive industry product, it's reported.
SpitzLift is cited to be the lightest crane available that can pick up more than 30 times its own weight. It is both a safety and efficiency tool for fleet managers and those lifting and transporting heavy materials.
SpitzLift is now offering a shut-off mechanism that can be set to the exact weight being lifted. This load limiter switch increases user safety and ensures the maximum load capacity is not reached. SpitzLift features an ergonomic design upgrade that helps prevent over shoulder lifting for field workers. Most work related injuries are shoulder related, so this upgrade safeguards against these types of injuries. With a titanium base, SpitzLift has built-in safety features and has stood the test of time.
SpitzLift
CIRCLE 148 ON READER SERVICE CARD
---
Multi-purpose EX60 Utility Track Vehicle
Fecon Inc. has introduced the EX60 Utility Track Vehicle. A 6,000-lb. payload capacity and all-terrain rubber tracks makes the EX60 a versatile, heavy duty, compact UTV. Mobilize solutions such as fleet service, fire-fighting, material handling, or spraying vegetation and insects where trucks or larger vehicles can't go.
Two standard auxiliary hydraulic circuits can power optional equipment. A load sense pump is offered as an option for more demanding applications. The EX60 features a universal mounting plate in the payload area to easily switch between solutions, whether skid mounted equipment or material handling apparatus. A reversible operator station and operator controls add to the flexibility of the EX60. The 46HP diesel engine enables transport of the payload and 7-mph travel speed.
Fecon Inc.
CIRCLE 149 ON READER SERVICE CARD
---
K-1353 Tire Lifter Handles Large Jobs
A new application has been added to Kiene Diesel Accessories' Kiene Tire Lifter capabilities. Originally designed for lifting 22.5 in. and 24.5 mounted tires, Kiene found that the Tire Lifter is useful for lifting the dangerously heavy 455 tires. The tire lifter makes lifting these tires a safe, one-man operation. When not in use, the lightweight portable tool folds into a compact 49-in. package that can hang on the wall.
Kiene Diesel Accessories
CIRCLE 150 ON READER SERVICE CARD
---
Fast, Friendly Heavy-duty Four-post Lifts
Rotary Lift introduces new heavy-duty four-post vehicle lifts that are both user friendly and fast. The HDC series four-post lifts are available with capacities of 50,000 lbs. (P/N HDC50) and 60,000 lbs. (P/N HDC60) for servicing a variety of heavy-duty vehicles including trucks and buses. The battery-powered lifts are easy to operate, economical to maintain, and cited to raise a vehicle faster than any competing four-post lift.
HDC series four-post lifts can be operated from any column, allowing the user to work from the corner of the bay that is most convenient. Each post is equipped with Rotary Lift's patented control system, which features an intuitive graphic layout of the lift and real-time height reading. To maximize efficiency, the control panels can be preprogrammed to remember their locations even after the power is turned off.
In addition to its own control panel, each HDC series lift column includes a hydraulic cylinder. Since there are no cables or chains running the length of the runways and no sheaves, an HDC series lift is easier to maintain than a traditional four-post lift.
Rotary Lift
CIRCLE 152 ON READER SERVICE CARD
---
Commercial Lubricant Products Line Introduced
Synthetic lubricant manufacturer Royal Purple has introduced its new commercial lubricant product line, Duralec. The new line of high performance lubricants has been specifically developed for the over-the-road trucking, construction, mining, agriculture and heavy-duty fleet markets to optimize equipment performance.
Duralec commercial products include heavy-duty motor oils, transmission fluids, gear oil, multi-purpose grease, coolant additive, tractor fluids, hydraulic fluids and diesel additives. Each is formulated with Duralec's additive packages to deliver protection and peak performance in high-tech engines, regardless of driving and operating conditions.
Royal Purple
CIRCLE 153 ON READER SERVICE CARD
---
New maX Contact Touchscreen Mechanics Gloves for Reliable Touchscreen Performance
Galeton has introduced #12031 Galeton maX Contact Touchscreen Mechanics Gloves. The company has taken its maX 2.0 Gloves, added touch sensitive tips, and the result is maX Contact Touchscreen Gloves so you can keep your gloves on while operating smart phones and touchscreen equipment.
Most touchscreen gloves only place touchscreen material on the front of the finger, which makes it difficult to use the tip of your finger. maX Contact goes a step further by having the special touchscreen material on both the front and back of the fingertip to give you reliable touchscreen performance whether you use your finger pad or tip.
Galeton
CIRCLE 151 ON READER SERVICE CARD