Even in Dead Spots, Connectivity is Uninterrupted
By Tracy Crowe
A utility cooperative in rural Northeastern Mississippi, 4-County Electric Power Association, is now operating as efficiently as its larger suburban counterparts because of a new wireless mobility software solution that improved mobile workforce productivity.
The solution, Mobility from Seattle, Washington-based NetMotion Wireless, provided the utility's always-on-the-move field workers, including power line technicians, with uninterrupted wireless connectivity to their company's core work order system-primarily used for dispatching customer tickets. Even when encountering a weak cellular signal-a common inconvenience in less developed areas-there is no fear of disconnection.
Under their previous, outdated mobile system, 4-County's field workers were constantly experiencing their own version of a power outage. Whenever they encountered a signal drop-off, their connection to the work order system would be severed, forcing employees to repeatedly restart their connections to log their daily activities and service calls.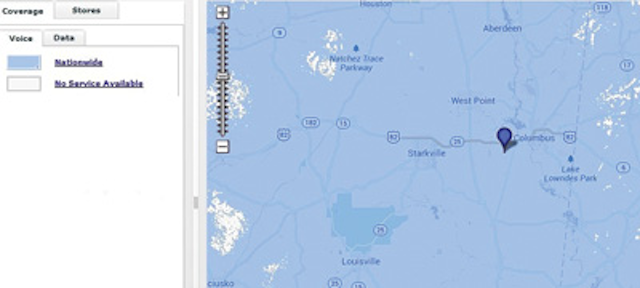 4-County was supplied this coverage map by one of its wireless carriers. The real-world coverage the organization experienced, however, differed from this map.
This was a time-consuming and frustrating exercise that wasted energy and man-hours, while flooding the company help desk with troubleshooting complaints.
"This caused a lot of extra cycles and delays in service," said Harold Critcher, IT administrator at 4-County Electric.
Drivers were so frustrated with connecting and reconnecting that they would frequently shun their laptops in favor of using pen and paper to make handwritten notes.
The new technology that was implemented in mid-2013, however, operates through a mobile virtual private network tunnel, which pauses-rather than disconnects-mobile applications whenever workers roam into a dead zone across the not-for-profit cooperative's coverage area.
With spotty cell coverage no longer a hindrance across the eight separate counties it serves, 4-County employees were able to focus their attention solely on their core task of servicing the cooperative's 45,000 members.
In addition, 4-County service vehicles have essentially become fully functioning offices, and the workers have stopped abandoning their laptops for paper, pens and clipboards.
"When they get in their vehicles in the morning, they see where the orders are, get GPS information and head out," Critcher said.
In its search for a more reliable mobile solution, 4-County consulted with other local agencies, inquiring how they combatted connectivity problems.
The utility discovered the Mississippi Highway Safety Patrol was using the NetMotion Wireless Mobility platform to keep its troopers connected, which is important in their line of work. Knowing the solution had the endorsement of a critical service provider such as state law enforcement, 4-County management decided to run a trial.
The linemen participating in the trial were pleased that no training was required to use the new platform. They would log in and the technology did everything for them.
"All they noticed was that connections were there every time they logged on," Critcher said. "This quieted our help desk phones immediately."
The number of help desk service tickets markedly dropped as a direct result of the new wireless system.
As soon as the cooperative implemented the solution and began rolling out the client-server software across its entire enterprise, it instantly gained a central control point from which it could secure, manage and optimize connectivity for the organization's critical work teams.
"I was also able to easily incorporate all of our key security and management rules, ensuring the implementation was sufficiently protected," Critcher said.
With the freedom to perform all of their core functions on the road, linemen no longer have to come to their regional offices on a daily basis, opening up more time to schedule service calls.
"4-County's enhanced mobility management framework enables our field workers to complete more maintenance items and more jobs, helping us better serve our members," Critcher said.
In addition, the reduced number of trips to the office opens up additional opportunities for cost savings. 4-County, for instance, can now contemplate reducing their brick-and-mortar office space and holding less inventory.
Reliable connectivity on the road is a crucial need for most utility companies and their mobile workforces. In a 2013 survey of utility companies, 71.2 percent of 264 respondents said they have at least 26-100 mobile workforce employees. Of that group, 29.2 percent of the respondents said they have more than 500 field workers.
And, 21.6 percent of the surveyed utilities responded that their mobile employees spend between 75 to 100 percent of the time on the road-which only heightens the need for dependable wireless coverage.
---
About the author: Tracy Crowe is director of Product Marketing for NetMotion Wireless.