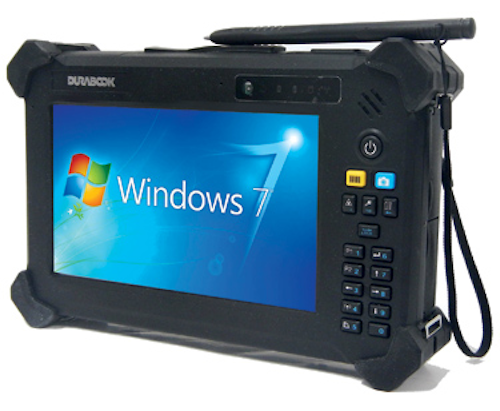 It stands to reason that an industry that does much of its work outdoors-dealing with extreme temperatures, harsh weather, primitive to non-existent roads, dirt, dust, mud and water, all while toiling in isolation-would be at the forefront of rugged computing. And one is. Yours-the utility industry.
Utility Industry's Long Association With Rugged Computing
Utilities have been involved with rugged mobile computing for a long time. It started as a result of the need to communicate with individuals in the field in real time. But, voice proved to be inefficient, sometimes unreliable and error prone. As a result, utilities were early adopters of mobile computing, and, because of the environment, also early adopters of rugged mobile computing. Let's look at the history:
• Dispatch/computer aided dispatch (CAD). At the time, it was an advanced, effective way to dispatch field technicians. It served multiple purposes: (a) to send real time messages through a mobile data terminal to a technician; (b) to receive real time status messages from a technician; and (c) support the technician's on-site need to store and retrieve data.
• From there, utility companies were at the forefront of the CAD evolution. CAD became workforce management. This can generally be thought of as a convergence with location-driven tasks through the leveraging of global positioning system (GPS) technology. GPS allowed decisions to be made on a technician's specific location, not proximity or assumption. Mobile computing suppliers, of course, added GPS as part of their solutions.
• A third convergence is underway now. It is the combining of fleet management technology with workforce management, allowing utilities to leverage the information potential of the vehicle.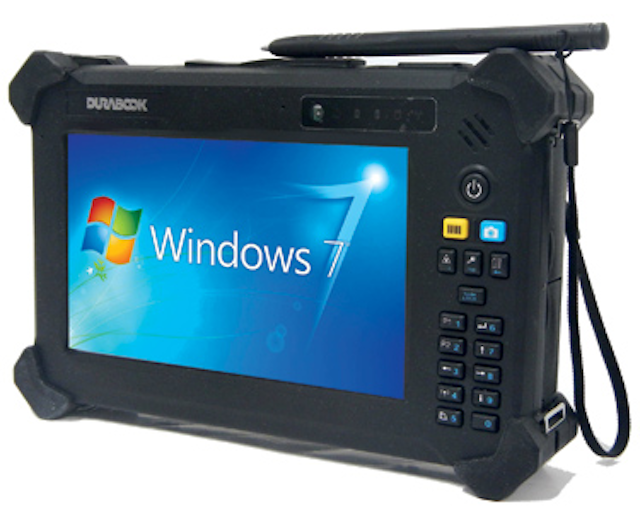 Rugged Computers Vital to Utility Industries
Rugged computers-tablets, notebooks and handhelds-can be used anywhere, anytime. And that is a key reason why they are a necessity in the utility industry. Whether it's gas, electric, water or waste workers, they spend much time in inhospitable environments.
Employees of all four find themselves working in urban, suburban, rural, mountainous, desert or beach settings-jobs that have to be done in entirely different settings. While experience and job knowledge are key ingredients to be successful, just importantly is having the right equipment, operating reliably, in the vehicle while driving to the job and at the point of maintenance. That means the use of a rugged computer.
Small enough in size, powerful enough in computing ability, and durable enough to withstand the elements, rugged notebooks, tablets and handhelds are the answer for working in the field, away from the comforts and cleanliness of a sterile, climate-controlled office.
Why rugged? Wouldn't the latest tablets or notebooks being used inside the office do just as well? No, they wouldn't.
Off-the-shelf models purchased at the neighborhood office supply store are good for indoor use. But, in the field, where harsh and unpredictability are common, rugged is a necessity.
Rugged notebooks and tablets are survival tested to withstand the daily outpouring of drops, bumps, shock of riding over pitted dirt roads, moisture, dust, and other aspects of nature. Being a competent computer is only half the equation. Toughness is the other. If in doubt about a unit's toughness, make sure it meets or surpasses MIL-STD-810G drop, shock and vibration testing procedures. If ever in doubt about a unit's sealing, check its Ingress Protection (IP) rating. Make sure it meets the environment where the device is to operate. If ever in doubt about a unit's temperature tolerance, check the high/low operating temperatures and make sure they match where the technician works and the vehicle where it is stored.
At the same time, rugged, handheld computers have become the backbone of manual meter readers everywhere. Meter readers quickly and easily gather information that previously was written by hand-not only on sunny days, but windy, rainy and snowy as well; these documents were taken back to an office, where the contents were again manually input into the billing system. With handheld computers, the double entry was eliminated and alerts at the site at the time of reading reduced input errors.
Purchase for Specific Needs
All utilities know different work groups have different requirements. Cost is always an issue, so it is important to not overbuy to try and satisfy worst-case demands. One size does not fit all in selecting a rugged computer. Instead, match the product to the specialized task.
GammaTech Computer Corp. is an example of a company that offers a broad assortment of notebook and tablet computers that can be customized to fit your specific needs. Because these products are used outdoors and in other demanding environments, be sure to choose a company that offers good support and services.
Features to Consider
In addition to the features previously described, other key items to look for when purchasing a rugged computer are as follows. Your choices will depend on your specific applications and may include several different models to meet all of your needs. In no particular order, features to consider include:
• Powerful Intel processor;
• Small, lightweight form that can be easily used, carried or moved;
• Large enough screen to be easily viewed;
• High-definition display;
• Touch-screen, sunlight readable panel;
• Long battery life;
• Dual hot-swappable battery packs;
• Expandable memory;
• Assorted wireless connectivity (e.g., WiFi, Bluetooth, WWLAN, WWAN);
• GPS capability;
• Webcam;
• High-definition audio;
• Security features (e.g., TPM 1.2 data security technology, Kensington lock connector, Intel anti-theft technology, Computrace asset management and data protection system, fingerprint scanner, and UHF RFID reader); and
• Warranty and other service protection.
Rugged computing systems and utility companies-if ever a product category and an industry were made for each other, it's this combination.