New Products Showcase
Jan 15th, 2014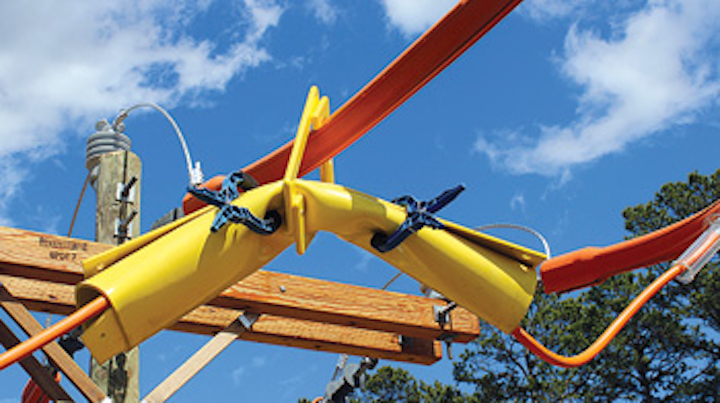 Employee Innovation Helps Support Mechanical Jumpers
A Georgia Power employee has invented a solution that enables mechanical jumpers to be supported on energized distribution lines. Available from Utility Solutions Inc., the Jumper-Aid easily captures and secures grounding jumper cables, insulated rubber line hose, and insulated rubber blankets during maintenance operations. The two-piece jumper hanger is also designed to fit over a cross arm for added control and flexibility.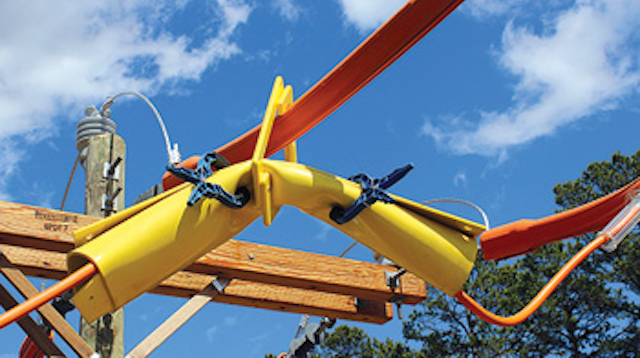 The Jumper Aid can support more than 100 lbs. while maintaining positive control of temporary jumper cables. The scissor action allows a lineman to completely open the hanger to capture a cross arm, jumper cable or rubber blanket without disassembly.
At just over 1 lb. and 1-in. thick, the patented Jumper-Aid is lightweight and compact. The high visibility yellow polymer is very strong, even in cold weather.
• Product dimensions: 14 in. x 10 in. x 1 in.
• Product weight: 1 lb. 3 oz.
• Item# USJH-002 Jumper-Aid
Utility Solutions Inc.
CIRCLE 115 ON READER SERVICE CARD
---
Light Weight Hydraulic Pole Saws
BURNDY, a manufacturer and provider of connector solutions to the industrial, energy, construction, telecommunication, petrochemical, data center and transportation industries, announces the release of the new BURNDY Hydraulic Pole Saw Light Weight (HPS-LW) series.

This new series is lighter, more ergonomic and robust than previous versions. This design offers a smaller pole diameter and several new features including a trigger safety mechanism, branch hook and reinforced stabilizers at hose connection stress points. In addition, the motor and trigger housings are CNC machined from aircraft grade aluminum to provide tighter assembly tolerances, contributing to increased efficiency, power and reliability in the field. This new series is offered in two lengths: 71 in. and 83 in. (overall length).
BURNDY has more 85 years of dedicated customer support in both service and product. Connector, tool and accessory needs are met with BURNDY Engineered Systems of coordinating dies, connectors and tools. The three elements have been specifically designed to work together and engineered to meet stringent, accepted quality standards-providing the user complete confidence in the integrity of the connection.
BURNDY
CIRCLE 117 ON READER SERVICE CARD
---
Osprey/Raptor Deterrent for Tops of Utility Poles
The Osprey/Raptor Deterrent, available through Power Supply Co. LLC, minimizes the available space on top of a utility pole and restricts the clearance for the birds to fly, build nests and perch. It also acts as a protective barrier to protect the birds from coming in contact with any energized electrical wires or equipment.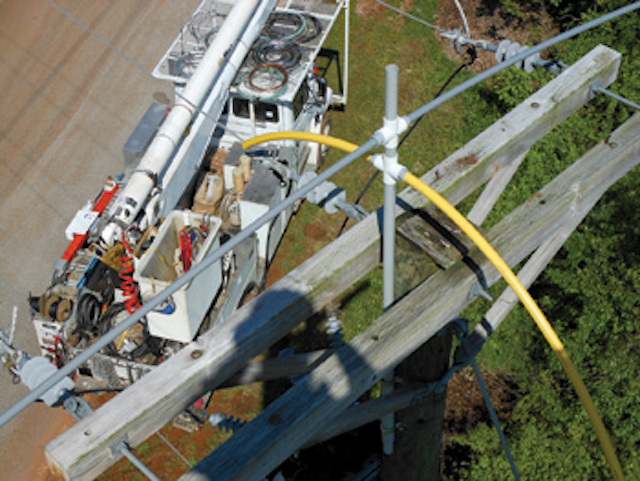 Ospreys were re-introduced into areas with the use of a wood pole with cross arms or a platform on top. They have since naturally related to utility poles equipped with cross arms as a normal nesting area. Nests that catch on fire can cause damage to poles and cross arms, leading to costly replacement as well as outages. The patented devise also presents a barrier that acts to deflect the sticks and debris used to build these nests.
Another feature is that it is not flat at any point on top and therefore does not allow debris to gather on the top. The conduit is not stable enough for the weight of the birds, but strong enough to deflect the debris dropped and thus deters the birds from landing or trying to perch on any part except at the center point. The birds perching there pose no problem because the birds are not building and they are out of harm's way from contacting live energized electrical conductors or equipment while taking off or landing.
Power Supply Co. LLC
CIRCLE 116 ON READER SERVICE CARD
---
GridAdvisor Series II Smart Sensor Increases Outage Management
Eaton has announced that its Cooper Power Systems division has launched the GridAdvisor Series II smart sensor, improving outage management and capacitor bank monitoring while providing real-time critical system information not previously available in the marketplace. The simple, yet sophisticated device improves overall efficiencies in distribution systems by identifying directional fault targeting, detecting capacitor bank fuse failure and providing real-time line monitoring at nearly any location through the Distributed Network Protocol 3 (DNP3).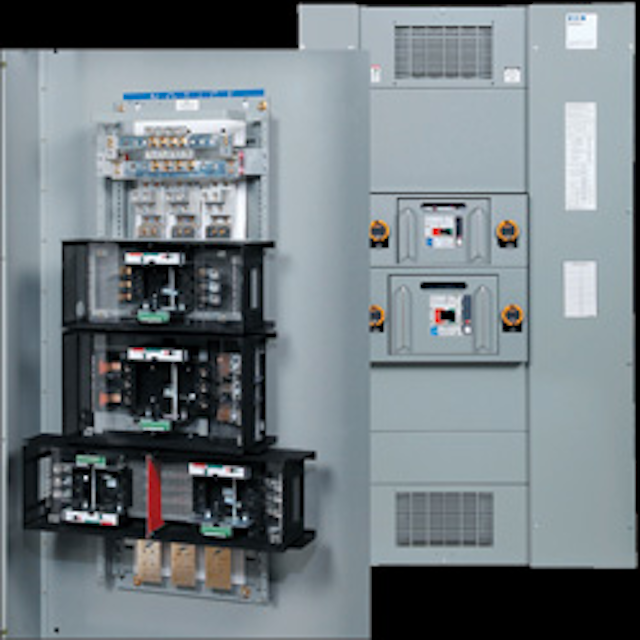 The sensor is cited to be not only an advancement in the identification and location of fault and fuse failures, but also in smart grid data acquisition. The device saves operation and maintenance costs while improving reliability by reducing drive time. It maximizes energy savings by keeping capacitors online while supporting an industry standard device protocol for data delivery.
Eaton, Cooper Power Systems Div.
CIRCLE 118 ON READER SERVICE CARD
---
All-terrain Tree Trimmer
For more than 30 years Jarraff Industries has provided the means for tree service companies to safely and efficiently clear and maintain utility right of ways. With features that maximize production and enhance operator safety, the Jarraff All-Terrain Tree Trimmer is cited to be the most effective machine for clearing and trimming trees and encroaching limbs.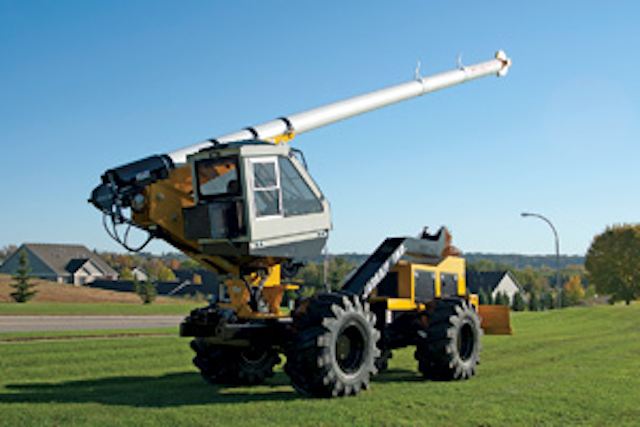 In either wheeled or track configurations, the Jarraff is self-contained and requires no set up time. This allows smaller crews to do more in less time. And, since workers never leave the ground, the Jarraff adds safety to every job.
The Jarraff All-Terrain Tree Trimmer provides right of way maintenance contractors a 360-degree range of motion, 40-degree lateral tilt and 75-foot cutting height. Two four-way joysticks and fingertip controls offer optimal precision.
In addition, the Jarraff's cab is completely ROPS, FOPS and OPS certified. Full panel, tinted lexan windows prevent distortion and provide a clear view of operations. The cab also comes with a heating and air conditioning option. The Jarraff adds safety to every job because workers never leave the ground.
Jarraff All-Terrain Tree Trimmer comes with several engine options including a Tier III Cummins liquid cooled, 130-hp (97-KW), electronic controlled engine. The increased horsepower improves the unit's grade climbing abilities and current emissions rating. A Tier II engine option 97-hp (72-KW) Deutz diesel is available in wheeled and track configurations as well.
Jarraff Industries
CIRCLE 119 ON READER SERVICE CARD
---
10Gig Termination Kit
Platinum Tools, a provider of solutions for the preparation, installation and hand termination of wire and cable, announces the new 10Gig Termination Kit. The turnkey field kit (P/N 90170) includes Cat6A shielded connectors, the Tele-TitanXg Cat6A crimp tool, cable jacket stripper and external ground tab crimper. The system exceeds 10-Gig performance standard requirements for streaming high bandwidth across Cat6E, Cat6A, and Cat7 cable.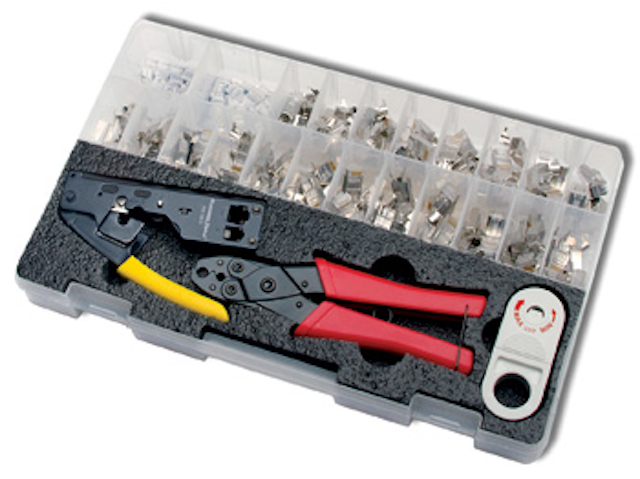 The connector choice is critical-it needs to be at least 10-Gig rated, cable compatible and field-terminate capable. The 10-Gig Cat6A shielded connector not only meets, but exceeds these requirements, it's reported. Used with the Tele-TitanXg Crimp Tool, the cable jacket stripper and external ground tab shielded crimper help you achieve a consistent and optimal termination every time.
The Tele-TitanXg Crimp Tool (P/N 12515) is compact, balanced and easily fits in the hand or pocket. Specifically built for Platinum Tools' 10-Gig connector, it terminates all pins to industry specified crimp heights with nominal hand force. The embedded cable strippers for round and flat cables easily adjust and control depth of the blade when stripping Cat5e/6 cables.
Platinum Tools
CIRCLE 120 ON READER SERVICE CARD
---
Vizz-IND Headlamp
Princeton Tec's Vizz-IND headlamp features a 165-lumen Maxbright LED and provides a long throw bright white spot beam. Four white ultrabright LED's provide a flood beam for close work and a wider viewing angle. The four white LEDs having a dimming feature to set the light output according to the user's needs. Three AAA alkaline batteries, a nylon head-strap and a rubber hard-hat strap are included. The headlamp is waterproof to 3.28 ft. for up to 30 minutes with a 150-hour burn time.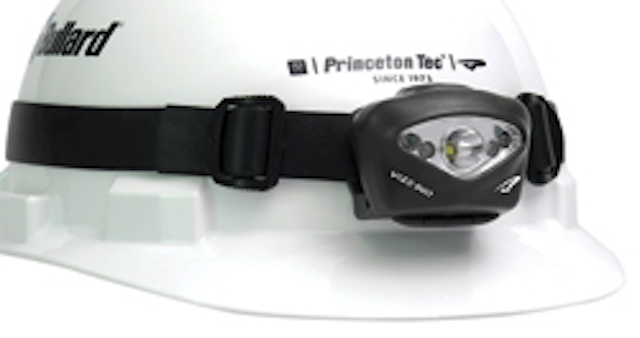 Princeton Tec
CIRCLE 121 ON READER SERVICE CARD
---
Equipment For People Working In High Locations
Buckingham Manufacturing Co. Inc. announces the release of the new Buckingham OX BLOCK, a rope snatch block with an integrated friction bar. A new design in rigging, load control and rescue, it transfers load tension from the worker to the OX BLOCK and allows the rigging professional to handle loads with greater control. The OX BLOCK has working load limits greater than blocks of similar size and therefore replaces standard handline blocks.
Buckingham Manufacturing Co. Inc.
CIRCLE 122 ON READER SERVICE CARD
---
RA Trailer Side Door Slidelift Series is Fully Galvanized
Maxon Lift Corp. has developed a fully galvanized new trailer side door liftgate, the RA Slidelift Series. The purpose-built design encompasses wide arm configurations for greatest stability and maximum trailer side rail clearance capabilities.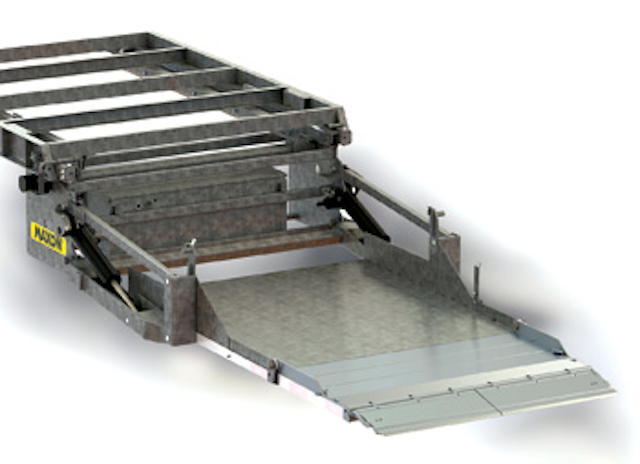 The new level ride RA liftgate comes standard in 3,500-lb. and 4,500-lb. lifting capacities. The design makes use of the full trailer width, resulting in large 48-in., 60-in. and 82-in. wide platforms with depths of 55 in. and 79 in.
The RA features two hydraulic lifting cylinders with bi-directional lock valves and comes completely assembled and prefilled with hydraulic oil. Additional features include greaseable pins and bushings at all pivot points. Most importantly, for high corrosion resistance, the RA features a full galvanized finish that is standard for this gate-no additional charges or lead times.
Maxon Lift Corp.
CIRCLE 123 ON READER SERVICE CARD
---
New Interior LED Lighting Options-From Bright to Very Bright
A.R.E has a new lighting philosophy: there's no such thing as too bright. The truck caps and tonneau covers company now offers LED lighting for above the rear-door and LED rope lighting to illuminate the interior of truck caps and toolboxes.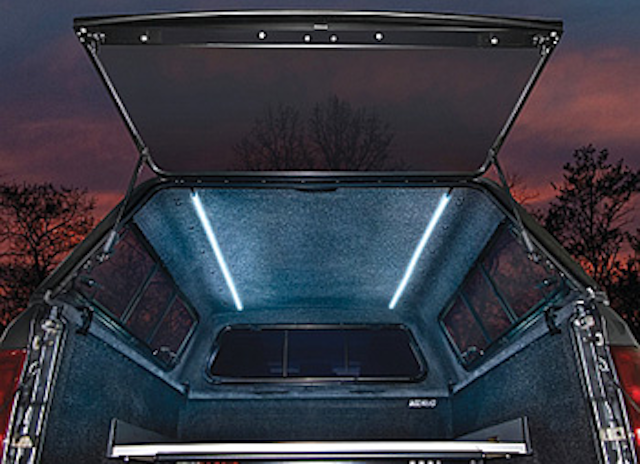 Wired directly into the vehicle's electrical system, the LED lighting options are rated for 100,000 hours, far outshining the 25,000-hour rating for incandescent lights. With A.R.E.'s optional prop switch, the LED lights are turned on and off when the door is opened and closed, or lighting can be controlled with the manual on/off switch.
Not only do the LED lights last longer, they are far brighter, use less energy and create less heat than incandescent bulbs. A.R.E.'s three-LED, 12-volt rear-door light replaces the incandescent light the industry has relied on for decades. Mounted inside the truck cap above the rear door, the LED fixture is noticeably brighter than tradition lighting.
The four-foot rope LED lighting offers a variety of ways to light up the interior of a truck cap or toolbox. Truck owners can opt for a single LED rope at the center of the cap or two parallel ropes, with one on either side of the cap roof. LED ropes can also be placed inside above the cap's windows. Inside toolboxes, an LED rope can illuminate the entire chamber.
A.R.E.
CIRCLE 124 ON READER SERVICE CARD
---
Voice/Data/Video Compact Ratcheting Modular Crimper
Klein Tools introduces the Compact Ratcheting Modular Crimper (Cat. No. VDV226-107), extending its Voice/Data/Video (VDV) line of tools, connectors and testers. This crimping tool delivers fast, reliable connector terminations for voice and data applications. With a direct lateral crimp action and a heavy-duty ratchet, it ensures an even, precise and complete termination on every cycle-producing more dependable connections.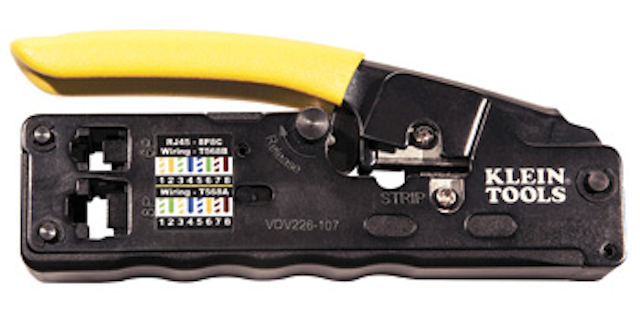 Klein Tools' new VDV Compact Ratcheting Modular Crimper is an all-in-one tool for cable preparation and connection. It cuts and strips CAT6, CAT5e, CAT3 and flat-satin voice cables as well as crimps six and eight position modular connectors. A heavy-duty ratchet ensures complete termination by executing a full compression cycle every time.
The direct lateral crimp action provides a more even, precise contact termination across all pins. An ergonomic and compact design facilitates single-hand operation, making it comfortable to use and easy to store. The most commonly used wiring diagrams are placed directly on the tool for quick reference. In addition, other frequently used wiring diagrams are downloadable to your mobile device.
Klein Tools Inc.
CIRCLE 125 ON READER SERVICE CARD
---
PREDATOR Series Thermal Imaging Cameras Expands With Nine New Models
The PREDATOR Series of thermal imaging cameras from General Tools & Instruments (General) is expanding to include nine extended temperature range models. General's GTi10, GTi20 and GTi50 are now available in models with temperature measurement ranges up to 112F, 1832F and 2732F.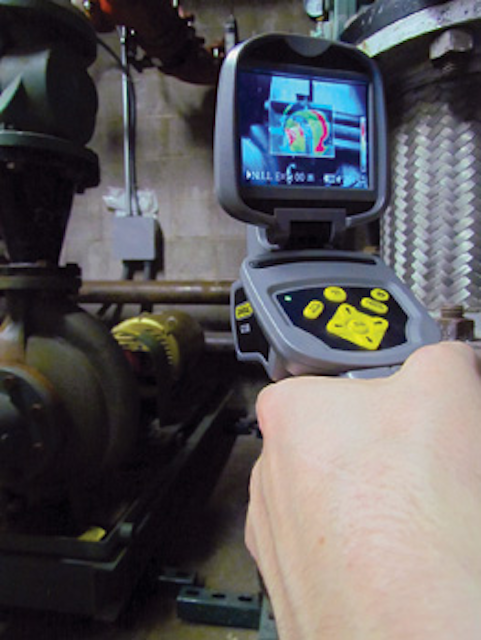 Used for revealing hidden heat-driven problems, General's thermal imaging cameras detect very small temperature differences from a distance and convert an object's invisible infrared radiation to a visible color image. These visual thermal images (called thermograms) with multiple temperature points enable the diagnosis of equipment malfunctions and poor performance far more effectively than single-spot conventional temperature measurement devices.
Like the products in the original line, the new extended temperature range models offer benefits and value with a range of features. The thermal imaging cameras are a strategic investment and typically pay for themselves in a short period of time. The cameras' manual focus, optional interchangeable lenses and high resolution are cited to provide more accurate images and assessments than competitive models.
General Tools & Instruments
CIRCLE 127 ON READER SERVICE CARD
---
DVM-80 Series Digital Voltmeters
HD Electric Company's (HDE's) DVM-80 Series Digital Voltmeters and Phasing Sets are compact, high accuracy instruments designed to measure voltages up to 80 kV. The DVM-80 series incorporates phase accurate technology, which makes all voltage readings, whether made from line-to-line or line-to-ground, accurate and repeatable to within 1 percent.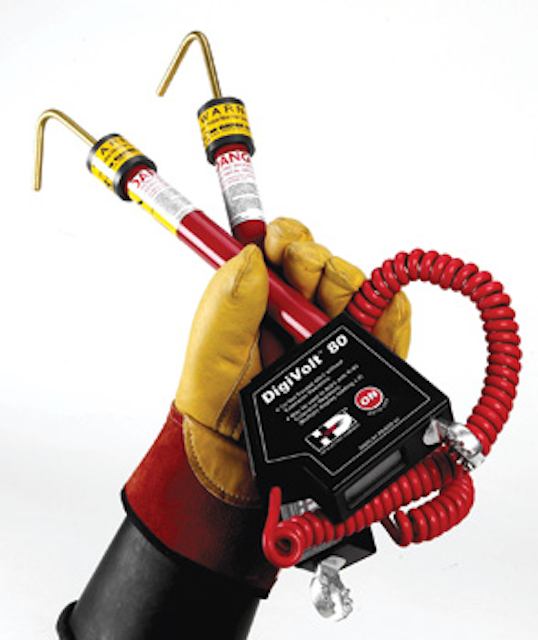 There are three models-the DVM-80, DVM-80T with test point mode and the latest addition to the series, the DVM-80UVM. The DVM-80UVM is a compact, high accuracy dual stick voltmeter and phasing set with capacitive test point mode and peak hold. It measures voltage from 5V to 40 kV and up to 80 kV with a pair of optional add-on resistors. The two-stick design can be used in both overhead and underground applications.
Features and benefits: Peak Hold mode; triple auto ranging 3.5 digit display reads in kilovolts from 5V to 80 kV; highly accurate, within 1 percent of the reading; backlit display for easy reading in bright or dark conditions; measures ac and dc voltages; use on secondary voltages, starting at 5V; measure voltage on elbow test points, meter will display the system voltage; test underground cables for faults; auto shut-off; powered by a 9V alkaline battery in an easy to change battery case-no tools required; voltmeter weights 2.25 lbs.; and made in the USA.
The DVM-80UVM is available in a Universal Voltmeter Kit. The DVM-80UVM is packaged with an assembly of accessories, offering it as a complete ready-to-use Universal Voltmeter Kit.
HD Electric Co.
CIRCLE 126 ON READER SERVICE CARD
---
Hazardous Location Cable Glands and Strain Relief
Automation Systems Interconnect Inc. has announced it has extended its line of EEx E and ATEX rated cable glands.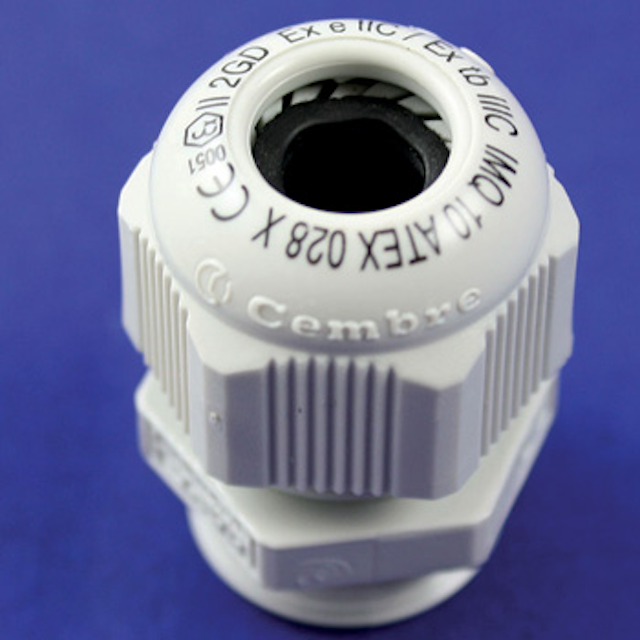 Available now in metric or PG threads in a range from M16 to M63 and PG7 to PG48, these hazardous location cable glands and strain relief fittings are made of high performance nylon. The operating temperature range is -13F to +194F. In addition to the increased safety ratings, the ASI cable glands and strain reliefs for hazardous locations provide an ingress protection level of IP65, NEMA 4 and 4 X.
Automation Systems Interconnect Inc. (ASI)
CIRCLE 128 ON READER SERVICE CARD