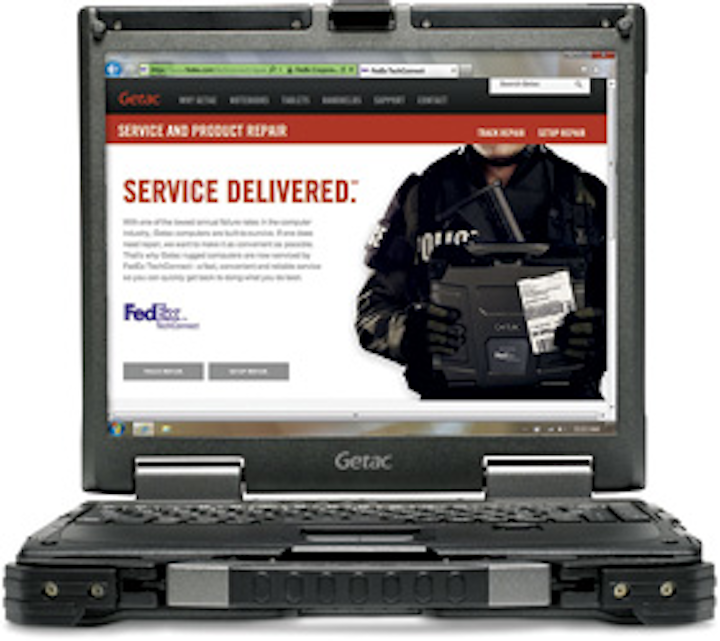 This issue of Utility Products magazine brings you products that received the highest reader response in 2013. While all the products featured in each issue are useful and relevant to your industry, some attract more attention than others. See which products featured in the magazine caught readers' eyes.
Repair and Refurbishment of Rugged Computers
Getac and FedEx Corp. have announced that Getac has chosen to incorporate repair, refurbishment and logistics services by FedEx TechConnect for Getac's fully rugged notebook, tablet and handheld computers that meet the demands of field-based applications.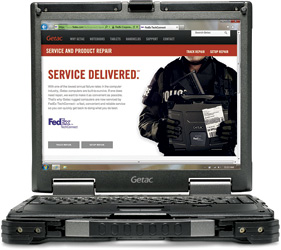 Getac customers needing repair, refurbishment or system upgrades can link to the FedEx TechConnect service portal from the support section of the Getac website. At the portal, customers can easily complete a repair authorization, print a shipping label, schedule a pickup, or find any one of more than 1,800 FedEx Office locations where equipment packaging and shipping services are provided.
The Getac rugged computers can be shipped by FedEx Ground or FedEx Express to the FedEx TechConnect repair facility where they are repaired (sometimes the same day), and shipped back to the customer's preferred destination, with the near real-time status of the repair available throughout the process. For urgent repairs, customers can upgrade the manner of shipping and be back up and running in as little as 48 hours.
Getac
CIRCLE 100 ON READER SERVICE CARD
---
Extendo Slick Product Helps Keep Telescopic Sticks Lubricated
Hastings, a manufacturer of hotline tools and equipment, has been working since 1959 to create products that are safe and easy to use for linemen. Extendo Slick, a new product formulated for hot stick use, will help linemen keep their telescopic sticks sliding freely.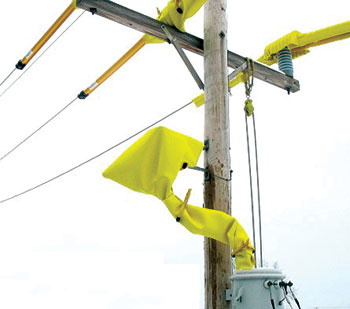 Extendo Slick will reduce friction caused by wear and contaminants, is non-conductive and non-flammable. Once the product is sprayed onto the telescopic stick it dries quickly and is long lasting, reducing the number of applications. An optional spray attachment is also available for use with this product.
Hastings
CIRCLE 101 ON READER SERVICE CARD
---
Dash Mount Controller for NightRay H3 Spotlight
KH Industries has developed a new, versatile dash mount controller for its recently introduced NightRay H3 Spotlight. The new wireless controller is designed to be permanently mounted in the vehicle with industrial fasteners, which simplifies installation and eliminates the need for a hard wired controller.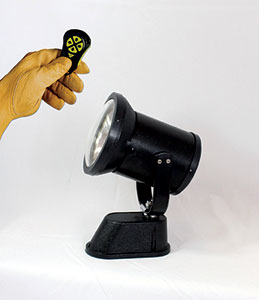 NightRay vehicle mounted spotlights are designed specifically for the rigors of the utility industry and over the years have become the worklight of choice for utility power lineman, it's reported.
KH Industries
CIRCLE 102 ON READER SERVICE CARD
---
OptiGrid Stored Energy Solutions
EnerSys, a provider of stored energy solutions, has announced its entrance into the large-energy storage systems segment for utilities and large industrial applications with the introduction of OptiGrid Stored Energy Solutions. A flexible, turnkey, utility-scale capacity optimization system, OptiGrid Stored Energy Solutions is available in the full range of battery chemistries offered by Enersys-making it one of the most comprehensive, large-scale energy storage systems available.
OptiGrid Stored Energy Solutions can be customized with one or more of the proven EnerSys chemistries, including tubular technology, traditional flat plate valve regulated, traditional flat plate flooded, lithium ion and/or advanced lead acid designs and alloys-marketed under brand names such as PowerSafe and DataSafe batteries.
OptiGrid Stored Energy Solutions by EnerSys is provided as a complete, packaged solution that combines the right battery chemistry, as well as a power conditioning system, monitoring system, shelter/container, and full service and engineering to best match the customer's technical and economical requirements.
Designed to help utilities manage grid-level storage needs, OptiGrid Stored Energy Solutions by EnerSys enables users to improve power quality and efficiency, moderate peak demand and effectively integrate energy from renewable resources.
Coinciding with the launch, EnerSys is completing the OptiGrid Stored Energy Solutions customer showcase, located in southern Vermont. This showcase is being built to enable customers to understand the product platform and see the system in operation.
OptiGrid Stored Energy Solutions by EnerSys is for utilities, independent system operators, independent power producers and regional transmission operators-as well as end users, including commercial, industrial, government agencies and renewable project developers.
EnerSys
CIRCLE 104 ON READER SERVICE CARD
---
Wrench for Tower Workers
Utility, construction and maintenance workers who need to tighten nuts on transmission towers will benefit from using Lowell Corporation's new 100T Series Triple Square Transmission Tower Wrenches in several ways.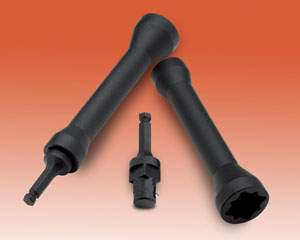 Each rugged wrench is a three-in-one tool to give workers greater flexibility. In addition, each wrench also offers greater convenience: Having one tool to carry not only lightens a tool belt but also saves time-consuming trips to the toolbox.
Using Lowell's proven ratchet technology, each 100T has three square sizes in one permanent socket to handle the most common nut sizes in tower fasteners. The 1 1/8-in. x 1 5/16-in. x 1 1/2-in. triple square socket allows for tolerances on 1 1/8-in. square nuts (5/8-in. bolts), 1 1/4-in. square nuts (3/4-in. bolts) and 1 3/8-in. square nuts (7/8-in. bolts). It also fits 1 1/2-in. hex bolts.
There are three models: The 103T has a 12-in. handle and weighs 2 3/4 lbs.; the 104T has a 15-in. handle and weighs 3 lbs.; and the 105T has an 18-in. handle and weighs 3 1/4 lbs. The long handles and a torque capability of 300 lb-ft. provide plenty of turning power to any job.
Lowell Corp.
CIRCLE 103 ON READER SERVICE CARD
---
Voltage Testing and Phasing Products Brochure
HD Electric Company's (HDE's) Voltage Testing & Phasing Products (VTP) brochure features new products as well as information on existing products. The VTP brochure is cited to showcase the most comprehensive selection of voltage indication, measurement and test products from 5V to 765 kV available.
Backed with more than 50 years of supplying voltage testing instruments to the power industry, HDE is ready to tackle virtually any customer challenge by offering every type of voltage detection, voltage indication and voltage measuring devices. From 5V to 765 kV, HDE has something to help solve your needs and provide a solution to your problem.
HD Electric Co.
CIRCLE 105 ON READER SERVICE CARD
---
Zero-emissions Electric Vehicles
The only thing better than a zero emissions, fuel-efficient commercial truck is one with a fully customized, light-weight aluminum truck cap to keep tools and equipment organized and secure. For nearly five years, GreenGo Tek Inc. (GGT), based in Milford, Mich., and A.R.E. have made tough, earth-friendly vehicles available to commercial truck owners around the world.
GGT specializes in delivering the best built, eco-friendly fleet vehicles that offer the latest advancements in full-electric technologies for vehicles of this class. Their electric trucks can be used to replace the Ford Ranger/Chevy S10-sized trucks, which both OEMs have discontinued. Operating quietly and cleanly, GGT vehicles cost 90 percent less to run than gas-powered vehicles.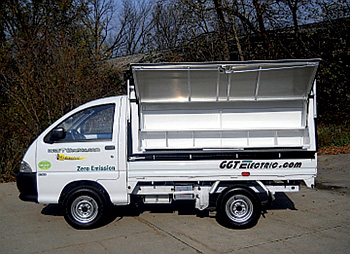 Currently, GGT vehicles with A.R.E. custom Deluxe Commercial Units (DCUs) are in use commercially for Toyota Boshoku America, shuttling parts from building to building at Toyota's engineering facility in Novi, Mich.
A.R.E., a manufacturer of truck caps and tonneau covers, manufactures caps to fit almost any pick-up truck on the market today and offers custom DCUs for a variety of industries.
A.R.E. CIRCLE 106 ON READER SERVICE CARD
CIRCLE 14 ON READER SERVICE CARD
---
New 5-kV and 10-kV Insulation Resistance Testers
Megger's new 5-kV and 10-kV Insulation Resistance Testers are designed based on significant feedback from actual end users. The new range consists of three models: two 5-kV units (MIT515 and MIT525) and a 10-kV unit (MIT1025).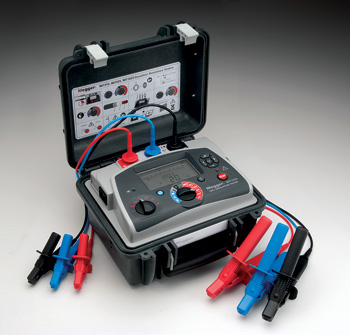 A key productivity feature is the ability to take measurements while connected to line power when battery is fully discharged. The units feature a lithium-ion battery with an ultra-fast charge time. Two and one-half hour full battery charge time significantly increases efficiency.
Our units offer 5 percent accuracy all the way up to 1 TΩ at 5 kV and 2 TΩ at 10 kV, ensuring the highest accuracy where it matters most. A CATIV 600 V safety rating on all terminals allows for safe use in the widest range of applications. The testers are built into a dual case design for fire-retardant protection while maintaining ruggedness. The case is rated to IP65, preventing water/dust ingress.
Megger
CIRCLE 107 ON READER SERVICE CARD
---
Tier 4i Air Compressor XP200WJD
Doosan Portable Power is delivering a new power level in its air compressor lineup with the introduction of the Tier 4i-compliant XP200WJD. The new model produces 200 cfm at 125 psig, making it useful for countless applications, including general construction, sandblasting, pneumatic tool operation and pipeline testing.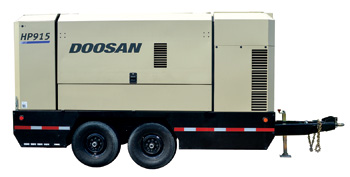 The XP200WJD maximizes jobsite productivity with an eight-hour runtime at 100 percent load. Dependable even in extreme temperatures, the model features a three-degree limited ambient temperature improvement, delivering reliable performance in conditions up to 118F.
Easy-to-access service points and simplified maintenance enhance machine lifetime. Pnuematic lift side doors provide easy access to service points-from hoses to filters and fuel tanks-while a rear panel simplifies heat exchanger cleaning. A spin-on oil separation system is cited to offer the industry's easiest maintenance, while an engine and airend diagnostic module provides operators with at-a-glance maintenance and servicing information.
Doosan Portable Power
CIRCLE 109 ON READER SERVICE CAR
---
HW3 High Pressure Impact Wrench
Greenlee Utility has announced the new HW3 Hydraulic Impact Wrench with very good power-to-weight ratio. Greenlee Utility wanted to provide its customers with the perfect mix of performance and ergonomics, it's reported. For the HW3, this was done by increasing power, reducing weight and adding features such as the new Cool Grip handle.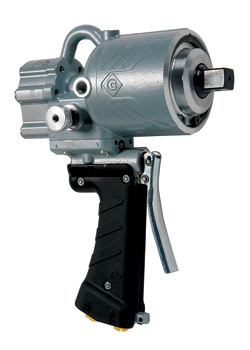 Greenlee Cool Grip technology is a new, patent-pending polymer design that dissipates heat away from touch points, such as the handle of the unit. This enables users to safely operate the unit for longer periods of time.
When compared to the previous model (H6510), the Greenlee Utility HW3 features 20 percent more torque (up to 1,283 ft-lbs) and 14 percent less weight-a leading power-to-weight ratio in this category of hydraulic tools. A newly-designed, self-regulating flow control prevents over-speed and over-torque at high flow rates, and a hydraulic check valve eliminates damage from improper connections.
Greenlee Utility
CIRCLE 108 ON READER SERVICE CARD
---
Auger Bits for Treated Wood, Composite/Fiberglass Hollow or Solid Core Poles
BURNDY, a manufacturer and provider of connector solutions to the industrial, energy, construction, telecommunication, petrochemical, data center and transportation industries, introduces several new auger bit designs for the utility and construction industries. These new drilling bits complement the existing product portfolio by providing customers more drilling options.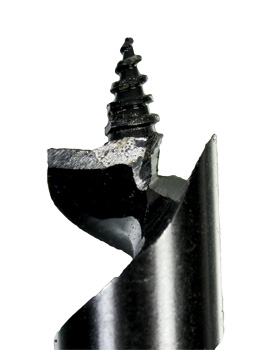 The new Razor auger bit (shown) is made from hardened steel and designed to cut fast, clean and straight into a variety of treated utility poles. The cutting head incorporates a single spur and cutting edge design that scores and shapes the hole. The lead screw design pulls the bit through the wood effortlessly while the flute design evacuates debris quickly, leaving a perfectly concentric hole.
The new Hollow Core and Solid Core auger bit designs are made exclusively for fiberglass and composite poles. These carbide-tipped auger bits feature cutting edges and flute designs intended to withstand the rugged surfaces of composite materials along with the ability to easily evacuate debris while keeping the bit centered during drilling.
BURNDY
CIRCLE 110 ON READER SERVICE CARD