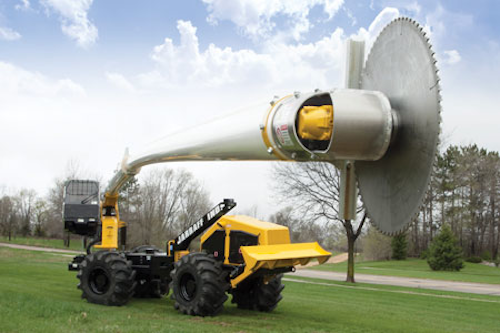 All-Terrain Tree Trimmer Exclusive Rotating Saw Head
Line maintenance: Jarraff Industries recently unveiled a Jarraff All-Terrain Tree Trimmer with updated design, new look, higher power output and improved efficiency. The significantly updated Jarraff features a rotating saw head design that allows the operator to rotate the blade assembly 180 degrees, an industry exclusive. A touch screen information center gives the operator unmatched control, engine monitoring, high definition camera display and more. The Jarraff features a Cummins 130 horsepower, Tier 4 engine that meets all environmental emission standards and mandates.
Since the first Jarraff debuted in the late 1970s, Jarraff Industries has been dedicated to evolving with the times and pushing design and innovation to meet the demands of the market by offering the best equipment available, it's reported. It's embracing technology, as well as a creative engineering team, to provide our clients with the safest, highest quality most efficient and productive product possible.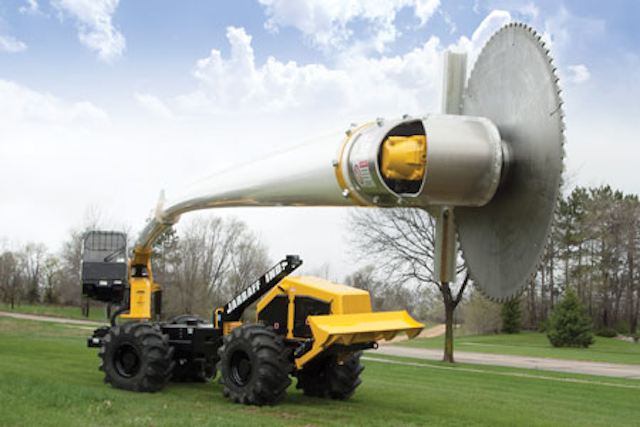 The Jarraff All-Terrain Tree Trimmer provides ROW maintenance contractors a dynamic field of operation. A rotary manifold offers a 360-degree plus range of motion as a standard feature. The unit also provides lateral tilt and 75-ft. cutting height. Two four-way joysticks and fingertip controls offer optimal precision.
In addition, the Jarraff's cab is completely ROPS, FOPS and OPS certified. Full panel, lexan windows prevent distortion and provide a clear view of operations. The Jarraff adds safety to every job because workers never leave the ground.
Jarraff
---
Utility Vehicles: 632E Four-wheel Skidder is Powerful, Productive
The Tigercat 632E skidder is a powerful, productive four-wheel skidder. Several enhancements have been integrated into the model, setting new productivity standards for timber extraction. The 632E is powered by the simple and reliable Tigercat FPT N67 engine, which provides full emissions compliance for Tier 2 and Tier 4f along with very good fuel economy. The Tier 4f engine delivers 212 kW (285 hp) at 2,200 rpm. The Tier 2 option delivers 215 kW (288 hp) at 2,100 rpm.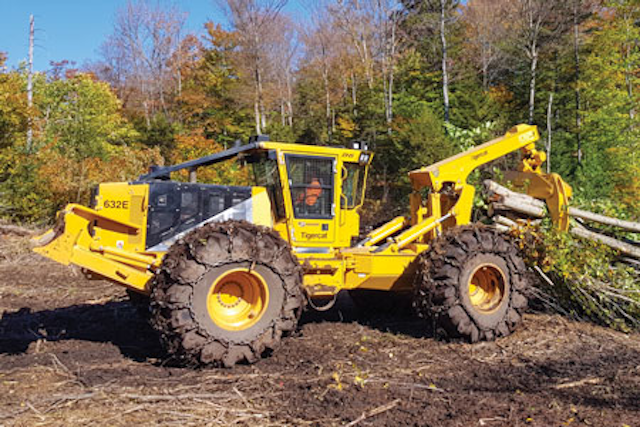 The 632E can be equipped with the largest grapple offered on any four-wheel skidder on the market, it's reported. The larger 2,1 m² (23 ft²) option has a tip-to-tip opening of 152 in. Complementing the higher horsepower and larger grapple, the hydraulic system and driveline have been extensively upgraded. Several components and structures have been upsized for improved durability.
The 632E uses a larger main hydraulic pump and valves for faster operation and better multifunctioning. The hydraulic cylinders are larger, allowing the machine to run pressures that are 10 percent lower while increasing performance by 10 percent on average. Cylinder rod sizes have been increased by 25 percent.
Tigercat Industries Inc.
---
HyPower IM for Telescopic Aerial Devices
Utility vehicles: Terex Utilities offers customers another option to meet their green fleet needs with the HyPower IM, the latest innovation in the HyPower hybrid solutions offering. The IM stands for 'I am': I am innovative technology. I am efficient. I am lightweight. I am green. I am cost effective. HyPower IM allows fleets to meet their green initiatives.
HyPower IM is an idle mitigation and cab comfort solution. HyPower IM provides similar benefits as the HyPower Hybrid System, including reduced fuel usage and reduced exhaust emissions, but at a lower price point. The system automatically switches from plug in battery-stored power when the truck is idling to engine-supplied power when hydraulic controls are engaged.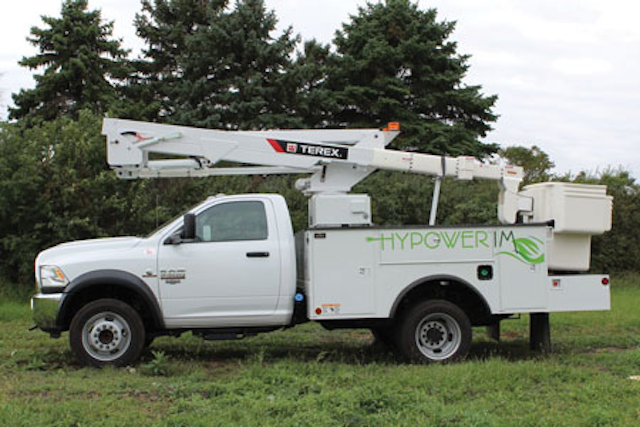 Throughout an eight-hour work day, on a typical trouble truck, the aerial's hydraulic controls are engaged about one hour total run time. By allowing the hydraulic system to switch to engine power during those brief intervals, HyPower IM is still able to provide emissions efficiencies plus optimum hydraulic control function. The transition is seamless. Operators will experience no lag time in hydraulic responsiveness.
Because HyPower IM starts and stops automatically when the truck is put into park and when hydraulic controls engage, utility workers do not have to take physical action to switch from engine to battery powered systems.
Terex Utilities
---
Hydraulic Oil Cooler Cool Flow, Redesigned to Improve Cooling Capacity
Safety products: Loftness' redesigned Cool Flow auxiliary hydraulic cooler meets the needs of tool carriers and other machines operating in demanding conditions. Along with a conveniently decreased profile, the Cool Flow's increased cooling capacity keeps machines and attachments running safely until the job is done.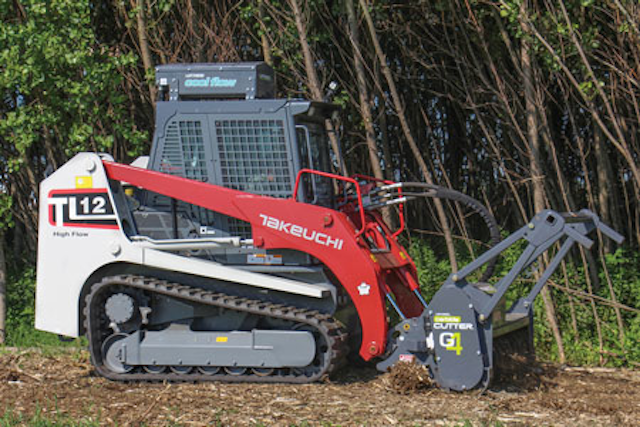 Under intense attachment loads or high ambient temperatures, hydraulics can overheat, which might mean putting a machine out of commission for lengthy - and costly - periods of time until the oil cools to a safe level. The Cool Flow reduces the risk of overheating in almost any machine, including tool carriers such as skid steers, backhoes and track loaders.
Twin 11-in.-diameter fans, an aluminum brazed core, and a peak flow of 45 GPM push cooling to 120,000 BTUs per hour. Fan speed is controlled by a 12-volt system and an automatic thermostatically controlled on/off switch. This assures hydraulics remain at safe operating levels, regardless of the load demand of the attachment or high operating temperatures.
Loftness