Growth Control -- We can't responsibly stop all the vegetation growth, so what's the solution?
We could kill all the vegetation that interferes with us, but what kind of a world would that leave us? Nature itself can do that. Look at the effects of drought in our country. Managing the vegetation that interferes with our utility infrastructure has never been easy.
Jun 22nd, 2015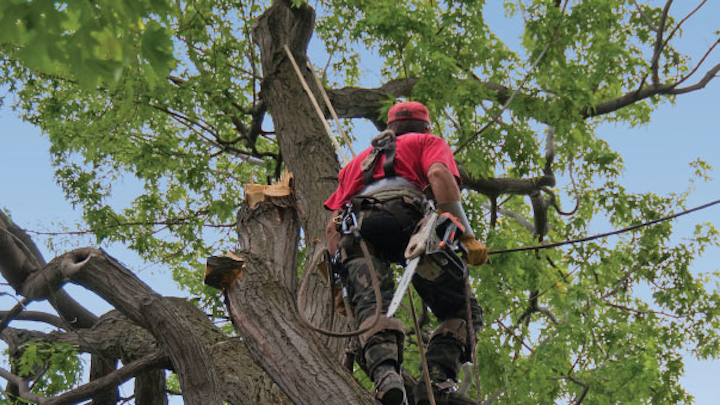 By Paul Hull
We could kill all the vegetation that interferes with us, but what kind of a world would that leave us? Nature itself can do that. Look at the effects of drought in our country. Managing the vegetation that interferes with our utility infrastructure has never been easy. The telecommunications company that is my provider is putting everything underground, so that is currently one solution, but what about the thousands of Utility Products that are still above ground?
Utility companies have the right to enter a piece of land designated as a utility easement and to manage trees in that easement area. The work must be reasonable and necessary for the construction, use, operation or maintenance of power lines in the easement areas. Sometimes the trimming or pruning by the utility or its contractors annoys the householder or business involved, but the key defense for utility action is that the trimming and pruning are done to keep the power lines clear--which is an obligation of the utility for the safety of its customers.
When I think of the vegetation that interferes, I tend to consider two types--the plants that grow upwards and curl around everything, and the vegetation that stays close to the ground. We had heavy rain in our area a few days ago and small plants that had just started to grow have suddenly grown some six inches since that rain. The natural marauders vary from region to region. What is a common nuisance in Alabama and Florida is unheard of in Montana and Vermont, and the reverse is true. The schedule for trimming trees varies according to the local climate and it may be different in different parts of a state. In some parts of northern states, trimming may be required only every 10 years or so, while southern climates can require trimming every several months. In my own region (northern) we see tree trimming by utilities every three or four years.
The treatment for unwanted vegetation everywhere varies little, even if the plants and trees do. Like a good gardener, we try to cut back the invaders without killing them--we want to keep the pleasant green of summer without letting it impede or even destroy our power and communication lines.
The Taller Obstacles
The most obvious management of vegetation to the public is the trimming of trees. Most of us have probably trimmed shrubs and bushes, and even the lowest branches of trees, and we've seldom worried about danger when we do. If the branches and limbs to be cut are high enough for a ladder, we are more careful, and rightfully so. As trees grow taller, many of them are close to power lines; that's when the trimming needs an expert. Many power utilities do not rely on their own employees (highly skilled in matters electric) to trim trees that could interfere with the lines above. In some places you'll see power lines going through neglected trees. That is asking for trouble.
Trimming trees is a procedure for experts. I asked a supervisor from my local utility why they used outside professionals rather than their own crews to trim trees along the streets of our neighborhoods. His answer was simple. "They know exactly what they're doing. They do it much more quickly than we can. They are safe." Having outside experts do the trimming is less expensive than doing it yourself, if only because of the time saved. The best reason is probably the safety aspect. Professional, experienced tree trimmers prepare the site to keep everybody safe--trimmers and bystanders--and they do the job quickly, with confidence and expertise. They have been trained to do the trimming and its related tasks, just as the utility's employees have been trained to do their electrical work.
Most people can see where trees are likely to interfere with power lines but the vegetation that creeps along the ground is not as obvious, possibly because it usually makes pleasant, green carpet to cover gravel, dirt and other unsightly heaps and piles. The ground-based vegetation will make itself obvious if it starts to climb trees, fences, substations and equipment that should not be strangled. Doing the clearance work manually could be more expensive than using equipment designed for the job. It's possible in some areas that manual clearing of the right of way would be too slow and never catch up with the vegetation invasion. There are several reliable brands that can accomplish the required management, whether it's trimming trees, mowing or brush cutting. Names that come to mind--and this is not in any way selective, just what I recall--are Jarraff Industries for tree trimmers with some 40 years' experience helping utilities, GeoBoy for brush cutting equipment, Bush Hog for clearing the right of way, King Kutter and Everything Attachments for brush cutting and clearing, and PROFI as one of several flail mowers for the shorter vegetation. There are many excellent sources of the right equipment for your vegetation management, whether the project is large or small, miles long or a single tree on Washington Street.
A solution for ground-level vegetation that is understandably popular is to "kill" the vegetation. Generally the killing may not be permanent but it will last a season. Such is nature. It recovers better from attacks than we do. There are locations where vegetation is killed every year, because the area is restocked naturally after several months. On my property I "kill" several patches of weeds each spring and the killing lasts until the next year, when I do it again. The soil, I assume, is not completely dead.
If the ground-level vegetation is mostly small--grasses, for example, rather than starting trees or thorny shrubs--there is a good variety of mowers available to control it. You can have mowers that have the cutters as part of the entire system or you can use something such as a flail mower, which is basically an attachment for a machine that can do other jobs through the year. Sometimes the cut grass and brush is left in place, and sometimes it is taken away; that seems to depend on local conditions and how often the cutting is required. There could be bits you've cut flying in all directions, so choose a machine that drives the debris down automatically.
There are many options in right of way clearing, but you can be sure the equipment for getting the best results is available; a little research and homework could save you many dollars in equipment costs and labor expenses. Compact tractors and skid steers can power attachments that can handle many of the obstacles in the right of way. Sometimes the management of the vegetation seems to include mostly small areas and obstacles; that's where a skid is enough power. Sometimes, however, you'll meet strong trees that need removing, if only to keep the ground good for larger trees you want to keep. For such work, an excavator and attachment (such as a mulcher) may be your best machine, or a machine (such as those from Fecon) designed specifically for this kind of work. Because of the nature of the ground in many right of way projects, the machines most favored have tracks rather than wheels.
Talking with other utilities and contractors who have experience in vegetation management is always helpful. Those who have tried different methods and equipment can give you practical, profitable advice about how to proceed. Their advice will probably be local, too, relevant to the particular problems you face, rather than sweeping comments from experts of a national nature. The manufacturers of vegetation management equipment will also have job stories that show how one type of machine may work better in your neighborhood than another.
When it's done right, as it often is, vegetation management for utilities is more an art than a mere chore that has to be done. The best tree trimming, for example, will keep the power lines safe and will manage the time between trimming projects--and that can save you many dollars. Consider the savings if you have to do your trimming every four years instead of every three, or every six months instead of every four.
More Utility Products Current Issue Articles
More Utility Products Archives Issue Articles