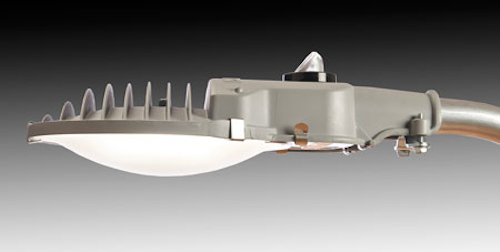 About two years ago, Pat Osborn, GIS and Facilities Coordinator for Inland Power of Spokane, Washington, began looking into the benefits that transitioning its 4,000 rural area lights to LED technology would bring to his co-op and its members. It is widely understood that LEDs consume about one-third the energy of high-pressure sodium (HPS) lights, and they can function over five times longer without losing brightness. In addition, LED bulbs provide a more pleasant white glow in comparison to the harsh yellow light of HPS bulbs. The decision was made to move forward with converting the co-op's HPS fleet to LEDs.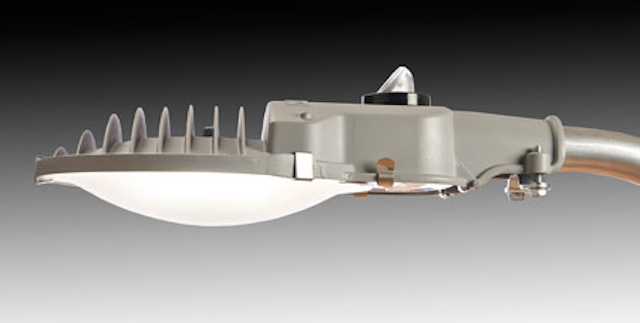 "The money we save in energy is important, but the money we save by not changing lightbulbs or photocontrols as often is even more significant," Osborn said. "We figure that we've been sending a lineman out to service each HPS area light about every five years and that has been a significant source of expense for our co-op. Inland Power's service territory is large, so some of our bucket trucks need to travel 100 miles to change lightbulbs."
Interested in evaluating different LED-based alternatives to HPS, Osborn invited Inland Power's lighting distributor, General Pacific Inc. of Fairview, Oregon, to demonstrate an AreaMax outdoor LED area light fixture manufactured by Evluma of Renton, Washington. See Figure 1. Subsequently, Inland Power installed a dozen AreaMax lights at the homes of board members, co-op managers and others as a test.
"We installed both 40 and 70 watt versions to replace 200W HPS fixtures," Osborn said. "As nice as the 40 watt was for some uses, most people wanted more light, so we made the decision to standardize on the 70 watt versions. In the end, the selection of Evluma was based on multiple factors. Bottom line, we were looking for a lighting company that was focused on solving the problems of rural co-ops, such as the high cost of sending skilled linemen long distances just to replace bulbs and photocontrols.
"We decided that the most economical way to change out the fixtures is to hang a new LED light when we get called in to service the old HPS light. So we budgeted for a certain amount of change-outs per year--about 300 lights."
The economics of the changeover is made even more attractive when the Bonneville Power Administration (BPA), Inland's electricity supplier, agreed to give them money back as part of the BPA's program to reward steps taken in their region to conserve energy.
"We figure the first time we don't roll a truck for repairs is when the light will pay for itself," Osborn said.
Evluma's AreaMax has features to reduce co-op maintenance costs that other LED area lights don't have. One of these is Photocontrol Failsafe operation. The AreaMax contains a control module that calibrates and then tracks the local day/night cycle, so that if the photocontrol fails--which can happen every five years or sooner in normal operation--the AreaMax continues to turn on and off as though the photocontrol were functioning. There's no need for the co-op to change out the photocontrol with a new one.
"We like the failsafe feature because it ensures that we don't need to go out to the site to replace anything for the full lifetime of the fixture, which is warranted by Evluma to be service-free for at least 10 years," Osborn said.
While the process with other lights is typically to replace the photocontrol along with the light bulb when either one needs service, AreaMax's Failsafe feature gives Inland Power linemen the confidence to transfer the old functioning photocontrol from an HPS light being replaced to the AreaMax, saving the co-op additional component costs. AreaMax has other features that appeal to linemen as well. See Figure 2.
"The product's light weight and sleek design make it a lot easier for our linemen to hang compared to the old HPS lights," Osborn said.
Another lineman-friendly AreaMax feature is Bluetooth wireless control, whereby lineman can turn the lights on or off and vary the brightness using a hand-held key fob or through the use of a Bluetooth-enabled notebook PC or tablet. Linemen can use this feature to test the operation of the lights during the day, and the co-op's meter-readers can use it to easily enable or disable the lights when the homes change ownership.
Inland Power will have converted some 800 HPS area lights to the Evluma AreaMax by the end of this year.
More Utility Products Current Issue Articles
More Utility Products Archives Issue Articles