Cable Scrapper Salvages Underground Cable up to 4-in. Diameter
The TSE Cable Scrapper is Al Asher and Sons' latest product innovation for 2015. Formerly known as OK Champion, the industry has long recognized the Cable Scrapper as the go-to product for salvaging underground cable up to 4-in. diameter. The machine will pull, cut and load cable all day in one continuous operation, saving countless man-hours and extra equipment.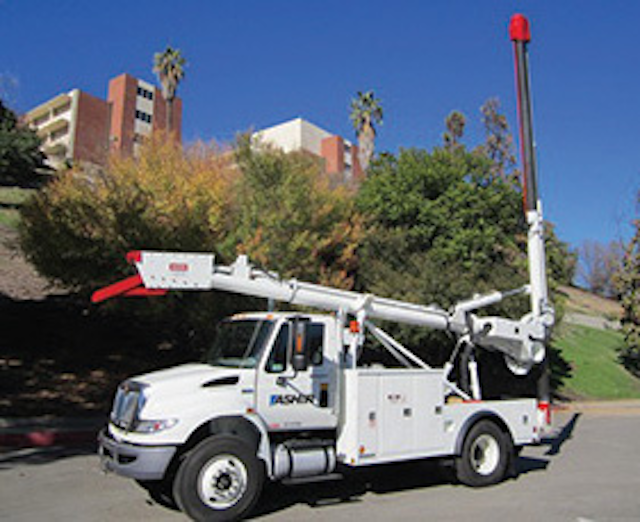 Equipped with a 24,000-lb. capacity boom take-up winch, set-up in a manhole or vault takes only minutes with deep penetration and infinite pulling angles, eliminating time consuming jigs and make-ready adjustments. Now you can purchase the TSE Cable Scrapper with remote radio controls for the bed winch, which will digitally and effortlessly record pulling torque and speed values.
Al Asher and Sons
---
Utility Equipment: Install More Cable in Less Time
Jameson's Aerial Buddy fiber optic sheave lets you install more cable in less time. It protects all-dielectric self-supporting (ADSS) and other jacketed fiber cable during installation. A capture system prevents cable or pull table from jumping off wheel, maintaining a smooth run even when making 90 degree turns. To reduce installation time, Jameson used a highly durable polymer material that weighs significantly less than aluminum and steel models. The light weight allows one-person set up in less time. Self-leveling, the Aerial Buddy makes strapping optional.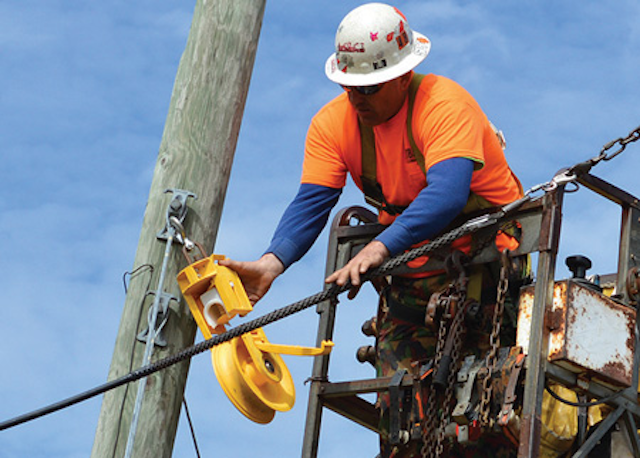 Features:
Spring-loaded cable guard keeps cable and pull tape on wheel. Eliminates delays due to derailing. Pulling grips easily pull through opening.
Lightweight, reinforced polymer weighs significantly less than aluminum and steel models. Reduces fatigue; one-man set-up.
Easy latching mechanism, single-handed locking and unlocking.
High strength, impact resistant—more durable than aluminum.
Chemical, UV, corrosion resistant for longer life.
Electrically insulated for safety.
Hoist ring swivels 360 degrees, rotates 180 degrees for unrestricted mounting, maneuverability.


Jameson

---
Hydraulic Puller- tensioner Improves Conductor Stringing Jobsite Productivity
Construction equipment: The AFB506 hydraulic puller-tensioner from Condux Tesmec provides utilities and utility contractors the ability to improve productivity and efficiency, while limiting downtime and improving jobsite safety. The AFB506 is designed for stringing one or two ropes or bundled conductors, and features two pairs of bull-wheels with completely independent controls. The unit offers 2 x 10,100 lbf (2 x 45 kN) or 1 x 20,200 lbf (1 x 90 kN) of pulling force.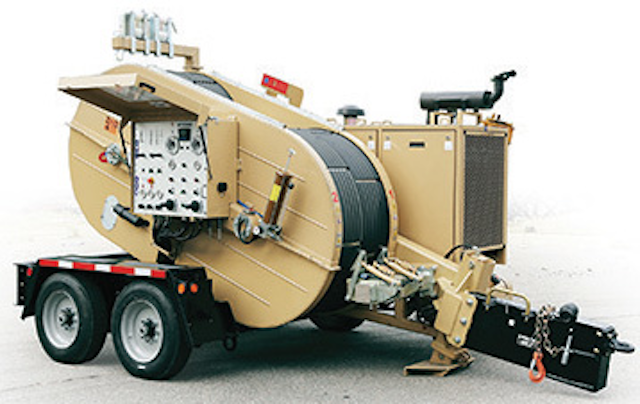 The bull-wheel grooves on the AFB506 are made from wear-proof nylon sectors. Wear-proof thermally and chemically treated steel bull-wheel grooves are also available.
Condux Tesmec puller-tensioners are able to tension and pull at the same speed and force, and offer features such as negative self-acting hydraulic brakes, integrated hydraulic dynamometers, hydraulic cooling systems, advanced user controls and more.

Condux Tesmec

---
Cable Blower Makes Interior or Exterior Micro Fiber Optic Cable Installation Quick, Easy
General Machine Products Co. Inc. (GMP) offers the Whisper Micro Cable Blower with its line of fiber optic cable placing equipment. Engineered to install micro fiber cable into pre-installed 0.157 in. to 0.708 in. diameter microduct, the Whisper Micro Cable Blower (Whisper) will place 0.078 in. to 0.334 in. diameter cable at speeds up to 260 ft. per minute.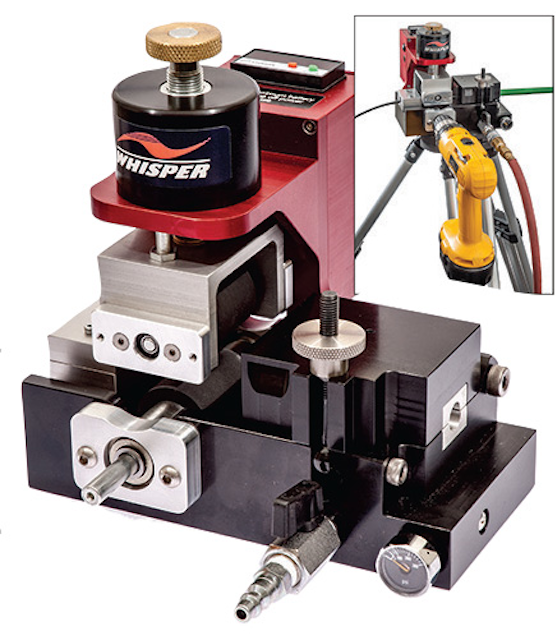 For smaller jobs where traditional, field-size blowing machines are unsuitable, the Whisper's versatility, compact size and portable maneuverability make it suited for interior and exterior fiber cable placement applications.
The operating principle behind the Whisper is simple and convenient. Microfiber is propelled into the microduct by the use of a conventional, variable speed drill (not included). The unit is also engineered to provide fast, on-site adjustments to accommodate multiple cable or duct sizes.

General Machine Products Co. Inc. (GMP)
---
Hydraulic Loaders Line Expanded
Construction equipment: Iowa Mold Tooling Co. Inc. (IMT) has added the IMT 28562 hydraulic loader to its lineup of hydraulic loaders. The IMT 28562 loader offers customers another option for efficient handling of palletized materials in the building supply and construction industries.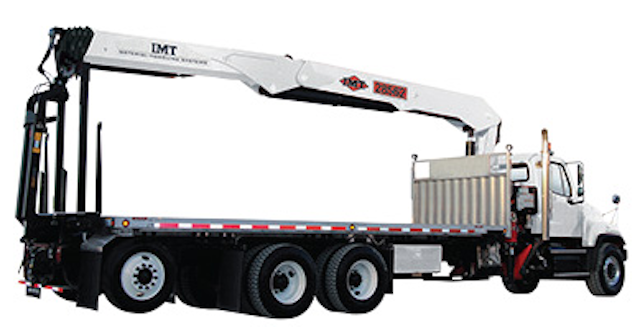 The IMT 28562 hydraulic loader features the highest rating in the IMT lineup at 161,490 ft-lb. It has a maximum lift capacity of 5,700 lbs., up to 62 ft. 3 in. of horizontal reach, and a maximum vertical reach of 71 ft. 4 in. The loader is capable of lifting 2,400 lbs. at its maximum horizontal reach.
A 22-ft. hydraulic out-and-down stabilizer span provides customers with stability for loading and unloading palletized goods, while a high lift-to-weight ratio allows for maximum payload on the truck.
Additional features of the IMT 28562 loader include:
420-degree rack and pinion rotation,
A rotation system that operates in a continuous oil bath to reduce friction and enhance life,
A standard oil cooler to extend hydraulic system longevity, and
A counterbalance valve on each cylinder to stop motion in case of a hose failure.

Iowa Mold Tooling Co. Inc. (IMT)


---
Kwik-Trim Mechanical Trimmer Features More Horsepower, Enhanced Stability

Vegetation management: Loftness Specialized Equipment's Kwik-Trim compact mechanical tree trimmer is for right of way maintenance work. Featuring an upgraded chassis and powertrain, the unit offers more horsepower, increased stability and easier maintenance than the previous model.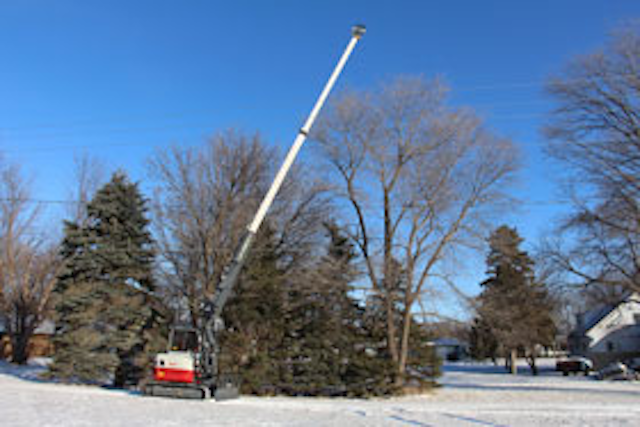 Equipped with a turbocharged 47.6-horsepower diesel engine, the Kwik-Trim meets tier 4 compliance without requiring diesel exhaust fluid (DEF). In addition to producing more power, the updated engine provides better fuel efficiency.
Compared with the previous Kwik-Trim model, the unit is some 800 lbs. heavier with an operating footprint that is 7 in. wider and 7 in. longer, helping maximize stability on difficult terrain. Despite the increases in size and weight, the unit is still compact enough to access tight jobsites and light enough to be towed behind a pickup, unlike large-scale mechanical trimmers, which typically require semi trucks with specialized trailers. To further ease road transport, a new hose reel mount eliminates the need for external boom support during transport.

Loftness Specialized Equipment


---
Construction Equipment: 14,000 lb. Drum Puller
Sherman + Reilly, a Textron Inc. company and manufacturer of power line stringing and installation equipment, offers the 14,000 lb. drum puller, the Revolution Series P-1400X. This transmission class puller uses an automatic horizontal floating levelwind that permits overhead rope retrieval with precision control. The puller reduces cost, time and risk, making the job safer and more efficient.

This single drum puller features additional re-conductoring capabilities. The drum engagement system uses lateral sliding sides and drum support rollers. The hydraulically actuated articulating sides of the machine allow for easy changing of the drum to a metal reconductoring reel.

The fully hydraulic direct drive system provides the operator with precise and intuitive automatic drive/drum braking. It has all digital controls, joy stick operation, digital recording of all job performance and on-board diagnostics ensuring improved machine up times.
The P-1400X is equipped with an advanced control group (ACG), allowing for a single operator at a protected central console to control payout speed, pulling speed, levelwind controls and jack position.

Sherman + Reilly

---
Safety Device Prevents Fall Hazards, Trip Hazards and Other Fall Traumas
Fall prevention: Bay Shore Systems' OEPS is an industry derived safety device preventing fall hazards, trip hazards and other fall traumas or related injuries—protecting staff and employers from danger and loss. OEPS, which stands for Open Excavation Protection System, is a certified, made-for-industry barricade that completely secures the area around an excavation site whether excavating holes or trenches.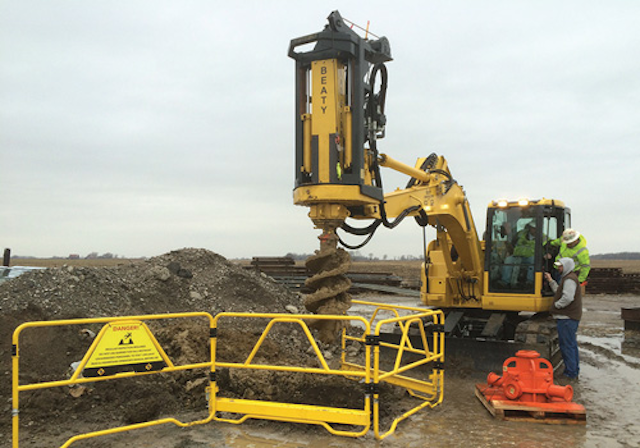 Reduces manual handling activities such as erection of temporary fencing,
The unit flat packs and is portable for ease of transport and re-use,
Easy to assemble—less than a few minutes, and
Available in standard sizes or specially manufactured to customers' requirements.
Bay Shore Systems Inc.


---
RRS-3 PowlVac Remote Racking Solution for PowlVac PV Style Circuit Breakers
CBS ArcSafe, a manufacturer of remote racking and switching solutions for low-voltage and medium-voltage switchgear, offers its CBS ArcSafe RRS-3 PowlVac remote racking solution for PowlVac PV style circuit breakers manufactured by Powell Electrical Manufacturing Co. The RRS-3 PowlVac is compatible with all standard PowlVac PV style circuit breakers with current ratings from 1200-3000A. It is not compatible with breakers equipped with Closed Door Racking (CDR). This racking solution allows technicians to remotely rack in or out the PowlVac Type PV standard low-voltage circuit breaker from a safe distance while remaining stationed outside of the arc-flash boundary.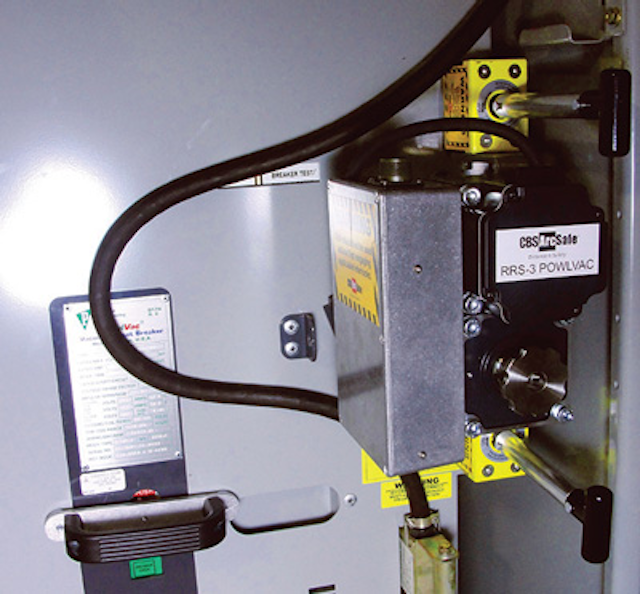 Installation and operation of the CBS ArcSafe RRS-3 PowlVac is quick and simple and does not require modifications to the existing equipment. PowlVac Type PV style circuit breakers may typically be found in utility and co-generation facilities, industrial plants, and commercial and residential buildings. By automating the racking procedure, the CBS ArcSafe RRS-3 PowlVac reduces operator fatigue and increases operator safety.
When accompanied by a CBS ArcSafe remote switch operator (RSO) control unit, the RRS-3 reduces the need for arc-flash suits and eliminates all hazardous manual contact with gear during operation from up to 300 ft. away.

CBS ArcSafe

More Utility Products Current Issue Articles
More Utility Products Archives Issue Articles