Truck Caps, Tonneau Covers, Commercial Product Options for 2016 Toyota Tacoma
Available immediately, A.R.E. Accessories is offering the company's full range of well-designed fiberglass truck caps, tonneau covers and commercial products for the new 2016 Toyota Tacoma pickup. The complete line of A.R.E.'s quality-built truck caps is available for all cab and bed configurations for these mid-size pickup trucks.
To create an aerodynamic, secure and weatherproof storage area in the 2016 Tacoma's bed, A.R.E.'s fiberglass tonneau covers are durable, easy to open and close, and integrate seamlessly into the design of this new truck model.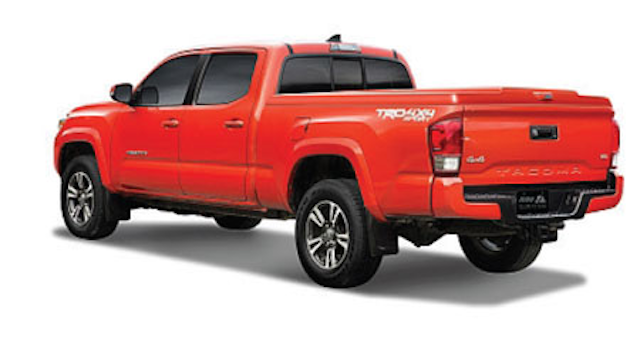 For commercial applications, A.R.E. offers the rugged, customizable Deluxe Commercial Unit (DCU) and ToolMaster Series truck caps.
All A.R.E. products are painted to match the owner's truck using the exact OEM paint code for a high-quality appearance and are backed by a limited lifetime warranty for the life of the original pickup truck it is installed on.
A.R.E. Accessories
Barrel Pack System Features Cable Lengths up to 2,500 Feet
Utility equipment: AFC Cable Systems, a manufacturer of electrical products, announces the Metal Clad Cable Barrel Pack System for contractors who need a large volume of the same cable on one project. Available in a range of cable types with steel or aluminum armor and lengths from 1,000 feet to 2,500 feet, Barrel Pack reduces scrap and handling compared to using individual coils in lengths that may not match the project requirement.
Contractors get just the amount of cable they need for one area of the building or project and can then easily move the barrel to another area. Barrel Pack allows contractors to buy larger quantities and save any excess for use on other jobs.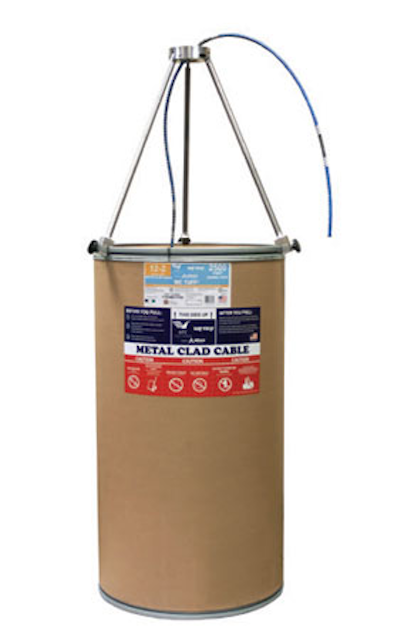 The economical design reduces the effort required to install cables and is easily transported around the job site. The easy-pull Metal Clad Barrel Pack, a 75-gallon fiber barrel rated for 400 lbs., is equipped with a lever-locking steel band lid. Also included is a tripod/truck combination that allows contractors to easily move the cable without having to pick up heavy coils and carry them from location to location.
The system's collapsible barrel payoff tripod mounts easily to the Barrel Pack to guide cables. Because the tripod is omni-directional, there is no need to rotate the direction of the pull. The Harper barrel truck with footrest features an adjustable sliding chime hook that can handle steel or fiber barrels up to 48 in. high.
AFC Cable Systems
Sealing Kits In-line Splice and Cable Jacket Sealing Kits
Utility supplies: BURNDY, a manufacturer and provider of connector solutions to the industrial, energy, construction, telecommunication, petrochemical, data center and transportation industries, announces the introduction of Cold Seal Splice Kits.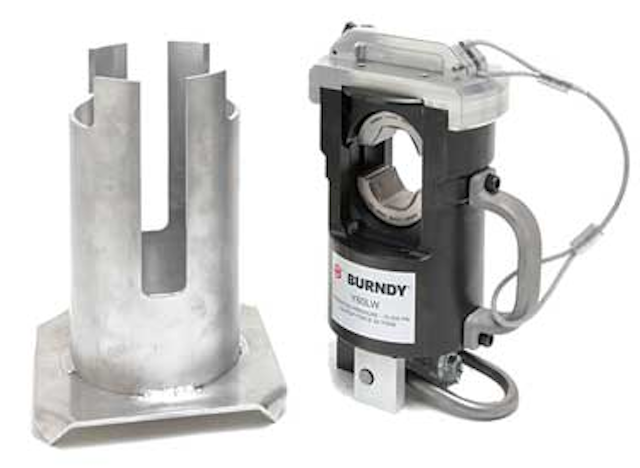 The CSB and CSJ series of cold applied splice sealing products are made of specially formulated silicone rubber offering excellent insulation and moisture proof sealing for in-line cable connector systems or elbow to cable jacket applications. Generally used to insulate wires, connections, joints and terminals in electrical work, the rubber sleeves are factory expanded and held over a removable plastic rip core housing. Requiring no special tools or training, these cold seal splice kits are quick and easy to install with different sizes suitable for a wide range of cable.
Accommodating a broad range of cable conduit, wire and hose diameters, the kits seal tight and retain resiliency and pressure even after prolonged years of aging and exposure. Featureing UV resistance and thermal stability, cold seal splice kits are also resistant to fungus, ozone, alkalies and acids.
BURNDY
Remote Switch Actuator for Square D HVL/cc Medium-voltage Load Interrupter Switches
CBS ArcSafe, a manufacturer of remote racking and switching solutions for low-voltage and medium-voltage switchgear, offers its remote switch actuator for Square D HVL/cc medium-voltage load interrupter switches (LIS). The CBS ArcSafe RSA-27 actuator allows technicians to remotely close or open the switches from a safe distance while remaining stationed outside the arc-flash boundary.
Installation and operation of the CBS ArcSafe RSA-27 do not require any modifications to the existing electrical equipment because of the use of magnets and existing features. It also is so quick and effortless that a single person can perform the task. The CBS ArcSafe RSA-27 is compatible with all Square D HVL/cc medium-voltage metal-enclosed switchgear LIS equipped with the over toggle mechanism in indoor or outdoor applications and with ratings from 2.4 to 38 kV, 60 to 150 kV BIL, and 600 to 1200 A.
CBS ArcSafe
Voltage Booster VB02 for VOTANO 100 Offers Faster Voltage Transformer Tests
Utility testing: At only 33 lbs. and compact in size, Omicron's VOTANO 100 is cited to be the first portable voltage transformer testing device to also offer high accuracy.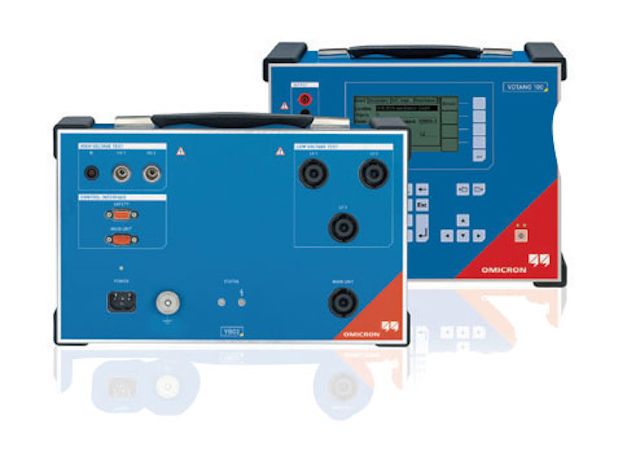 The testing and calibration system measures winding resistance, short circuit impedances, the transformation ratio and the magnetic characteristic of inductive or capacitive voltage transformers in a single measuring cycle.
Together with the new VBO2 voltage booster with integrated switch box, the complete measuring results of a voltage transformer are available in less than 15 minutes because the VT only needs to be wired once, improving testing time and efficiency. Along with the new hardware, a new software upgrade for the VOTANO (2.00) has also been released.
Omicron
New Fully Rugged Tablet PC 10.1 Inch XSLATE B10
Handheld computer: Xplore Technologies has introduced the XSLATE B10, cited to be the industry's most fully featured, fully rugged tablet computer to date—and the hardest mobile worker yet.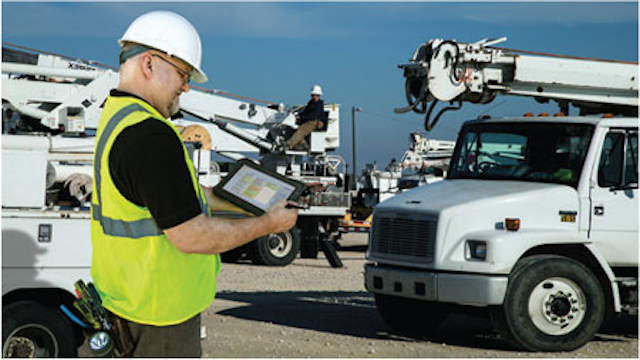 At 10.1 in., it is compact yet commanding in the field and provides both connectivity and ruggedness. The Windows-based rugged tablet come standard with eight IP-65 rated I/O ports built in and has four of them sealed from behind for full protection against water and dust ingress, even when open. These include True Serial, (2) USB 3.0, RJ-45 Gigabit Ethernet and an Xplore exclusive built-in HDMI Input (optional).
The B10 comes standard with the Intel Core i5 CPU and is upgradeable to i7 vPro CPU to provide top speeds to process data. The C1D2/ATEX-compliant tablet also features a 20-hour hot swappable second battery option, ultra-fast 4G LTE broadband, Wi-Fi, and Bluetooth 4.0 connectivity to balance its industrial toughness with all-day mobile computing power that meets and exceeds the needs of customers.
Xplore Technologies
Transformer Tester ClearTest
HD Electric's ClearTest Transformer Tester provides quick and easy tests of de-energized power distribution system transformers. It is a handheld device with a single pushbutton that provides a clear indication of open circuits, short circuits, including shorted turns or shorted windings and confirmation that the test results are OK.
The ClearTest Transformer Tester is a new design that briefly energizes the transformer and takes a snapshot of the transformer condition by measuring the voltage, current and power factor of the test signal.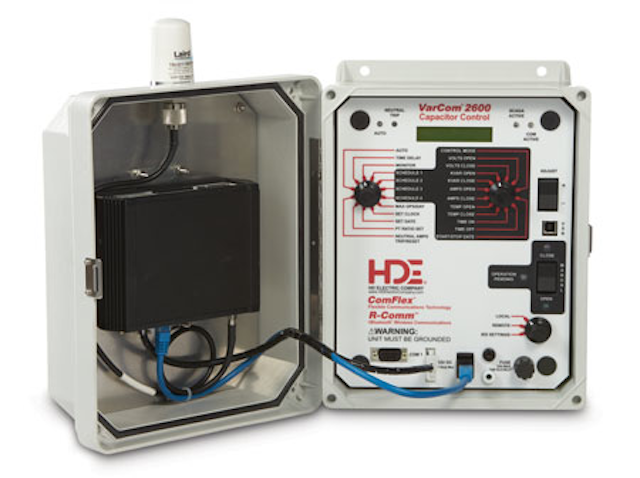 It finds transformer defects that include:
A single shorted turn in the primary or secondary side of a transformer;
Open coils or blown internal fuses or breakers;
Partial shorts including shorted turns, shorted turn layers, coil to core shorts and primary to secondary shorts; and
Bad transformer ratios resulting from shorted turns.
ClearTest Transformer Testers look both inside and outside the transformer—testing the coil, core and winding as well as between the transformer and whatever it is connected to.
HD Electric
Polyethylene Insulators Offer Advantages Over Traditional Porcelain
Marmon Utility LLC/Hendrix Molded Products, a provider of products and services for the electric utility industry, has long been manufacturing high-density polyethylene insulators and accessories as an alternative to porcelain. Hendrix Molded Products are made of high-density, recyclable polyethylene and are 100 percent made in the USA. The company's products include Tie-Top, Vise-Top and Universal Vise-Top pin insulators.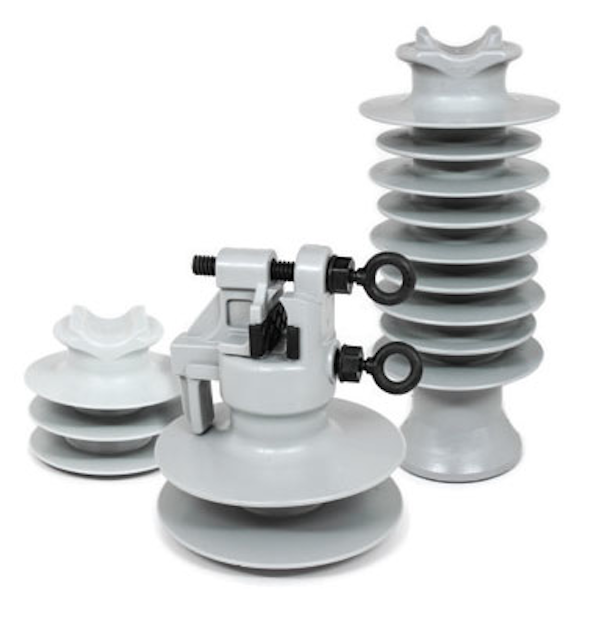 The benefits to polyethylene insulators for the utility market as compared to their porcelain counterparts are many and include greater leakage distance, higher flashover and impulse values, lighter weight and vandal-resistance. In addition, Hendrix polyethylene molded products won't chip, crack or break; they accept any conductor or tie (bare or covered); and they're completely interchangeable with porcelain—so upgrading is easy. The Hendrix insulators also exceed the electrical and mechanical requirements of ANSI, and there are millions of HPI insulators in service around the globe.
Hendrix polymer products are also well known for their reliability and years of service in the field, and the brand has established a Guaranteed for Life (GFL) program for its molded insulator solutions.
Hendrix Molded Products
Voltage Tester with Flashlight Full Range Non-contact
Klein Tools has expanded its Tough Meter Test & Measurement product line with the durable NCVT-3 Non-Contact Voltage Tester with Flashlight. It identifies AC voltage in cables, cords, circuit breakers, outlets, wires, doorbells, thermostats, low voltage lighting systems, irrigation systems, etc.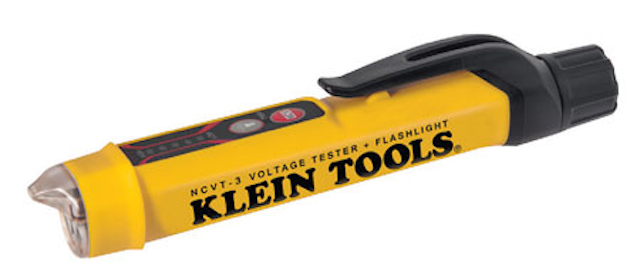 The rugged NCVT-3 non-contact voltage tester detects the full range of 12 – 1000V AC to accommodate both low and standard voltage environments. An integrated flashlight works independent of the tester and is practical enough to use as a standalone tool. By incorporating Klein's tough meter standards of dustproof, waterproof, CAT IV 1000V safety rating and drop protection of up to 6.6 ft., this tool is suitable for any jobsite.
Klein Tools
Brush Cutter Tractor Available With Various Cutter Head Options
Vegetation management: The Geo-Boy Brush Cutter Tractor from Jarraff Industries is available with various cutter head options to meet specific application needs. The Geo-Boy can be outfitted with cutter heads from multiple manufacturers.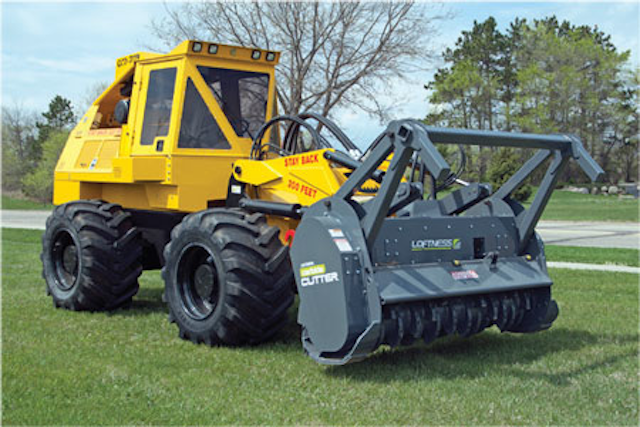 The objective is versatility and productivity. The company gives end users the ability to best match their Geo-Boy to their particular applications. Conditions can vary greatly from pipeline right-of-way management, for example, to seismic mapping or general land clearing for construction applications. This way customers can select the cutter head option that best suits their needs and gives them the level of productivity they want.
Jarraff Industries
Manhole Safety System Lifeguard
Safety products: Hi-Line Utility Supply offers the LifeGuard LG5A Safety system. Its lightweight aluminum and steel framework makes this all-in-one unit secure and tough yet completely potable, offering a quick one-person setup. Made in the USA, it features dual anchor points, leveling feet and overhead proof load of 5,000 lbs. It is compatible with hoist, SRL, 3-way or a combination of devices.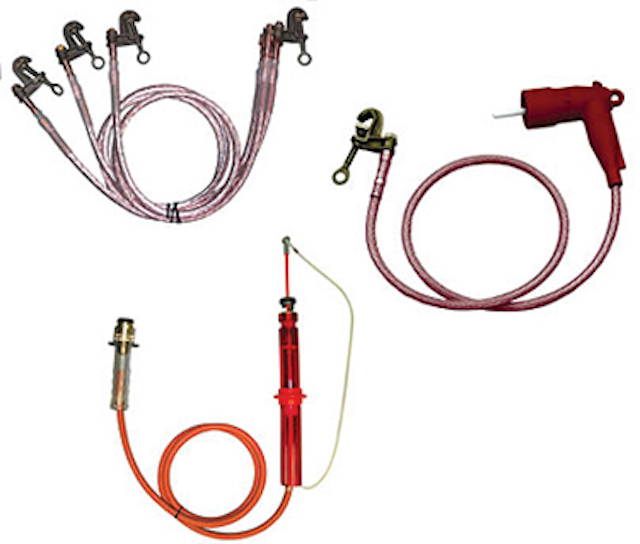 The Lifeguard Manhole Safety system is Fall Arrest Anchorage certified and exceeds OSHA and ANSI safety standards.
Hi-Line Utility Supply Co.
Rough Terrain Forklift S150
Construction equipment: Sellick Equipment Limited has announced a new model of rough terrain forklift. The S150, 15,000-lb. capacity at 24-in. load center is now in full production. This new model is powered by an economical 74-hp four-cylinder intercooled tier 4 final electronic engine that produces 295 ft/lbs of torque.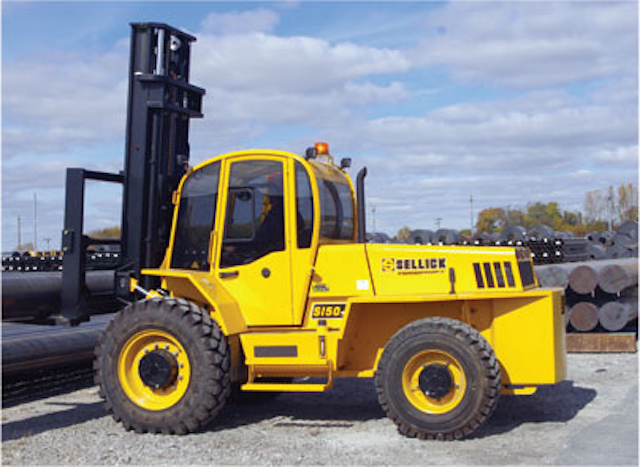 Operator safety and comfort is consistent with all Sellick models. The S150 features a fully isolated operator platform that reduces noise and vibration, and the overhead guard structure is both ROPS and FOPS certified. Operators can monitor the machine's systems through a multi-function digital LCD screen that also provides on board diagnostics that reduce downtime.
Sellick Equipment
High Lumen Output LED Floodlight for Hazardous, Industrial Locations
Work lights: Dialight offers the 15,000 lumens DuroSite and Safesite Floodlight in UL, CE and C1D2 versions. The higher lumen floodlight can replace up to 400W traditional HID lighting fixtures.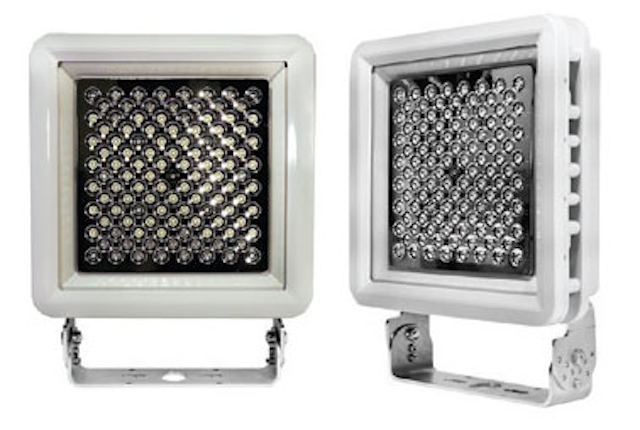 DuroSite and Safesite Floodlights typically consume 50 percent less energy than HID lighting sources while reducing overall maintenance costs. Each fixture has a tempered glass lens and a die cast aluminum housing, with a corrosion resistant epoxy base/polyester powder-coated finish, and fixture weighs 30 lbs. or less. The factory-sealed floodlight delivers up to 15,000 lumens at 140 watts (107 lumens per watt efficiency) and includes Dialight's 10-year, full performance warranty.
Dialight
Auger Stand Portable
Construction equipment: This portable auger stand, the Auger Up from Utility Tool & Trailer Inc. (UTT), was developed with safety in mind. It provides a secure stand for the auger when transitioning from auguring for poles to anchoring. There are times when the auger cannot be screwed into the ground for removal because of truck positioning, existing underground facilities, frost, customer lawns and other constraints. The portable auger stand provides a safe and secure way to keep the auger positioned upright to ease the process of auger removal and reattachment.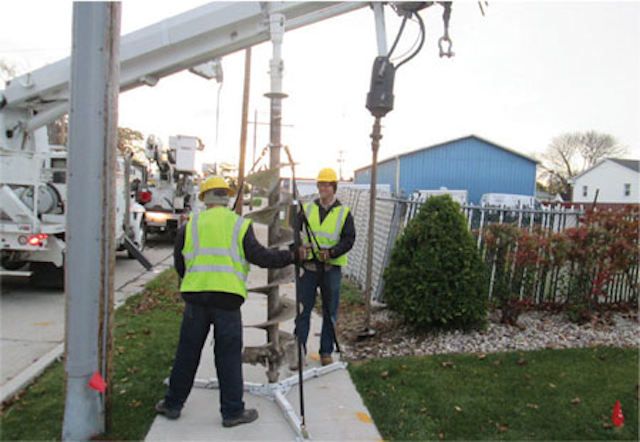 Features include:
Supports augers ranging from 4.5 in. diameter by 4 ft. tall up to 24 in. diameter by 12 ft. tall,
Center cup measures 4.5 in. inside diameter with adapter plate available for larger pilot tips,
Stowed dimensions are 15 in. wide by 15 in. high by 19 in. deep,
Weighs 42 lbs.,
Load capacity is 500 lbs.,
No tools or ladder required,
Deploys in less than a minute, and
Allows operators to safely remove and store all types of augers on any surface.
Utility Tool & Trailer Inc. (UTT)
Vegetation Management: Modular Power Pack Design Greatly Improves Lead Time
Fecon's BHP270 Modular Power Pack features their Power Management System for maximizing performance and torque while minimizing fuel consumption. The BHP270 is designed for use on most excavators in the 20-30 ton range. The modular aspect of the BHP270 overcomes custom engineering of the power pack and greatly shortens lead times so the installer can begin work more quickly. Where industry lead times for power packs had run 6-8 weeks or more, the modular design of the BHP270 allows Fecon or its dealers to have units in stock for immediate shipment.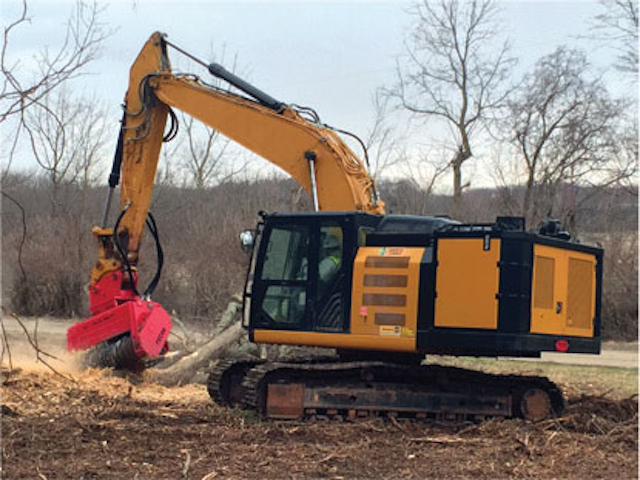 The BHP270 comes with a universal adaptor plate that also speeds up the installation process. The universal adapter plate fits a wide variety of excavator designs. It is the adapter plate that is customized to the excavator. Then the power pack is mounted to the adapter plate. This eliminates the need to custom design the entire power pack per specific brand, model and year of excavator design.
Fecon
Power Distribution Step Down System
Larson Electronics' temporary power distribution system converts 480 volts AC current to single phase 120 volts AC and 240 volts AC. The power distribution system provides operators the ability to safely tap into and distribute 480 volts AC power from a variety of sources including generators and direct grid power.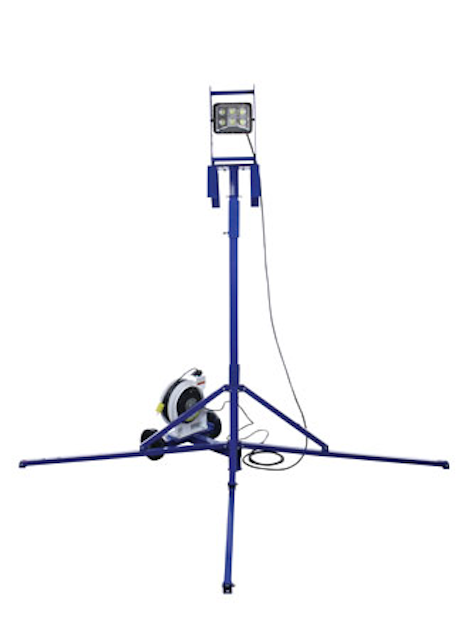 This portable substation is suitable for outdoor applications with a fully potted transformer and NEMA 3R load center. This unit provides an effective power distribution system for operators performing plant turnarounds, maintenance and cleaning in hazardous areas, equipment installations and repairs, and any activities requiring an alternative to native power sources.
This transformer is designed to operate with 480 volts, three phase that is then stepped down to single phase 120 and 240 volts AC. The transformer feeds a 100-amp main circuit breaker panel that includes one 30-amp 240V breaker and six 20-amp GFCI breakers. All receptacle device boxes are industrial die cast malleable iron construction and feature rigid raceways between each device box.
Larson Electronics
Buddy Bushing Eliminates Cross Arm Attachment Wear
Safety products: The Buddy Bushing from LineWise is a patented product that increases the lifespan and strength of the cross arm attachment in transmission lines. Designed by a line specialist with more than four decades of experience, the device is a cost-effective measure that mitigates wear issues, inspection time and, ultimately, expensive repair or replacement.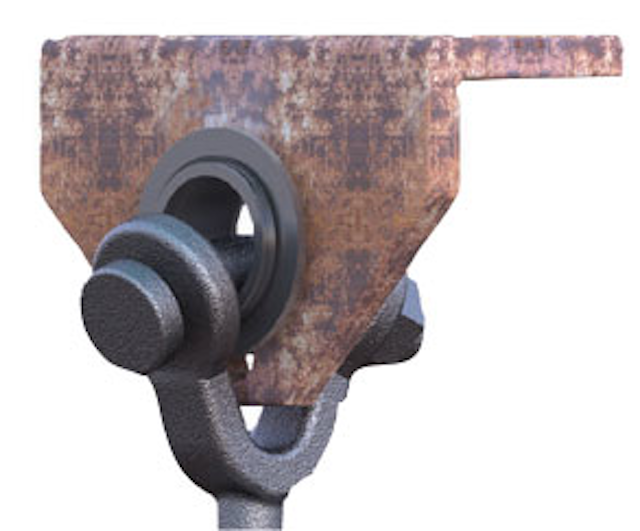 Utility companies have always had problems with erosion of the attachment hole in the cross arm. Over time, wind-driven rubbing and vibration between the line hardware and cross arm attachment points can cause failure. The result is costly arm replacement repairs, increased downtime and unhappy customers forced to sit through extended power outages.
LineWise
Hang-A-Light 200-watt LED Work Light
ProBuilt Professional Lighting LLC offers the Hang-A-Light 200-watt LED temporary area work light. The bright temporary jobsite bay light produces 15,000 lumens and has a lighting range of 75 ft. to 100 ft. It can replace a 400-watt metal halide work light with 50 percent less energy consumption and draws only 1.6 amps.
Modifiable to 100/120/208 or 277V, this light can be used in many environments as a temporary work light or hard-wired in as a permanent fixture. Link up to six lights together in a series for maximum light output. With no setup required, a sturdy metal hook and easy carry handle, the Hang-A-Light 200 watt LED is easy to use and is cUL listed.
ProBuilt Professional Lighting LLC
Steel Storage Chest and Cabinet
Utility tools: Milwaukee Tool offers the 46-in. Steel Storage Chest and Cabinet. The storage solution features a reinforced angle iron frame and 5-in. industrial casters for durability. With 16 drawers that include 100-lb. soft close slides, and two that include a second set of slides to support 200 lbs., the 46-in. Steel Storage Chest and Cabinet can support a weight capacity of 1,800 lbs. Every inch of the space is maximized with features such as a built-in power center for instant access to power and a pullout work surface for using and storing a laptop or documents.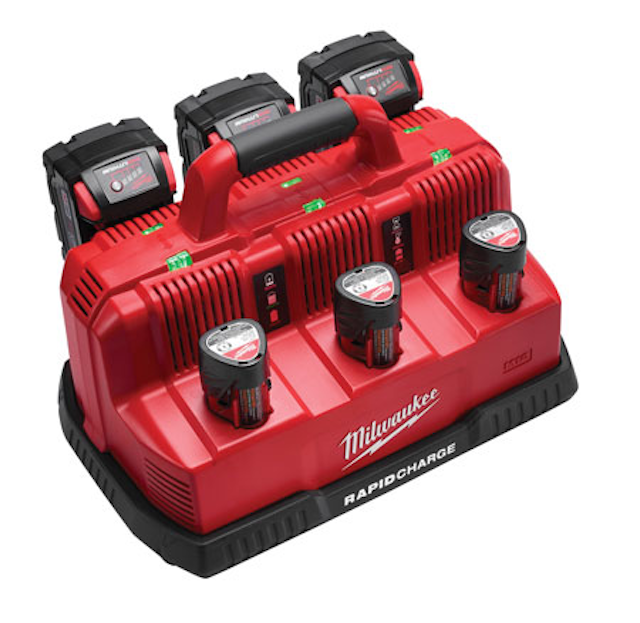 For added utility, a power tool organizer keep tools upright, and an independent locking drawer keeps valuables and personal goods secured while working. Under the pneumatic lid, users can also store tools on the integrated metal peg wall or upright directly on the work surface, which has 10.5 in. of clearance from the lid when closed.
Milwaukee Tool
Cobra-style Jib Offers Ease of Use
Aerial lifts: Terex offers an end-mount or top-mount cobra-style jib on its Hi-Ranger TL and LTM series aerial devices. Available on all 24-in. x 48-in. platforms, the Terex cobra-style jib is engineered with hydraulic articulation and extend, enabling operators to achieve a greater range of motion and increased productivity.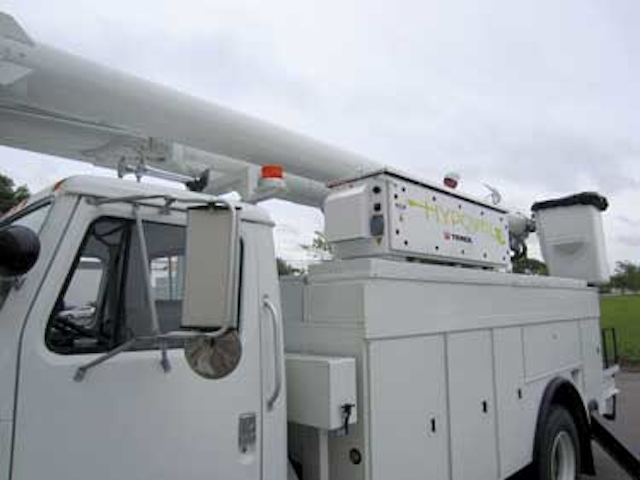 The cobra-style jib features a low 16-in. profile as well as a 600-lb. platform capacity and 1,000-lb. maximum lift capacity, which can be realized with the work line extended farther from the basket shaft than other jibs allow. Operators can easily rotate the cobra-style jib because of an additional bearing at the bottom of the jib. This rotation offers linemen more versatility at the pole, enabling them to easily line up with work as needed. It also offers better accessibility between lines. This additional bearing rests on top of the Kingpost socket, which is attached to the jib and is situated on the left of the leveling bracket so it does not interfere with work. Composite bushings are incorporated into the cobra-style jib's design to help reduce wear on the Kingpost socket.
This jib also incorporates a poppet valve feature, which helps enhance safe work practices because it prevents the unit from damaging itself during operation. The valve will instantaneously shut off various functions if the rear of the jib makes contact with the fiberglass boom.
Terex Corp.
More Utility Products Current Issue Articles
More Utility Products Archives Issue Articles