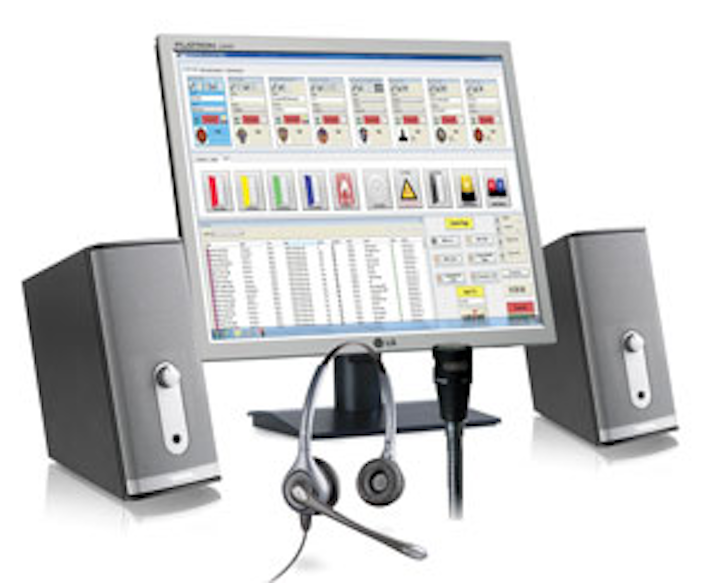 Fixed Station Interface Solutions Test Products
RELM Wireless Corp. and Catalyst Communications Technologies Inc. have announced the successful completion of a rigorous and thorough testing of their respective Project 25 (P25) Fixed Station Interface (FSI) solutions. Project 25 is a TIA suite of standards that facilitates the simultaneous and transparent connection of multiple vendors' equipment. FSI provides control of a conventional base station using the Common Air Interface to communicate with subscriber radios. Both Catalyst IP|Console for primary/supplementary dispatch and IntelliLink for interoperability are now certified to operate with RELM's MX800 base station through FSI. Integrated features supported by the combined solution include P25 Unit ID, Emergency, Alert, and unit enable/disable.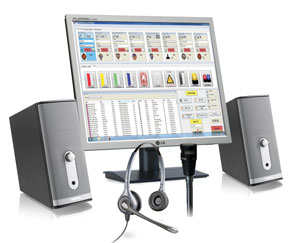 The rigorous tests with RELM were designed to demonstrate the flexibility and ease of operation of the company's P25 FSI interface with downstream equipment such as that provided by RELM, it's reported. The recently completed integration tests demonstrate each product's compliance with a target group of requirements within the P25 suite of standards. As each company continues to execute these same tests with different manufacturers, public safety officials can be assured that the products they are purchasing can interoperate with complementary products from a variety of manufacturers. This assessment is a voluntary effort by RELM and Catalyst and precedes government-organized compliance testing on FSI.
RELM Wireless Corp.
Catalyst Communications Technologies Inc.


---
Tag-5000 Wireless Phaser Utility Testing
Test products: HD Electric's TAG-5000 Wireless Phaser is designed to perform many of the existing functions of conventional voltmeter/phaser devices. The TAG-5000, however, uses new technology that eliminates the cord and lightens the weight of this testing device.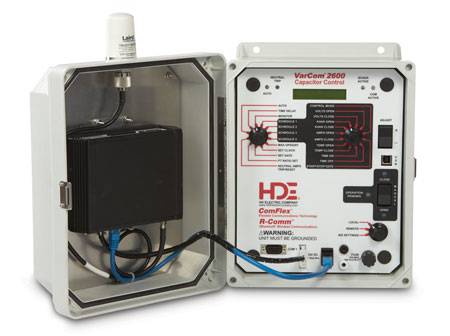 TAG-5000 can be used for all overhead and underground phasing applications with appropriate underground probes and is especially useful at higher voltages--up to 230kV--where safety and ease of use are prime considerations.
Features and benefits include:
Range of operation is more than 33 ft. through the air and over 1,000 ft. along overhead conductors,
No connecting cord between transmitter and receiver,
Phase through walls and metal enclosures,
Phase conductors on system voltages up to 230 kV (phase-to-phase),
Clear indication of in-phase/out-of-phase conditions with both audible and visual indications,
Rugged and lightweight, and
Built-in self-test feature.

HD Electric


---
Truck Caps Offer Convenience of CargoGlide Products
Fleet managers who choose high-quality A.R.E. truck caps for their fit, durability and enhanced security can now add convenience and accessibility to the growing roster of advantages of buying A.R.E. A.R.E. understands the professional's need for productivity and develops its product line to solve logistical challenges in the field. By offering an array of products and solutions, A.R.E. provides a one-stop shop, helping busy fleet managers overcome multiple challenges and work more efficiently.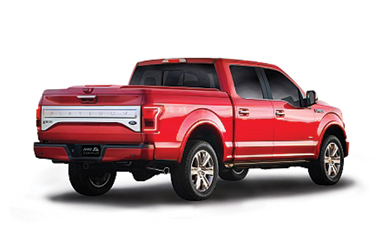 A.R.E. now offers CargoGlide bed units with extensions that range from 70 percent to 100 percent, placing tools and cargo stored in even the farthest corner of the truck bed at your fingertips.
Built with a strong steel frame and sturdy side-thrust roller bearings, CargoGlide units deliver a smooth slide, even on uneven ground. They are constructed to last, especially in commercial applications, and can help prevent driver injury.
CargoGlide makes tools and gear easily accessible, helping eliminate the scuffed knees and aching backs experienced by busy workers who unload their vehicles many times throughout the course of a work day, it's reported. Although safety is the number one priority, another benefit to companies is the potential to reduce costs associated with injuries.
A.R.E. offers the CargoGlide in five models, including:
CargoGlide CG1000 - 1,000-lb. capacity,
CargoGlide 1500HD - 1,500-lb. capacity,
CargoGlide 2000HD - 2,000-lb. capacity,
CargoGlide 1500XL - 1,500-lb. capacity, and
CargoGlide 2000XL (commercial grade unit) - 2,000-lb. capacity.
A.R.E.


---
Automatic Preparation Machines Utility Supplies: for Field, Specialty Splicing
AFL's APM-101/102 Automatic Preparation Machines are automatic operating and cleaning systems that allow technicians to quickly and efficiently strip, clean and cleave fibers in as little as 18 to 21 seconds. Pair the APM-101 with a FSM-100-series fusion splicer or the APM-102 with the Fujikura 70S fusion splicer. The APM-series ensures consistent high reliability splicing with minimal operator effort.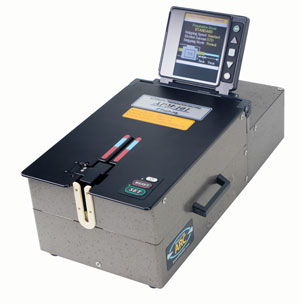 The new APM series improves high volume fiber assembly operations. The automated process of stripping, cleaning and cleaving the fiber takes away many of the potential failure points associated with a more manual process.
The APM-101 and APM-102 automatically perform all the steps necessary to prepare optical fibers before splicing, including: stripping the fiber without noticeably degrading fiber quality, cleaning fiber with alcohol to remove coating residue, and cleaving consistently at a right angle to the fiber axis. The efficient operating system allows technicians to continuously process fiber without substantial interruption.

AFL


---
T&D Pro Software 4.X New VGA Display Compatibility
Laser Technology Inc.'s T&D Pro field data collection software for utility professionals calculates and stores conductor height, clearance and tension values.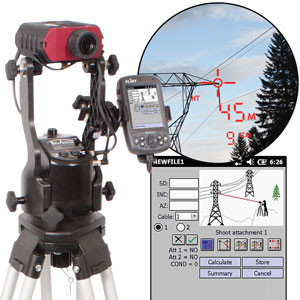 Measure quickly, safely and accurately, and see calculations in the field. This upgrade expands use to VGA display data collectors. The following measurement routines are available:
Missing line and slope: Quickly find spans, angles and elevations between any two remote points;
Conductor clearance: Easily identify danger trees;
Conductor height: Verify ground clearances regardless of terrain; and
Sag profile: Measure line tension on 16-wire spans.
Laser Technology Inc.


---
RSA-161A Remote Switch Actuator for Schneider Class 9421 Type L Circuit Breakers
CBS ArcSafe, a manufacturer of remote racking and switching solutions for low-voltage and medium-voltage switchgear, offers the RSA-161A remote switch actuator for Schneider Class 9421 Type L circuit breakers.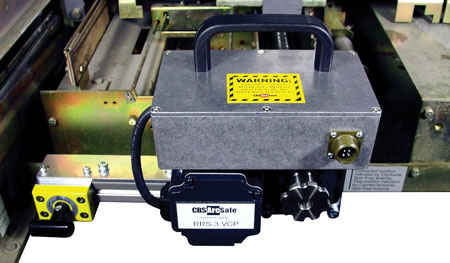 The CBS ArcSafe RSA-161A actuator is designed for all 3-in. handle versions of the Type L circuit breaker mechanisms, which operate circuit breakers or interrupters of 75-250A at up to 600V. This actuator allows technicians to safely operate the breakers while stationed outside of the arc-flash hazard boundary without any modification to the breaker.
When accompanied by a CBS ArcSafe remote switch operator (RSO) control unit, the RSA-161A reduces the need for arc-flash suits and eliminates all hazardous manual contact with gear during operation by providing operation from up to 300 ft. away. The actuator is lightweight, portable, and easy to install and set up, providing technicians with a simple solution for hard-to-access breaker locations. The RSA-161A requires no modifications to be installed and operated, and can be moved from one breaker to another easily and quickly.

CBS ArcSafe


---
EDGE Rotary Brush Mower- 72-in. High-Flow Model Vegetation Management
CEAttachments Inc., a supplier of attachments and accessories for compact equipment, offers an EDGE Rotary Brush Mower-- the 72-in. High-Flow model to the lineup of mower attachments for any brand or model skid steer or track loader.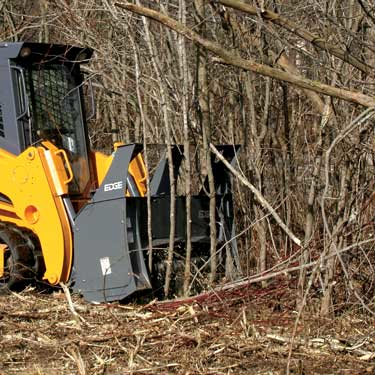 This EDGE 72-in. High-Flow Rotary Brush Mower is cited to provide the perfect size and power needed to complete the lineup of EDGE Rotary Brush Mowers.
These machines are designed to cut through the thickest brush and glide over rough terrain with ease. EDGE Rotary Brush Mowers are built for performance to handle heavy weeds, undergrowth, brush and small saplings up to 4 in. in diameter. It will mow brush down, but won't bog down your motor.
The 72-in. High Flow Model RM72H features a direct-drive hydraulic motor requiring 30-40 gpm hydraulic flow and a heavy-duty stump jumper. The two heavy-duty steel blades and a 72-in. working width deck mow down overgrown brush in one swipe--all that is left behind is fine wood chip mulch.

CEAttachments


---
App for Windows 7-compatible Tablets and Personal Computers
Mobile computers: With Circuit Breaker Analyzer's application for Windows 7-compatible tablets and personal computers, technicians can safely test all types and ratings of breakers, determine breaker opening and closing times, confirm arc-flash calculations and associated personal protective equipment (PPE) requirements, and increase in-service testing frequency to boost uptime.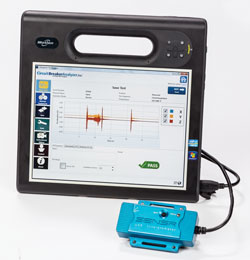 Used in conjunction with an external calibrated accelerometer that attaches magnetically to the breaker under test, the Circuit Breaker Analyzer app runs on a tablet or PC to identify potential mechanical failures before they happen. The tool helps customers avoid unplanned downtime and confirm arc-flash calculations based on trip times without the need to modify existing equipment or remove them from service.
The CBAnalyzer also allows the user to operate the breaker in any sequence desired, including trip, charge or close. The vibration data created by the breaker operation is captured, displayed locally against previous tests, and analyzed through a Web-based application to identify potential problems based on vibration signature and the model of the breaker under test. Data saved to the online accounts can be used for equipment management, trending and further analysis options, including specialized issue diagnosis.

Circuit Breaker Analyzer Inc.


---
Helicopter Blocks - Two Sizes Utility Safety
Condux Tesmec 2-3 bundled conductor helicopter blocks are available in 24-in. and 32-inch diameters. The one-piece cast aluminum frame is more than 25 percent lighter, yet stronger and less likely to break compared to aluminum blocks with welded extruded frames. The unit's counter-weight fly-in gate allows for quicker and more secure rope installs, featuring a unique hinge for safer and more efficient cable removal during clipping operation.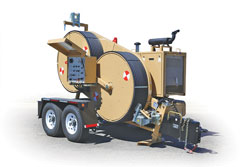 With a workload rating of 12,000 lbs., the Condux Tesmec 2-3 bundled conductor blocks are load tested to 60,000 lbs., providing a 5:1 safety factor. Lightweight aluminum blocks are easier to handle and require less fuel when hanging by helicopter or shipping from jobsite to jobsite.
Condux Tesmec offers a full line of stringing equipment including pullers, tensioners and puller-tensioners, as well as productivity-enhancing conductor stringing tools and accessories.

Condux Tesmec


---
Light Tower 20-Kilowatt Mobile Generator Combined
Doosan Portable Power offers the redesigned L20, a light tower and 20-kilowatt mobile generator combined. The L20 features a hydraulically powered vertical mast light tower for illuminating areas, while the 20 kW generator provides power for tools, heaters or a jobsite trailer. Two applications in one package eliminate the need for another machine on the jobsite.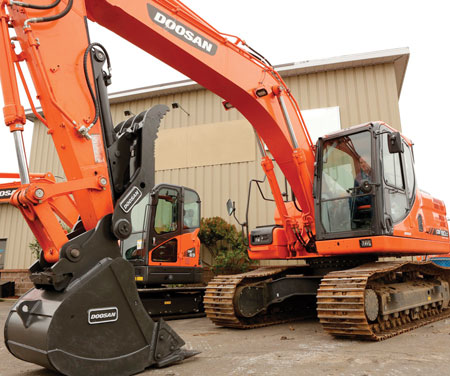 The L20 light tower has four 1,000-watt metal halide lamps mounted on a vertical mast that extends to a full height of 25 ft. 8 in. in less than 30 seconds. Minimum stowed height is 8 ft. Each lamp easily adjusts with a locking pin system that provides simple, fluid movement. The light head can be adjusted horizontally and vertically and each light fixture can be maneuvered independently to provide optimal illumination.
The 20 kW generator is powered by an Isuzu 4LE2 direct injected engine, with a single-phase Leroy Somer alternator. This Isuzu engine provides a 14 percent fuel savings over competitive indirect injected engines in this power class. Proving that power doesn't have to be noisy, the L20 provides reliable, quiet operation at just 69 dBA.
The L20 is a model of durability, able to withstand winds of more than 65 mph, and provide 57 hours of continuous operation at 100 percent load with a 70-gallon fuel tank. The unit comes standard with 110 percent fluid containment and includes a removable panel for radiator fill, a hooded exhaust cover and central drains. A detachable drawbar offers trouble-free towing, while convenient internal lamp storage provides protection during transport.

Doosan Portable Power


---
DRIFIFRE 4.4, Protective Clothing Ultra-lightweight Dual Hazard Workwear
DRIFIRE introduces DRIFIRE 4.4--ultra-lightweight dual hazard fabric that is just 4.4 ounces/yd2, and delivers NFPA 2112 flash fire protection and NFPA 70E 10 cal/cm2, HRC2 protection. Created to exceed expectations in both the electric utility, and oil and gas markets, DRIFIRE 4.4 is cited to deliver unmatched, inherent FR protection. Virtually no other product on the market contains such a high level of protection in an ultra-lightweight fabric, it's reported. Patented, inherent moisture wicking properties benefit wearers by keeping them cool and dry to reduce the chances of heat related injuries.
DRIFIRE offers not only thermal protection, but also garment performance that includes optimal wicking and drying times. Vertical wicking is cited to be up to three times better than competitor fabric; permanent, instantaneous horizontal wicking is up to 25 times better than competitors. With its lightweight and engineered blends, it dries up to three times faster than other flame resistant fabrics--meaning wearers stay cooler when working hard in stressful environments. Even in such a lightweight performance fabric, DRIFIRE 4.4 has high durability when compared to heavier weight flame resistant fabrics.

DRIFIRE


---
Temperature Sensor Enables Condition Monitoring, Fire Prevention
Electrical safety testing: FLIR Systems Inc. offers the AX8 fixed-mount temperature sensor. Combining thermal and visible cameras along with FLIR's proprietary MSX technology in a small, affordable package, the AX8 is easy to install in space-constrained areas for automated and uninterrupted condition monitoring of critical electrical and mechanical equipment.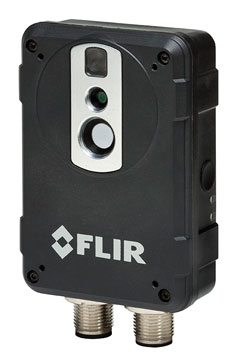 Enabled by FLIR's Lepton thermal imaging core, the AX8 provides early detection of temperature-related issues in electrical and mechanical equipment, guarding against unplanned outages, service interruptions and equipment failure. The AX8 is cited to be the ideal temperature sensor for continuous condition monitoring and fire prevention without the need for periodic manual scans.
The AX8 thermal imager has 4,800 active temperature points per image, provides streaming temperature data over industry-standard interfaces (Ethernet/IP and Modbus TCP) for easy analysis, has a built-in Web interface, and includes a full suite of analysis and alarm functions that automatically send alerts when the AX8 detects elevated temperatures.
The AX8 easily integrates into electrical installations or any manufacturing environment. The AX8's streaming thermal, visual and MSX video is output in standard MJPEG, MPEG, H.264 formats, adding multipurpose image capabilities.

FLIR Systems Inc.


---
New Vehicle Docking Station for Getac B300 Laptop Computer
Gamber-Johnson, an ISO 9001:2008 certified manufacturer of rugged docking stations and vehicle mounting equipment, announces a new vehicle docking station designed for the Getac B300 ultra rugged notebook. The B300 vehicle docking station has a much smaller footprint that drastically improves the placement of the B300 in a vehicle cabin with limited space. The rear corners and back of the docking station are cut back so the dock can be positioned closer to the instrument panel for better visibility of the mission control console radio console and better positioned for driver viewing.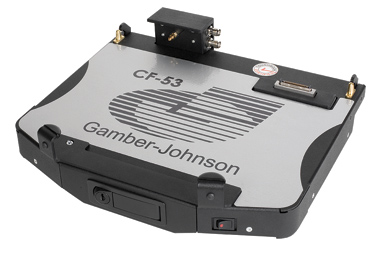 The Getac B300 dock features brass locating pins, a floating dock connector, and a passenger-side docking handle for precise computer placement and easy docking activation; and an improved interlock button prevents the docking station from engaging with the computer in the event the computer is not properly mounted on the docking station. The dock also features front-facing l/O ports, an integrated cable strain relief system, power switch with LED light for optional by-pass capability, and a built-in power supply for easier and faster installation. A push-button keyed lock enables the laptop to be easily docked and undocked while keeping it secure.

Gamber-Johnson


---
PUPI Equipment Mounts Support Cutouts, Arrestors, Cable Terminations
Line construction: GEOTEK, the producer of PUPI fiberglass Utility Products, offers a line of PUPI Equipment Mounts. PUPI Equipment Mounts are specifically designed to mount cutouts, arrestors and cable terminations on utility poles. The four new fiberglass equipment mount designs will join the PUPI line of electrical distribution and transmission products.

The sturdy PUPI Equipment Mounts feature the same, proven fiberglass used in PUPI crossarms, including SunGUARD UV resistant coating and TorqueGUARD bushings for maximum durability. The SunGUARD UV resistant coating is thermally bonded to the fiberglass surface, forming a protective layer that stays smooth and protects the fiberglass from the effects of sunlight for more than 60 years. PUPI's TorqueGUARD bushings reinforce holes for added strength during hardware installation. The mounting brackets are aluminum alloy. Pole mounts are constructed of aluminum alloy or galvanized steel, depending on model.
The use of rectangular fiberglass support tubes is unique and provides important benefits over the round tubes found on many equipment mounts. Rectangular tubes allow the attachment of additional equipment brackets, maximizing the product's versatility. These tubes can be field drilled to relocate brackets, if necessary. And the assemblies are fastened entirely with sturdy bolts--not adhesives. PUPI can easily customize length and bracket placement for specific situations.

GEOTEK


---
Clamp Meter Offers Increased Safety in Tight, Hard-to-Reach Panel Boards
Voltage meter: IDEAL TightSight clamp meters are cited to give electricians an unparalleled level of safety, convenience and performance when measuring high-voltage systems in cramped, hard-to-reach panel boards. Available in four professional-grade models in either 600 or 1000 amp capacities, the clamp meters feature the patented TightSight LCD. This display, built into the bottom of the meter, lets electricians view measurements at arm's length from almost any angle in the tightest of spots.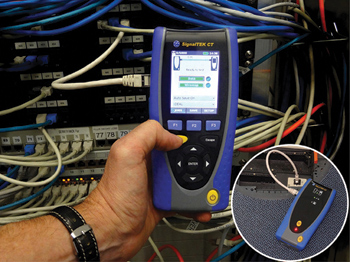 The tester's super-bright main display and the TightSight display have large backlit numbers and symbols that can be read from several feet away, whether the electrician is working in bright direct sunlight or in complete darkness. A hinged rubber cover protects the TightSight display from environmental damage or accidental drops while not in use.

IDEAL


---
Articulating Crane Offers More Productivity
Construction equipment: Iowa Mold Tooling Co. Inc. (IMT), an Oshkosh Corp. company, has introduced the 32 tm crane to its lineup of articulating cranes ranging from 2.5 to 80 tm. The 32/222 crane is provides very good operator productivity with lift and reach capabilities requested by customers.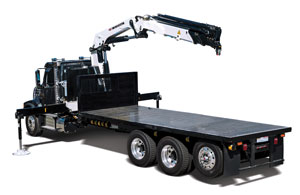 The strength and reach of the IMT 32 tm crane, along with high working speed and precision control, maximize operator efficiency. Rated 222,050 ft-lbs, the crane features a maximum lifting capacity of 15,058 lbs. at a radius of 14 ft. 9 in. The crane offers one of the industry's longest horizontal reaches in the 30 tm range: 69 ft. 7 in. with eight hydraulic extensions.
Productivity-enhancing features of the 32 tm articulating crane include the dual-power plus link-arm system, 15-degree overbending, continuous rotation and a standard radio remote control. The crane comes standard with the rated capacity limiter (RCL) 5300 system to monitor load moment, operation and function.

Iowa Mold Tooling Co. Inc.


---
Static Discharge Grounding Reels for Utility Service Vehicles
Safety products: KH Industries, US manufacturer of industrial grade portable power and lighting products, has recently added RTX Static Discharge Grounding Reels to its ReelTuff Cord Reel product line.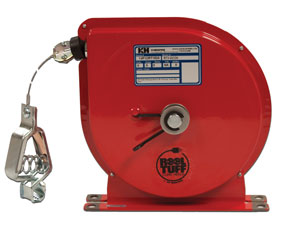 The RTX Static Discharge Grounding Reels electrically connect equipment to the ground, which prevents equipment from becoming sufficiently charged to cause a static spark that could ignite flammable vapors. RTX Static Discharge Grounding Reels are for utility maintenance and service applications including exterior mounting on utility trucks, maintenance shops and fuel tank static grounding.
RTX Grounding Reels are built to NEC standards and feature all steel construction, corrosion resistant red powder coating, stranded steel cable, 100A grounding clamp, rubber ball stop, and constant spring tension to keep the cable from becoming tangled. Several models are available in different cable lengths and types.

KH Industries


---
Compact Lineman's Wrench Six-in-One
Utility tools: In a compact package, Lowell's 100 TDE Dual End Ratchet Wrench gives high line utility workers six different socket sizes combined to handle a variety of common pole fasteners, lag bolts and C clamps. The wrench has a ratcheting socket at one end and a ratcheting box at the other.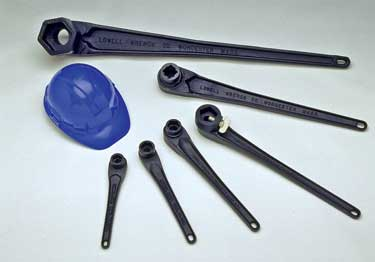 The new wrench measures 8 in. long, has a handle that's 1/2 in. thick, and weighs 1 1/4 lbs. But there's nothing lightweight about the tool's turning power--engineered for tough duty, the wrench features double ratchet tooth engagement for added strength and can generate the kind of torque a lineman needs. For work in tight spots, the socket end only requires an 11 degree swing while the gear end requires only a 12 degree swing.
The ratcheting socket end of the wrench provides four sizes: 3/4 in., 13/16 in., 1 in., and 1 1/8 in. The other end has two hex sizes: 9/16 in. and 3/4 in. The latter will also turn 5/8 in. square nuts. It will fit most common holsters.
The socket is made of cast-iron for durability. Both the socket and the ergonomic handle grip are painted fluorescent orange for easy visibility and tracking. A bolt-through feature allows long bolts and threaded rods to pass completely through the wrench head. A large control lever on each end makes reversing easy.
Lowell guarantees the sockets and handle of the 100TDE wrench against defects in material and workmanship for a period of one year from date of delivery under normal usage and with prescribed maintenance.

Lowell


---
New Handheld Time Domain Reflectometer Locates Faults on Mixed Paired Metallic Cables
Megger, a provider of test equipment and measuring instruments for electrical power applications, now offers a handheld time domain reflectometer (TDR) that locates faults on mixed paired metallic cables. The CFL535G can test the capabilities of connections and locate faults for up to 12 miles.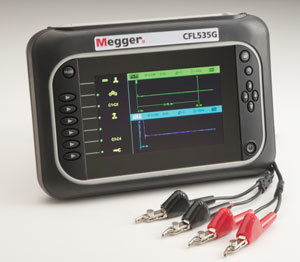 This high resolution, compact TDR features dual channel capability and dual aspect display. Megger's CFL535G allows technicians to compare cable pairs to each other and determine if one is faulty, based on differences shown on the TDR. For use by telecommunications technicians, electrical service contractors and cable television companies on all metallic pairs including twisted pair copper, concentric or coax cables, this new handheld unit is used during cable installations. The CFL535G establishes a benchmark for future comparison, measures cable length, locates and evaluates splices and joints, and detects cable taps.
The cost-effective CFL535G features an ultra-fast 2 ns pulse width that nearly eliminates dead zones and provides a real time trace for tested cables, giving quick and accurate results. It also offers two inputs that enable simultaneous measurements of two different cables.
An auto set-up mode for instant use is incorporated into the TDR. This feature helps determine the impedance of the cable under test, sets the instrument accordingly, and selects the optimum gain and pulse width chosen by the operator.

Megger


---
New Jobsite Backpack Expands Storage Solutions
Tool holder: Milwaukee Tool continues to expand storage solutions within its Hand Tool offering with the introduction of a new Jobsite Backpack (48-22-8200). Every facet of the Jobsite Backpack was designed specifically with the professional tradesman in mind, providing users with a solution for transporting their tools and tech gear to the jobsite. From a hard molded base that allows the bag to stand up and stay dry in harsh jobsite environments, to the mid-section of the bag that un-zips to reveal a wall of vertical tool storage, each feature of the jobsite backpack was carefully designed and manufactured to survive the jobsite and make the user more productive.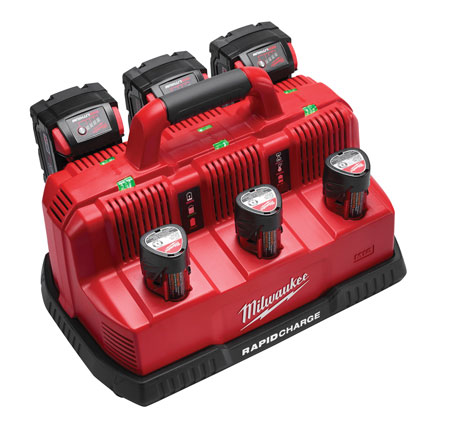 Constructed of 1680D ballistic material for extreme durability, the backpack has padded, breathable straps for ultimate comfort and jobsite performance, as well as a laptop pocket for protected storage of laptops and tablets. A fold-down front pocket allows for easy storage of large items such as fish tapes, drills and extension cords, while exterior daisy chains allow for additional clip-on storage.

Milwaukee Tool


---
Rugged IP Camera Extreme Temperature, Explosion-proof VPort 56-2M
Moxa, a provider of rugged video surveillance equipment, has introduced a full HD 1080p (1920 x 1080) IP zoom camera that is engineered to withstand a -40F to 167F temperature range without a cooling fan. Offering long-term durability and reduced maintenance costs, the Moxa VPort 56-2MP camera is tailored for mission critical applications, indoors and outdoors, including long-distance remote site monitoring and hazardous industrial locations.

Harsh, extreme environments will destroy a standard IP camera, making the new VPort 56-2MP the only reliable solution for cold, wet or very hot conditions, it's reported. Because of its durable and versatile design, the VPort 56-2MP is useful whether you're safeguarding a border fence in a blistering hot desert or monitoring sub-zero conditions on a mountain top. With an optional robust IP68 and/or ATEX Zone 1/Class 1, Division 1 compliant housing, the camera is suited for use in other applications to meet rigorous international code requirements.

Impacto Protective Products Inc.


---
PPE Category 2 12CAL Rated Arc Flash Protective Equipment Kit
Hi-Line Utility Supply presents the PPE Category 2 / 12 CAL Arc Flash Protective Equipment Kit (CPAG12-size-NG). This kit includes a 35-in. jacket, bib overall, hard hat, face shield, chin cup, cap bracket, hood, ear plugs, safety glasses and gear bag. Additional kits are available up to Category 4, and all kits have an average lead time of only one week on most orders.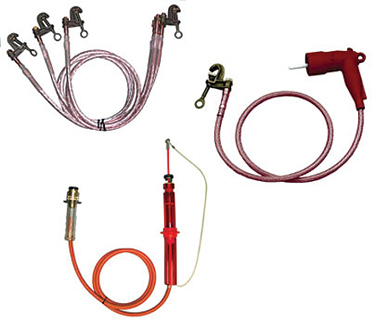 To complete your kit, Hi-Line offers a full selection of in-stock gloves, protectors and bags. Hi-Line is also a NAIL-Accredited Rubber Goods Testing facility, and can proof-test and retest your rubber goods to keep you in compliance with ASTM/OSHA Standards.
For all of your arc flash and rubber goods needs, reach out to Hi-Line Utility Supply. Check out these and other great tools from more than 175 different manufacturers.

Hi-Line Utility Supply


---
TA9000 Track Series Conversion System
Utility vehicles: Mattracks, a provider of rubber track conversion systems, offers the TA9000 track series. The products expand Mattracks' current Track-Tor-Assist lineup of conversion systems and are used for extremely large machinery and equipment with axle loads from 10 tons to 20 tons. Track widths available in the TA9000 series are 15 in., 20 in., 24 in. and 30 in.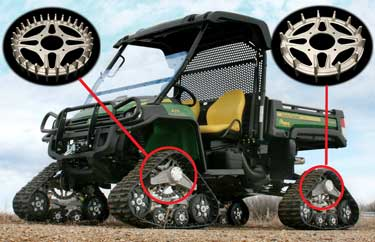 The YS3 track has been designed to expel snow and ice with minimal buildup of ice. The heavier framework has been designed for increased load carrying capacity. The offset road wheels reduce vibration and noise, and increase efficiency, fuel economy and increased track tread life.
Mattracks is based in Karlstad, Minnesota, where the design, engineering and manufacturing of the rubber track conversion takes place for 4x4 trucks, SUVs, tractors, ATVs, UTVs, large machinery and equipment. Mattracks has customers in all seven continents and more than 100 countries.

Mattracks


---
Full-color Touch Screen Control Console for Wireless Mobile Column Lifts
Vehicle lifts: Stertil-Koni offers a full-color touch screen control console on its wireless mobile column lifts, engineered to provide intuitive, ease-of-use with maximum visual information about the lifting process--all at the fingertips of the technician.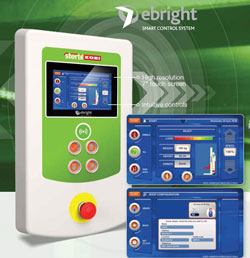 Called "ebright Smart Control System," the new touch-screen technology will initially be available on the Stertil-Koni EARTHLIFT, widely recognized as the industry's first hydraulic "green" wireless mobile column lift. The new version of EARTHLIT is available with a lifting capacity per column of either 18,500 lbs. or 22,000 lbs. (depending on the model) and is ANSI/ALI-ALCTV 2011 certified.
What further differentiates the latest model of EARTHLIFT is Stertil-Koni's new ebright Smart Control System, which offers many benefits.
The accessible screen provides key information prominently and quickly. This includes data such as maintenance notifications, programmable lifting-height settings, tracking of specific operations, information codes and even the operations manual.

Stertil-Koni


---
More Utility Products Current Issue Articles
More Utility Products Archives Issue Articles