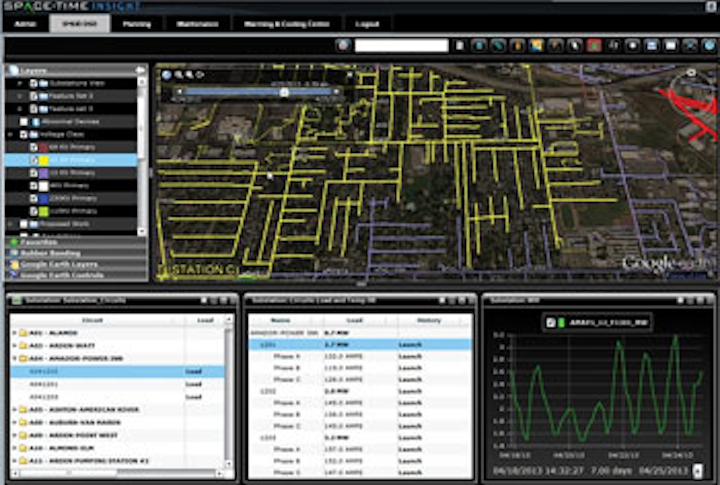 Weather-related power outages have doubled since 2003 at an annual cost of $20 billion to $55 billion, and 147 million customers have lost power since 2003, an average of 15 million each year.
By Steve Ehrlich
According to a recent copyrighted report by the non-profit Climate Central: "Climate change is causing an increase in many types of extreme weather. Heat waves are hotter, heavy rain events are heavier, and winter storms have increased in both frequency and intensity. To date, these kinds of severe weather are among the leading causes of large-scale power outages in the United States."
The report goes on to state: "Fifty-nine percent of weather-related outages analyzed were caused by storms and severe weather; nearly 19 percent by cold weather and ice storms; 18 percent by hurricanes and tropical storms; 3 percent tornadoes, and 2 percent by a combination of extreme heat events and wildfires. Climate change is, at most, partially responsible for this recent increase in major power outages, which is a product of an aging grid serving greater electricity demand and an increase in storms and extreme weather events that damage this system."
Most of these outages come from damage to large transmission lines or substations as opposed to the smaller residential distribution network.
How Does a Utility Prepare for Impending Severe Weather?
Space-Time Insight situational intelligence software helps utilities prepare for and rapidly respond to outages caused by severe weather. Using predictive analytics and modeling, it is possible to understand the potential impact of an approaching storm. The analysis could consider, for example, the assets, customers and vegetation in the storm's path and recommend advance crew placement locations. When those crews don't have to wait for roads to be cleared since they are already in place, they can respond to downed lines and other storm-generated problems more quickly.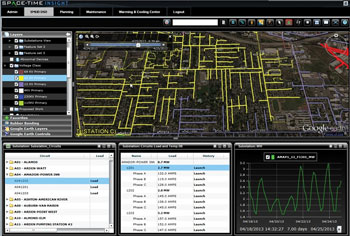 Space-Time Insight's situational intelligence software in use at Sacramento Municipal Utility District in California
Space-Time Insight's software combines predictive analytics with the ability to visually assess the performance of the electric grid, analyzing and correlating literally millions of data points from multiple sources--a critical requirement in the deployment of Wide Area Situational Awareness (WASA) systems. Designed to integrate all types of data including the microsecond measurements recorded by synchrophasors--devices used to measure the state and quality of the power system 60 times a second--the software arms control room operators with timely information needed to make instant decisions that impact grid stability and availability.
There is obviously nothing a utility can do to stop a major storm. But they are also frequently operating without the understanding of the immediate impact of storms on their customers, determining precisely where outages have occurred and what action should be taken to address them. Has a tree fallen on power lines, or a transformer blown, or a facility flooded? Instant information is required to determine where the problem is located, what replacement parts are needed, and what skills are required to address the problems and restore power as expediently as possible.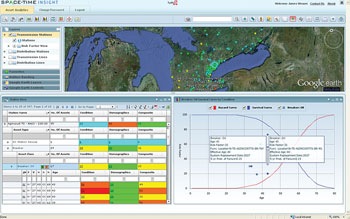 Real-time displays using Space-Time Insight's technology at Hydro One in Canada
There's a Better Way to See the Current Grid Status
The storm is over, the grid data pours in. How do you make sense of it? The situational intelligence provided by Space-Time Insight helps utilities manage the data onslaught and make more rapid, intelligent decisions as a result. Operators can visualize (see) and analyze multi-functional operational problems or situations on a single pane of glass in a control center and then electronically direct their crews to tackle the problems prioritized by their importance in terms of financial impact, risk and safety.
"The rollout of smart meter and wide area situational awareness systems has created the opportunity to understand a lot more about the grid, but the success of their operation depends on real-time or near real-time interpretation of that data," said Steve Ehrlich, senior vice president of Marketing and Product Management for Space-Time Insight. "The situation is exacerbated by the need to correlate multiple internal and external sources of data, all arriving in different formats, at different speeds and at different times."
Time is Lives and Money
"By understanding a situation in real-time and reacting to it even a few minutes faster, utilities can save lives and property and reduce the duration of outages by 10 percent or more," Ehrlich said.
Situational intelligence helps reduces costs. When outages occur, a map showing the areas with the most customers affected provides focus to service crews to prioritize their triage. The software also visualizes the performance of assets over time, triggering guidance to replace or harden those at risk in advance of storm season.
In short, situational intelligence provides:
Improved ability to anticipate and prioritize service restoration;
Faster assessment of a situation;
A more collaborative response across disciplines;
Reduction in the risk, duration and cost of outages;
Lower operating and planning costs; and
The information needed to enable a more resilient system.
"Consumers are demanding more customer-friendly service, regulators are pushing for higher standards such as use of renewable energy, infrastructure is aging as are workforces, and new developments such as smart meters and synchrophasors are stressing their operations," Ehrlich said. "It is one thing to know that when you roll out two million smart meters, you will receive a certain amount of data per meter, and there is a defined set of value you can derive from that data. But when electric vehicles, smart buildings, smart homes and distributed generation come along, the issues are many times more complex."
About the author: Steve Ehrlich is Space-Time Insight's senior vice president of Marketing and Product Management. With more than 25 years of software industry experience, Ehrlich brings product, marketing and executive management experience to the Space-Time Insight team. He previously co-founded and led marketing and product strategy for BUZ Interactive and played similar roles at Apptera, a speech applications provider. Prior to that, as vice president of marketing, he led speech recognition vendor, Nuance, from startup to market leadership and a successful initial public offering.
More Utility Products Current Issue Articles
More Utility Products Archives Issue Articles