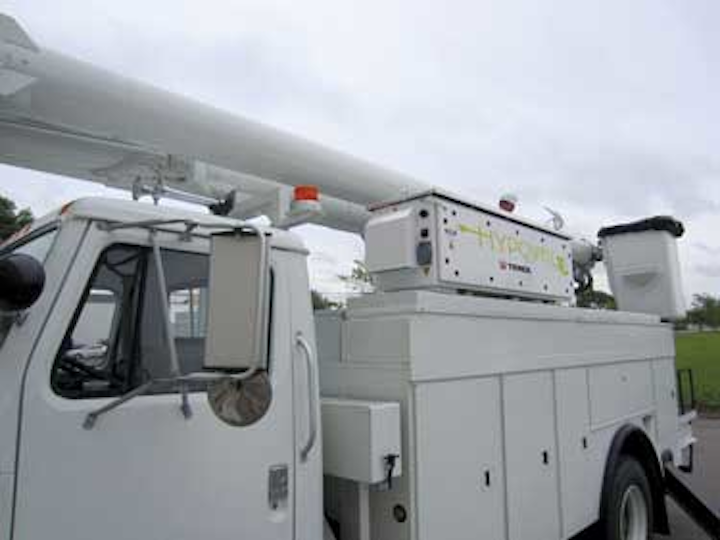 XT Pro Tree Trimmer Series Vegetation Management
The completely redesigned Terex XT Pro Series Tree Trimmer trucks are designed to meet the unique jobsite needs of tree care professionals. These new overcenter aerial devices have the same features that made the company's previous tree trimmers so popular--simple, reliable operation, low maintenance and lightweight design. The XT Pro Series tree trimmers also feature many new features--including a longitudinal hydraulic lift option to provide up to 75 ft. of working height, upper boom articulation of 250 degrees and 125 degrees of lower boom articulation--to further extend these aerial devices' capacities and capabilities.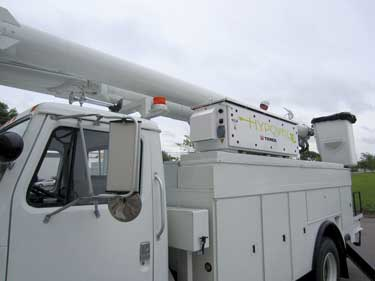 Extensive user interviews were conducted throughout all aspects of the design process so all three models in the new XT Series Pro tree trimmers share common user-friendly design elements, including round pedestals for easier access to bearing bolts, a platform capacity of up to 400 lbs. to accommodate one person plus tools, and an elbow cylinder that is fully retracted when stored, decreasing exposure to the elements. The compact longitudinal lift on these models is lighter and shorter than its predecessors, and the new design accommodates an 11-ft. chipbox so there is no reduction in chip storage space.

Terex


---
Durable Coating Options Tonneau Covers and Truck Caps
Work trucks: A.R.E. Accessories is partnering with LINE-X, North America's largest retail automotive aftermarket franchise and provider of high performance spray-on bed liners, to offer an elastomeric protective coating option for all A.R.E. truck caps and fiberglass tonneau covers. This option will be available in two different styles: the Overland, which features a coating and paint design combination offering protection for high-stress areas, and the OTR, which completely covers any cap or tonneau cover with durable LINE-X material.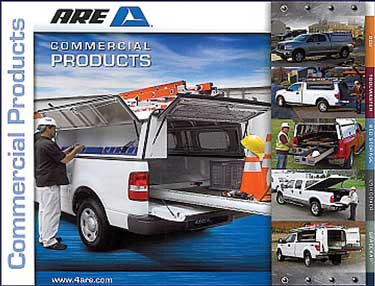 These new options are designed to enhance the tough, off-road style of today's pickup trucks and are available immediately. Line-X, with a distinctive pebbled finish and satin sheen, is impact-, abrasion- and solvent-resistant technology that provides an armor-like layer of protection that can withstand years of wear and tear.
A.R.E. offers a wide range of truck cap and tonneau cover styles available for Chevy/GMC, Ford, Nissan, RAM and Toyota trucks. A.R.E. backs all of their high-quality, American-made products with a limited lifetime warranty on materials and workmanship. The LINE-X coating is guaranteed to not fade or lose luster for three years.

A.R.E. Accessories; LINE-X LLC


---
Tradesman Pro Bags Product Line Expanded
Tool carrier: Klein Tools adds five new products to its Tradesman Pro Organizers line of tool bags. Features on these new bags include a removable LED light and a tool tote with a protective cover.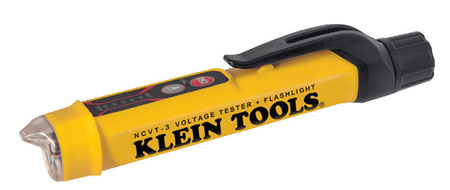 The Lighted Tool Bag (Cat. No. 55431) features a twist on/twist off LED light that can be positioned to illuminate inside the bag or the workspace. The Work Light (#55437), which is also sold separately, has a swivel hook and magnet for hands-free use. The Lighted Tool Bag has 31 pockets for plenty of tool storage, a bright orange interior to find tools faster, and a durable molded base that protects from the elements.
The 17-in. Tool Tote (Cat. No. 55432) has an attached cover that protects tools and a movable metal handle bar with rubber grip. There are 17 pockets, plus a wide open section for drills and zipper bags. It also features a molded base and bright orange interior.
The Tradesman Pro Drill Pouch (Cat No. 5183), which fits most impact and battery drills, has a strap closure to keep the drill in place. It has plenty of storage for a variety of drill bits and attaches to most tool belts up to 2 in. wide.

Klein Tools


---
Universal Saddle Bracket Eases Smart Meter Deployments
Ventev Wireless Infrastructure, a division of TESSCO Technologies Inc., announces Ventev's Wireless Solutions Saddle Bracket designed specifically for the leading radios used in smart meter upgrades. The new mount was engineered for, and field-tested by, major utilities for efficient, cost-saving and uniform deployments of radios used in smart meter upgrades across the country.

The Saddle Bracket's adjustable "saddle" design fits over existing poles with diameters up to 2 3/4 in. to co-locate components such as a battery and antenna with the radio. The bracket is also available to purchase with the pole included. A slotted mounting plate enables precise equipment installation for optimum coverage. Constructed of durable, rust-resistant and weather-resistant aluminum with Iridite coating, it is suitable for deployment in even the harshest environments. The bracket includes pre-drilled holes for grounding lugs to reduce installation time and a carriage bolt for increased stability.

Ventev Wireless Infrastructure


---
Connector Corrector Technology Copper Conductor Use
Utility safety: Classic Connectors USA's ClampStar CSR-0325L-007-P protects automatic splices on overhead, copper conductor sized from #6 - #2 AWG. In addition to torque limiting nuts, each unit is supplied with nickel-plated keepers and is prefilled with proprietary CC2 inhibitor to prevent galvanic corrosion.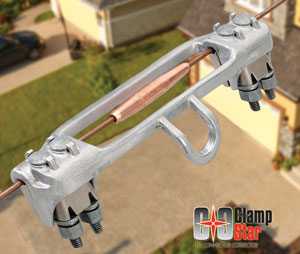 The unit weighs 1.75 lbs. and can easily be installed on an energized line with a hot-stick or gloves. ClampStar helps avoid potential catastrophes and expensive lawsuits resulting from failing overhead splices. In minutes, this eliminates risk and prevents connector failures before they occur, without costly replacement, repair or downtime. Additional sizes for use with copper are available for splices, suspension clamps, dead-ends and damaged conductor repair. ClampStar units are also available for use on all aluminum stranded conductors, e.g., ACSR, AAC, AAAC, ACAR, ACSS & fiber composite core.

Classic Connectors USA


---
PLW 2-5 Hydraulic Puller Completely Self-contained
Line construction: The PLW 2-5 Hydraulic Puller from Condux Tesmec is completely self-contained and can be mounted on a truck chassis or trailer. The multi-drum puller provides up to 5,000 lbs. of pulling force. The unit is designed to be used with pilot rope for installing heavy pulling ropes or static wire on transmission stringing projects. In addition, the PLW 2-5 is well suited for conductor pulling for distribution conductor stringing.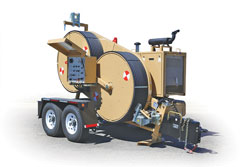 Condux Tesmec pullers offer features such as negative self-acting hydraulic brakes, integrated hydraulic dynamometers, hydraulic cooling systems, advanced user controls and more. Hydraulically controlled systems allow Condux Tesmec pullers to eliminate conductor galloping, providing utility contractors maximum pulling control.
A full line of productivity-enhancing conductor stringing tools and accessories is also available from Condux Tesmec including anti-twist rope, reel winders, reel stands and more.

Condux Tesmec


---
Utility Vehicles Automatic Tire Chain System
Safety products: Onspot of North America and VBG Group of Sweden (owner of the Onspot trademarks, designs and products) announce the new global list of Onspot distributors that now include 31 distributors in 26 countries.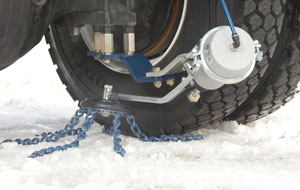 Since it's origination in 1977, the Onspot automatic tire chain system has received worldwide acceptance for its benefits in providing drivers with increased safety and productivity in snow and ice.
The global distribution list can be found on the web site www.onspot.com/onspot_global_partners.html or by going to www.onspot.com and click on the link on the left side of our home page that says: Onspot Global Partners.

Onspot of North America


---
New Vehicle Docking Station Panasonic Toughbook 54 Laptop Computer
Gamber-Johnson, an ISO 9001:2008 certified manufacturer of rugged docking stations and long-time partner with Panasonic System Communications Company of North America, announces a Vehicle Docking Station designed for the new Panasonic Toughbook 54 semi-rugged laptop computer. Gamber-Johnson is currently taking orders and will start shipping the Panasonic Toughbook 54 docking station in May 2015.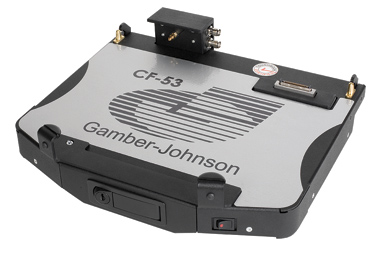 Gamber-Johnson's Toughbook 54 vehicle dock is designed to leverage the expandability of the laptop and will accommodate the Toughbook 54 Performance model, and all models with the following integrated options: Insertable SmartCard (bottom), 2nd LAN, 4th USB (2.0), Rugged Fischer USB, VGA and Serial. The dock provides a convenient access area to the bottom Insertable SmartCard Reader; the user can insert and eject a Smart Card while the laptop is docked in the station. The dock is designed for the mobile worker; a spring-loaded docking connector ensures connectivity even over the toughest terrain and the push-button keyed latch enables the laptop to be easily docked and undocked while keeping it secure.
The Toughbook 54 dock features rear-facing l/O ports and an integrated cable strain relief system, making vehicle installation easy and convenient. The Toughbook 54 docking station is Gamber-Johnson's first laptop docking station featuring the international standard VESA 75 mounting pattern. Gamber-Johnson is incorporating the VESA 75mm standard into their motion attachment product line and will have new motion attachments available at the time the Toughbook 54 docking station ships.

Gamber-Johnson


---
EK50ML Micro Crimping Tool Battery-powered
Greenlee continues to drive efficiency and productivity with what is cited to be the world's first battery-powered crimping tool with PowerSense Technology, the EK50ML Micro Crimping Tool. The new lightweight tool can deliver 3,400 lbs. of crimping force and crimps 65 percent faster with 90 percent less hand force compared to ratcheting tools.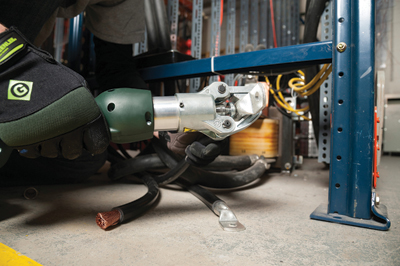 The EK50ML Micro Crimping Tool is designed to crimp 28 4 AWG wire, twisted pair and coaxial cable using PowerSense Technology, a patented trigger that allows the user to hold their work in the jaws of the tool before crimping. Powered by a compact 10.8V Lithium-Ion battery, the EK50ML Micro Crimping Tool can perform 250 crimps on 10 AWG wire.
The EK50ML Micro Crimping Tool offers three simple steps to complete a crimp:
Manual clamping: Pull the PowerSense Technology trigger part-way and adjust material to ideal position before crimping.
Motorized crimping: Depress the PowerSense Technology trigger completely to activate the motorized crimp.
Complete: Release the PowerSense Technology trigger and the jaws will open automatically.
The EK50ML Micro Crimping Tool comes in two models with different jaw sizes. The EK50ML120 has a 12 mm jaw and the EK50ML138 has a 13.8 jaw. Greenlee also offers 42 die sets throughout the Kwik Cycle and CrimpALL lines to perform almost all small diameter crimping jobs. The dies must be purchased separately.

Greenlee


---
Winding Analyzer 2293 New Features
Utility testing: Haefely Hipotronics, a developer and provider of high voltage test systems and measuring devices, announces the launch of the new features in the winding analyzer type WA2293.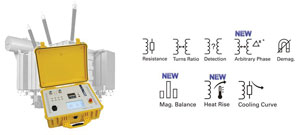 The 2293 is an automatic winding analyzer, optimized for three-phase power and distribution transformer measurements. It combines winding resistance measurement, turns ratio measurement on standard and arbitrary shifted transformers, core demagnetisation, transformer type detection, magnetic balance and heat run test (temperature rise and cooling curve) in a fast single instrument solution.
The 2293 is a valuable tool for factory test, acceptance test and regular maintenance on power transformers, distribution transformers and all type of HV windings.

Haefely Hipotronics


---
Hi-intensity Searchlights Utility Safety
Safety lighting: Hi-Line presents the new Hi-Intensity Searchlight (HL30003) with remote control. This light offers a peak beam distance of 4,865 ft. and an intensity of 550,000 candelas, and comes with a programmable wireless remote, magnetic mount, and cord with cigarette plug for 12V DC.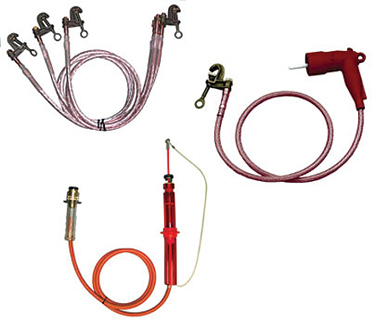 This Hi-Intensity Searchlight and the rest of the GoLight product line is available through Hi-Line Utility Supply.

Hi-Line Utility Supply


---
LED StarBeam
- New Vehicle Mounted Spotlight
Safety products: KH Industries, US manufacturer of the NightRay and StarBeam remote control spotlights, has introduced a new LED StarBeam Spotlight featuring low amperage draw and a focused high output light pattern.
The LED StarBeam features 10 light emitting diodes (LEDs) per head, with each head providing a low 4-Amp power draw. The heads use the newest white LED technology, which provides a brighter, crisper and whiter light output that is closer to the color temperature of daylight. The LED heads are resistant to damage from shock and vibration, and feature an impact resistant polycarbonate lens--making them extremely durable.
The heads are designed to withstand elevated levels of shock and vibration. These LED lamps are also sealed to reduce the harmful effects of moisture intrusion.
All StarBeam spotlights feature:
Motor-controlled dual lamp heads rotate 330 degrees (±10 degrees) on horizontal and vertical axis to provide precise placement of light output;
Available wireless, hard wired or dual controlled;
Weather-resistant control housing provides safe, dependable operation in the most demanding environments; and
Made in the USA.

KH Industries
More Utility Products Current Issue Articles
More Utility Products Archives Issue Articles