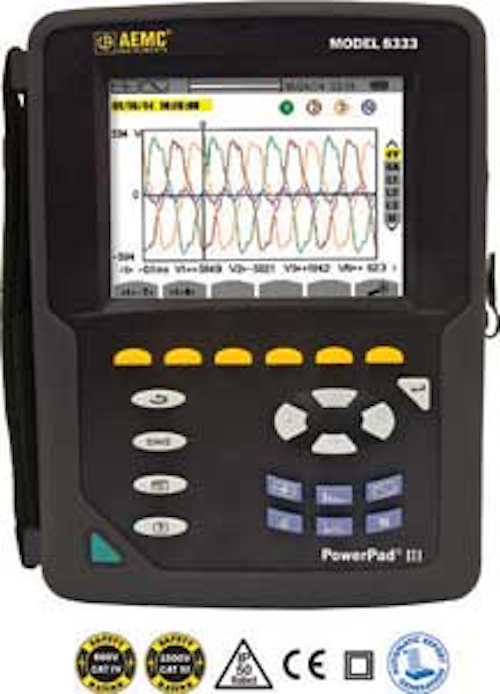 New Power Quality Analyzer - Model 8333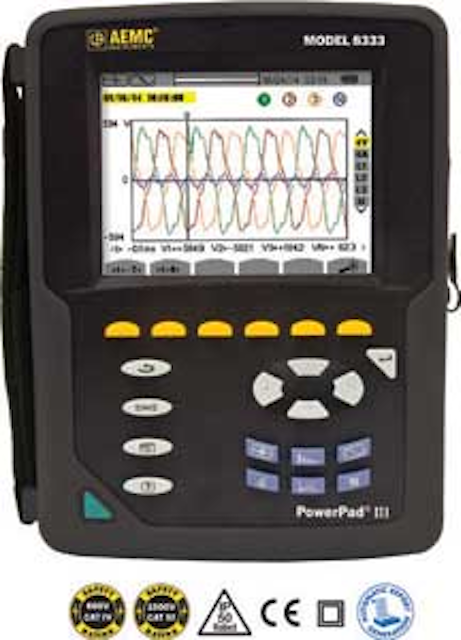 Power measurement: The PowerPad III Model 8333 from AEMC is a three-phase power quality analyzer that is easy to use, compact and shock resistant. It enables technicians and engineers to measure and carry out diagnostics and power quality work on one-, two- or three-phase networks. Current and voltage input terminals are provided. It is IEC 61000-4-30 Class B and safety rated to 600V CAT IV.
The Model 8333 has memory available for storing trend data. Additional internal memory is used to let you store alarms, transients and snapshot data. The user can store up to 12 screen snapshots, up to 51
captured transients that contain four cycles for each active input, and 4,000 alarm events from up to 10 different parameters. Trend data can also be recorded for days, weeks or even months.
Applications include:
Verification of power distribution circuits,
In-plant troubleshooting of power distribution panels and individual machinery,
Monitor pad mount transformers and phase unbalances,
Determine harmonic problems originating from source or load,
Determine transformer K-Factor, and
Energy metering (kVAh, VARh, kWh).
AEMC Instruments
CIRCLE 124 ON READER SERVICE CARD
---
SureTrace Circuit Tracers Save Time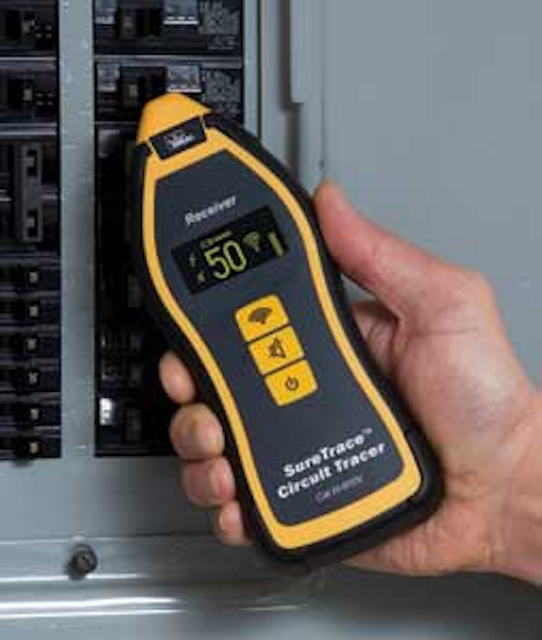 Utility testing: IDEAL Industries Inc., a manufacturer and supplier of tools, connectors and testing products for the electrical and data communications markets, has introduced its SureTrace circuit tracer that lets electricians quickly locate wires or cables behind walls, pinpoint opens/shorts, and identify fuses and breakers on both energized and de-energized circuits from 0-600V ac/dc.
Designed to keep productivity high and operational costs low, SureTrace circuit tracers have four defined ranges to allow the electrician to select the proper sensitivity for a specific job. No circuit tracer has ever been so user friendly, it's reported. Rather than blinking lights and difficult-to-dicipher beeps, SureTrace's display provides a numeric value between 0 and 99 and a variable pitch/tone audible indication as fast-response tracing feedback, while its peak detector instantly registers signal strength. Another time-saving advantage is that handset signal communication is tuned tighter to reduce false signaling on noisy circuits, a common problem with competitors' circuit tracing devices.
IDEAL Industries Inc.
CIRCLE 125 ON READER SERVICE CARD
---
Three Phase Cable Identifier
Cable test equipment: HD Electric Company's 3ID Three Phase Cable Identifier identifies the correct phases on long lengths of de-energized and discharged overhead and underground cables. It includes a sender and receiver that are designed to be hand held with or without gloves. Because of its higher test voltage, the 3ID can test long lengths of cable. LEDs on both units indicate the 3ID units are connected to the same phases on each end of a cable.
Cable Identifier features:
Identify all three cable phases simultaneously and any shorted phases;
Higher test voltage of 36 Vdc allows for longer cable lengths to be tested—has been tested up to seven miles;
Use in overhead or underground systems;
Compact, lightweight and easy-to-use;
Very bright LED indicators;
Large copper alligator clips with heavy-duty boots;
Low battery indicator; and
Made in the USA.
HD Electric Co.
CIRCLE 126 ON READER SERVICE CARD
---
GROUNDTAB Offers Attachment Point for Terminations of Ground Wires

Utility supplies: BURNDY introduces the GROUNDTAB, which offers a convenient attachment point for terminations of ground wires to steel structures or steel supports. They are easily welded to steel with two options available, one with 1/2-in. stud holes, NEMA spaced and the other with 3/8-in. stud holes with 1-in. spacing. The tabs are made of 1/4-in. thick A36 steel and can be used to attach one or two hole terminals.
Common applications include large generators, mobile construction site modules, housing structures or any metal structure that requires a permanent or temporary ground.
BURNDY
CIRCLE 127 ON READER SERVICE CARD
---
ARS916 Puller - Truck Mounted
Utility equipment: The ARS916 hydraulic puller from Condux Tesmec is truck mounted and completely electronically controlled and self-contained. The unit offers 62,947 lbf of pulling force and is designed for stringing one rope up to 3 3/4 in. in diameter. The bull-wheel grooves on the ARS916 are made from heat-treated steel.
Condux Tesmec pullers offer features such as negative self-acting hydraulic brakes, integrated hydraulic dynamometers, hydraulic cooling systems, advanced user controls and more. Hydraulically controlled systems allow Condux Tesmec pullers to eliminate conductor galloping, providing utility contractors maximum pulling control.
A full line of productivity-enhancing conductor stringing tools and accessories is also available including anti-twist rope, reel winders, reel stands and more.
Condux Tesmec
CIRCLE 129 ON READER SERVICE CARD
---
Polymer Disconnect Switch Offers Dependable Line Sectionalizing, Isolation of Distribution Circuits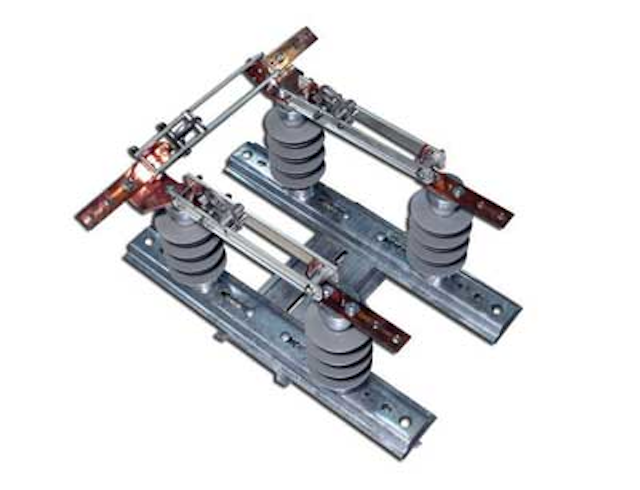 Disconnect switch: Eaton's Cooper Power Systems Division provides durable switching on distribution circuits with its new easy-to-use type D-73P polymer disconnect switch. The new switch allows linemen to reduce field time when sectionalizing and isolating distribution circuits, increasing system reliability and overall efficiency.
The D-73P disconnect switch incorporates proven UltraSIL polymer insulator technology to provide end users with a safe, reliable product designed to improve on-the-job efficiencies. In addition, it features quality construction, allowing for a stable high-current capability and full thermal capacity, along with a wide range of features for enhanced reliability, improved field operations and increased ease of installation.
Through the utilization of proven UltraSIL polymer insulator technology, the product offers increased insulating performance in high-contaminate environments and includes a high level of safety, flexibility and strength. And using UltraSIL insulators lowers the product's susceptibility to breakages due to vandalism.
Eaton, Cooper Power Systems Div.
CIRCLE 128 ON READER SERVICE CARD
---
Ratchet Wrenches, Accessories for Tightening Nuts on Transmission Towers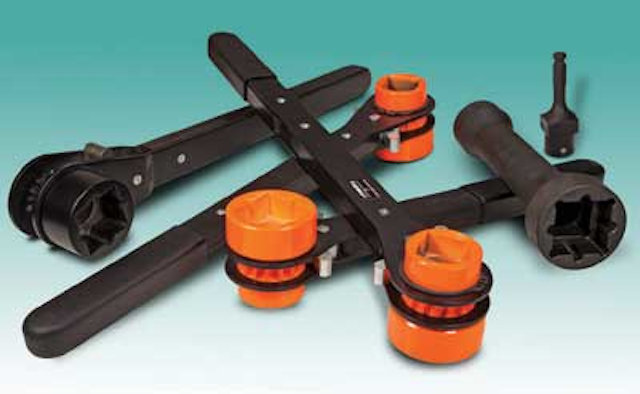 Lowell Corp. now offers a full line of ratchet wrenches and accessories for tightening nuts on transmission towers. There are six wrenches and an impact socket in the line. Each of the rugged wrenches can handle either two or three of the most common transmission tower nut sizes, and, with a bolt-thru head, can handle nuts on any threaded length. By combining several tools in one, each wrench offers better flexibility and convenience. All tools are covered by a one-year guarantee.
There are three models in the Lowell 100T Series. Each has a permanent socket with three sizes that fit 3/4-in., 7/8-in. and 1-in. hardware as well as 1 1/2-in. hex nuts. The 103T has a 12-in. handle and weighs 2 3/4 lbs.; the 104T has a 15-in. handle and weighs 3 lbs.; and the 105T has an 18-in. handle and weighs 3 1/4 lbs. The long handles and a torque capability of 300 lb./ft. bring plenty of turning power to any job. All have stamped and riveted metal handles with vinyl comfort grips.
Lowell Corp.
CIRCLE 130 ON READER SERVICE CARD
---
Work Zone Capacity Calculator for Easy Digger Derrick Comparison
Utility supplies: The new Terex Work Zone Capacity Calculator allows utility companies and contractors to select the right size of digger derrick to complete the majority of their day-to-day tasks-digging holes and setting poles. The Work Zone Capacity Calculator takes into account not only the digger derrick's boom lifting capacity, but it also accounts for the digger derrick's auger digging and lifting capacity.
To calculate a digger derrick's work zone capacity, the new calculator takes into account the soil conditions and density of the material the truck will be working in, as well as the auger sizes to be used and number of flights needed. Once these specs are input into the calculator, it is a simple process to determine a digger derrick's work zone capacity.
Terex
CIRCLE 131 ON READER SERVICE CARD
---
Commercial Fiberglass Tonneau Line Expanded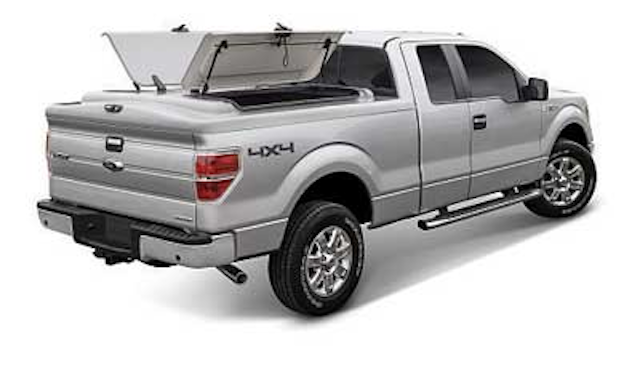 Tonneau covers: A.R.E.'s Commercial Division is expanding its WorkCover LS fiberglass tonneau cover line to include 2009 to 2014 Ford F-150 short bed trucks. The WorkCover LS was originally designed for small trucks, but demand has increased for a fiberglass cover for full-size trucks, such as the Ford F-150, it's reported. A.R.E.'s latest tonneau cover for the commercial market turns the bed of the truck into a well-organized, weatherproof tool container ideal for service workers.
The WorkCover LS features two doors on each side. In addition, the entire cover opens effortlessly from the rear of the truck using a hinge system at the front of the cover. Painted to match the vehicle, the WorkCover LS features approximately three extra inches of storage room above the bed rail and offers the driver good rear visibility from the cab of the truck. Designed to keep products secure and out of sight, A.R.E. offers options such as remote keyless entry and LED strip lighting technology to illuminate the bed.
A.R.E.
CIRCLE 133 ON READER SERVICE CARD
---
Wedge Lock Coupler Attachment Expands Mounting System Lineup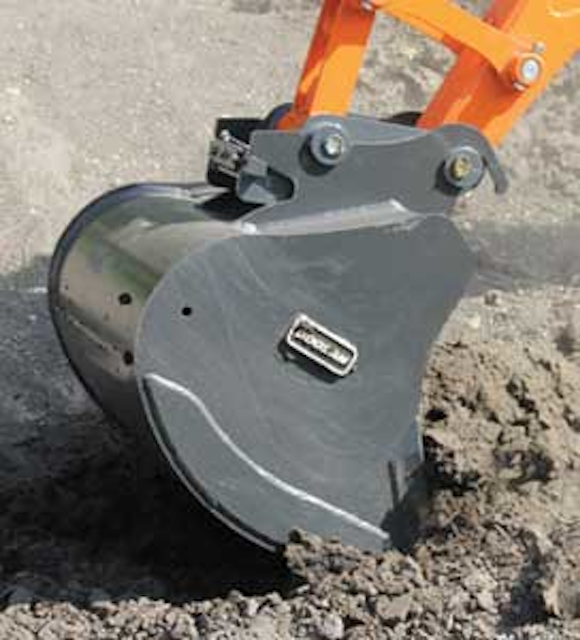 Construction equipment: Doosan has released the wedge lock coupler for use with the company's 6- to 53-metric-ton crawler excavators. This attachment expands the Doosan coupler line, which currently includes the hydraulic quick coupler.
The wedge lock coupler manual mounting system is approved for use with 13 crawler-excavator models including the DX63-3, DX85R-3, DX140LC-3, DX140LCR-3, DX180LC-3, DX225LC-3, DX235LCR, DX255LC-3, DX300LC-3, DX350LC-3, DX420LC-3, DX490LC-3 and DX530LC-3.
The wedge lock coupler allows operators to change their excavator attachments without the need for additional hydraulics but does not decrease
a machine's breakout force. The coupler has a limited increase in tip radius over pin-on mounting.
The versatile wedge lock coupler is designed to allow for the use of multiple attachments, such as Doosan's line of heavy-duty digging buckets. It also mounts the company's current offering of trenching buckets and is capable of efficiently releasing high-capacity bucket models. The new coupler will also pair with Doosan's excavator clamp attachments.
In an effort to increase jobsite safety, the wedge lock coupler's swing ear design and the use of a bolt retainer safety plate helps prevent attachments from falling.
Doosan
CIRCLE 135 ON READER SERVICE CARD
---
No-drill Vehicle Laptop Mounts Keep Computer at Your Fingertips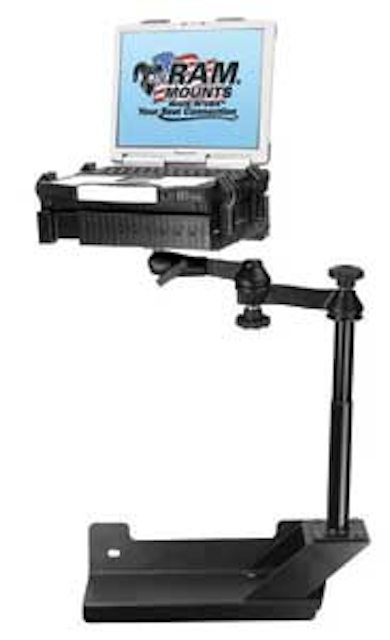 Vehicle docking station: With Forestry Suppliers' vehicle laptop mount, installation is quick and easy using the existing hardware of the passenger side seat rails. The dual swing arms provide articulation and 12 in. of reach for passenger and driver access to the mounted device, and the patented rubber ball and socket joint provide additional adjustment as well as shock and vibration isolation.
The RAM Tough Tray is spring loaded to accommodate 10-in. to 16-in. wide laptops (17-in. screens) and has four adjustable retaining arms that can be moved vertically and horizontally for a custom fit for varying thicknesses of laptops and the freedom of not blocking ports or drives. Hole patterns on perimeter of tray facilitate the mounting of additional RAM systems to support GPS or other electronics.
Forestry Suppliers Inc.
CIRCLE 132 ON READER SERVICE CARD
---
Line Guards Keep Linemen Safe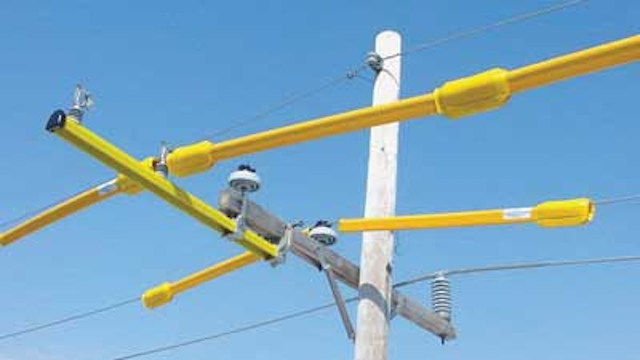 Lineman safety: Hastings, a manufacturer of hotline tools and equipment, understands that every day has the potential to bring the unexpected for lineman. That is why Hastings designs every product with safety in mind and one such critical component of safety is a Line Guard.
Hastings Line Guards are installed before setting new poles to guard against accidental line contact. They also guard against accidental contacts by personnel working in insulating aerial buckets or on platforms. Manufactured with Hastings Safety yellow polyethylene, our Line Guards are lightweight and easy to clean. They also feature a larger I.D. than traditional rubber hoses with an opening of 1.77 in. compared to the average 1.25 in.
The Line Guards are available in 5 ft. and 6 ft. lengths and rated 15 kV and 25 kV.
Hastings
CIRCLE 134 ON READER SERVICE CARD
More Utility Products Current Issue Articles
More Utility Products Archives Issue Articles