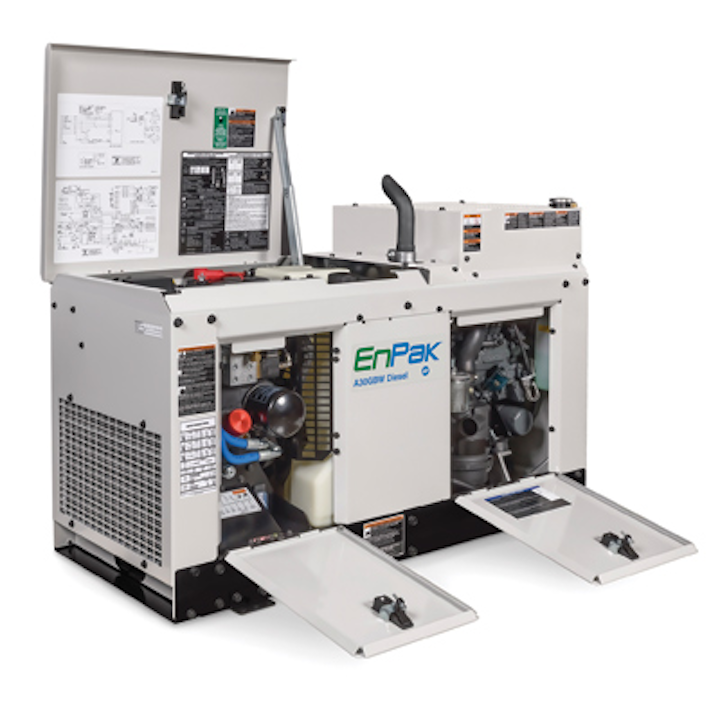 A Tidy Truck Will Save Money, Improve Safety
By Matt Sherrick
Acluttered service truck can cause big problems for utility companies, impacting safety, costs, vehicle life and customer perception. It's important for technicians to have the tools they need on their trucks, but carrying extra equipment can easily make a truck overweight and less efficient. Extra weight also causes more wear and tear on the engine and chassis, possibly shortening vehicle life.
Keeping a tidy, organized utility truck helps fleet managers improve worker safety and reduce costs. It also helps technicians be more efficient in completing work in the field and presents a professional appearance to customers.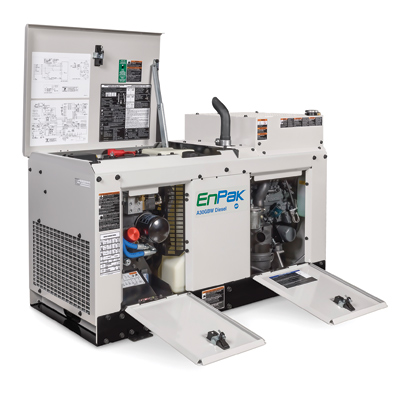 An all-in-one power system can save up to 550 pounds compared to using a PTO-driven air compressor and an engine-driven welder/generator.
Too Much Weight Costs Money
The Federal Highway Administration defines vehicles as Class 1 through Class 8 based on a gross vehicle weight rating (GVWR), which is the maximum operating weight. Truck size and weight standards are a blend of federal and state regulations and laws. Federal law controls maximum gross vehicle weights and axle loads on the interstate system, and state regulations govern non-interstate highways. Utility trucks are typically in the light- and medium-duty vehicle category, which includes Class 3-6 (10,001 to 26,000 pounds).
Fines for exceeding a truck's GVWR vary by state, and they can range from $100 to thousands of dollars depending on how overweight a truck is.
In addition to the financial consequences, there are safety concerns. Overweight trucks need more time and distance to stop, can roll over more easily, and can be harder to control. Statistics show that overloaded trucks are more likely to be involved in accidents.
So how can fleet managers and truck operators ensure their trucks are safer and more efficient in the field?
All-In-One Power Systems Reduce Weight and Clutter
When work trucks carry multiple engine-driven machines, each machine takes up payload space — so operators may not be able to carry all the tools they need for a job. The combined weight of multiple machines can be substantial, compromising safety and increasing wear on chassis components.
An all-in-one power system can replace multiple stand-alone machines like air compressors and welder/generators on a utility truck. This reduces weight for safer operation, reduced risk of overweight fines and less chassis wear. It also frees payload space for a more organized truck, so the operator is prepared to handle most any job.
Available all-in-one power systems on the market deliver compressed air for jobsite tools, generator power for electrical needs, battery charging and crank assist, plus welding capabilities for field repairs.
This type of power solution offers a small footprint that can significantly reduce truck weight and provide more payload space. An all-in-one design can save up to 550 pounds compared to using a power take-off (PTO)-driven air compressor and an engine-driven welder/generator.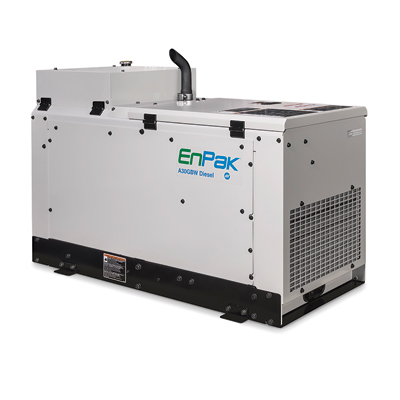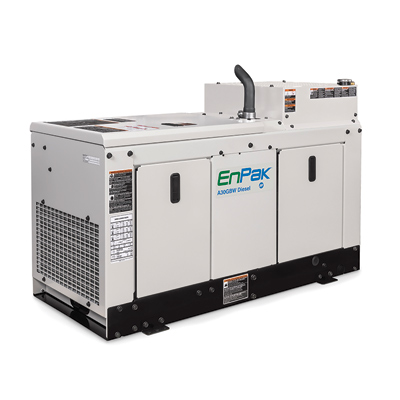 Choosing a work truck solution with a remote operator panel reduces the need for a service technician to repeatedly climb in and out of the truck to make changes.
Improve Safety
A less cluttered truck with more payload space also provides safety benefits by reducing exposure to trip-and-fall hazards. Slips, trips and falls are the second-leading cause of accidental death on the jobsite behind motor vehicles, and one of the most frequently reported jobsite injuries. These accidents can cause lost productivity, missed work days, and higher insurance premiums or workers' compensation claims.
Choosing an all-in-one power system with a remote operator panel provides additional benefits for safety. These panels save time and reduce the risk of operator injury by eliminating the need to climb into the truck bed to turn the machine on and off or make adjustments.
The Miller® EnPak® A30GBW power system includes one main control panel with simple, straightforward controls and a weld/battery output panel, so technicians can easily make changes while outside of the truck. An optional 120/240-volt outlet panel is also available.
Extend Chassis Life
Brakes, transmissions and other truck components are under more stress with added weight. Reducing truck weight with an all-in-one power system means less wear and tear on truck components, which helps extend chassis life and reduces the time and money spent on maintenance. This savings adds up — whether it's a small utility company or an operation with a large truck fleet.
Cleaning out a work truck on a regular basis helps to prevent inventory creep and keeps truck weight within the required limits, which is key to prolonging asset life.
Professional Appearance
A messy work truck may not portray the quality and expertise a company brings to the job, while an organized truck gives the impression of a capable company that takes care of its equipment. A tidy truck can also positively impact customer and employee satisfaction.
All-in-one power systems are fully enclosed and can be integrated on the work truck. And when the system provides the capabilities and features technicians need, they can be ready for anything on the jobsite. This helps technicians get the job done quickly and efficiently, without the need for multiple return trips. Having the right tools for the job on the truck — rather than having to make do with other tools — also helps ensures quality work.
Reduce Weight and Clutter — And Be Ready for Anything
A cluttered truck poses numerous concerns that can impact profitability. Choosing a capable all-in-one power system helps reduce utility truck weight, free up payload space, keep vehicles on the road longer, and provide a more organized and integrated setup for service technicians. The result is improved safety and efficiency in the field for a positive impact on the bottom line. UP
The Author: Matt Sherrick is the product manager for Miller Electric Mfg. LLC. To learn more, visit www.millerwelds.com.