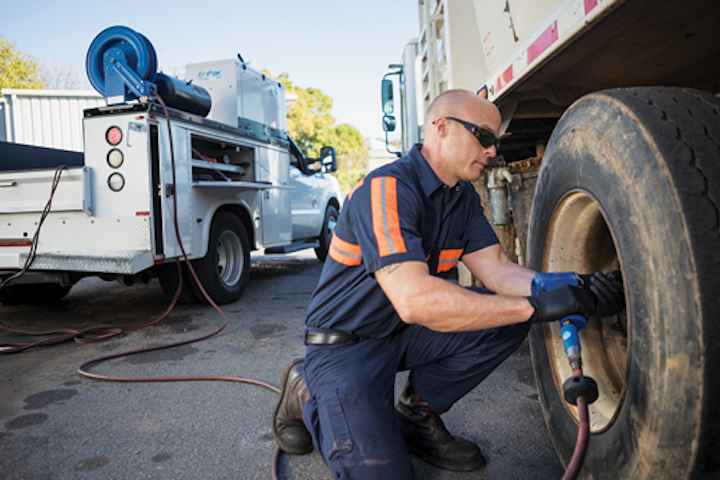 Reducing Truck Engine Idle Time to Save Money, Lessen Downtime
By Travis Purgett
The implementation of Tier 4 (T4F) engine regulations has resulted in significant changes for owners and operators of diesel engine work trucks. Whether it's increased downtime for engine regeneration, greater fuel costs, or more time and money spent on truck maintenance — the effects of T4F are impacting the bottom line for companies and utility truck operators.
Finding ways to reduce truck engine idle hours can save substantial time and money through lower fuel costs, extended truck life, and reduced maintenance and service needs. Reducing truck engine idle time is especially important because T4F engines are not designed to idle constantly. So, what's the solution when a utility truck must idle all day to power compressors, pumps, hydraulic cranes and other jobsite tools for field technicians? All-in-one work truck solutions available on the market today let technicians turn their trucks off — and still run the tools needed to tackle any job efficiently.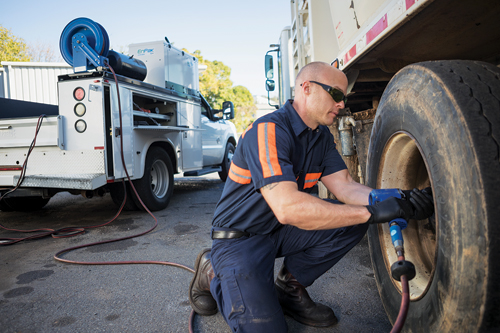 All-in-one work trucks let technicians turn their trucks off — and still run the tools needed to tackle any job efficiently.
Why Is Idling Bad for T4F Engines?
The Environmental Protection Agency's T4F regulations are designed to reduce exhaust emissions. In T4F engines, the diesel particulate filter (DPF) traps soot from engine exhaust gases and must be periodically cleaned through regeneration to maintain emissions reduction performance and fuel efficiency.
Engine regeneration increases downtime and can impact truck performance. How frequently regeneration must happen depends on several factors, including how much time a work truck runs at idle and light loads. Many owner's manuals recommend that if power take-off (PTO)-driven equipment is powered for more than one hour without driving the truck, the DPF warning system should be checked every 15 minutes after the one-hour mark.
The more a T4F engine idles to power jobsite tools, the more clogged the filter becomes and the more frequently it must be cleaned. The regeneration cycle heats and burns off much of the material blocking the DPF. The particulate matter that isn't burned off in the regeneration process can result in poor fuel economy, reduced engine power output, increased time for engine regeneration or even costly engine damage. This additional material can be cleaned using a specialized process that requires removing the DPF from the engine and sending it to a servicing facility.
Problems can also arise when the operator misses or ignores the regeneration notification. This can cause the engine to reduce power or shut down completely. The longer the DPF warning light is illuminated, the more urgent the need for regeneration becomes.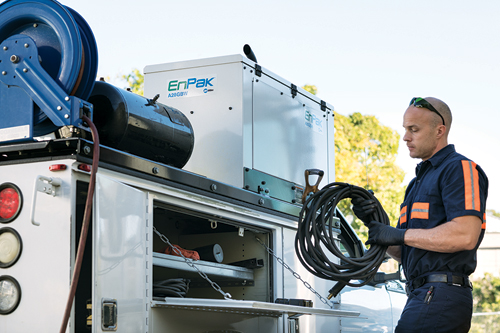 An all-in-one work truck solution reduces truck engine idle time, which in turn reduces the wear and tear on engines and reduces maintenance expenses.
The need to frequently check the DPF is an added task that causes interruption and takes technicians away from getting work done. It's a hassle to stop work to perform a regeneration, and on some jobsites, technicians want to avoid the perception that they're not working while a regeneration takes place.
However, if the engine shuts down and the truck must be towed to a dealer for DPF removal, this can add significant additional downtime to the process. The truck could be out of service for days or even weeks, impacting how many tools and trucks a company or operation has available to get work done.
Turn Off the Work Truck
Each DPF can cost thousands of dollars, so any efforts to prolong filter life, such as decreasing the engine idle time, can help companies reduce operating costs and downtime.
Using an all-in-one work truck solution allows companies to significantly reduce truck engine idle time, which in turn reduces the wear and tear on engines and reduces maintenance expenses. These integrated power systems let technicians perform their work and power their tools — even with the truck turned off. One available solution, the Miller® EnPak® A28GBW, provides compressed air to power jobsite tools, a generator, battery charge and crank assist, and a stick welder in one compact unit.
When technicians don't need to leave the truck engine running to act as the power source for jobsite tools, it delivers benefits for fuel efficiency, truck life, jobsite productivity and more.
Reduce Engine Wear
Monitoring miles per engine hour is becoming an important measure for many utility truck fleet managers. Generally, one hour of engine idle time is considered equal to 30 miles of driving on the road.
Reducing the hours a truck engine spends idling equals a reduction in the total number of hours on the chassis. This helps fleets prolong the life of the truck, extending their return on investment in that asset.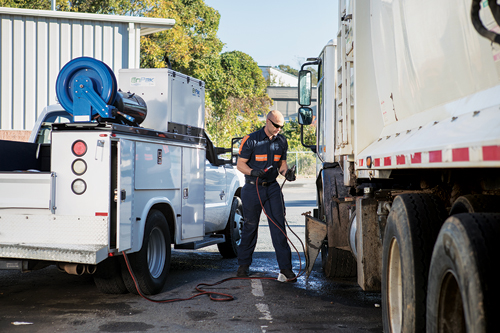 Integrated power systems let technicians perform their work and power their tools, even with the truck turned off.
Reduce Fuel Costs and Maintenance Needs
Reducing the time a utility truck engine spends idling also helps fleets extend the maintenance and service schedules. This saves time and money because there are fewer service intervals, and it helps keep the trucks in the work fleet longer so jobs can be completed faster. Fuel costs are also reduced when an all-in-one work truck solution is used and the truck engine can be turned off.
A Solution for T4F Engine Idling
Running a work truck continuously on the job site to power tools drives up engine idle time, fuel use, engine hours and maintenance costs. It can be especially expensive with today's Tier 4–compliant engines, which are not designed for constant idling. Excessive truck idling causes downtime, which impacts efficiency, productivity and the bottom line.
So, how can fleet managers and technicians reduce the hours a truck spends idling? With all-in-one work truck solutions, operators can turn off the truck and still run the tools they need to get the job done.
These solutions reduce engine idle time and help extend truck life, reduce fuel and maintenance costs, and lower the overall cost of ownership — so utility truck operations can save time and money and move on to the next job. UP
The Author
Travis Purgett is the central region territory manager for Miller Electric Mfg. LLC. To learn more, visit millerwelds.com.