Hybrid Signal and Street Lighting Maintenance Vehicles Reduce Emissions, Lower Fuel Costs
A Milwaukee County press conference showcased four new bucket trucks featuring Odyne Hybrid Systems that were built by DUECO Inc. of Waukesha, Wis. The new technology, partially funded by the Wisconsin Clean Transportation Program, will help reduce fuel costs up to 50 percent and reduce emissions. The bucket trucks, the first hybrid trucks for the county, are being used to maintain traffic signals and street lighting.

The vehicles feature the first Odyne hybrid systems installed on Kenworth truck chassis and are the first to power Venturo corner mount cranes, which will be used in lifting lighting into place. The trucks feature fiberglass bodies and Terex TL60 aerial buckets, recognized for their stability.
The Odyne plug-in hybrid systems will lower fuel consumption by up to 50 percent, depending on duty cycle, or up to 1,750 gallons per truck, annually. The trucks operate with zero or significantly lower emissions at the job site and provide quiet operation for safer working conditions and a neighborhood friendly environment. Odyne hybrid systems are modular and can be applied and retrofitted to a wide range of work vehicles.
Odyne Systems LLC
CIRCLE 110 ON READER SERVICE CARD
---
DSP Series Chemical Wire Stripping Pot
The Eraser Co. Inc. offers the DSP Series stripping pots designed specifically for use with Dip Strip. Model DSP1 has a variable temperature control with a reference scale. The DSP2 has an advanced feedback temperature controller, and the DSP3 has a 600-watt heating element to increase the throughput 10 times.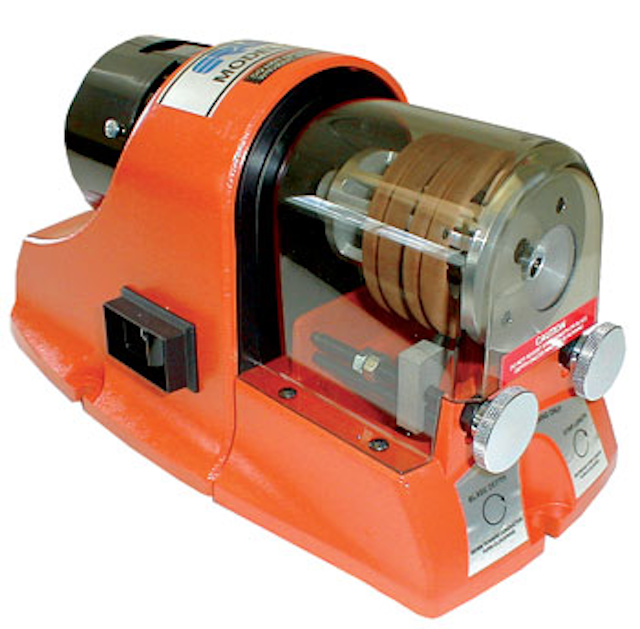 Dip Strip is used to chemically remove the insulation from virtually all magnet and enamel wires of all sizes and insulation types without damage to the wire. When heated in the stripping pot, the Dip Strip melts and wires are immersed in the Dip Strip to strip the insulation. The stripped wires are then rinsed in water and Dip Clean 2 Metal Cleaner to remove oxides and residue. Dip Strip does not corrode conductors the way acid strippers do.
The Eraser Company Inc.
CIRCLE 112 ON READER SERVICE CARD
---
Y6NCP Series Pneumatic Original Equipment Manufacturer Crimping Tools
BURNDY announces the release of its new Y6NCP series of pneumatic original equipment manufacturer (OEM) crimping tools. The Y6NCP pneumatic tools are for medium volume OEM production and offer an Underwriters' Laboratories (UL) listed connection for a wide variety of BURNDY connectors and splices ranging from #22 - #4 AWG.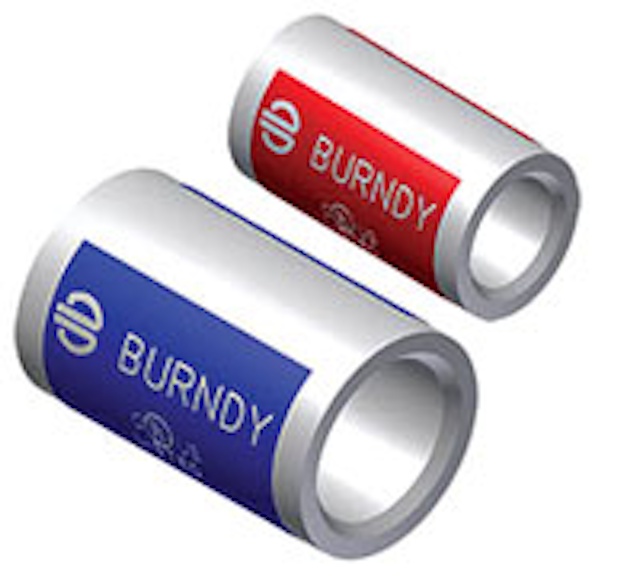 Two different tools are being offered to serve different types of customer requirements and application needs. The Y6NCP1 offers an extended wire range from #22 to #4 AWG while featuring pull-out forces that exceed Mil-Spec/SAE. As a result, the Y6NCP1 is suited for applications requiring higher wire pull-out forces such as high vibration environments. The Y6NCP1 utilizes the BURNDY J-Die system.
The Y6NCP1-SD offers an industry standard die envelope capable of crimping #22 to #10 AWG insulated and uninsulated terminals and splices. The Y6NCP1-SD provides customers with the same profile as the BURNDY MRE-ergonomic hand tools for customers seeking an affordable UL listed "system" termination solution.
The Y6NCP tools are packaged with the pneumatic tool, air hose, clear safety guards, fittings and jaw assembly. The Y6NCP1-SD includes the two die sets capable of covering the #22 - #10 AWG wire range for both insulated and uninsulated terminals and splices. J-Dies are sold separately.
BURNDY
CIRCLE 111 ON READER SERVICE CARD
---
Durable and High-quality Outrigger Pads
Bigfoot Construction Equipment Inc. launches its new line of E-Plastic pads, available in 18 x 18 x 1 inches or 24 x 24 x 1 inches. The low-cost pads are designed for the utility equipment market and offer durability and value. Bigfoot Plastic Pads carry a lifetime guarantee against breakage-if you break it, the company will replace it.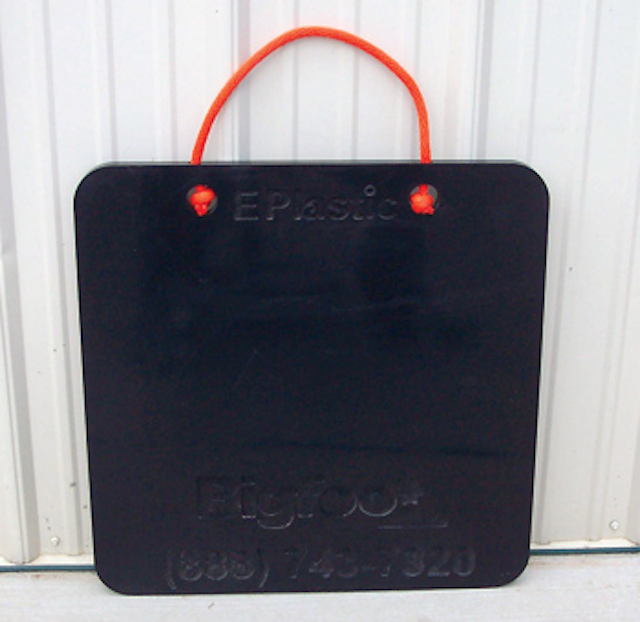 Bigfoot Construction Equipment is cited to manufacture the largest lineup of pads in wood or plastic, in standard stock sizes or custom made.
Bigfoot Construction Equipment Inc.
CIRCLE 113 ON READER SERVICE CARD
---
Ride-Rite Kits Available for 2012 Dodge Ram 2500/3500 Trucks
Firestone Industrial Products Co. LLC announces its Ride-Rite air helper spring kits are available for 2012 Dodge Ram 2500/3500 trucks, both 2WD and 4WD models (part #2299).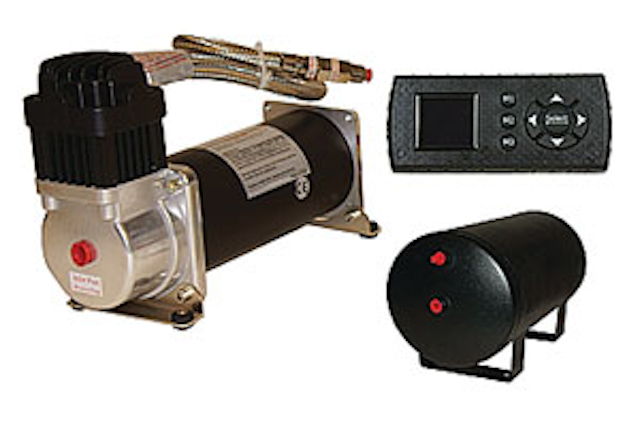 The Ride-Rite air helper spring kit uses air pressure to help maximize the truck's safe load carrying capacity, vehicle stability, ride quality and brake effectiveness. The system features individual inflation valves that allow for separate side-to-side or front-to-rear adjustment, which helps keep the vehicle level when carrying off-center loads and maintains ride quality under differing load conditions.
The Ride-Rite kits feature double convoluted air springs that provide maximum load support for trucks, which is important for maintaining proper steering control and braking effectiveness-reducing tire wear and keeping headlights properly aimed.
Firestone's no-drill Ride-Rite kit is designed to use the truck's factory holes and mount between its frame and axle. All necessary components are included for an easy installation that typically takes less than one hour: brackets, air springs, hardware, air lines and inflation valves.
Firestone Industrial Products Co. LLC
CIRCLE 114 ON READER SERVICE CARD
---
Solar Light-emitting Diode Crane and Boom Obstruction Lights
With Lumastrobe's maintenance-free Model SLX-15-R Solar Flasher, there is no need to lower your cranes and booms from dusk to dawn. This high-performance, solar powered LED flasher provides 120 flashes per minute to signify the location of your extended equipment. No wiring is required because the flasher will continually and automatically turn on at dusk and off at dawn for many years.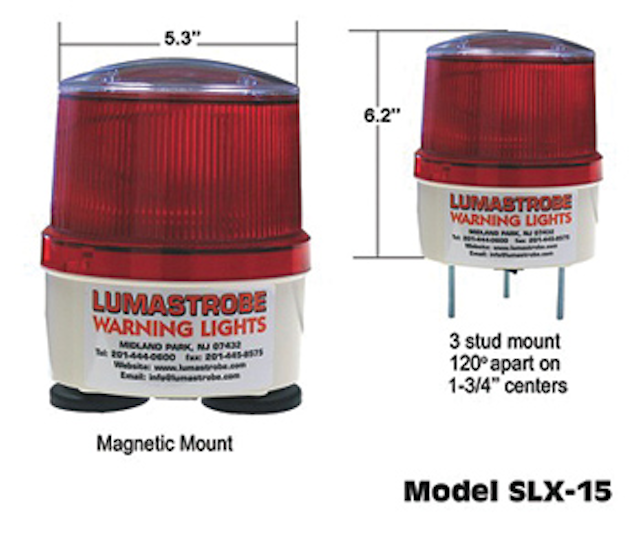 The Model SLX-15-R is unaffected by rain and offers two mounting options-permanent mounting with its three threaded studs on 1 3/4-inch radius center, 120 degrees apart, or magnetic mounting rated at 105-pound pull.
Lumastrobe Warning Lights
CIRCLE 115 ON READER SERVICE CARD
---
New 8-inch Diameter Certa-Com PVC Trenchless Conduit
CertainTeed Corp. has responded to the needs of the expanding US telecommunications and electrical utility industry by enlarging its Certa-Com Trenchless PVC Conduit product line to include an 8-inch diameter SCH80 restrained-joint PVC pipe offering. This new product, developed in response to customer requests for an easy-to-install and cost-effective, large diameter trenchless PVC conduit option with advantages over fused high-density polyethylene (HDPE) pipe, is available in 10- or 20-foot lengths that quickly assemble and do not require costly fusion or solvent welding.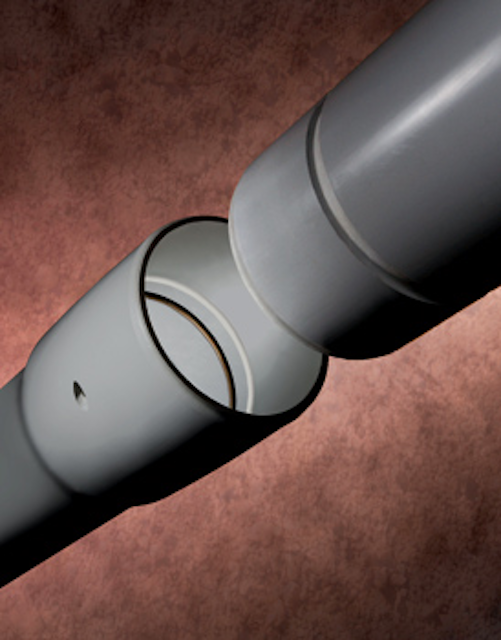 With an 8-inch diameter Certa-Com restrained-joint pipe option, the company can offer utility contractors the opportunity to avoid the problems and associated installation costs that typically accompany the assembly and installation of large diameter fused underground conduit systems, it's reported. Certa-Com is quickly and easily assembled in 10- or 20-foot lengths while pullback continues, which eliminates costly, time-consuming pipe fusion and the need to string out several hundred feet of conduit within or beyond the work zone. This greatly streamlines the installation process and can realistically save contractors and project owners considerable time and money.
CertainTeed Corp.
CIRCLE 116 ON READER SERVICE CARD
---
Fuel-based Global Positioning System Tracking Technology Helps Fleets Reduce Fuel Costs
Zonar, a provider of electronic fleet inspection, tracking and operations systems, offers a new, patent-pending technology that adds fuel as a fifth dimension to the firm's high-definition global positioning system (HD-GPS) reporting.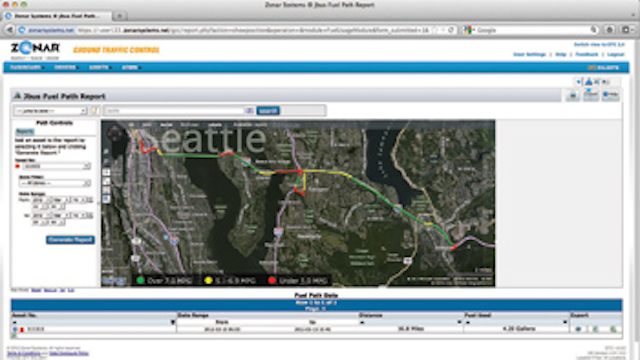 Used by private and public fleets, Zonar's vehicle telematics platforms have always utilized four-dimensional-latitude, longitude, time and odometer-GPS reporting. This methodology offers users the highest value at a competitive cost because it ensures data is captured and transmitted only when it needs to be, not just based on an established time cycle. Now, with the addition of fuel as the fifth dimension, Zonar's telematics platforms will not only determine sample rates based on geographical data, but also fuel consumption.
The sampling methodology accounts for route and driving changes. If a vehicle is driven in the city with frequent stops and turns, for example, the computer samples much more frequently than if the vehicle is driven down a long, straight highway.
Employing Zonar's patent-pending technology, fleets will now be able to easily identify, with much detail, the routes and lanes where their vehicles are most and least fuel efficient.
Zonar
CIRCLE 117 ON READER SERVICE CARD
---
Low Voltage, Explosion-proof, Light-emitting Diode Work Light
The Magnalight EPL-BS-70LED-100X12 pedestal mounted, explosion-proof, light-emitting diode (LED) light from Larson Electronics' is a low-voltage lighting solution that uses advanced LED technology and an industrial grade design to provide operators in hazardous locations with good illumination and low-voltage operation. The pedestal-mounted LED light is equipped with an inline transformer that steps down standard 120V-277 Vac current to 12 Vdc for applications requiring low voltage operation.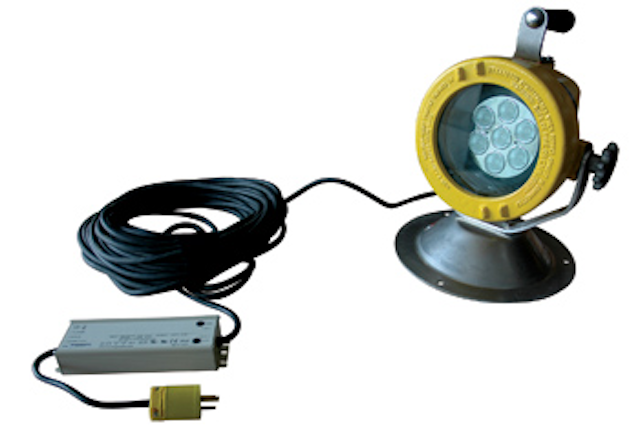 The EPL-BS-70LED-100X12 light produces 6,020 lumens of high-quality illumination using seven 10 watt Cree LEDs and advanced PWM LED driver technology. Designed with durability in mind, this unit features high output LEDs fitted within a housing constructed of copper-free aluminum with a 3/4-inch thermal shock and impact resistant tempered glass lens. A thermoset powder coated finish and threaded joints lubricated with non-drying lubricant provide added durability and reliable explosion proof protection.
Larson Electronics' Magnalight.com
CIRCLE 118 ON READER SERVICE CARD
---
Smart-Pack Provides Critical Inverter Module Protection
Alpha Technologies announces the Smart-Pack Dual Inverter Module (IM) case, capable of housing up to two Alpha Power Supply IMs in a single, durable, easy-to-transport protective case.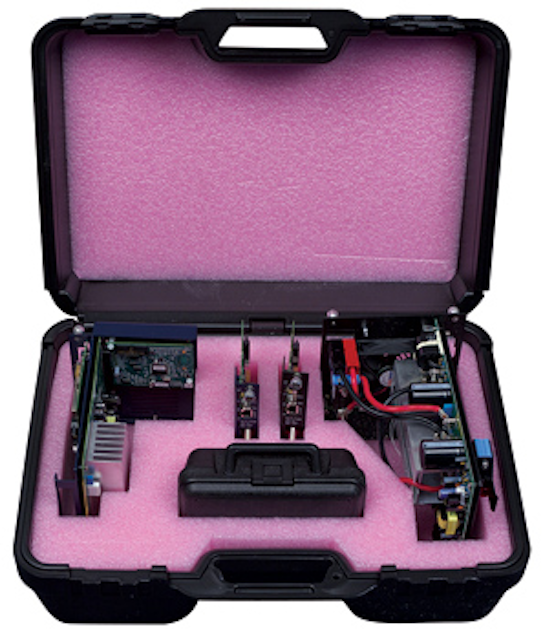 A properly functioning IM is critical for a power supply to provide backup power. To minimize downtime and keep broadband communication systems operational during service regimens, IM replacement needs to be quick and efficient. When unprotected, IMs are susceptible to damage because of the exposed circuit board and other critical components.
Alpha Technologies' dual IM case offers technicians a rugged, lightweight case manufactured specifically to house Alpha IMS, while providing additional compartments to store other spare components. The dual IM case has a strong, hard exterior with a soft cushion interior to protect the IMs from damage in transport. In addition, the pink interior cushioning is indicative of its antistatic characteristic, which minimizes the chances of static electricity-induced damage to circuit boards.
To avoid unnecessary truck rolls, technicians can now keep an emergency supply of IMs and other spare components in the maintenance truck to be used in the event of unexpected component failures while in the field.
Alpha Technologies
CIRCLE 119 ON READER SERVICE CARD
---
MPRT8445 Automatic Protection Relay Test System
The new MPRT8445 automatic protection relay test system from Megger combines a wide range of enhancements-including reduced weight, increased output power and current, and International Electrotechnical Commission (IEC) 61850 test capabilities-with open communications architecture. This gives users the flexibility to use the new MPRT8445 with the third-party software of their choice, as well as with Megger's powerful and intuitive AVTS software.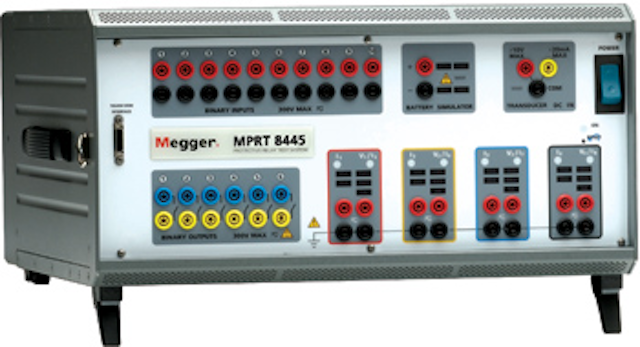 Capable of testing virtually all types of electromechanical, solid-state and microprocessor-based protective relays, the MPRT8445 is available as a three-module version capable of providing up to six current channels, or a four-module version to provide up to eight current channels. Both versions are significantly lighter than their predecessors, making them easier to handle and transport.
MPRT8445 test sets use Megger's newest constant power output voltage/current modules, which deliver maximum compliance voltage to the load during the test and feature automatic range changing under load.
Megger
CIRCLE 121 ON READER SERVICE CARD
---
ReCombiners with Disconnects, Contactors and Ground Fault Interruption
SolarBOS Inc., a provider of electrical "balance of system" solutions for the solar industry, announces its new line of ReCombiners for large commercial and utility-scale photovoltaic (PV) systems. The ReCombiners are listed to Underwriters' Laboratories (UL) 1741 for up to 1,000 Vdc and 2,560 amps. They can also be specified with disconnects or contactors that meet the new fuse servicing requirements of the 2011 National Electrical Code (NEC) Article 690.16.B.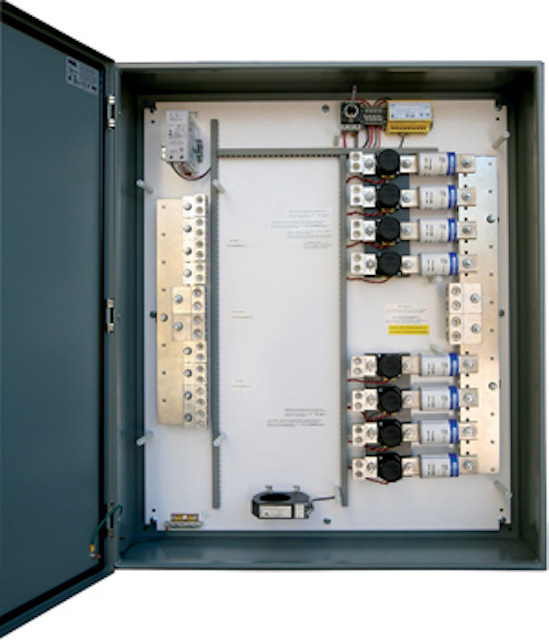 The SolarBOS ReCombiners can also be specified with a true ground fault interruption (GFI) solution for PV systems. By using a differential current sensor to detect leakage current in the array wiring, the ReCombiners can be set to automatically disconnect the ungrounded conductors as soon as a single-sided ground fault is detected. This eliminates the possibility of a double-ground-fault fire and provides a true GFI solution for PV systems.
SolarBOS Inc.
CIRCLE 120 ON READER SERVICE CARD
---
Carbide Cutter G3 Mulching Head Attachment
As part of its VMLogix line of products, Loftness Specialized Equipment introduces the Carbide Cutter G3 high-performance mulching head attachment for skid steers. This new product incorporates the latest cutting-tooth technologies and power drive systems while maintaining rugged reliability.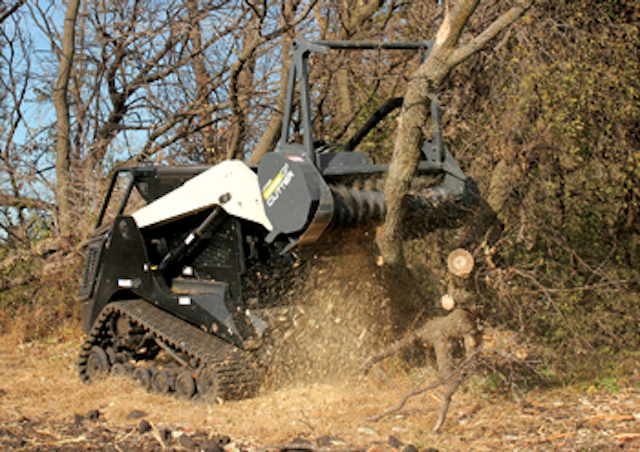 The Carbide Cutter G3 is available with 51-, 61- and 71-inch cutting widths. All models are offered with a variety of carbide-tipped and heat-treated steel teeth to match any job application. The precisely engineered spiral tooth pattern on the rotor ensures continuous tooth contact with the material being cut.
For maximum cutting performance, the Carbide Cutter G3 features a two-stage cutting chamber with staggered counter teeth and a shear bar. This combination of features results in small particle sizes, while eliminating the jamming and wrapping issues associated with competitive products. An optional primary-stage shear bar is also available for ultra-fine mulching.
The mulching heads operate at 1,700 to 2,150 rpm and feature a four-groove banded belt drive with spring-loaded tensioner. They come standard with a fixed-displacement, piston-style motor that delivers hydraulic power at 97-percent efficiency, which is much higher than traditional gear-type motors offer.
Loftness Specialized Equipment
CIRCLE 122 ON READER SERVICE CARD
---
Pickup Pack-Work Truck Organizer
Highway Products Inc. has introduced its all new Pickup Pack-a custom storage system for pickup trucks that combines quick and easy access to stored content, lockup security and maximum storage in pickup beds.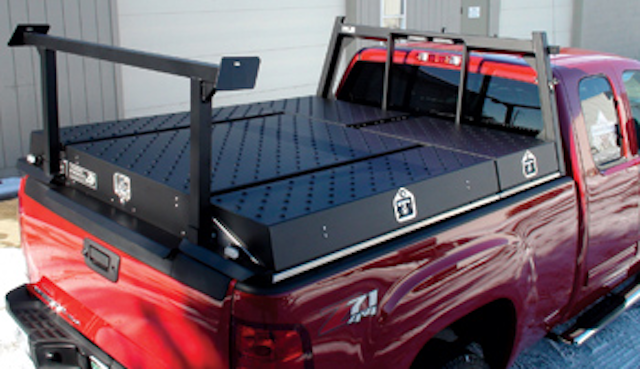 The Pickup Pack includes a gull wing saddle box, two lockable low side boxes, a flat or dome center hatch, a headache rack and a removable ladder rack. When closed, the hatch locks the tailgate, making the bed area secure and weather resistant. An optional 2,000-pound capacity roller coaster cargo tray that installs in your truck bed quickly and easily slides your cargo from the truck bed. This marine grade aluminum unit is available to fit all truck brands, models and bed sizes, and come with a five-year warranty.
Highway Products Inc.
CIRCLE 124 ON READER SERVICE CARD
---
FORMULA UL Molded Case Circuit Breaker Line
ABB Low Voltage Products Div. has introduced the FORMULA UL line of molded case circuit breakers, dedicated to the most common, general use applications up to 240 Vac. The FORMULA line comes in two frames, A1 and A2, which reach to 100A and 250A respectively, each available in one-pole, two-pole and three-pole varieties, in a fixed version with front terminals standard.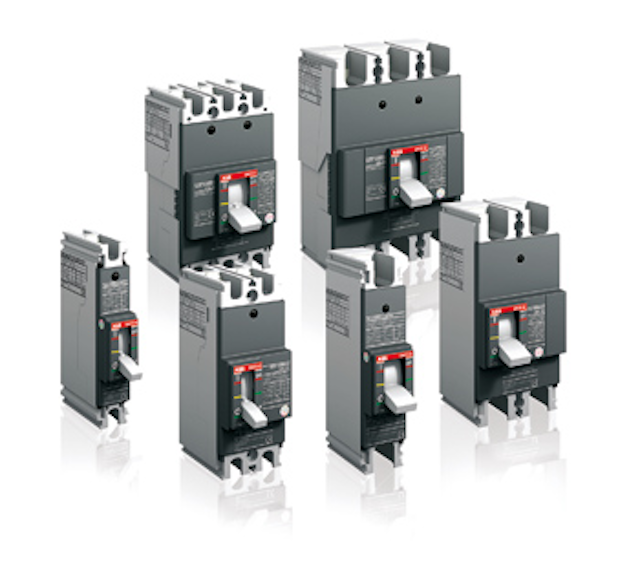 Developed to provide simplicity and quality, with a depth of 2.36 inches and a smaller footprint, FORMULA UL is cited to be one of the most compact molded case circuit breakers on the market up to 250A. The reduced dimensions make efficient use of the space within switchboards and panels without compromising performance and reliability. With a carefully selected range of models within each frame and polarity, customers will easily be able to select the right breaker in the lower voltage range for their specific need, efficiently buying only the features they need. Designed to complement ABB's Tmax line for higher voltages (up to 3000A and 600V ac/dc), the introduction of the FORMULA UL line completes the ABB portfolio of UL 489 rated molded case circuit breakers.
ABB Low Voltage Products Div.
CIRCLE 123 ON READER SERVICE CARD
---
Share Live Borescope Inspection Video over the Web
Extech Instruments, makers of handheld test, measurement and inspection tools, announces the BRD10 Wireless Universal Serial Bus (USB) Video Receiver. The BRD10 enables Extech borescope video content to stream wirelessly to a PC or laptop. The compact video receiver also transforms an Extech borescope into an Internet camera, or webcam, allowing customers to transmit real-time inspection video over the Web. The BRD10 works with all major web-based video calling and streaming services such as Skype and Ustream. No additional audio/video (A/V) or voice over Internet Protocol (VoIP) cables or devices are required.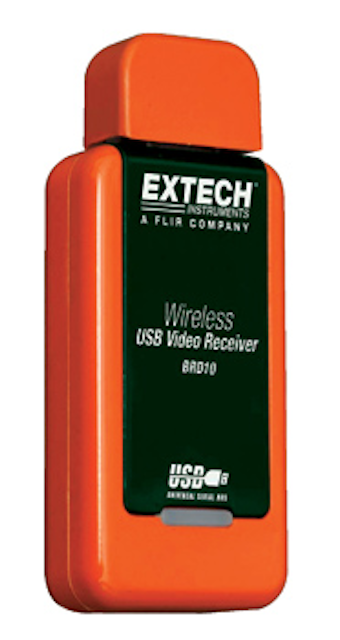 Extech borescopes can now be used for remote inspections, live web-based training, product or service webinars, and more. The BRD10 is compatible with all popular web-based video calling services such as Skype, Cisco WebEx, Microsoft Office Live Meeting, as well as videostreaming services such as DaCast, TwitchTV, VOKLE, TinyChat and Ustream.
The BRD10 transforms Extech's line of wireless video borescope inspection cameras into powerful communication and education tools. PC video recording and Web connectivity are especially useful for inspections and training in electrical, energy auditing, automotive and more.
Extech Instruments
CIRCLE 125 ON READER SERVICE CARD
---
Hi-Ranger TCX65/100 Non-overcenter Material Handling Aerial Device
The new Terex Hi-Ranger TCX65/100 non-overcenter material handling aerial device is engineered to offer convenient, easy operation. The TCX65/100 allows operators to work in all three phases without repositioning. It is also designed to enable positioning the truck to work on H structures. A 24-inch basket lift is available for the TCX65/100 to help operators maneuver into difficult positions.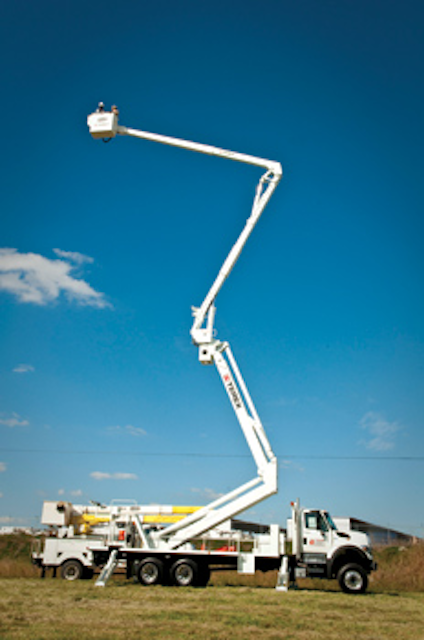 With a working height of up to 105 feet and a platform capacity of up to 700 pounds in all positions, the TCX65/100 has 110 degrees lower boom articulation to achieve 47 feet of side reach. This aerial device is equipped with pilot closed center controls for smooth, intuitive operation.
This aerial device can be installed on a 6x6 chassis with front bumper winch and utilizes high-strength material for a low-weight design. Dual lift cylinders on each elevator tub give the TCX65/100 a compact stow height.
Terex
CIRCLE 126 ON READER SERVICE CARD
---
Dura-Life Brake Rotors, CryoRotors and TruBlue Severe-duty Brake Rotors
300 Below Inc. offers three new brake rotor lines: Dura-Life brake rotors, CryoRotors and TruBlue severe-duty brake rotors. Dura-Life is the company's entry-level product, providing a rust inhibitor for the rotor and ABS ring.
CryoRotor is the private label brake rotor available to buying groups and parts divisions of major truck suppliers in the US and Canada. These rotors have been tested and shown to deliver double the life of standard brake rotors, it's reported.
The technology included in the top-of-the-line TruBlue severe-duty rotors will provide longer life for the rotors and brake pads as well as extended ABS rust resistance.
300 Below Inc.
CIRCLE 127 ON READER SERVICE CARD
---
More Utility Products Current Issue Articles
More Utility Products Archives Issue Articles