Elevate Your Aerial's Productivity
Best practices for safe and productive bucket truck operation
Jun 1st, 2012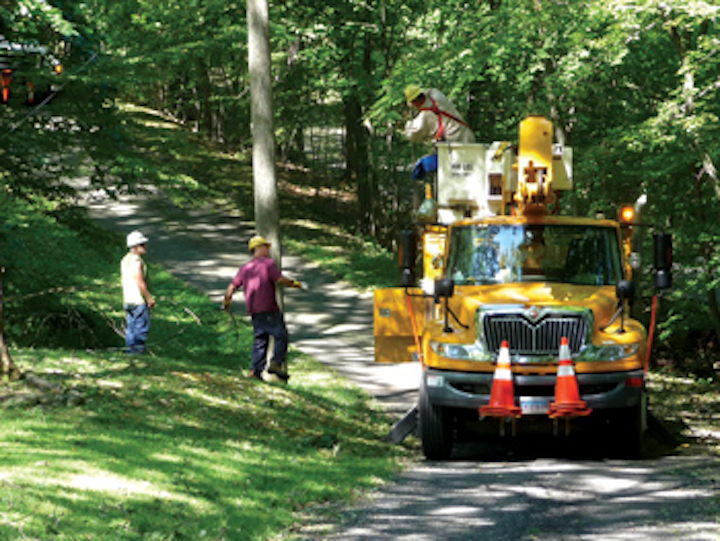 Best practices for safe and productive bucket truck operation
By Amber Reed
Whether utility work involves power, telecom or cable television (CATV), aerial devices-particularly bucket trucks-are some of the most important machines in an equipment fleet. To maintain safe productivity on any jobsite, follow these best practices for safe set-up, operation and care for bucket trucks.
Set-up
"Before any work begins, conduct a site survey-identify potential hazards to avoid during operation, including ditches, drop-offs, holes, debris, sewers, overhead obstructions, electrical conductors and underground utilities," said Jim Olson, product and safety engineer for Terex Utilities.
Safety and Security Director Garry Christopherson of Dairyland Power Cooperative in La Crosse, Wis., said: "Because we do a lot of new installation work in wetlands and sensitive environments, we send right-of-way agents and surveyors out to the project site prior to job start-up to determine if we need any special permits from the Department of Natural Resources or wildlife organizations to work in the area. We then work with these groups to ensure our site set-up is safe for our crew and equipment, as well as for the environment."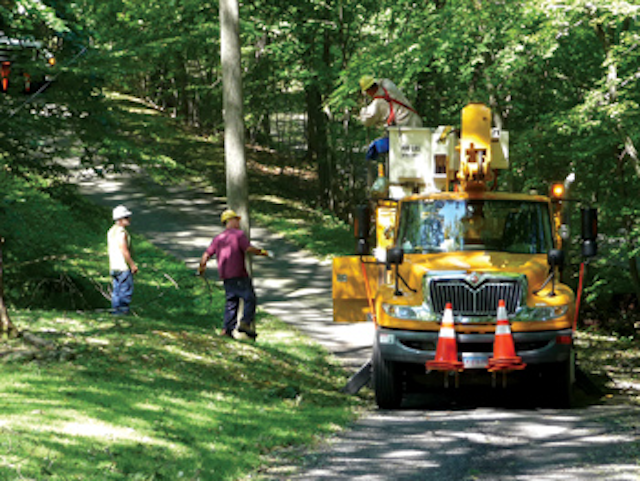 "At this point, you also need to determine if the ground is firm enough to support your bucket truck. If the ground is not firm enough, you need to use pads under the outriggers and crib, as needed, to distribute the load or reposition the truck on firm ground. If your bucket truck does not have outriggers or is only equipped with one set, make sure all the tires and axle suspension springs are equally loaded. Always set up your truck in a position to safely do the work," Olson said.
"Because of the environments we're working in, we often need to put down special matting to park our trucks on. We may also need to create a road or special access point in and out of the site for our trucks to travel on, as well as put up fencing or other barricades to make sure we protect site conditions," Christopherson said.
If the vehicle must be parked on a slope, always keep the boom on the uphill side, chock the wheels and work off the rear of the truck. In accordance with American National Standards Institute (ANSI) A92.2, bucket trucks should be operated on firm, flat surfaces and never exceed a 5 degree slope.
"Use your bucket truck's chassis level indicator to make sure the truck is always set within the manufacturers operational limits," Olson said. "Terex utility trucks are equipped with a visual slope indicator that is used to determine the truck is set up within a safe incline.
"You also need to know what the maximum bucket load capacity is on your truck, and do not exceed it at any point during operation. That means you need to know how much each person, tool and accessory weighs before getting into the bucket. And, you need to anticipate how much weight could be added during operation from jobsite materials that accumulate during work," Olson said.
It is important to evaluate the site's ambient conditions, including temperature. Operating in extreme weather conditions requires taking extra precautions to protect crews and trucks.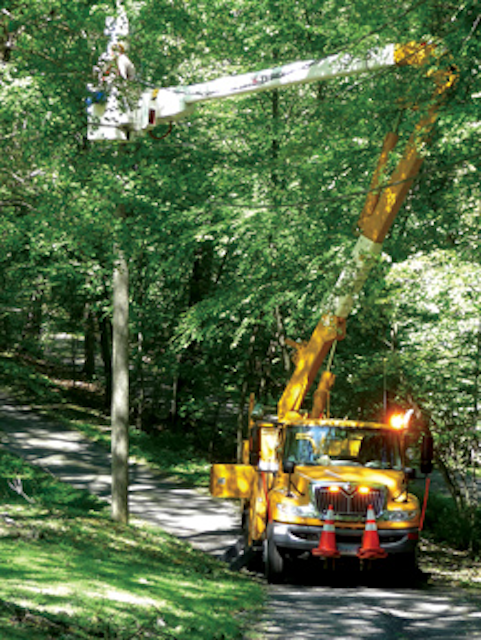 A job briefing session is a way to keep crews informed of jobsite conditions and expectations for the project. These sessions include information such as identification of potential hazards discovered during the site survey and discussion about what is required by the truck and crew to avoid these potential hazards. Every member of an on-site crew should know the location, function and operation of all the controls-including emergency and accessory operation.
"Once our site survey is done, the crew leader holds a job briefing to discuss all of the elements of the project," Christopherson said. "These meetings are held every day we're on site, and every crew member must attend. It is important that each and every team member understands what needs to be accomplished and what challenges are involved."
Terex customer Bill Hall, fleet administrator for Allete Corp., Minnesota Power Div. in Duluth, Minn., also requires a pre-work meeting with the crew.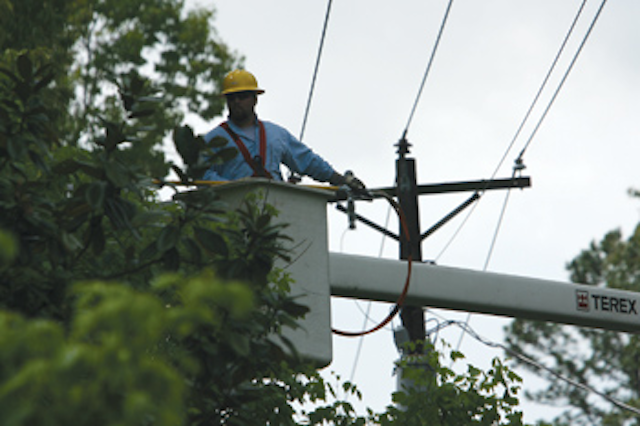 "We hold a tailgate session with our crews each day before we leave the warehouse," Hall said. "Many of our jobs are in areas with pre-existing infrastructure so we use these sessions to discuss where our trucks will be set up, traffic patterns, street closures, and potential obstacles or hazards, including energized power lines. Once our crews are on site, the senior person on the team will make final decisions based on site conditions."
"In addition to a jobsite briefing, you and your crew also need to conduct a visual inspection of the truck-oil, fuel, tires, suspension, torsion bars, outriggers and safety equipment-for any leaks, loose items, cracks or damage before work begins," Olson said. "This should include raising and lowering the booms through a complete cycle using the lower controls, looking for any malfunction or problems.
"When multiple operators use the same truck, no one operator can assume that he or she knows the condition the truck was left in by the previous user, which further emphasizes the need for pre-flight visual inspection and cycling. You should never operate a bucket truck that is damaged or malfunctioning.
"Once your truck is ready to work, it's important to make sure your crew is properly equipped for the project. Operators must wear an Occupational Health and Safety Administration- (OSHA-) compliant fall protection system with a lanyard attached to the aerial device anchorage, at all times, in case they are ejected from the bucket during work.
"You must also make sure crew members are wearing personal protective gear, including an insulated hard hat, hearing and eye protection, proper boots and suitable clothing for the weather conditions while working," Olson said.
"When your crew is ready, it is time to prepare the site for operation; follow established protocol for traffic control, setting up road cones or barricades and signs to divert traffic away from the work area. It is the crews' responsibility to know and implement proper set-up procedures once the site conditions have been assessed," Christopherson said.
"Understanding the big picture of how the task, locale, equipment and people must interact safely and efficiently on the worksite is one of the biggest challenges on any utility project because there are multiple variables that crews must assess and manage," Hall said. "One of the biggest challenges for utility crews on any jobsite is being exposed to traffic. Line personnel need to take traffic control efforts seriously-there should signs before and after the work area to catch the attention of drivers you're sharing the road with."
"If you determine during the site survey and set-up that the jobsite is not safe, you should not operate in the area until you can make it safe for your crews, your equipment and the community," Olson said.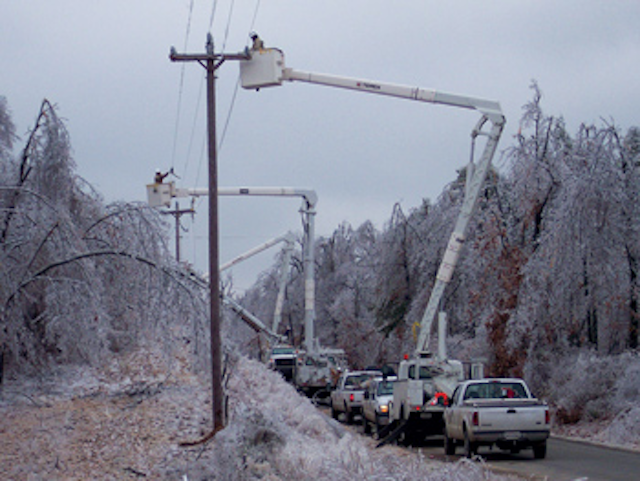 It is important to always clear the area of bystanders and miscellaneous obstacles and jobsite debris, including downed power lines and fallen tree limbs, which can become energized when touching a live power line.
Operation
As work begins, operating tips are offered to be safe and productive throughout the project.
"When operating the boom, operate in smooth, gradual movements-avoid abrupt starts, stops and reversal of direction," Olson said. "Always be aware of your boom's trajectory before you begin operating. Never operate the boom in a position where it can be exposed to the path of open traffic lanes.
"Aerial devices are only designed to lift personnel; do not use them to lift or lower objects unless the aerial device was specifically designed and equipped to do so. Once the bucket is raised and the boom is in motion, do not adjust outriggers. In addition, you should never move the vehicle while personnel are in the bucket.
"Operators must always stand with both feet on the floor of the bucket-do not sit or climb onto the edge, or use planks, ladders or other devices to gain additional work height. To protect your entire crew from falling debris or objects, it is important to keep ground personnel out from under the aerial device work area.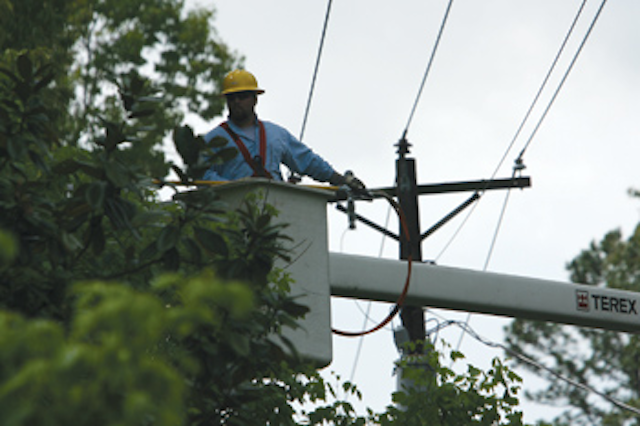 "Make sure no part of your bucket truck, including the boom and platform, come into contact with fixed objects such as trees, buildings or utility poles. Always maintain proper minimum approach distance from energized power lines. Your bucket truck cannot protect you from phase-to-phase or phase-to-ground contact, which means you need to allow for sag, sway or rocking as you are positioning and operating your aerial device.
"Never place booms, buckets or personnel closer to energized electric power lines than the applicable minimum approach distance for the nominal voltage of the energized electric power lines on the site.
"If any part of the boom touches an energized object, it should be considered energized. If any part of the boom contacts a grounded object, it should be considered grounded.
"If you become aware of any dangerous condition, unusual operation or unusual sound while operating your bucket truck, stop all movements immediately. Do not move the truck until the problem has been diagnosed and resolved-your safety is priority. No matter how long it may take to get help, it's critical to the safety of the operators and bystanders to resolve the situation using good judgment and common sense," Olson said.
Post-operation
When the project is complete, it is important to follow these safe practices to protect trucks and crews. Lower the boom to securely fit in the boom rest, locking it into place with the hold down system to prevent bouncing during transport. Never travel with personnel, tools or any objects in the platform or with the boom raised. Stow and secure all tools, gear and loose items in the truck to prevent falling onto the roadway. Before leaving the jobsite, fully retract the outriggers and disengage the power take-off unit. And, when back at the shop, inspect, maintain, clean and repair the bucket truck according to manufacturer's guidelines.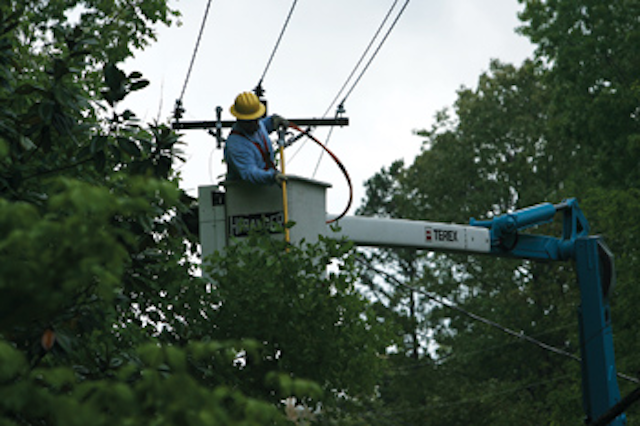 Training
To effectively and efficiently use a bucket truck, OSHA standards require that every operator must be qualified to operate the machine. Bucket truck manufacturers such as Terex are required to provide operator's manuals with each truck, but it's the responsibility of the employer to ensure each individual operator is properly trained and qualified to operate the aerial device in the expected working environment.
"Bucket trucks are designed to lift you and your tools to an aerial worksite," Olson said. "The best way to keep you safe and your truck productive is to familiarize yourself with the manufacturer's operator's manual and commit to following all of its safety guidelines and requirements."
---
About the author: Amber Reed is with Signature Style, West Des Moines, Iowa. About Terex: To supplement in-house training programs, Terex offers "The Edge" online training courses (http://www.terexutilities.com/en/service-support/training/operator-safety-training/index.htm), based on information outlined in the operator's manual, which can be accessed any time, from any computer.
More Utility Products Current Issue Articles
More Utility Products Archives Issue Articles