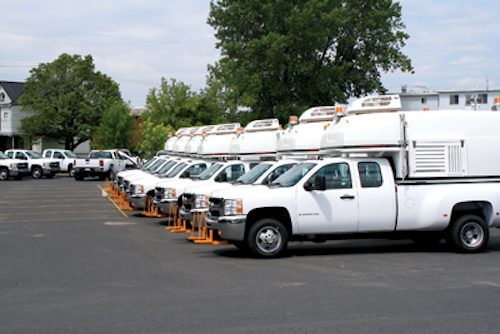 By Jim Blayne
The utility truck is one of the most valuable resources for today's electric and telecommunications fleets, serving as a mobile toolbox that hauls everything from electrical wiring, hammers and nails to personal protective equipment (PPE) and other equipment. Traveling thousands of miles a year, these utility vehicles take the hit and many last less than one life cycle. As the cost of doing business continues to increase, fleet managers are making smarter decisions when it comes to their operations.
"The value of an idea lies in the using of it," Thomas A. Edison said.
Utility companies have discovered valuable alternatives to steel utility bodies to increase vehicle lifespan and maximize useable cargo space.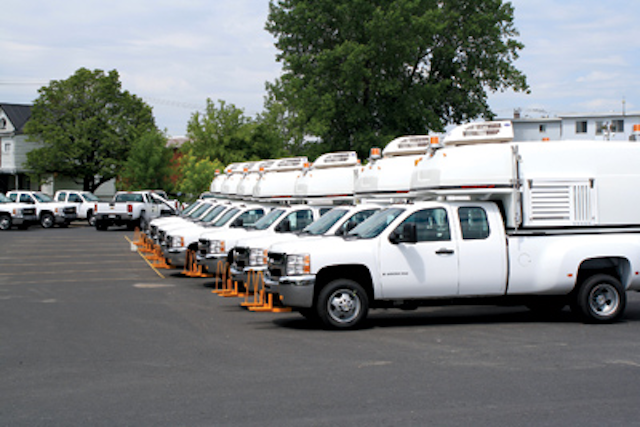 One such alternative is using a versatile truck cap on light- or medium-duty pickups. A.R.E. has manufactured customized caps for a variety of trade industries since 1979 and recently began exclusively distributing the SpaceKap product to delivery, maintenance and telecommunications fleets across the country.
Manufactured by Canadian-based Fibrocap Inc., the SpaceKap is an alternative to commercial vans and utility truck bodies because it is a self-contained mobile unit constructed of double-sided fiberglass walls that is bed specific, rather than truck specific. This feature allows the SpaceKap to be easily moved from one pickup to the next, whether that truck is a Chevrolet, Ford or Dodge. While a utility body might be worn out after one life cycle, units like the SpaceKap can last after a pickup wears out. For instance, a large East Coast energy company bought more than 100 SpaceKaps from A.R.E. seven years ago, and all 100 are still in service today looking factory new. As long as the truck bed is the same size, the fleet managers continue to save money on the product by cycling it through their new trucks. And using its tie-down system, the SpaceKap can be easily removed and re-installed in a matter of minutes.
An additional benefit of the cap-and-pickup option over a utility body is four-wheel drive capability. Most utility vans today don't automatically come equipped with four-wheel drive, and adding that feature can be an expensive option. A pickup outfitted with the SpaceKap is a good solution for companies that regularly work in off-road conditions or have package delivery routes in hilly, rural areas.
Featuring a lightweight, double-sided fiberglass body, the SpaceKap offers durability and versatility to the end user. It is insulated to avoid condensation and has a reinforced floor, stainless steel hardware and twin-entry doors. The cap can be customized with optional doors, windows, interior shelves, dome lights, ladder racks and is built to spec for most compact, mid-size and full-size pickups on the road today.
A.R.E. even offers specific interior packages with custom shelving and storage options developed for individual industries. For example, electrical repair companies can order the Electrician's Package to receive a SpaceKap that is designed to meet their job performance demands. Whatever the needs are, the service bodies can be customized to meet the requirements of the utility fleet.
And because A.R.E. works closely with upfitters to provide fleet managers with turnkey solutions, the SpaceKaps are ready to go into the field when delivered-with no downtime or extra installation costs.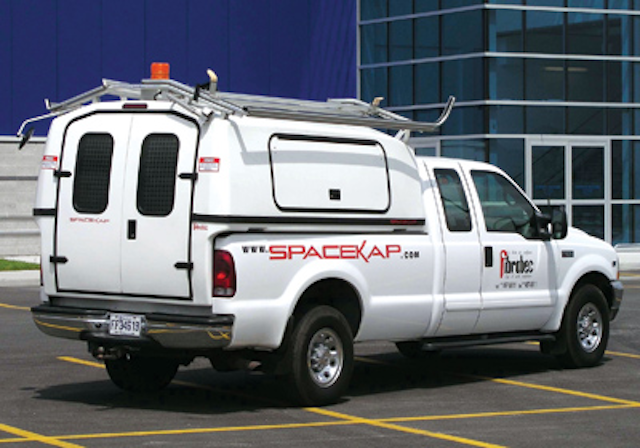 There are a variety of SpaceKap models available to suit utilities' needs:
• SpaceKap Classic is the toolbox for everyone from general contractors to large fleet operators, easily capable of replacing vans as an effective service truck. It is available in two lengths to fit both 6 1/2-foot and 8-foot beds.
• SpaceKap Max is a mobile workshop offering maximum volume for the electrical, construction and plumbing industries, among others.
• SpaceKap Kool is a refrigerated unit featuring double-wall insulation. Depending on the customer's needs, the SpaceKap's refrigeration device can be replaced with a heat unit to maintain a warm interior.
• SpaceKap Plus, the most versatile cap in the lineup, is available in both 6-foot and 8-foot lengths and allows users to stand fully upright in the unit.
• SpaceKap Somager is a small truck solution designed to fit all domestic and import pickups.
The SpaceKap product gives utility companies the lifecycle they expect out of their vehicles. A.R.E. sells the unit directly to large, nationwide fleets; makes it available through its network of more than 500 authorized dealers; or offers it through upfitters on a ship-through basis so it's readily available. A.R.E. can help fleet managers customize a utility vehicle solution that will prepare them for future opportunities.
---
About the author: Jim Blayne is the commercial fleet division manager for leading truck cap and tonneau cover manufacturer A.R.E. He has spent more than 18 years helping his customers outfit their fleets and respond to the changing demands of the industry. To learn more about A.R.E. visit www.4are.com.
More Utility Products Current Issue Articles
More Utility Products Archives Issue Articles