Company Reduces Tire Expenses by $380,000 Over Five Years
Savings comes from choosing the right tires for specific applications.
May 1st, 2012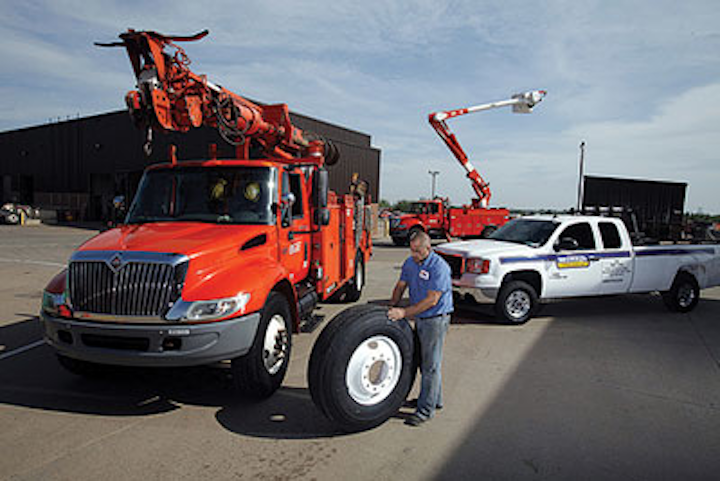 Savings comes from choosing the right tires for specific applications.
To perform most installation jobs, linemen know you need the right tools. The same is true when equipping service trucks with tires. When Herb Kramer became fleet and maintenance operations supervisor at OG&E, formerly known as Oklahoma Gas & Electric, the regulated electric utility company's fleet-then consisting of 700 trailers and 1,300 power units-had off-road tires mounted on trucks that spent a majority of the time on the highway.
"That's just one example of how the wrong choice of tire contributed to costs for OG&E that were off the grid," Kramer said.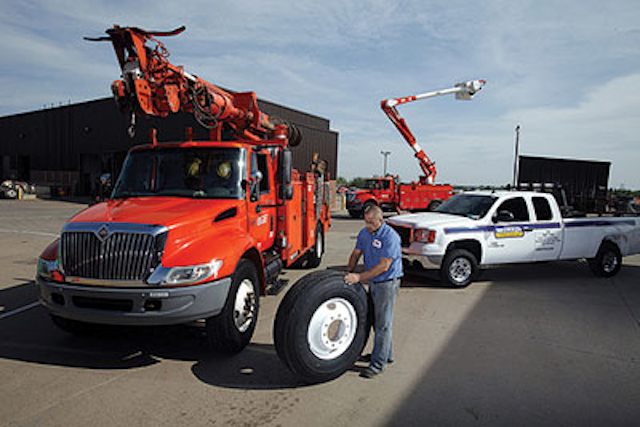 Of the 1,900 power units the company now has, some 840 are medium-duty to heavy-duty models and the rest are light-duty models (1-ton or less).
"We've always had a strong concern for running a safe and cost-efficient operation," Kramer said. "That's why we looked more closely at how we managed our tire program. What we found was that we didn't have standard tire specifications, and we didn't have set guidelines for tire pressures to get the most tread life out of our tires.
"While tires were inspected, there wasn't a regular regimen and set guidelines established. So, tire pressures varied-sometimes tires were slightly underinflated or overinflated, and that led to problems with premature wear.
"When we work on our company's electrical distribution systems, we all know the importance of measurement, consistency and having the right tools for the job. We needed to do the same with tires."
Kramer began by tracking the performance of existing tires and then, with the help of Goodyear and the local Goodyear dealer, T&W Tire, he looked at different tires that could meet the needs of the utility. Kramer chose his best drivers and equipped their trucks with new tires so he could evaluate their performance without having external factors affect the results. Kramer tracked the tires' performance using his own spreadsheets.
At the same time, Kramer established regular tire monitoring protocols, which included routine tire inspections and pressure checks by the company's maintenance personnel and drivers, as well as T&W Tire technicians.
Eventually, Kramer settled on a standard set of tire specifications based on what tires worked best for specific jobs. As a result of standardizing its tire choices and establishing regular tire monitoring, OG&E has reduced its overall tire expenses by $380,000 in five years. More than two-thirds of that number came from reducing the wear rates on its tires.
The company, for example, equips off-road light-duty trucks-mostly 1/2-ton, 3/4-ton and 1-ton Chevrolets with pick-up and cab chassis-with Goodyear's Wrangler SilentArmor ProGrade Technology. With the Wrangler SilentArmor tire, the company gets twice the number of miles from the tire's original tread than it did before it adopted the new tires. Before the Wrangler SilentArmor tire, OG&E got an average of 18,000 to 25,000 miles on the tires' original treads before they had to be replaced because of the rough, muddy and rocky conditions.
"The company now gets up to 50,000 miles on the original treads before the tires are replaced," Kramer said.
For those light-duty units that travel mostly on-highways, the company uses Goodyear's Fortera SilentArmor tires, which feature a less-aggressive tread than the Wrangler SilentArmor. By choosing a tire standard appropriate to specific applications, the company can rotate tires, which improves tire life and lowers overall costs.
Another issue Goodyear helped Kramer resolve: Tires on light-duty line trucks and bucket trucks that service construction sites were particularly susceptible to failures because of punctures. That can translate into roadside service costs to as much as $200 to $250 per incident, which doesn't include the cost associated with lost productivity.
To help reduce the issues associated with tire punctures, OG&E began equipping the steer positions on eight units with the Goodyear G287 HSS with DuraSeal Technology. DuraSeal Technology is a gel-like, solvent-free compound built into the inner liner of the tire. It can instantly and consistently seal punctures up to 1/4-inch in the tread area without the need to repair the tire until it is retreaded. This allows drivers to continue operating after a tire is punctured. It does not, however, seal sidewall punctures.
"During the trial period, we had absolutely zero problems because of punctures," Kramer said. "Before we started using the DuraSeal tires, we could expect as many as three vehicles to require roadside service as a result of tire punctures in that same time period."
Now the company uses the Goodyear G287 HSS tires on all tire positions on those eight units. On the commercial truck or medium-duty and heavy-duty truck tire side, OG&E uses the Goodyear G287, Goodyear G647 and the Goodyear G661 in sizes 225/70R19.5, 11R22.5, 12R22.5 and 11R24.5.
On the steer position, the company uses the Goodyear G287 HSS, an all-position tire with a high-mileage tread compound and a casing that offers enhanced toughness for loads up to 10,200 pounds at 130 psi. It has penetration protectors to help resist stone drilling for retreadability. The company also uses the Goodyear Unisteel G647 RSS and is now starting to use Goodyear's new G661 HSA, which replaces two other Goodyear steer tires. The G661, with a 22/32-inch tread depth, offers a scrub-resistant tread. It also features multi-compound construction, which helps extend life when used in local applications that require frequent turning, backing and braking. And, it has TredLock Technology with interlocking microgrooves to help stabilize the tread for long tread life and enhanced durability.
On the drive position, OG&E employs the Goodyear G182 RSD, the Goodyear G622 RSD and the Goodyear Unisteel G177, a lug tire with a 32/32-inch tread depth, a tread design for high traction and a compound for severe off-road conditions.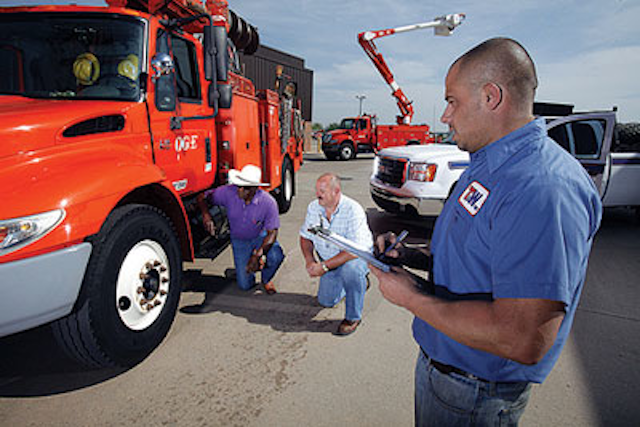 For its low-boy trailers, which carry equipment such as road tractors and skidders to off-road sites, OG&E uses the Goodyear Unisteel G104 RST in size 255/70 R22.5. The G104 features sidewall wear indicators to help give early wear warning from excessive scrubbing.
"We don't use one standard all-position, steer or drive tire throughout our fleet because our trucks operate in such varied conditions," Kramer said. "The trucks that run in more rural areas are generally heavier duty and require tires with more aggressive tread patterns and heavier load ratings.
"Since the all-position Goodyear G287 HSS offers a greater tread volume for enhanced mileage, for example, it's a tire that's more appropriate for those units that operate in construction sites.
"The type of tire and tread pattern we use really depends on the conditions the trucks are likely to encounter. We find that using the right tire for the right application helps us reduce costs."
For economical and environmental reasons, OG&E has T&W Tire retread heavy-duty truck tires using the Goodyear precure method. Before it standardized the size of tires it runs, however, the company was specifying new heavy-duty trucks with size 12R22.5 tires on the steer position and 11R22.5 tires on the drive position. So, the company couldn't retread the steer tires for use on the drive position. Now that Kramer uses the same tire size all around, the company can re-use the steer tire casings by having them retreaded for the drive position.
"Retreading not only aids our standardization and environmental stewardship efforts, but it also helps in our efforts to reduce life cycle costs associated with tires," Kramer said. "We've relied heavily on Goodyear and T&W Tire to help us with our tire program-from choosing the right tread patterns to establishing a process for on-site inspections and a regular schedule for tire replacement."
---
OG&E
OG&E, with headquarters in Oklahoma City, is a regulated electric utility company with 782,000 customers and generating capacity of 6,600 megawatts at nine power plants and three wind farms. Some 60 percent of the power the electric company generates comes from coal-fired plants, 38 percent from natural gas-fired plants and 2 percent from wind farms.
Its service territory covers 30,000 square miles in Oklahoma and western Arkansas. The company operates a fleet of 1,900 trucks and some 700 trailers. The fleet operation services the company's electrical transmission and distribution facilities and its natural gas transmission lines.
Since the company's trucks do much off-road work servicing transmission lines, pipelines and remote facilities, the utility company needs an off-road tire that can handle the terrain and changing ground conditions. The company trucks, however, can also be called on to help other utilities when there are disasters. The tires must be prepared to handle various road conditions when they travel hundreds of miles from the company's service territory in Oklahoma and western Arkansas. In 2005, for example, the company helped Louisiana utilities cope with the aftermath of Hurricane Katrina.
OGE's light trucks range in size from 1/2-ton and 3/4-ton, mostly Chevrolets, with pick-up and cab chassis up to 1-ton. The light trucks are for meter reading, field technician work, fleet maintenance and substation operations.
The company's medium-duty trucks are all Internationals-Models 4300, 4400, 5600 and 7400. They are used for technician work and are equipped with buckets and diggers.
The company's heavy-duty trucks are a mix of International, Peterbilt and Kenworth models.
More Utility Products Current Issue Articles
More Utility Products Archives Issue Articles