Global Positioning System Tracking Leads to Greener Company Fleet Operations
Your organization can be more environmentally responsible with global positioning system fleet tracking.
Mar 1st, 2012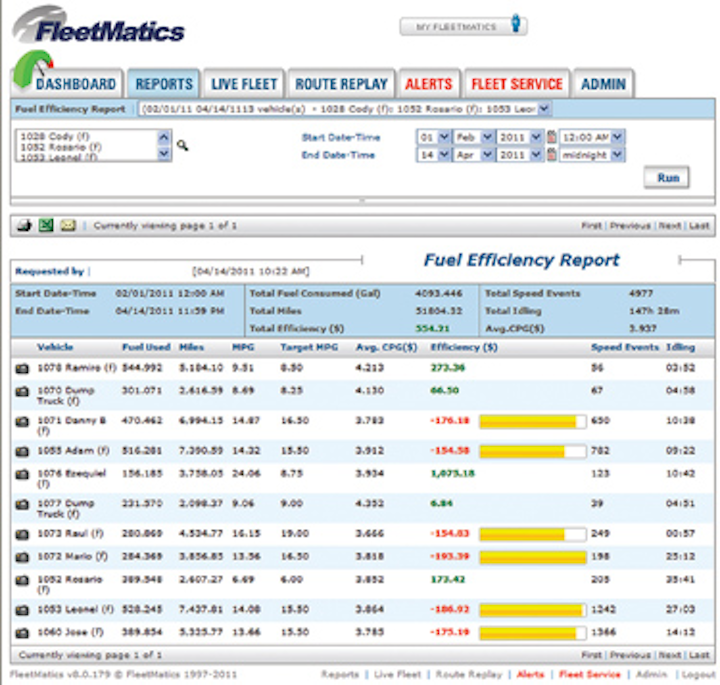 Your organization can be more environmentally responsible with global positioning system fleet tracking.
By Ward Whipple
With ongoing concerns about depleting oil resources and the environmental impact of vehicles that rely on them, there has been continuous pressure for fleet-based organizations to "go green." Fortunately for these organizations, the simple step of reducing fuel consumption can go a long way when trying to achieve green status. And, in these economically challenging times, many are doing just that.
Regardless of one's opinion on the relationship between carbon emissions and climate change, legislative pressure and the demands of their communities are requiring businesses to reduce their carbon footprints. Note that the word used here is "reduce"-it might be a long time before carbon emissions can be completely eliminated.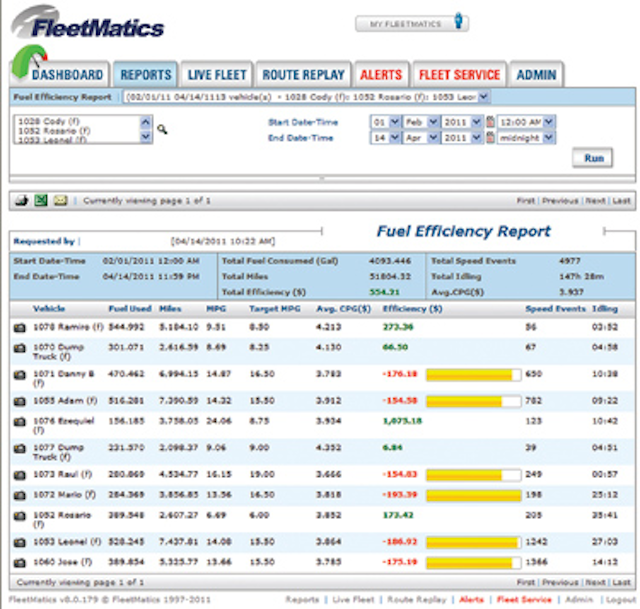 Green initiatives have been economically advantageous for the organizations that implement them. By streamlining operations and reducing redundancies, fleet-based businesses generally have lower costs, which go hand in hand with lower emissions.
Global positioning system (GPS) fleet tracking is one such solution that can have widespread effects throughout an organization, resulting in a solid green rating. Available in a variety of software platforms from many vendors, GPS fleet tracking allows the user to monitor the location of all vehicles in a fleet in real time, 24 hours a day, further providing key management tools to improve overall efficiencies.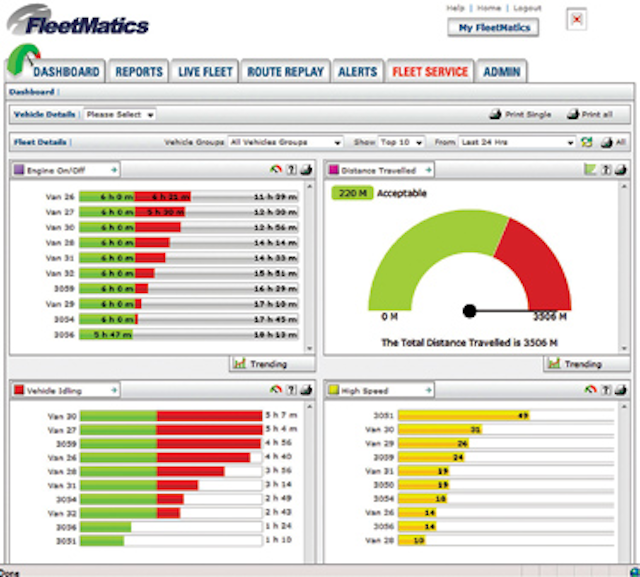 Most GPS fleet tracking systems are integrated with a mapping solution, such as Google Maps, to provide advanced route planning and in-depth location data including live traffic updates. By using this information, dispatchers and drivers can find the shortest route to a given destination. Reducing the distance traveled and time spent doing so can improve performance and reduce mileage, which leads to reduced fuel consumption and expenditures-saving companies thousands of dollars per vehicle over time and reducing carbon emissions. In addition, a more efficient fleet can boost customer satisfaction.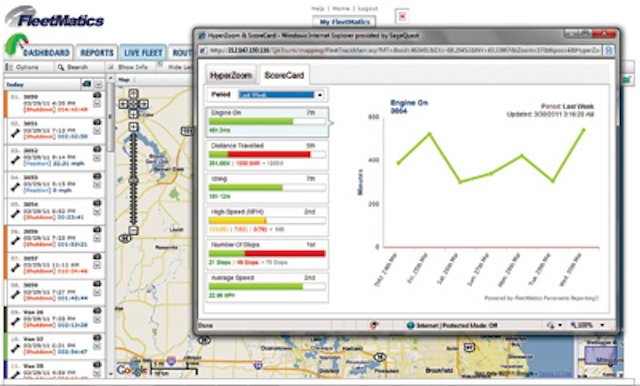 A GPS tracking solution puts the dispatcher in the passenger seat with each fleet vehicle, keeping them in constant contact to provide accurate work orders and up-to-the-minute scheduling changes. Many solutions integrate with Garmin navigation software to further help streamline dispatching and communications. In addition to turn-by-turn directions and messaging capabilities, every driver in a fleet can automatically have his or her jobs for the day clearly flagged on the Garmin unit. Not having to manually enter addresses to job sites while driving saves time and is much safer for the driver. Saving time leads to lower fuel consumption and a greener operation.
The key to any fleet-based organization's efficiency is the drivers. GPS fleet tracking makes it easy for the home office to monitor, manage and correct the behavior of its workers on the road. While time is often of the essence for any job, excessive speeding does not save money. According to the United States Department of Energy (DOE), gas mileage decreases at speeds above 60 mph, and every 5 mph driven over 60 mph is equivalent to paying an additional $0.24 per gallon for gas. When applied to several fleet vehicles, those costs can add up.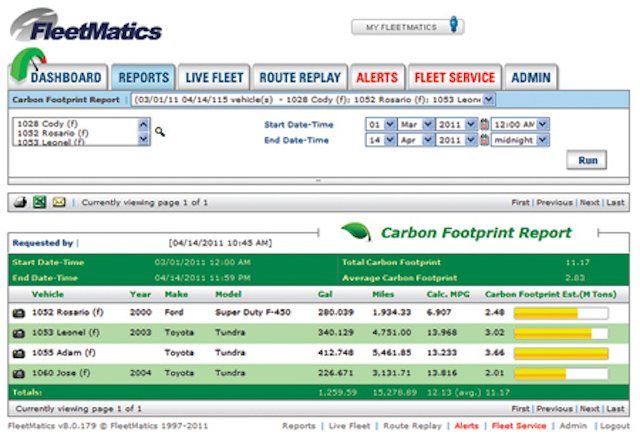 Most GPS fleet tracking solutions can provide up-to-the-minute information on how fast a fleet's vehicles are traveling. Some even include alerting capabilities so that the user is immediately notified when a vehicle exceeds a set speed threshold, enabling the user to rectify the driver's behavior. Similarly, excessive idling can also lead to wasteful fuel consumption. Whether a vehicle is idling because the driver is stopped in traffic or keeping it running for "climate control," it costs money and increases unnecessary emissions-which is why a GPS tracking solution can help a company pinpoint abuses, curb irresponsible behavior, and have increased efficiency and reduced costs.
There are other ways GPS fleet tracking can boost an organization's bottom line besides the fuel category. By providing reporting capabilities, maintenance schedules can be easier managed for all fleet vehicles, ensuring each is operating at peak performance. Vehicles that receive regular maintenance run more efficiently and use less fuel than neglected vehicles; regular service increases the life expectancy of a vehicle and reduces the chances of it breaking down, which causes additional delays and expenses. By setting alerts for each vehicle's maintenance schedule, aspects such as motor oil life, tire pressure, engine fault codes and emissions control system status can be better monitored-reducing unnecessary strain on a fleet as a whole.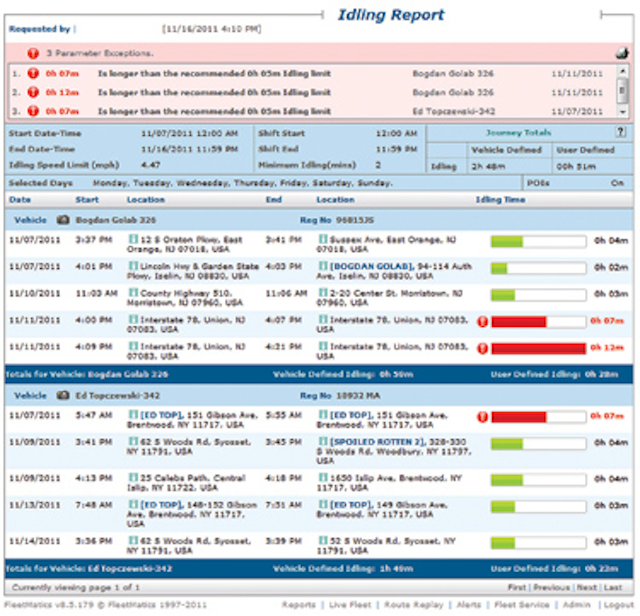 Many GPS fleet tracking systems also function as electronic time sheets, streamlining processes in the office and reducing paper consumption. And, because more businesses are required to submit reports of fleet activity for insurance or legal purposes, these reports can be easily and electronically submitted, which also helps conserve paper.
While going green isn't the prime motivation to implement a GPS fleet tracking system, many businesses find that simply being more efficient and reducing costs helps them across the board. The question for any organization that has yet to implement GPS fleet tracking is not "why," but "when"- especially considering the cost benefits.
---
About FleetMatics: FleetMatics is a provider of fleet management solutions for small and medium-sized businesses delivered as software-as-a-service (SaaS). The company's solutions offer real-time insight into vehicle activity that reduces operational costs and improves customer service. FleetMatics now serves over 14,000 customers, has installed more than 200,000 vehicles worldwide and is adding thousands of vehicles monthly. Its SaaS and mobile application gives businesses anytime access to real-time data about their business. For more information please visit www.fleetmatics.com.
More Utility Products Current Issue Articles
More Utility Products Archives Issue Articles