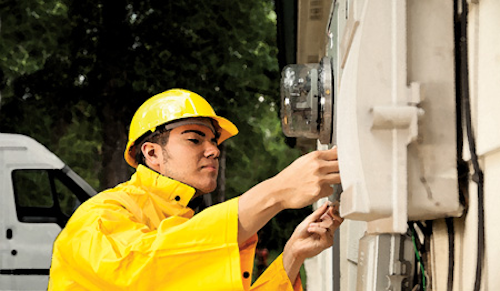 It's not difficult, but let's do it right.
By Paul Hull
Installing new meters for customers may be the closest physical communication a utility has with its customers-business or residential. This has been especially true in recent years when many innovations that improve service have been dependent on having the appropriate meters. Many residential customers are unaware of their meters; some don't even know where they are. Today's customers won't see someone walking across their yard-or see those footprints in the snow-to take down numbers because it's done from a distance. It is still imperative that utilities notify customers of meter changes and when those changes will occur. In addition, customers should be notified how the meters will be changed.
A simple but informative business meters note has been published by Southern California Edison (SCE). This note refers to interval meters-equipment that, in some states, may be mandated for certain customers in the interest of saving energy.
"SCE's 'Interval Meter Installation and Maintenance Package' includes everything from removing your old meter to calibrating your new meter," the utility states. "We'll even replace the device if it stops working. Let SCE take care of your interval metering so you have more time to take care of your customers. SCE does more than just provide electricity. We also give you peace of mind."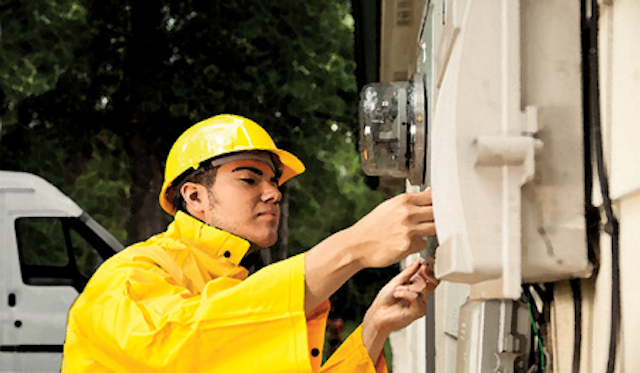 SCE also describes what the new meter will mean for the business owner. SCE provides a final meter reading of the existing meter; removes that meter; installs a new meter; and tests, calibrates and verifies operation of the new meter. The utility tells you what to expect and tells you how and when it will be done.
Another customer communication I liked during my research was from First Utility in the UK. The company replaces existing gas and electricity meters with a new smart meter, and it tells customers how it will be accomplished. First, the utility engineers arrive on the preset date-the customer will need to be home. For electricity, the power will be turned off, and that takes some 30 minutes. For gas installation, the process can take up to an hour; the gas supply will need to be turned off and the system purged. When the utility engineers have installed the new meter, the gas and electric supply is turned back on. It is straightforward and a schedule the customer can understand. First Utility also answers questions such as: Can I change the installation date? Are there reasons why the utility may not be able to fit a smart meter to my home? Will I have to pay to have a smart meter installed? Can I still take a reading from my smart meter? Is the smart meter compatible with other energy suppliers? How frequently will you read my smart meter? You can see from the questions what the average residential customer wants to know about meter changes. And, you probably have simple answers for the simple questions, which will enhance your standing with customers and community if you are helpful and practical in the service you offer.
Pacific Gas and Electric Co. (PG&E) in California also provides smart meter installation information. The utility lets the customer know when the meter at their home or businesses is scheduled for upgrade. In other words, the utility doesn't suddenly appear and expect the customer to be ready. Being ready means the customer will provide clear and safe access to the meter, with dogs and other pets kept inside or away from the meter. The customer is advised to unplug sensitive equipment. On the installation day, PG&E or its authorized representative-a trained and experienced company such as Wellington Energy-will upgrade the gas and electric meters. For security, the utility's trucks are clearly identified, as are the vehicles and personnel of the authorized representatives. They will knock on the customer's door before the installation work begins. If no one is home, a note will be left when the installation is complete. PG&E also emphasizes that customers should notify the utility before the installation if there is life support or other sensitive medical equipment at the residence.
All installations are to be done in daylight hours, and upgrading to a smart meter does not require interruption to the PG&E gas service. For the electric upgrade, five minutes of interruption may be needed. Equipment such as computers and televisions should be unplugged, and the customer may have to reset digital clocks and some appliances. When done by trained experts, meter installation should be easily completed with no problems for the utility or customer-but it is important that everyone knows what to expect.
Both Sides of the Installation
Meter installation should be efficient and safe for both parties. The customer expects a reliable meter and reliable workmanship in its installation. With equal right, the utility can expect safe access to the work area. Technicians and office personnel can also expect customer complaints about "those new-fangled meters," demanding to know why they are needed and how dangerous are they to people like me?
The legal side of meter installation must be carefully researched and prepared- whether you are a multi-million-customer utility or one of the many smaller utilities nationwide. It is not reasonable to expect installation technicians to be legal experts in any arguments with customers. All arguments should be handled by the appropriate utility personnel. People resist change, which could include replacing their meters that have probably never gone wrong. Some customers have the attitude that if it isn't broken, don't fix it. One of the most interesting observations about criticism from those who noticed their utility bill was higher after the installation of a new meter was that the higher rate could indicate that, for years, the previous meter was not charging enough because it was inaccurate. I have seen no report on how many people who underpaid their electricity bills are willing to pay the miscalculated difference. Again, meter installers are not the people to become involved in legal or similar arguments.
It has probably been less than five years since smart meters were noticed in North America, but their growth rate is quickly accelerating. There have been millions of replacements in cities and rural communities, and the meters have proven to be well made. Among the leading manufacturers are Elster, Echelon, Landis+Gyr, Sensus, Echelon and GE. Installers are unlikely to have problems with the installation. There have been innovations in other industries where new equipment installers have been frustrated and embarrassed by product problems-but this isn't the case with new electric meters.
It's not just replacing one meter with another; newer meters can provide more information for the utility and the customer, and it's accurate. One difference between the old, never-went-wrong, now-forgotten electric meter and the newer, smarter meters is that the newer ones will need service, maintenance or management after installation. The challenge for a utility is to use the amount of information generated for many purposes, one of which is billing. The new meters will need to be managed because the information they provide must be wisely used. One company that does this is Siemens; it provides solutions whether your investment in the smarter meters is emphasized in the meter-to-cash processes to support customer choice or in the improvement of your customer services. Siemens Program Management will provide a complete turnkey solution and services that include meter installation, advanced metering infrastructure (AMI)/master data management (MDM) deployment, and systems integration. As new meters are installed, we must know what they can do and how we can make them do it.
---
Correction
Utility Products inadvertently ran a picture of Brooks Utility Products' socket tester on page 49 of the July/August issue. Below is the product description with the correct photo.
A new, low-profile adapter-the SurgeGuard-is for installation at the meter socket to provide "whole house" protection.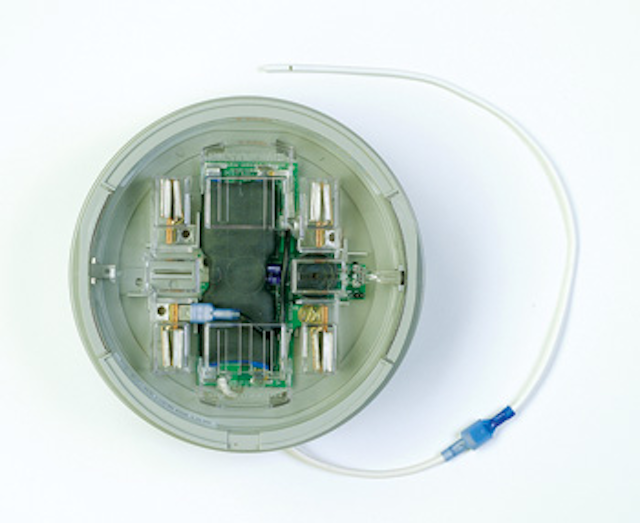 Working in tandem with stand-alone plug strips, the SurgeGuard absorbs large surges that plug strips cannot handle, offering added surge protection.
Because customers see the instant advantage of this product, utilities can offer it as an added feature and charge a small, additional monthly fee for this protection. After a few months, the fee for this service will pay for the SurgeGuard, and these fees then become additional, continuing utility revenue.
Installation is fast and easy. And, because it has been tested by the National Electric Energy Testing Research and Applications Center (NEETRAC), it can be confidently installed. In addition, it comes with a 15-year warranty and is designed to perform through any disaster.
More Utility Products Current Issue Articles
More Utility Products Archives Issue Articles