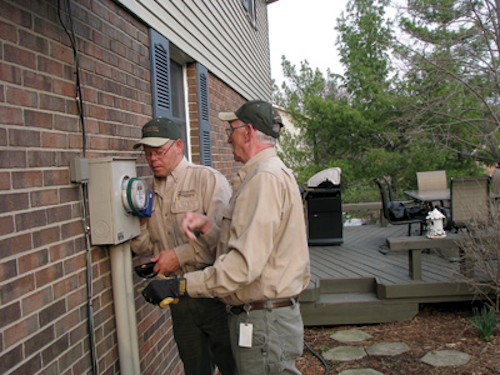 Co-op was ready for a system upgrade when it committed to advanced metering infrastructure and sought a future-proof technology for its terrain.
By Donald Book
In the southwest corner of Indiana, Dubois Rural Electric Cooperative (REC) services more than 13,000 accounts in Crawford and Dubois Counties, as well as parts of Pike, Perry, Orange and Martin counties. The service territory of more than 1,000 square miles is some 1.5 hours in any direction from major population centers, but it serves an average of eight customers per mile of its total 1,622 miles of line.
Dubois REC members had read analog meters since the co-op was formed in 1939. There were obvious drawbacks to this type of service, and, with newer advanced meter infrastructure (AMI) technology, the organization concluded at a 2008 strategic planning meeting that its current system had reached its limit. Members had also changed over the years and were ready for automated reading and faster outage restoration. Engineering staff began evaluating AMI options soon after, looking mainly at power line carrier (PLC) and wireless mesh fixed technologies.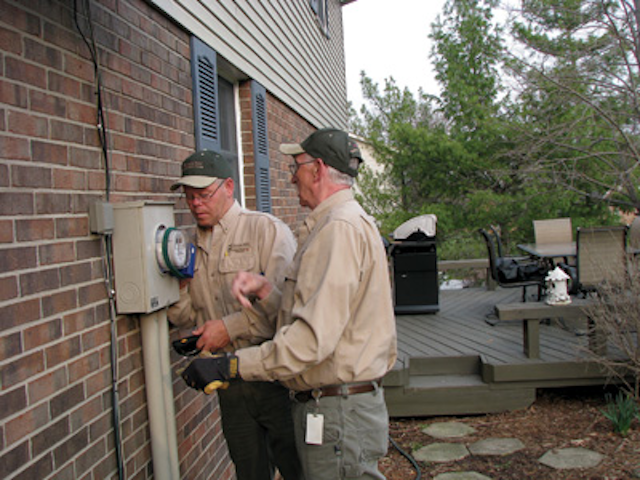 A primary consideration in an AMI system is cost per endpoint-but, having the option for distribution automation and metering on the same network, wanting "last gasp" messages in an outage management scheme and the full lifecycle costs of installation and maintenance are also strong factors.
Another consideration for Dubois REC was geography. Unlike the northern third of the state, southern Indiana has wooded terrain with changes in elevation. About half of Dubois REC's territory is covered by forest, with some one-third in the 202,000 acre Hoosier National Forest; that and the state's limestone formations-35 of 50 state capitol buildings are built with Indiana limestone-pose challenges in a utility network design.
At first, PLC systems appeared to be the winning option for Dubois REC because it could leverage existing assets already in place. In addition, the co-op found wireless mesh daunting because of the large amount of necessary network hardware. PLC is cost effective, particularly for long distances in challenging terrain. Dubois REC had a verbal agreement with a PLC vendor until it found information about the FlexNet communications system from Sensus.
The point/multi-point network topology broadcasting over a secure 900-MHz signal offered value with less hardware than mesh, open compatibility with enterprise systems, multiple applications on a single network and future expansion capabilities. When compared to PLC technology, the tower-based licensed spectrum technology was a better choice.
Despite the advantages, PLC networks have to push signals through transformers and other distribution devices, so bandwidth (frequency) has to be kept low-making it a self-limiting communications technology. The longer data transmit time from the lower throughput creates higher latency, limiting interface with distribution automation (DA) devices.
In the end, what mattered most to Dubois REC was getting accurate meter readings and knowing if the point/mutlipoint technology performed as advertised. Could it trust Sensus to give it the necessary support every step of the way? Those unanswered questions were a concern for management because other vendors had been in Indiana and the co-op space longer than Sensus.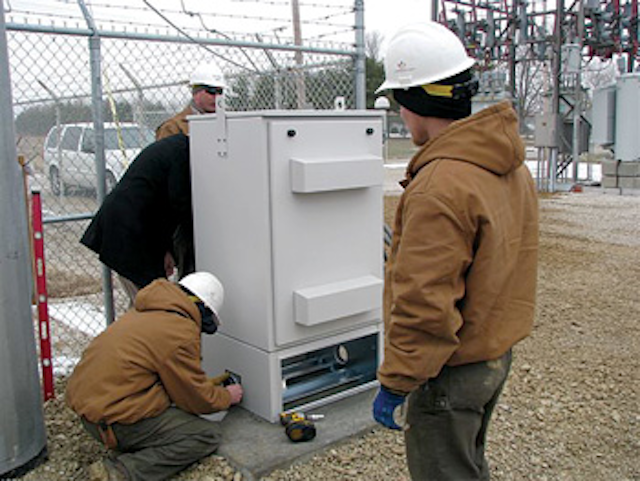 Dubois REC searched for other co-ops that had adopted fixed licensed spectrum AMI and found Sawnee EMC in Georgia, serving what had mostly been rural communities north of Atlanta until population growth caused it to become part of the region's metropolitan sprawl. Reports from Sawnee EMC were encouraging.
The point/multipoint topology requires fewer assets (receivers) compared to mesh. Because licensed devices can transmit more power, they have a significant signal advantage, sometimes up to hundreds of updates per hour with a central collector. This is a significant advantage for DA applications. The noise in licensed bands is almost nonexistent, which improves the reliable range of licensed band for smart grid devices.
Going Wireless
Dubois REC announced the decision to implement the Sensus FlexNet wireless network and iCon digital meters at its 2010 annual meeting. Articles were written for the member newsletter to explain why the current meter system had to be replaced and how the new system would work. Letters with smart meter information were mailed to members in specific areas before any of the 29-member technician staff came on premises to switch out meters.
It was also a good time to have members enroll in online bill payment to further automate the billing process. Feedback was important to Dubois REC, so correspondence included a member survey, asking what future services and programs-such as demand management-they thought would be useful.
Physical installation of the network infrastructure and meters has been straightforward since the project began in 2010. At first there were growing pains as staff became comfortable with the handheld provisioning equipment. Installation since then has been smooth and is on target for completion in 2012.
Meters are programmed and provisioned at each premises. A photograph of the old analog meter is taken before it is switched out to avoid billing disputes. Barcodes on the new meter are scanned into the handheld provisioning tool, longitude and latitude are automatically input into the meter, and it's then tested for signal continuity. Each installer can do some 35 per day, and eventually there will be 13,000 intelligent endpoints deployed.
Dubois REC installed a server to manage the network and data at its central office in Jasper, Ind. Six monopole antennae and six network base stations provide signal coverage for the entire service area.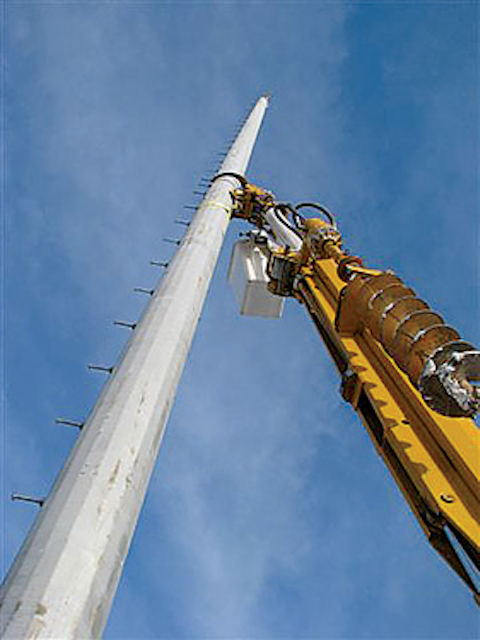 Industry Standards Smooth Integration
The benefit of having two-way communication between the new digital meters and central office enterprise system was immediate. The AMI system has an industry standard MultiSpeak interface to a National Information Solutions Cooperative (NISC) customer information system. Meter data is true and accurate, leading to few billing complaints. This capability has shown its value in billing on the many cabins and rental properties located in and around the national forest that don't have year-round residents. Labor costs and bill collection issues are reduced because Dubois REC can turn service on and off to these remote areas without truck rolls.
Events are usually reported in one minute or less. This makes a difference in power restoration because the AMI also is feeding data to the NISC outage management system with outage notifications.
Future Expansion Possibilities
The Dubois REC AMI system has continued improving as customer billing data is fully-integrated and it has had several billing cycles. Of 10,500 meters installed in just over a year, only some six meters proved difficult to read. This error rate is acceptable, and there are planned measures to make the system better. What's true is that maintaining six antennae is simpler than the 100 plus receivers a mesh system would have required.
Dubois REC expects to have a geospatial information system (GIS) in place by the last quarter of 2012 for digital representation of assets on a map. A decision was made to wait on GIS and mapping system purchases until all meters were installed, but global positioning system (GPS) coordinates are input during each replacement. DA applications will be in place when the company is ready to consider remote sensors compatible with the wireless infrastructure. Plans also call for demand side programs to manage peak loads, starting with an automated signal directly from the towers to a sensor on customers' water heaters.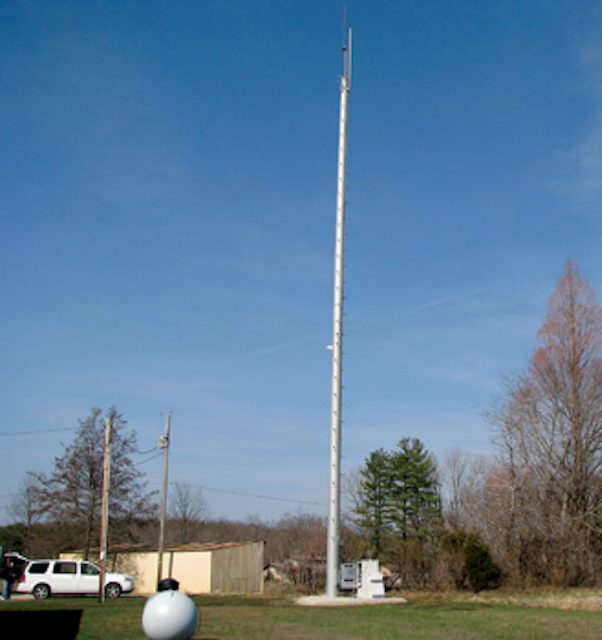 Beyond integration with enterprise systems, the AMI also will be helpful in direct customer engagement. Once the order management system (OMS) is fully vetted for reliability, there are plans for pushing outage notifications to affected customers through automated text messaging. In addition, prepaid service is on the horizon to provide even more value to rental and vacation property owners.
Most important to Dubois REC is having a positive customer response since the new system's implementation. Other than an elongated billing cycle that raised some bills during the transition, there have been few complaints. Most customers are happy they don't have to read their own meters each month and that they have power restored before they can pick up the phone to report outages. Although PLC systems are a popular choice for many co-ops, wireless proved to be a cost-effective technology for Dubois REC.
---
About the author: Donald Book is the CEO and general manager for Dubois REC Inc. in Jasper, Ind. He has served as the general manager of the cooperative for 22 years. Book has amassed more than three decades of experience in the utility industry and, more specifically, at electric cooperatives in Indiana, Ohio and Illinois.
More Utility Products Current Issue Articles
More Utility Products Archives Issue Articles