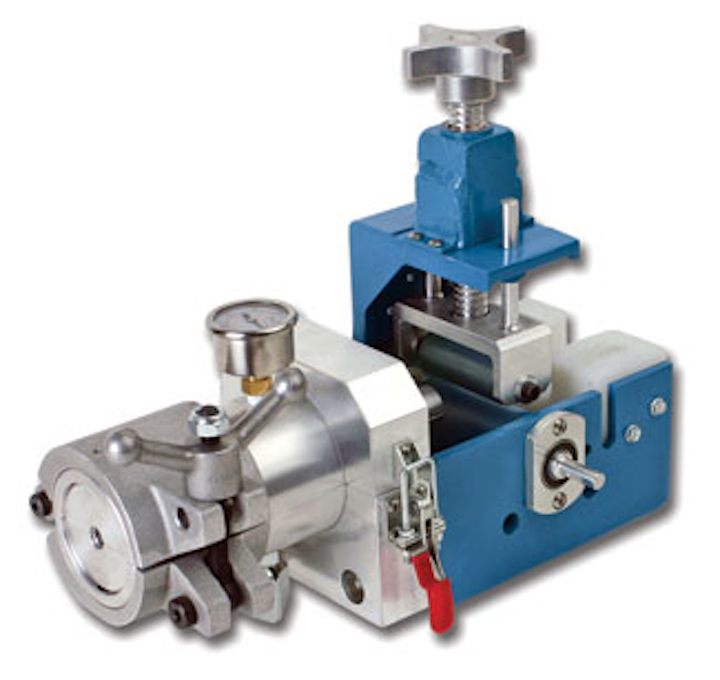 Optimize Demand Response Workflow and Asset Management With FieldScout App
Eaton's Cooper Power Systems division has introduced the FieldScout mobile application (app). Providing demand response (DR) service providers and utilities a secure, cloud-based platform to manage residential and commercial control technologies, FieldScout delivers intelligent device data management and commissioning functionality, as well as advanced workflow efficiencies. Using any Android mobile platform device including mobile phones, tablets or handheld PCs, the app allows authorized users to securely obtain, verify and analyze operational information from DR devices that is pertinent to program performance.
FieldScout communicates with installed DR devices including the company's array of advanced load control switches to optimize installation and data capture. The automatic, secure data storage and sharing functionalities of the new app also improve troubleshooting processes and reduce response time to customer inquiries.
Key benefits of the app include its comprehensive measurement, quick scanning and unlimited device storing capabilities. With secure authentication and customizable fields, FieldScout allows the utility to tailor the product's use to their unique needs. The application's back-end management tool is also customizable, offering program managers the capability to control device access, manage data acquisition and aggregate data from the field automatically in near real time.
For the best viewing experience, the mobile device should run on an Android operating system 2.2 or higher (4.0 or higher recommended) and the back-end system should be accessed through a modern browser, such as Google Chrome, Firefox 15 or higher, or Internet Explorer 8 or higher.
Eaton, Cooper Power Systems
CIRCLE 108 ON READER SERVICE CARD
---
New APS75 Underground Puller
Condux International recently introduced the APS75 Hydraulic Underground Cable Puller. The APS75 provides up to 7,500 lbs. of continuous pulling power to tackle a comprehensive range of pulling applications. Designed for installing underground cable, the APS75 is completely self-contained and transports easily from jobsite to jobsite.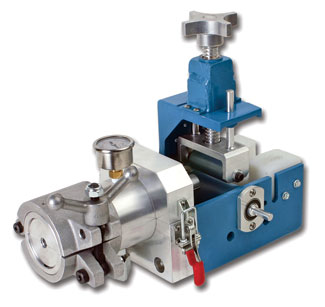 The new digital readout allows the operator to view pulling forces, distance pulled, tension limiter and hydraulic pressure readings. Pulling operations can be recorded and downloaded through a convenient USB port. With other standard features including anti-twist rope, rotating pulling arm and wired remote control, the APS75 is cited to be one of the most advanced pulling systems available. The APS75 is precision manufactured to the highest standards. Each puller is backed with years of underground cable pulling experience and a commitment to quality customer service.
Condux International
CIRCLE 106 ON READER SERVICE CARD
---
PT-E300 Handheld Labeling Tool
Brother Mobile Solutions Inc. (BMS), a wholly-owned subsidiary of Brother International Corp. and provider of products for the mobile workforce, has introduced its PT-E300 labeling system. The product signifies a new generation of industrial handheld labeling tools designed to meet the diverse needs of contractors and IT professionals in the telecom / datacom, electrical, outside plant, security and audio visual industries.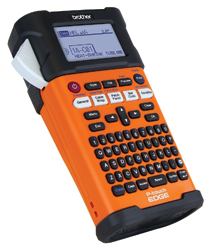 As the latest member of the Brother P-touch EDGE line of industrial handheld labeling tools, the PT-E300 was designed from the ground up to incorporate smart features and a high degree of flexibility and versatility to accommodate any labeling application. In addition, its QWERTY-style keyboard and intuitive navigation make it easy to use in creating legible, long-lasting professional labels with just a few keystrokes. And, to accompany the PT-E300, Brother introduces the new HSe Tube heat shrink media in black text on white format in sizes designed to easily mark cables from 1.7 mm to 10.6 mm in diameter (only for PT-E300, will not work in other models).
Brother Mobile Solutions Inc. (BMS)
CIRCLE 109 ON READER SERVICE CARD
---
Vehicle Tracking Device Extends Capabilities Beyond Vehicle Tracking
NexTraq, a GPS fleet tracking and asset management company, announces the availability of its hardware offering, the VT-2400 series. Going beyond vehicle tracking, these devices include technology that monitors aggressive and dangerous driving behaviors such as harsh braking, cornering and jack rabbit starts. In addition, NexTraq offers a Tamper Shield to cover device cables to prevent tampering and ensure an accurate reading.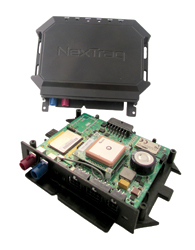 NexTraq's latest vehicle tracking device tracks in one-minute intervals and comes with a built-in accelerometer that lets business owners and fleet managers proactively monitor driver behavior and gain a thorough understanding of how their drivers are using their vehicles. NexTraq's associated Driver Safety Scorecard Report can show the results of these "events" for further driver coaching.
NexTraq
CIRCLE 107 ON READER SERVICE CARD
---
NightRay 2 Spotlight System With New TwinRay Controller
KH Industries has released the NightRay 2 Spotlight System, which includes the new wireless TwinRay Controller. The NightRay 2 and TwinRay controller are exclusive to KH Industries and cited to be the first vehicle-mounted lighting system to offer a single wireless remote controller to independently operate two spotlights. With the TwinRay controller's A/B switch, users can toggle between two NightRay Spotlights to create a wide area beam pattern or multi-directional lighting.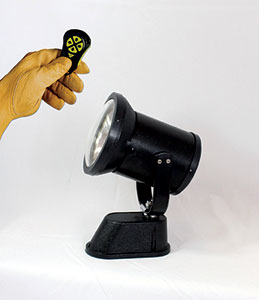 The NightRay Spotlight was designed specifically for the rigors of the utility industry. When it's just you and the darkness, your spotlight needs to be dependable in any situation. NightRay continuously proves itself in any environment, making KH Industries' power linemen the biggest advocates of the NightRay evolution.
Features on the NightRay 2 Lighting System include:
• New TwinRay Controller will operate one or two NightRay Spotlights;
• Easy in field programming when adding an additional NightRay Spotlight;
• Exclusive A/B switch toggles control between two lights to customize beam pattern or to create multi-directional lighting;
• TwinRay controller is ergonomically designed for easy gloved-hand operation;
• Available for dual-filament, halogen and HID NightRay models; and
• Easy plug and play installation on NightRay 2 with TwinRay hardwired joystick.
KH Industries
CIRCLE 110 ON READER SERVICE CARD
---
PRX Series Proximity Voltage Detectors
HD Electric Company's PRX Proximity Voltage Detectors are non-contact detectors with voltage ranges from 120V to 500 kV. When voltage is detected, the PRX gives an audible and visual indication with a typical detection distance of 10 inches.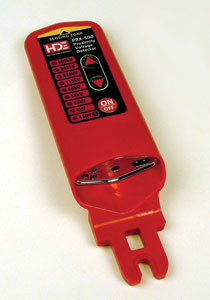 The PRX has the ability to detect voltage on most elbow test points at the 120V setting. With a rechargeable internal battery, the PRX can be charged quickly from 12 Vdc automotive outlets or from 115-240 Vac.
HD Electric Co.
CIRCLE 111 ON READER SERVICE CARD
---
Caps and Tonneau Covers Available for 2014 Chevrolet Silverado and GMC Sierra
A.R.E is now offering its LSII Series, CX Series, V Series, Overland Series and Deluxe Commercial Units (DCUs) for the 2014 Chevrolet Silverado and GMC Sierra with 6.5-foot and 5.7-foot beds.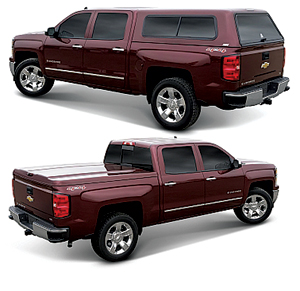 With an EcoTec3 5.3L V-8 engine, Chevrolet and GMC report that the 2014 Silverado and Sierra exceed the highest of standards with re-engineered performance and get an estimated 23 mpg highway.
Truck owners can take full advantage of the 2014 Silverado and Sierra by having an A.R.E. truck cap or tonneau cover installed to get the most use out of their vehicle, it's reported. The versatility of the products enhances the trucks capability to be more functional for work and activities by protecting gear and providing additional storage space. In addition, there are options available to upgrade each series with a variety of window designs, rear doors, roof and ladder racks, as well as other accessories.
A.R.E truck caps are painted to match the owner's truck using the exact OEM paint code for a premium appearance. Caps and their painted finishes are backed with a limited lifetime warranty for the life of the pickup truck they are originally installed on.
A.R.E.
CIRCLE 112 ON READER SERVICE CARD
---
Tuff-Rod Poles Reduce Time of Running Cables in Hard To Access Spaces
Tuff-Rod push/pull poles from IDEAL simplify the task of running cables above ceilings, down walls, under raised floors, or through hard to access voids and cavities. Flexible yet strong, the poles can be used with a variety of cable and wire types, including speaker and telephone wire, twisted pair data cables, fiber, thermostat, coax and general electrical cables to greatly reduce time on the job.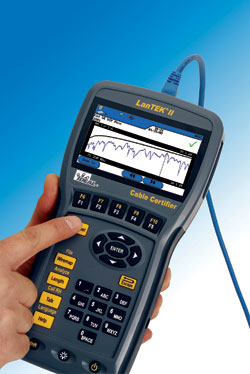 Made of non-conductive fiberglass rods to protect the installer from electrical shock, IDEAL Tuff-Rods are designed to be threaded together to achieve a maximum length of 30 feet, allowing the installer to create custom rods for longer cable runs.
Three attachment-ends extend the rod's versatility. The J Hook attachment aids in re-positioning wires and re-directing cables, while the Bullet tip is for pushing the rods through wall cavities, under floorboards and similar tight spaces. The Wisp head is specifically designed for working over the top of suspended ceilings where the large head enables the rod to be pushed over the grid work ridges without getting stuck.
IDEAL Industries Inc.
CIRCLE 114 ON READER SERVICE CARD
---
Battery Analyzer is Versatile
The Battery Analyzer from CTEK provides a testing solution for technicians to quickly test and diagnose all types of 12V lead-acid batteries including wet, maintenance free, Ca/Ca, Gel and AGM.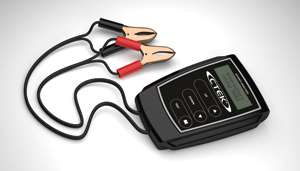 With the CTEK Battery Analyzer you can quickly get to the source of battery problems in any vehicle. Connecting and testing is easy, with no need to disconnect or remove the battery from the vehicle prior to testing. Simply connect the battery clamps to the charging posts on the battery, select the battery type and press the test button. The Battery Analyzer displays an easy-to-understand battery diagnosis, which suggests a next course of action to remedy the issue or if the battery needs to be replaced.
The CTEK Battery Analyzer lets technicians ensure all vehicles they service have a battery that is in good working order before it causes an unexpected problem. The patented technology incorporated into the CTEK Battery Analyzer protects both the user and the vehicle's electronics from sparks, short circuits and reverse-polarity connections.
CTEK
CIRCLE 115 ON READER SERVICE CARD
---
Grundodrill 4X Directional Drill
The compact Grundodrill 4X directional drill from TT Technologies is designed for residential service, small diameter main installations, last mile operations and gas pipeline applications-offering 9,800 lbs. of thrust and pullback. Using the compact drill is less intrusive and very useful for areas where larger units are not an option.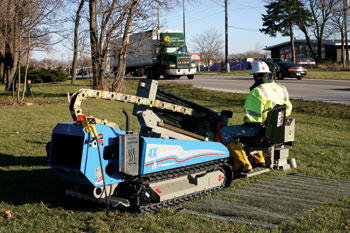 The drill features a dual hydrostatic pump system and a four-auger stake down system that provides greater stability. The Grundodrill 4X also comes with the Smart Vice system that performs vice cycling operations automatically.
TT Technologies Inc.
CIRCLE 113 ON READER SERVICE CARD
---
IEC 61850 Protocol Capability for Shark 200 Power Meter
Electro Industries/GaugeTech (EIG) announces that its Shark 200 multifunction power and energy meter now offers IEC 61850 protocol capability through its new INP300S Network card.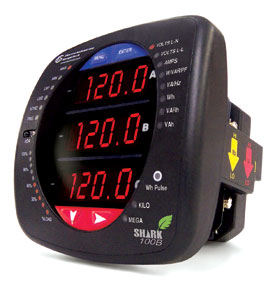 The international IEC 61850 standards were developed to allow networking of utility substation equipment from multiple vendors for power management and control. The Shark 200 with the IEC 61850 implementation allows the power meter to provide integral power information for smart substation solutions.
Additional features of the Shark 200 meter's IEC 61850 Network card include:
• Support for Modbus and IEC 61850 protocols simultaneously,
• Support for five simultaneous MMS clients,
• Configurable for multiple logical nodes, and
• Provides buffered and unbuffered reporting.
Electro Industries/GaugeTech (EIG)
CIRCLE 116 ON READER SERVICE CARD
---
MM500 Auto Ranging Multimeter
Klein Tools introduces its MM500 Auto Ranging Multimeter in response to increasing requests from professionals for meters that stand up to real world environments. The MM500 Auto Ranging Multimeter is an easy-to-use tool for verifying or troubleshooting electrical circuits safely and reliably. With a totally sealed IP67 dust and waterproof rated case, 10-ft. drop protection and one of the highest safety ratings-CAT IV (600V)-the MM500 is more durable than the average meter in the field today.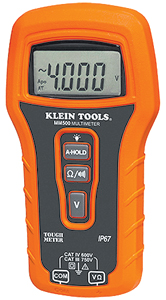 The MM500 Auto Ranging Multimeter measures up to 750 volts ac and dc, resistance and continuity. It has a user-friendly, three-button functionality, detects ac or dc voltage automatically, and includes both visual and audible continuity indicators. Self-storing leads are spaced for quick measurements of tamperproof outlets. In addition, Auto-Hold automatically locks readings on the display when measuring in hard to access areas.
Other MM500 features include a 4,000 count LCD display, low battery indicator and auto-power off. By design, the meter uses easy-to-find AAA batteries and includes a battery door with captive screws to eliminate lost fasteners.
Klein Tools
CIRCLE 117 ON READER SERVICE CARD
---
G3 Tugger Cable Puller Saves Time and Money With Every Pull
The Greenlee G3 Tugger Cable Puller has a 25 percent stronger continuous pull load, pulls cable 20 percent faster, and sets up three times quicker than any other light cable puller. It's the latest in the Greenlee line of pulling products.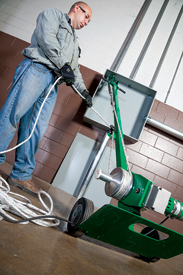 The G3 Tugger comes with a motor specifically designed to pull cable. A circuit breaker is also included, which protects the motor against excessive amperage draw from high loads.
Quick disconnect pins allow users to change tail length, pull direction and angle of pulls with ease-allowing up to three times faster setup than competitive pullers. The unit also attaches to a truck hitch for outdoor pulls.
The G3 Tugger pulls continuous loads up to 1,200 pounds and can pull up to 1,000 pounds at high speeds-25 percent stronger and 20 percent faster than the leading competitor. The unit is also UL and cUL rated for pulls up to 2,000 pounds (intermittent). With no load, it pulls at 97 feet-per-minute (high speed) and 41 feet-per-minute (low speed).
The G3 Tugger is also designed to attach to a trailer hitch for outdoor pulls. A right-angle sheave also places operators safely out of the direct line of cable pulls.
Greenlee
CIRCLE 118 ON READER SERVICE CARD
---
Jackson Safety Nemesis Polarized Eyewear With Extended Protection Lens
Kimberly-Clark Professional introduces new and improved Jackson Safety Nemesis Polarized Safety Eyewear. The safety glasses offer extended protection in a polarized lens, reducing eye fatigue as well as providing superior peripheral vision and side protection through a sleek, wraparound design.
A specialty lens minimizes the oriented light that causes glare, allowing the wearer to see fine details and deep colors without eyestrain, eye stress or fatigue. It does so without compromising or sacrificing clarity, performance or durability. The glasses are comfortable enough for all-day use.
The product is for construction, utilities and more when workers are performing tasks outside. Jackson Safety Nemesis Polarized Safety Eyewear also features:
• A new adjustable nose piece to deliver a comfortable non-slip fit;
• A sporty, lightweight design; and
• 99.9 percent UV protection.
Jackson Safety Nemesis Polarized Safety Eyewear exceeds ANSI Z87.1-2010 standards and has high-quality polarization alignment and superior anti-scratch performance to meet the EN1836 4.1.4.2 and EN166 7.3.1 standards.
Kimberly-Clark Professional
CIRCLE 119 ON READER SERVICE CARD