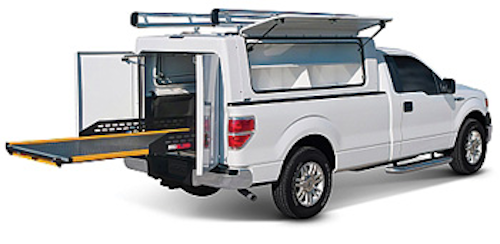 Site Commander Truck Cap Available for 2009-2013 Ford F-150 Long Bed Trucks
The A.R.E. Site Commander truck cap is now available for 2009-2013 Ford F-150 Long Bed trucks. A.R.E. designed the Site Commander commercial cap for professionals who require functionality, organization and a high-quality appearance in their truck fleets. Made from fiberglass construction to deliver a lightweight yet durable truck cap, the Site Commander provides increased storage to fleets and features a reinforced roof capable of accommodating most brands of commercial ladder racks.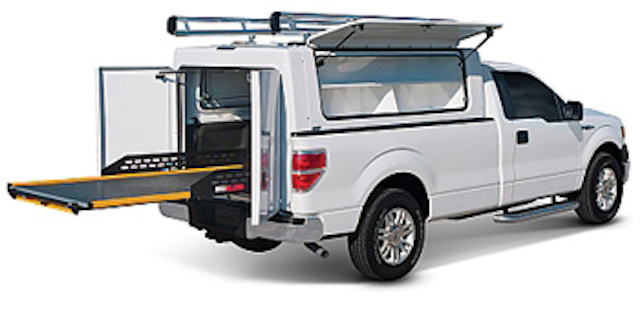 The Site Commander's wide-opening rear doors are designed to improve efficiency, allowing for easy loading and unloading of full-size plywood and drywall. And, the addition of a BEDSLIDE sliding cargo tray allows for quick access to the entire truck bed.
Manufactured for quality and visual appeal, the Site Commander features a cored roof and doors for increased strength and stiffness. The front and rear sections of the truck cap are model specific to provide a more custom look.
A.R.E. paints the Site Commander to match a truck's OEM color code using a standard DuPont base coat/clear coat paint for a high-quality appearance. It comes with A.R.E.'s three-year warranty on materials and workmanship
A.R.E.
CIRCLE 110 ON READER SERVICE CARD
---
CCS-6 Coax Copper/Steel Cable Cutter
Platinum Tools announces the CCS-6 Cable Cutter (part # 10514) is now shipping. Designed for voice, data, video (VDV) and security installers, the CCS-6 is designed to cut copper cable with steel content without nicking, degrading or deforming the cutting blades. Fully tested to 10,000 cuts on RG6 CCS, copper clad steel center conductor with no degradation to the cutting blades, this compact cable cutter also easily cuts through copper and aluminum cable, it's reported.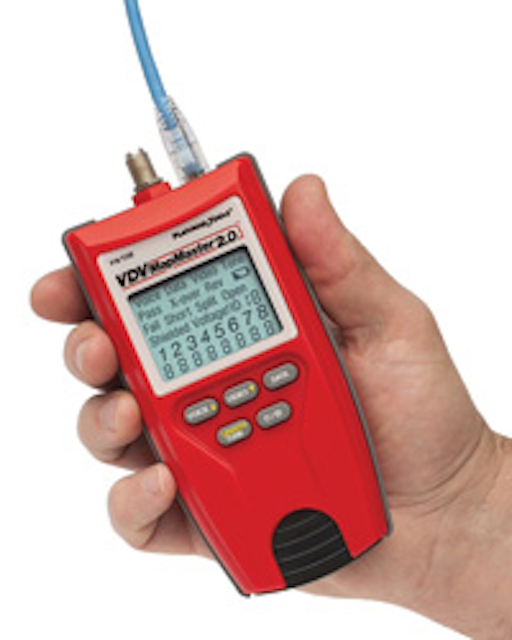 The Platinum Tools CCS-6 provides high cutting performance on all types of solid copper wire, twisted pair and coax cables. Its optimal blade geometry ensures the cable stays round during the cutting process so connectors are easy to affix to the cable.
Additional specs of the Platinum Tools CCS-6 Cable Cutter include:
• Comfortable PVC handle grips;
• Forged from SCM 440 steel;
• Rust resistant black oxide finish;
• Lightweight: 7.22 oz.;
• Length: 6.3 in.; and
• Technical data: Coax CCS, battery, coax, messenger, CAT5E UTP/STP, antenna, CAT6 UTP/STP, DBS, CAT6A UTP/STP, drop, shipboard and ground.
Platinum Tools
CIRCLE 112 ON READER SERVICE CARD
---
Vegetation Management Webcast
Laser Technology Inc. (LTI), a Colorado manufacturer of handheld measurement and mapping lasers, and Northern CA Power Agency are teaming up to co-host a vegetation management webcast June 28 at 10 a.m. (MST).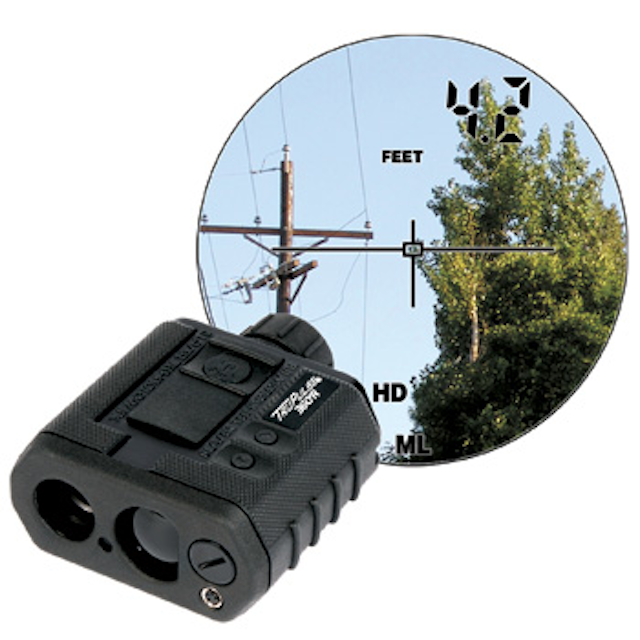 Webcast attendees will be able to hear first-hand how a technical supervisor and his team tackled their new right-of-way clearance requirements and faced other challenges with NERC FAC-003 compliance. Using LTI TruPulse 360 lasers, the field crews are taking safe and efficient ground measurements for their vegetation management program. The advantage is having the ability to acquire distance, height, span and clearance values directly to and from a conductor and any encroaching vegetation.
The 30-minute webcast will cover the basics of reflectorless laser-based measurements and how integrating TruVector compass technology makes a difference in producing repeatable and reliable span and clearance values. TruPulse 360 lasers are being used by electric utility professionals because users are finding the benefits more than pay for the device within the first couple of weeks of use. Northern CA Power Agency will also share details about its successful vegetation management program and will be available for questions from the attendees.
All webcast registrants will qualify for special discount pricing, and, if they attend live, they will be entered to win a Limited Edition LTI 25yr Anniversary Laser Rangefinder.
Laser Technology Inc. (LTI)
CIRCLE 113 ON READER SERVICE CARD
---
Docking Solution for Panasonic Toughpad G1 Tablets
The Havis Docking Station for the Panasonic Toughpad G1 is cited to bring you the best computing solution for all your business needs. Designed with versatility in mind, this docking station is compatible with every model of the Windows-based 10-inch tablet, with and without the optional handstrap. Havis mounting options allow for tablet docking and usage in nearly any work environment.
The DS-PAN-700 Series Docking Station offers tablet charging, security and connection to peripherals in in-vehicle, enterprise and medical workplaces. Maximize your productivity with this rugged yet lightweight dock-built with theft deterrence, longevity and stability in mind.
Havis
CIRCLE 111 ON READER SERVICE CARD
---
Digital FlexProbe Models 400D and 4000D
An ideal addition to the electrician's tool kit, the Digital FlexProbe models can be used for TRMS AC current measurements and are rated at 600V CAT IV. They provide a solution when accessing electrical conductors is difficult in tight places.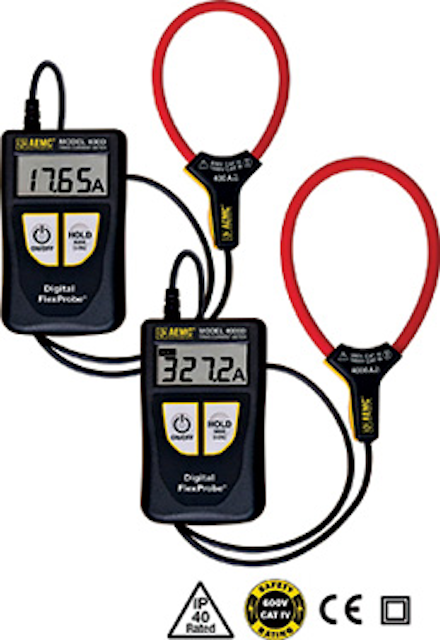 Three models are available: The Model 400D, available with either a 6-in. or 10-in. sensor, has a measurement range starting at 20 mA, and is designed for work in residential, commercial and light industrial applications. It can be used to check electrical distribution systems up to 400 Amps. The Model 4000D, available with a 14-in. sensor, has a measurement range starting at 100 mA and can be used on higher-power industrial installations, as well as electrical utilities for measurements up to 4000 Amps.
Although they are high-performance instruments, the Digital FlexProbe models remain simple to use: two buttons are all it takes to start the instrument, deactivate the auto power-off, HOLD the value on the display or store the maximum value (MAX HOLD). The values are read directly on the built-in 4000-count display.
They are ergonomically designed for comfortable handheld use-even when bulky gloves are required. The optional articulating, magnetic Multifix mounting system accessory makes it simple to hang on a wall, door, table edge or clip onto a belt.
AEMC
CIRCLE 114 ON READER SERVICE CARD
---
BICC Brand EmPowr Link+ Medium-voltage Cables
General Cable and Dow Electrical & Telecommunications have introduced BICC Brand EmPowr Link+, an enhanced tree-retardant cross-linked polyethylene (TRXLPE) insulated medium-voltage cable for reliability and asset management.
EmPowr Link+ underground medium-voltage cable offers longer service life and the potential for a lower total system cost, offering peace of mind now and for decades to come for consumers and utilities alike.
EmPowr Link+ uses DOW ENDURANCE HFDC-4202 EC insulation compound, which offers enhanced dielectric performance with improved water tree-retardant technology, and is coupled with advanced conductor and insulation shield technologies that help reduce electrical stress and enables easier accessory installation over a broader temperature range. These components, combined with material processing and cable manufacturing capabilities, deliver a medium-voltage cable proven to provide extended cable life over existing TRXLPE cables.
General Cable
Dow Electrical & Telecommunications
CIRCLE 115 ON READER SERVICE CARD
---
WorkWear Line now Available in UltraSoft AC Fabric
National Safety Apparel announces its new WorkWear line is now available in UltraSoft AC fabric, cited to be the most comfortable flame resistant (FR) material yet. The FR work garments were revamped in the second half of 2012 to be more comfortable, modern and customizable, and the new UltraSoft AC fabric is the latest variety to be added. Work shirts and coveralls are available in either 7 oz. medium blue or khaki, while coveralls and work pants are made with 9 oz. navy fabric.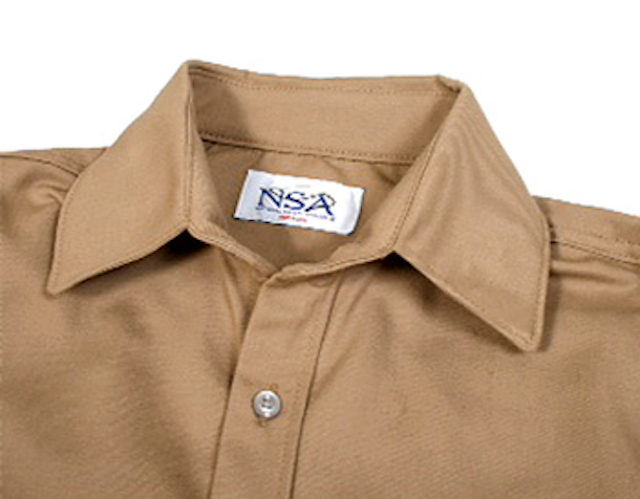 Each garment is offered with optional added features to best fit the needs of one's job. Work shirts are available with multiple pockets, pocket flaps and short sleeves. The work pants offer cargo pockets, FR hook-and-loop adjusters and additional knee reinforcement patches.
The enhanced softness of the material comes from its 88 percent Pima cotton and 12 percent high-tenacity nylon blend, resulting in an inherently flame resistant finished product.
National Safety Apparel
CIRCLE 116 ON READER SERVICE CARD
---
VarCom 2600 Communicating Capacitor Controls
HD Electric Company's VarCom 2600 Communicating Capacitor Controls provide remote control from central Volt-VAR, CVR, DMS or SCADA systems and can control capacitor banks using combinations of ambient temperature, time, voltage, current and kVAR. Based on existing field proven design, VarCom controls have an easy to use, field friendly control panel and work with any DNP 3.0 application. Communications can be provided from the HDE factory or added to any VarCom control in the field.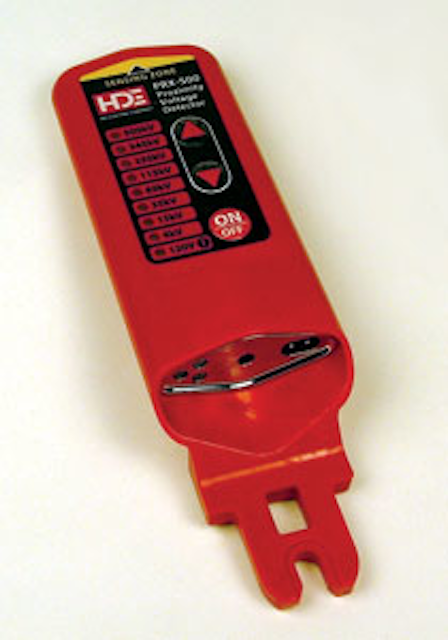 HD Electric has posted a recorded version of its capacitor control product presentation on its website. The presentation lasts 17 minutes and reviews the company's entire line of capacitor controls, features and options.
HD Electric Company
CIRCLE 117 ON READER SERVICE CARD
---
Hubbell Power Systems Announces Release of Storm Soldiers Documentary
Hubbell Power Systems Inc. (HPS) has announced its plan to debut Storm Soldiers, the documentary about the life and work of journeyman linemen. HPS partnered with Tytan Creates in 2011 to film and produce the movie that tells a heroic, true story of linemen with a focus on safety, family and brotherhood. The project commenced in the fall of 2011 during Hurricane Irene restoration efforts, wrapped in March 2013, and included hundreds of interviews.
The response from the lineman community has been overwhelming. Everyone the company has contacted has supported the project. Although the film contains over 90 percent new and original footage shot by the Tytan Creates crew, the film also includes contributions, including photos and film footage of lineman doing their jobs and heart-wrenching stories of love and loss. Hubbell Power Systems is proud to raise awareness about the importance of the work they do and grateful for the opportunity to bring their collective story to a national audience.
Throughout the process, HPS and Tytan Creates consulted with Mike Glueckert and Dustin Maier, Journeyman Linemen at Northwestern Energy to ensure technical accuracy. Glueckert, who was inducted to the National Lineman Museum's Hall of Fame in 2012, is a 30-year veteran lineman and highly respected among his peers. After reviewing the final edits, Glueckert said, "This film is long overdue. It will be watched by linemen and their families for the next 80 years."
In addition to the tour dates scheduled during the next 12 months, Storm Soldiers will be entered into several film festivals across the country on behalf of Tytan Creates and showcased at a variety of events specific to the power utility industry.
Hubbell Power Systems Inc.
CIRCLE 119 ON READER SERVICE CARD
---
Keyway-free Locking System Prevents Tampering, Contamination and Corrosion
Highfield Manufacturing Co., a producer of security systems for utilities, OEM and niche market applications, introduces a locking system that is cited to feature the industry's first barrel lock without a keyway. The system also includes a "tool-like" key design with an ergonomic, rugged handgrip to make installation and maintenance easy, quick and comfortable.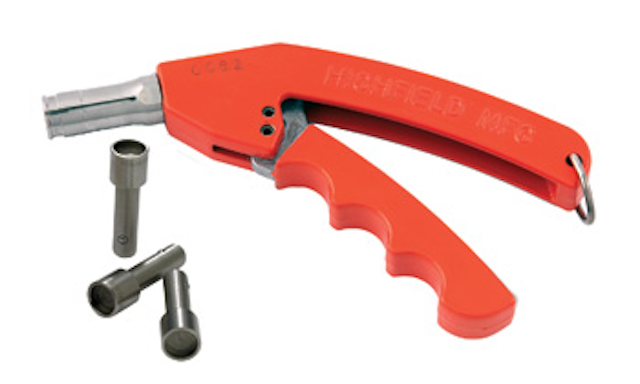 The Paladin Lock and Key System protects electric, gas and water utility meters with an added layer of protection against tampering and exposure to outdoor environments. The lock's solid surface prevents picking or jamming with sharp objects and keeps debris, bugs, water and contaminants from entering the lock. It also prevents corrosion of the internal locking mechanism.
Because the lock has no opening, it eliminates the weak spot that can cause the key to break and make traditional locks inoperable. For those utilities that need to replace their locks or repair their keys frequently because of damage caused by tampering and corrosion, the Paladin locking system provides a practical solution that can help stem the drain on budgets and resources.
The Paladin Lock and Key System incorporates a range of features that save money and keep operations productive and safe. The lock's stainless steel construction ensures resistance to corrosion.
Highfield Manufacturing Co.
CIRCLE 118 ON READER SERVICE CARD
---
Wire Stripper/Cutters Grip and Strip Multiple Wire Types in Single Motion
Klein Tools introduces two new wire stripper/cutters designed to quickly and efficiently cut and strip wire, saving time and effort. Klein Tools improved on its Katapult wire stripper by adding an exclusive built-in wire cutter. The new Katapult Wire Stripper/Cutter (Cat. No. 11063W) now strips and cuts 8-22 AWG wire. Precision-machined stripping holes easily remove up to 1 inch of insulation in a single step without damaging the wire. The tension loaded wire-grip gently holds the cable while retaining cable geometry.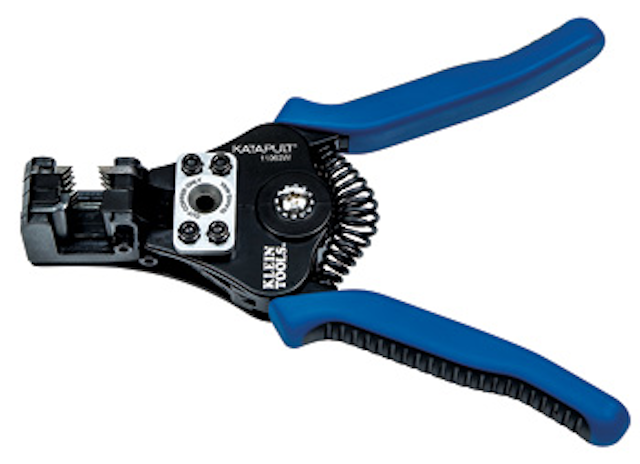 Klein Tools' Self-Adjusting Wire Stripper/Cutter (Cat. No. 11061) features a stripping head that adjusts to strip 10-20 AWG solid, 12-22 AWG stranded and 12/2 and 14/2 Romex wire. This tool is especially useful in panels and other places where multiple wire sizes/types are present. The tensioning knob easily adjusts to apply the correct amount of force on the wire and an adjustable stopper controls the length of the core strip. It also features a wire cutter built into the handle.
Klein Tools
CIRCLE 120 ON READER SERVICE CARD
---
Performance-enhancing Upgrades to CATV Test Platforms
Sunrise Telecom Inc., a provider of test, monitoring and workflow management solutions for cable, telecom, wireless operators and equipment manufacturers, has announced the release of a firmware upgrade for the CM3000 Cable Modem Network and Spectrum Analyzer, and CM3800 Sweep System and DOCSIS 3.0 Cable Modem Network Analyzer.
Available for new or field deployed CM3000 and CM3800 test platforms, the new firmware update (version 2.23) provides significant capabilities-enhancing the technician's ability to analyze and troubleshoot the radio frequency and fiber distribution network.
The firmware release is significant to the CATV industry because it greatly improves the capabilities of the company's CM3000 product line to give technicians the ability to identify and resolve network impairments before they actually impact the customers. Performance enhancements enable technicians to accurately troubleshoot difficult electrical interference and short duration impulse noise problems.
Sunrise Telecom
CIRCLE 121 ON READER SERVICE CARD
---
New 8-inch Diameter Certa-Com PVC Trenchless Conduit
CertainTeed Corp. has responded to the needs of the expanding U.S. telecommunications and electrical utility industry by enlarging its Certa-Com Trenchless PVC Conduit product line to include an 8-inch diameter SCH80 restrained-joint PVC pipe offering. This new product, developed in response to customer requests for an easy-to-install and cost effective large diameter trenchless PVC conduit option with clear advantages over fused HDPE pipe, is available in 10- or 20-foot lengths that assemble quickly and do not require costly fusion or solvent welding.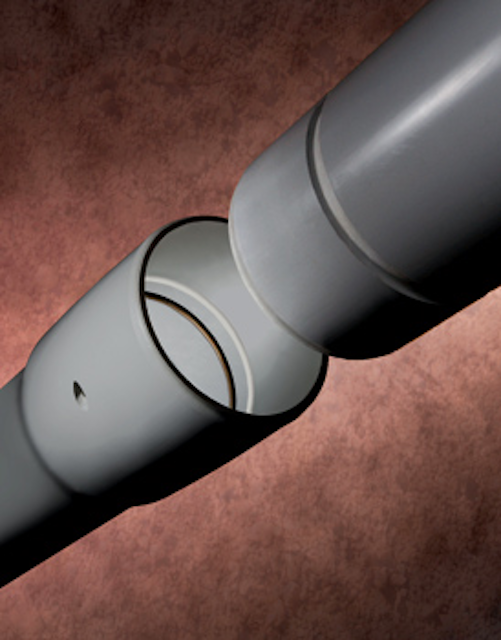 With an 8-inch diameter Certa-Com restrained-joint pipe option, CertainTeed can offer utility contractors the opportunity to steer clear of the hassles and associated installation costs that typically accompany the assembly and installation of large diameter fused underground conduit systems. Certa-Com is quickly and easily assembled in 10- or 20-foot lengths while pullback continues, which eliminates costly, time-consuming pipe fusion and the need to string out several hundred feet of conduit within or beyond the work zone. This greatly streamlines the installation process and can realistically save contractors and project owners considerable time and money.
CertainTeed Corp.
CIRCLE 122 ON READER SERVICE CARD
---
Engine Treatment Concentrate
Rislone's newest concentrated product, Engine Treatment Concentrate, provides all the benefits of the original Rislone Engine Treatment in a bottle that is nearly half the size. The company found it was able to significantly reduce the amount of base oil in Rislone Engine Treatment without lessening the product's protective performance. This allows Rislone to use smaller bottles and keep prices as low as possible for its customers. The concentrated version has the same lubricants, additives and cleaners as the best-selling original.
If left untreated, sludge and other harmful deposits can plug oil passages, alter tolerances and cause rings to stick. Rislone Engine Treatment Concentrate is formulated to penetrate areas where sludge and varnish are likely to form, including valve seats, bearing surfaces, piston rings and ring grooves. The deposits are held in suspension until they are trapped in the oil filter or removed during an oil change.
One 16.9 fluid ounce bottle is enough to treat a four- to six-quart oil system. Simply empty the contents into the vehicle's oil fill spout. Noisy lifters and valves will be noticeably quieter after installation. Rislone Engine Treatment Concentrate is compatible with all four-, six- and eight-cylinder gasoline or diesel engines. For maximum protection, it should be used after every oil change.
Rislone
CIRCLE 124 ON READER SERVICE CARD
---
Hi-Ranger SCM Series Aerial Devices Meet Operator's Needs
Designed with the utility operator in mind, the Terex Hi-Ranger SCM48, SCM50 and SCM55 overcenter material handling aerial devices features large, open bed space, low travel height and easy maintenance. The Terex Hi-Ranger SCM Series aerial devices are especially useful for investor-owned utilities, rural electric cooperatives and power districts, as well as municipality applications.
The side-by-side lower boom configuration on the SCM Series provides overall height under 11 ft. on a 40-in. frame for greater mobility. The low profile of the SCM series allows for low platform stow near centerline of the truck to provide operators with good clearance of overhead obstructions such as bridges, trees and powerlines during travel. The lower boom cylinder design also allows for a large amount of open truck-bed space that operators can use for tool storage and transportation.
The field-proven, patented Terex Tri-Link Elbow offers a low-maintenance design on the SCM Series. The Tri-Link Elbow mechanical feature provides operators with easy access to greasable bushings and bearings, needs no lift chains or cables, and does not require a mandatory overhaul during the truck's lifetime.
Terex
CIRCLE 123 ON READER SERVICE CARD
---
TBB-3002 Brush Blazer Mid-sized Brush Cutter
New PECO Inc. announces its TBB-3002 Brush Blazer. Featuring a 48-inch cut width, the Brush Blazer is the stand-alone solution between smaller-scale lawn units and large, commercial forestry attachments. The Brush Blazer features high power, which boosts productivity and allows the unit to cut trees up to 4 inches in diameter.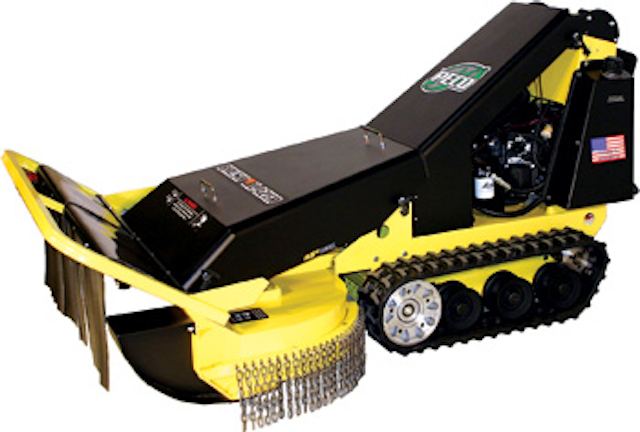 The Brush Blazer is for clearing underbrush and trees, performing trail maintenance, cleaning retention ponds or clearing rights-of-way. The unit is also useful for hazardous vegetation management and wildfire prevention. It is available with a 28-hp Briggs & Stratton Vanguard or a 27-hp Kohler EFI engine.
Filling a gap between small-scale units and large forestry equipment, the Brusher Blazer offers a mid-sized option with high productivity. Key to its quick return on investment is the ability to clear more area faster with fewer workers. In optimal cutting conditions, the Brush Blazer can clear up to six acres per day and is proven to complete twice the work with half the manpower. The unit features a five-gallon tank that allows a run time ranging from four to six hours, depending on the job's terrain and material.
New PECO Inc.
CIRCLE 125 ON READER SERVICE CARD
---
V-CHECK II Battery Status Indicator
Phillips Industries has introduced its V-CHECK battery status indictor, a simple device that gives an immediate signal of available battery power. The V-CHECK II digitally monitors the state of power for any battery, particularly lift gate batteries, to ensure all work that needs to be performed can be performed. If the V-CHECK II signals less than optimum power, the battery can be charged before a situation occurs where battery power is required but not available.
The Phillips V-CHECK II features a large display surface for the digital readout of the battery state of charge. Both the voltage measurement and percentage of battery life remaining appear every 15 seconds. The Go/No-Go LED light feature instantly shows if the battery is ready to complete the day's work. Green indicates available power 12.6V to greater than 15V, yellow between 12.4V and 12.5V, and red below 9V -12.3V. It is simple to install and gives the vehicle operator information that is critical to minimizing downtime caused by lack of battery power to complete required tasks.
Phillips's new 12 volt V-CHECK II Battery Status Indicator, part number 60-9100, is available through Phillips authorized distributors.
Phillips Industries
CIRCLE 127 ON READER SERVICE CARD
---
Two-pole, 230 Amp SB Smart Connector With 16 Auxiliary Positions and Selective Mate Keys
Anderson Power Products (APP) announces a new addition to its multi-pole connector selection with the release of the new SB Smart connector. The SB Smart meets the connection needs for high power storage batteries that are integrated into a larger system or where batteries require monitoring and control circuits. New features include an optional 16-position auxiliary power and signal module and a selective mate keying system.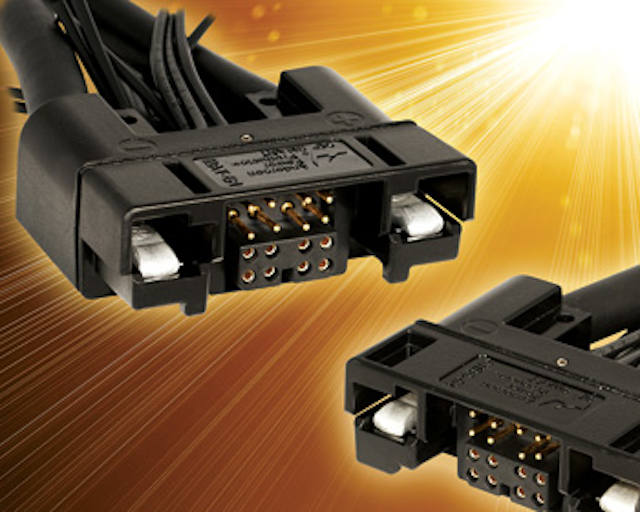 Two primary power contacts feature flat wiping contact technology, invented by APP more than 60 years ago. Crimp and poke contacts are available for up to 1/0 AWG (50mm²) wire. These low-resistance silver plated contacts allow for a UL rating of up to 230 amps per pole. The UL94 V-0 flame retardant polycarbonate housing with power and signal contacts can last up to 10,000 mating cycles.
The SB Smart auxiliary module can accommodate up to 16 auxiliary positions that are suitable for signal or low power (up to 20 amps). Crimp and poke gold plated, pin and socket contacts are available for 12-20 AWG (2.5 - 0.5mm²) wire.
Anderson Power Products
CIRCLE 126 ON READER SERVICE CARD
---
Truck Blind Spots Eliminated With 360 Degree Camera
Brigade Electronics has launched its Smarteye 360 degree camera system to the North American commercial truck market. Smarteye is a camera system that eradicates blind spots and greatly reduces collisions because of a bird's eye view of the entire vehicle and its immediate surroundings.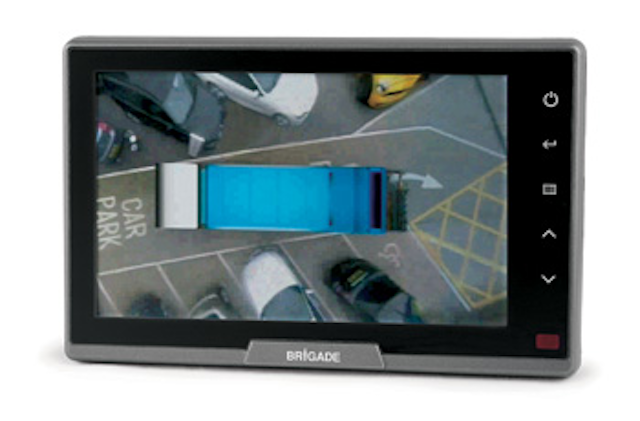 Comprising four cameras placed around the vehicle, Smarteye technology works by "stitching" each image together to provide a complete and accurate panoramic view from above. Each camera's ultrawide angle and 187 degree lens renders a realistic, light-balanced video image displayed in real time on a high-definition cab monitor-with program option to highlight the area of greatest risk.
As part of a controlled experiment, the Smarteye system was given a test. A driver was tasked with reversing a truck with all of its windows blacked-out. With the system installed, extreme caution, and a slow, steady pace, the challenge was easily completed in complete safety.
Brigade Electronics
CIRCLE 128 ON READER SERVICE CARD
---
Mobile Generator Designed for Canadian Applications
Doosan Portable Power has enhanced several mobile generators for operation in Canada with features that increase the reliability, high performance and low sound signature of Doosan Portable Power units. Specific to the Canadian market is the addition of a 600-volt selector option available on select Doosan mobile generators. In addition, generators with fuel tank capacities of 450 L and above are Transport Canada certified-reinforced and treated to resist corrosion and leaks as specified by the Transportation of Dangerous Goods (TDG) Act.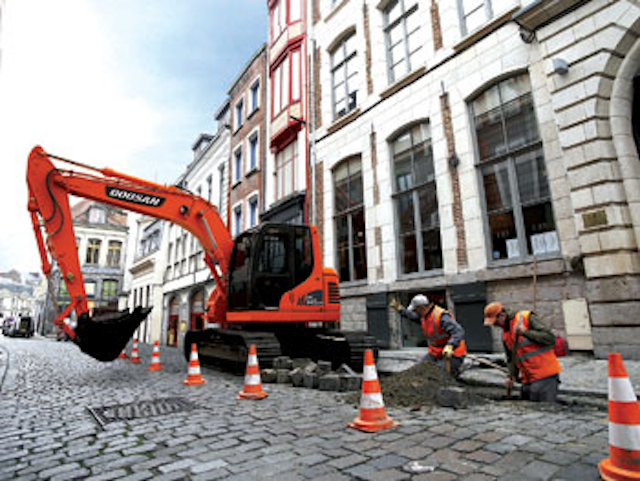 All Doosan generators are equipped with a user-friendly analog control panel that provides at-a-glance monitoring with ample room for easy access to all controls. Remote start/stop is also a standard feature, along with critical system faults that are indicated on the diagnostic LED panel. A spacious terminal board allows operators to secure output connections quickly and safely, while an optional camlock panel expands connection capability through two sets of 400 A color-coded camlocks.
Doosan Portable Power
CIRCLE 129 ON READER SERVICE CARD